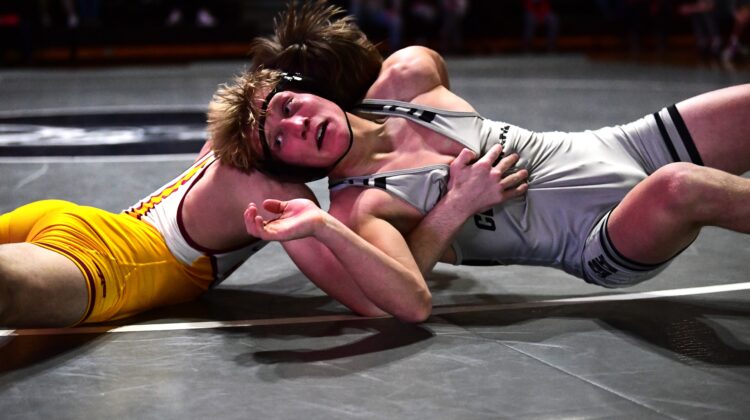 The Ankeny Centennial wrestlers rallied for a 36-32 victory over visiting Fort Dodge in a CIML Iowa Conference dual meet on Thursday.
The fifth-ranked Dodgers held a 32-15 lead with four matches left, but Centennial then answered with four straight wins–including three falls–to pull out the win. The Jaguars improved to 4-1 in the league and 12-9 overall.
"The boys stepped up and got the job done," said Centennial coach Jay Groth. "It was a good meet, and it was exciting to have it come down to the last match."
Cael Wiener got a pin at 132 pounds to ignite Centennial's rally. Seventh-ranked Lucas Bruhl then posted an 8-5 decision over No. 5 Damarion Ross at 138 to pull the Jaguars within 32-24.
"That was a good win for Lucas," Groth said. "He wrestled well tonight."
No. 11 Carter Bennett followed with a pin at 145 to close the gap to 32-30. Logan Song then sealed the victory with another fall at 152.
Song dropped down from 160 for the first time this season to fill in for No. 3 Carter Cahill, who is still nursing an injury.
"Logan finished it off," Groth said. "I was a little worried about his gas tank after cutting weight, but he did not struggle. He just goes and goes."
Centennial got a win from Jackson Helmkamp at 160 to open the meet. It was the first match of the season for the three-time state qualifier.
"He was a little rusty, but that's to be expected," Groth said. "He'll get better with each match."
No. 11 Zach English also posted a victory at 170. Kaden Kaiser got a pin at 195, and Mitchell Grider added a win at 220.
"I thought we matched up with them well," Groth said. "We're still not 100 percent because we didn't have Cahill or (Ryan) Muller in the lineup, but we did have some guys fill in and do a nice job."
The Jaguars will compete in the Ed Winger Invitational on Saturday at Urbandale.