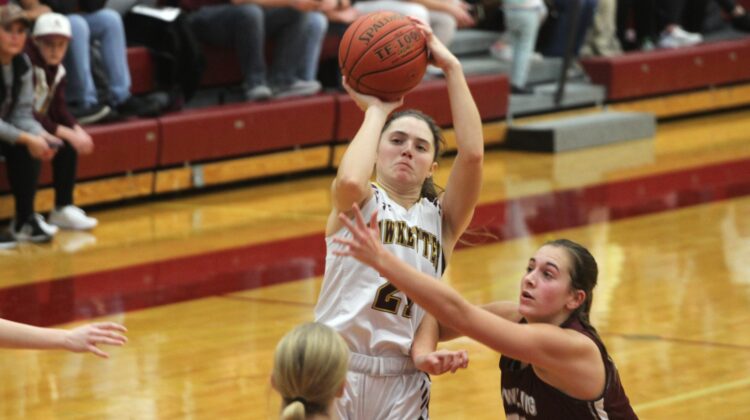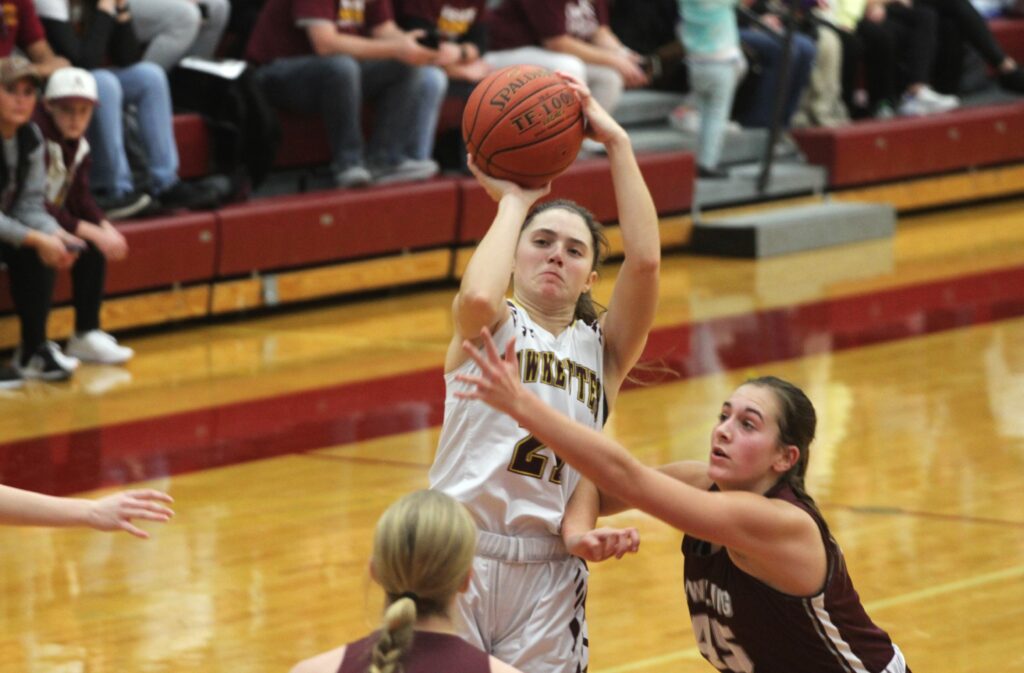 The last two Tuesday nights ended in disappointment for the Ankeny girls' basketball team.
The 12th-ranked Hawkettes experienced a much better feeling this time.
Ankeny dominated the fourth quarter to rally for a 35-29 victory over No. 5 Dowling Catholic in a non-conference game on Tuesday at the AHS gym. The Hawkettes erased a 28-21 deficit with a 14-1 run over the final 8 minutes.
"Obviously, with the disappointments the last two Tuesday nights with (losses to Ankeny) Centennial and Waukee, to bounce back against the No. 5 team in the state is huge," said Ankeny coach Dru McAnelly. "And to hold them to one point in the fourth quarter, it's just a huge win in so many ways."
Jenna Pitz hit a short bank shot to ignite Ankeny's rally. Karsen Jacks followed with a 3-point goal, then Savannah Gage connected on a jumper with 3 minutes 49 seconds left to tie the game at 28-28.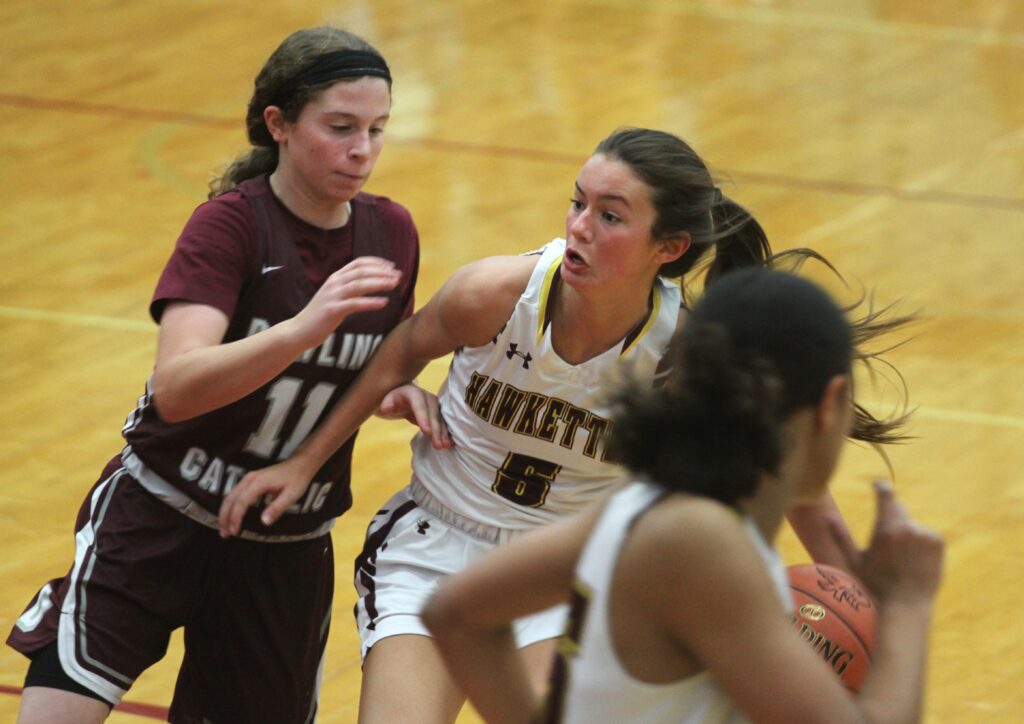 After a steal by Jacks, Pitz nailed a 3-pointer with 2:19 remaining to give the Hawkettes their first lead of the game.
"We had a harder week last week," Pitz said. "Our last two Tuesday games were rough, so we knew we had to come in and play with confidence. This was a big game going into the seeding period, so to get that win at home was really big for us."
Jasmine Moser made two free throws with 49 seconds left to extend Ankeny's lead to 33-28. Dowling went scoreless in the final period until Julia Moore hit the first of two free throws with 36 seconds to go.
The Hawkettes (11-4) used a zone defense to hold Dowling to just eight points in the second half. Freshman guard Ava Zediker, the Maroons' leading scorer with a 14.6 average, was held without a point.
"The funny thing is, we haven't practiced (the zone) very much," McAnelly said. "The girls did a great job. We did a few fundamental things wrong, but effort and communication can make up for a lot of things. The girls just played with a huge amount of effort and desire, and I'm just so happy for them. They're so deserving."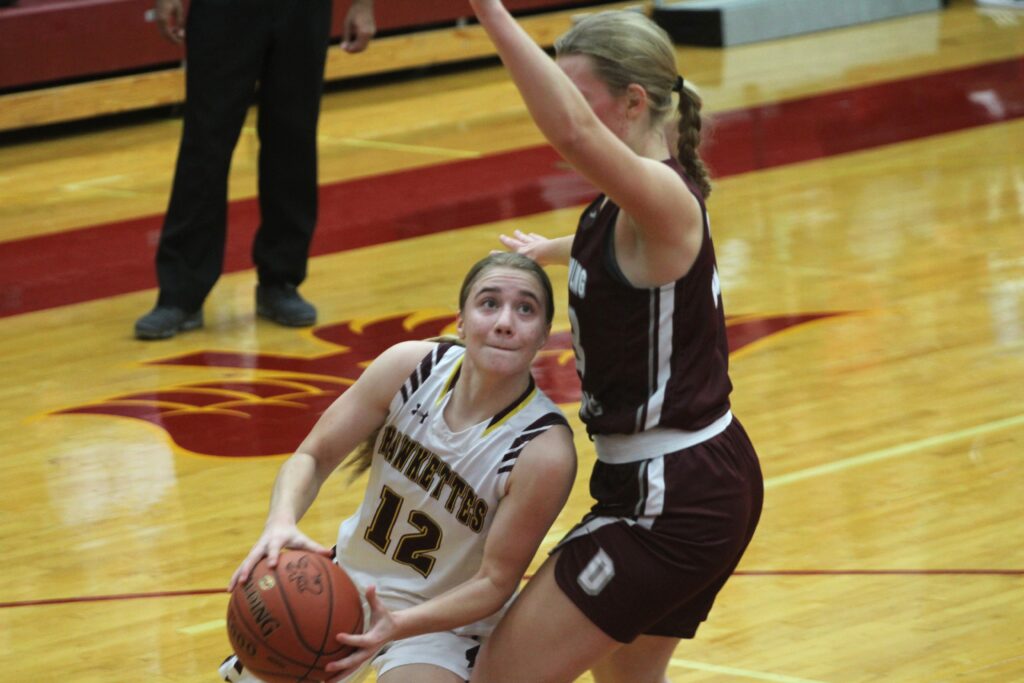 Dowling (13-2) won its first 11 games of the season before dropping a 55-51 decision at No. 9 Valley on Jan. 11. The Maroons then rebounded with lopsided wins over No. 13 Waukee Northwest and No. 11 Southeast Polk.
"We had seen that Valley basically played zone the whole game, and (Dowling) seemed a little stagnant against the zone," McAnelly said. "They're a team that really likes to play downhill with the basketball and drive and kick, and we just wanted to take some of that away."
Pitz had confidence in the defensive strategy.
"We practiced it a couple days bfeore," she said. "We knew we could go to it, and a lot of girls just bought in. We all worked really hard on defense and got some big stops down the stretch."
Emma Gipple and Layla Trytten each had 11 points to lead Dowling. But only two other Maroons scored.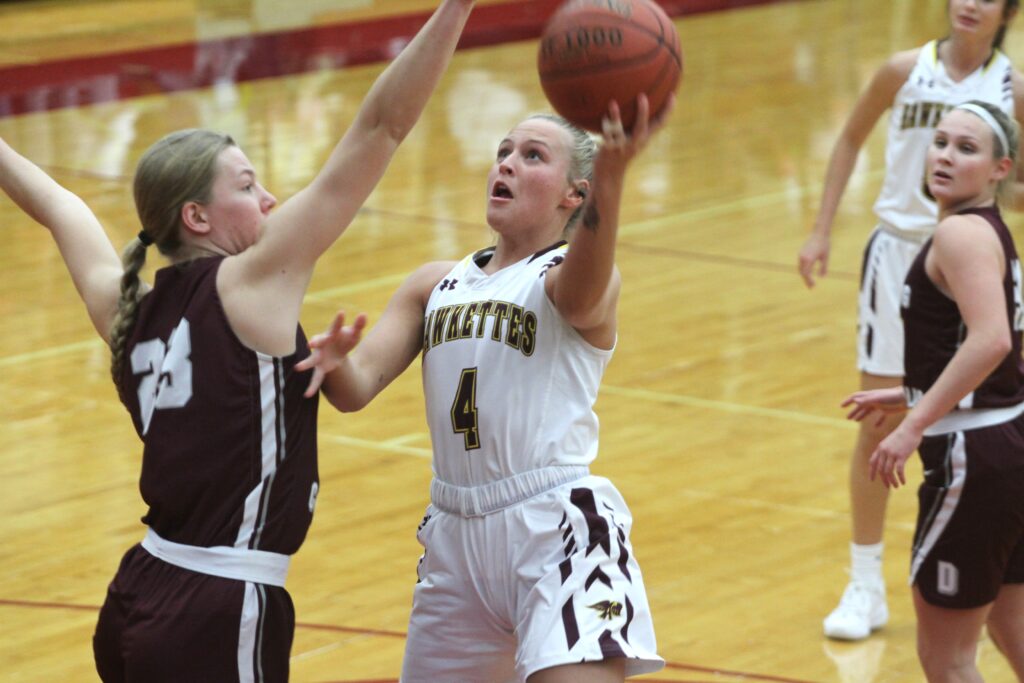 Jacks had a game-high 12 points for Ankeny. Pitz finished with nine points and seven rebounds, while Moser and Katelyn Anderson each added a pair of steals.
The Hawkettes shot just 33.3 percent from the field (12-of-36), but they made some huge shots in the fourth quarter when it counted the most.
"Karsen hit a big 3, and Jenna plays 32 minutes and gets hounded the whole game and hits a step-back 3 at a crucial moment," McAnelly said. "It's amazing how when you stay after practice and shoot that those shots in the game go in at those big moments when you put the extra time in."
Ankeny will travel to Northwest on Friday for another big game against the Wolves (10-6). The Hawkettes, who posted a 44-41 victory over Northwest on Dec. 17, need a win to keep pace with Centennial in the CIML Iowa Conference race.