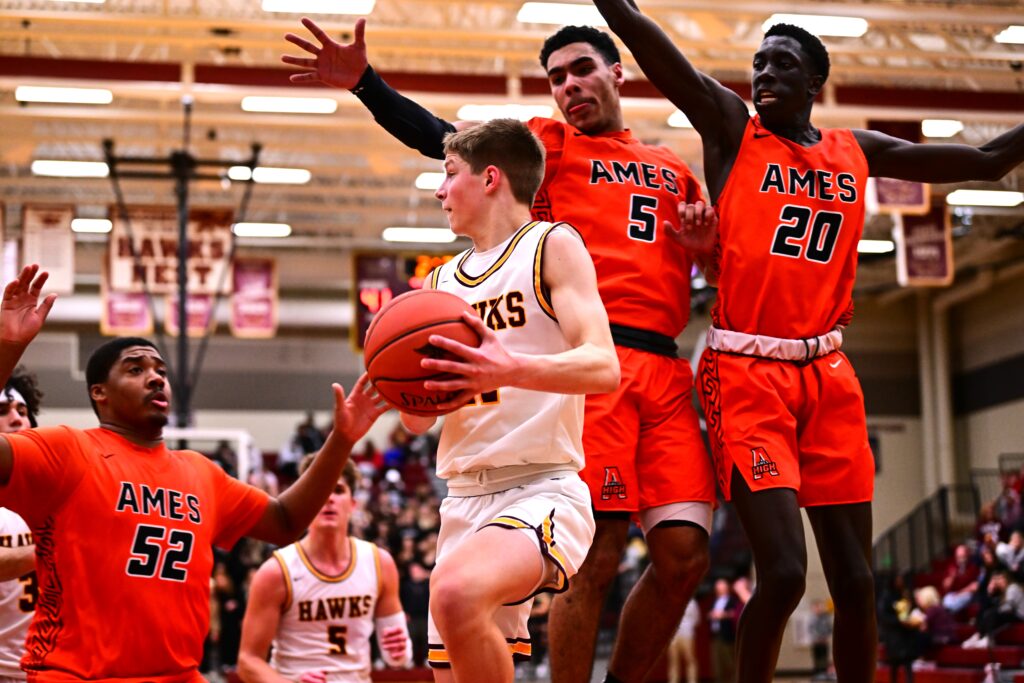 The Ankeny boys' basketball team made a huge statement with Friday's win at third-ranked Waukee Northwest.
No. 1 Ames made one of its own on Monday.
The Little Cyclones jumped out to a 13-0 lead and cruised to a 69-50 victory at No. 8 Ankeny, snapping the Hawks' eight-game winning streak.
"They were definitely ready, and we just didn't have an answer offensively," said Ankeny coach Brandt Carlson. "The start was the key to the whole game. They're the best team in the state for a reason, and they definitely showed that."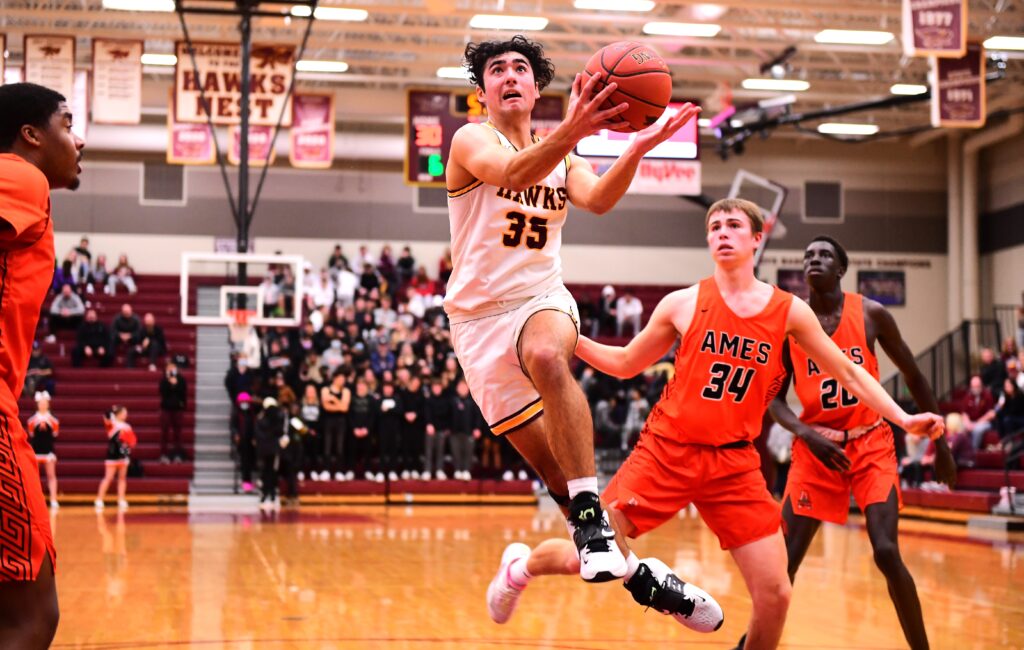 Ankeny went more than 6 minutes without scoring before Carson Johnson hit a 3-pointer to stop Ames' run. The Hawks had just four 3-pointers on the night.
"They're really long and big," Ankeny's Alex Aguirre said of the Little Cyclones' defenders. "It's really tough to find holes and get shots up without being contested."
Ames' suffocating defense often led to easy baskets. Tamin Lipsey twice turned steals into layups during the first quarter.
In the second period, Lucas Lueth blocked a 3-pointer by Johnson, then took a nifty pass from Lipsey before feeding Corey Phillips for a layup in transition that extended the margin to 30-10.
"They're a really tough team," Aguirre said. "They got off quickly at the start, and we dug ourselves a hole. I thought we played hard at the end, but it was just too little and too late."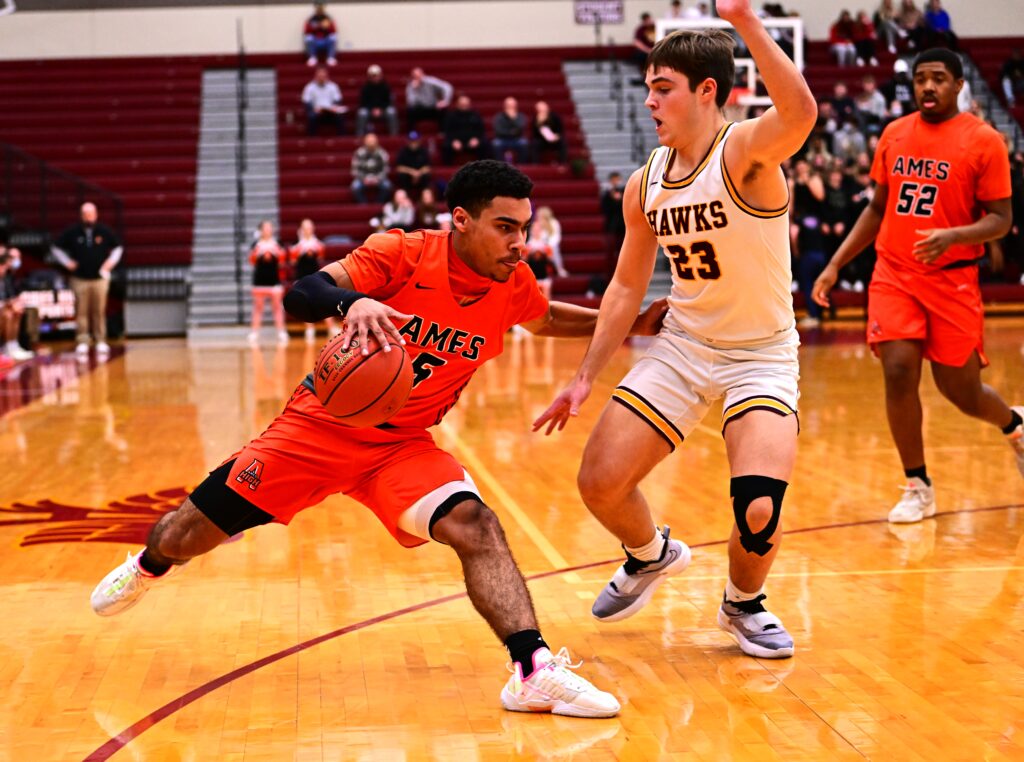 Ankeny closed to within 34-17 at halftime, but could get no closer than 14 points in the second half. The Little Cyclones took their biggest lead, 65-41, on a drive by Lipsey in the fourth quarter.
"I thought we were a little tentative, and when you get down to them, they're just so patient offensively that it really makes it difficult," Carlson said. "They are just very patient and poised, and we suffered from that."
Aguirre scored 11 points to lead the Hawks, eight of them in the final period. Lio Aguirre, JJ Kohl and Karson Wehde each added eight.
Trevion LaBeaux led Ames with 23 points. Lipsey had 20, and Phillips chipped in 12.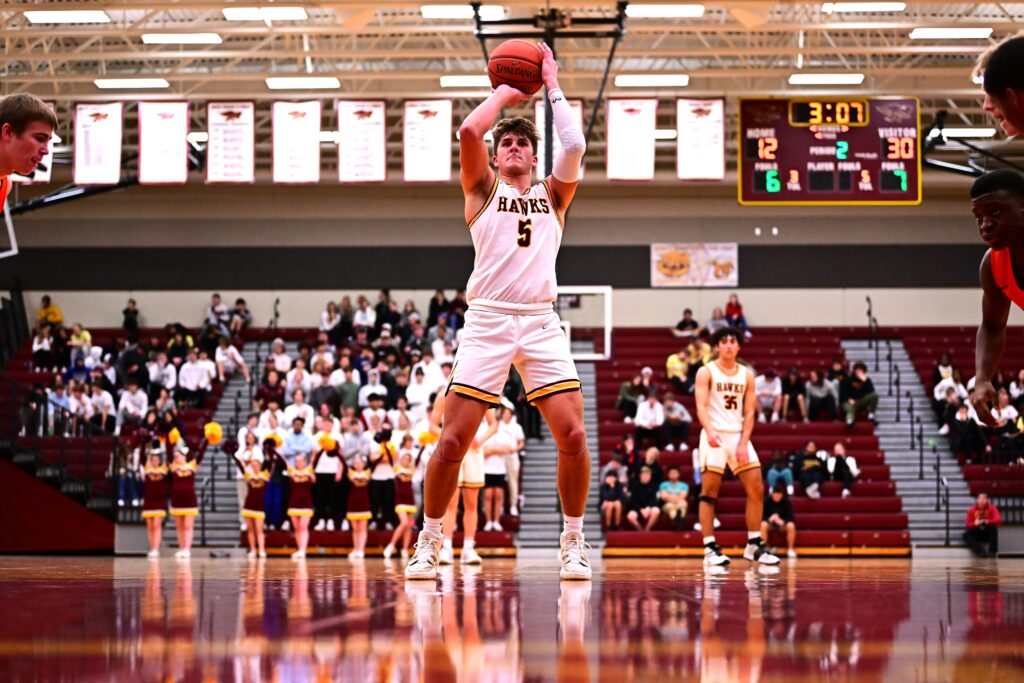 Ames moved closer to the CIML Iowa Conference title. The Little Cyclones are now 8-0 in the league and 13-1 overall, while Ankeny's records dropped to 6-3 and 12-3.
"We hope to get another shot at them," said Carlson, whose team opened the season with a 54-44 loss at Ames on Dec. 3. "It's frustrating, but we can't let this game define anything. We've still got a lot to play for, and we'll keep getting better."
Ankeny will play at Fort Dodge (1-13) on Tuesday before hosting Mason City (3-13) on Friday. The Hawks can only meet Ames again at the Class 4A state tournament.
"We're definitely looking forward to seeing them in March, and we'll see what happens then," Aguirre said.