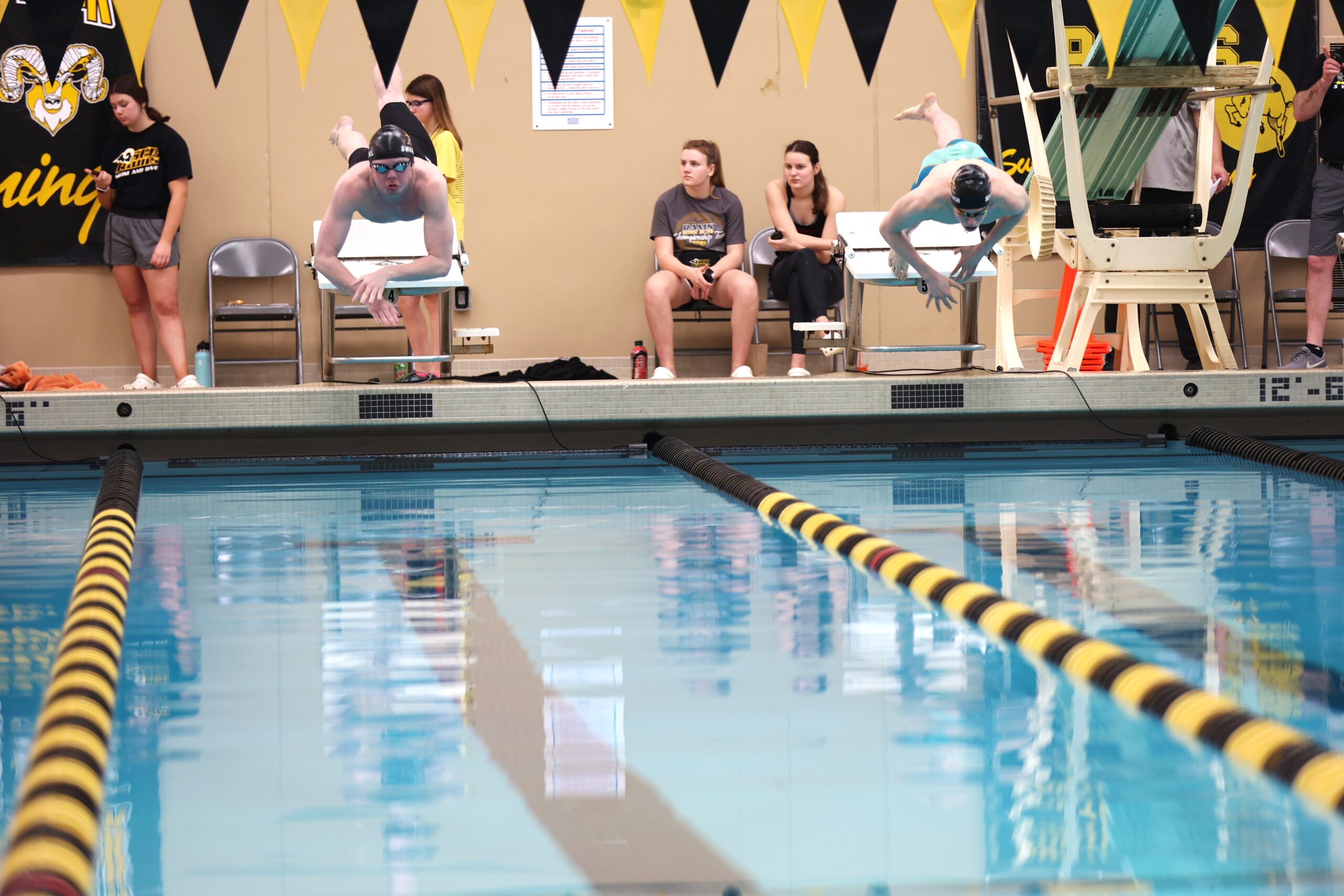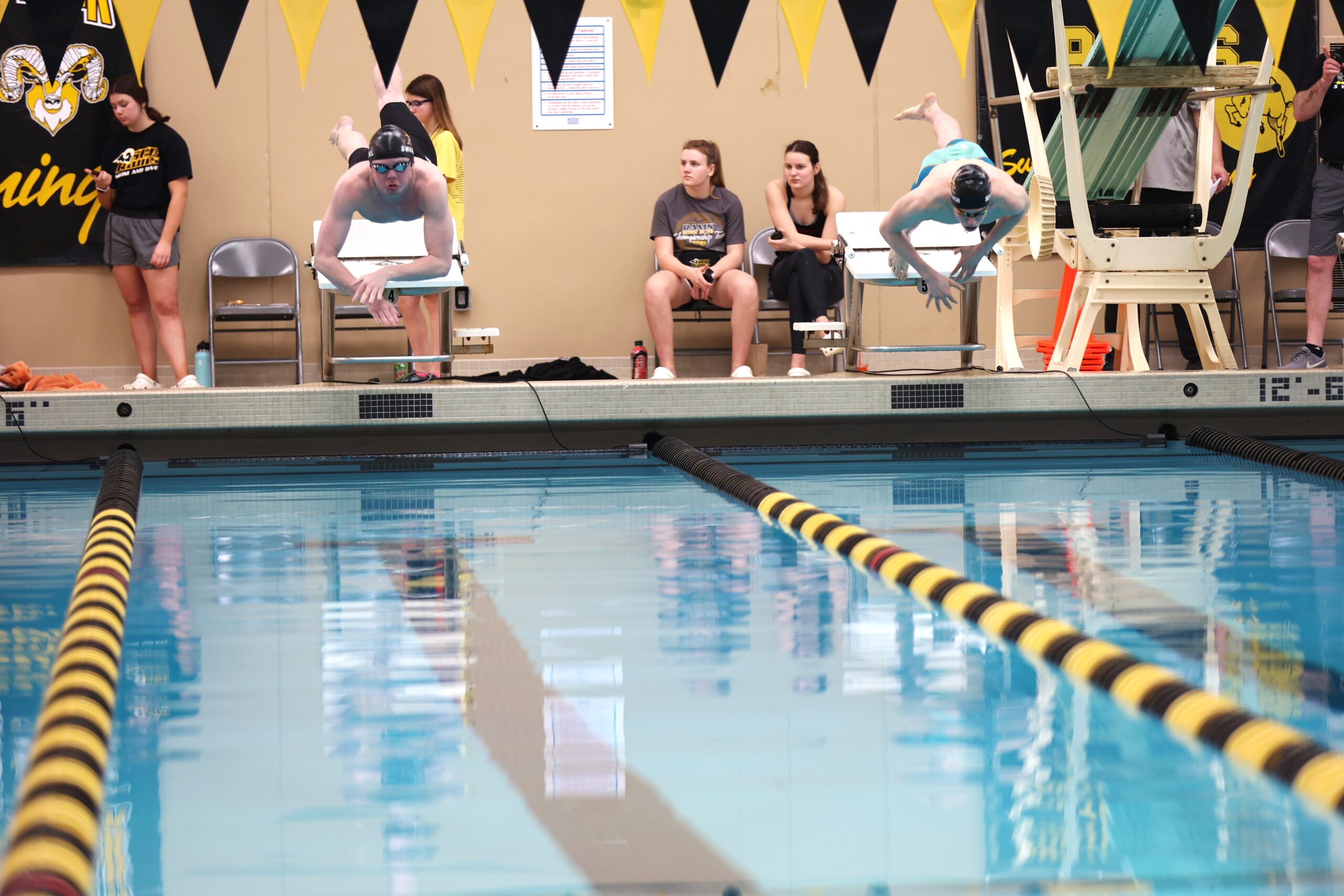 For the first time in five years, the Ankeny boys' swimming team didn't win the district title.
The eighth-ranked Hawks placed second in Saturday's district meet at Southeast Polk with 435 points. No. 6 Valley won eight of the 11 events and captured the overall crown with 512 points.
Still, Ankeny qualified for next week's state meet in every event.
"I felt like we were prepared to swim well, but didn't realize how well the guys that were rested were going to swim," said Ankeny coach Justin Crouch. "We swam about as well as we could have. For this team to qualify in all 11 events is quite an accomplishment. It was definitely something I wasn't expecting, but it was a nice feather in our cap. I truly believe that this meet will be a great step forward in our development going into next week and the year ahead."
Junior Lance Swanepoel led the way for Ankeny, winning a pair of individual events. His first victory came in the 50 freestyle, where he was clocked in 21.27 seconds.
Teammate Owen Schwebach was the runner-up in 21.87 and also advanced to state as one of the 10 fastest qualifiers.
"I was ecstatic with my times given that I was untapered and unshaved," said Swanepoel. "My 50 free was a statement for me because I wanted to show some versatility and that I could go back-to-back events if I needed to, and I'm very happy with how it worked out."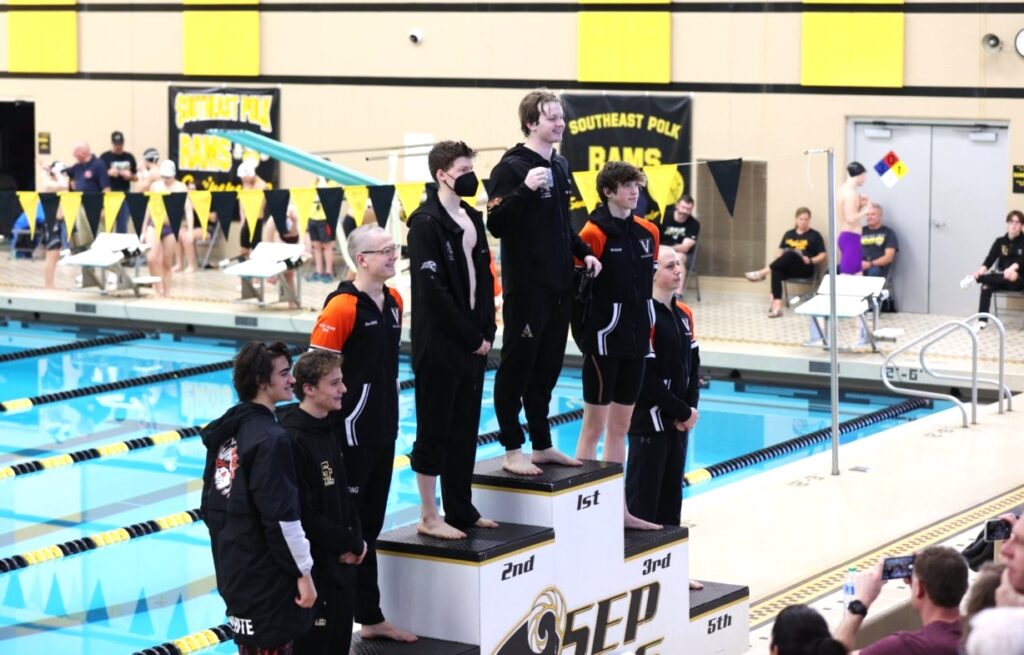 After a short break, Swanepoel then won the 100 butterfly in 49.40 seconds. He broke his own pool record and nearly eclipsed his own school record of 49.34, which was set at last year's state meet.
"Getting so close to my school record was a very big confidence boost," Swanepoel said. "It makes me look forward to what's to come."
Ankeny qualified three swimmers for state in the butterfly. Schwebach took third in that event in 51.01, while Calvin Howard finished fifth in 52.63.
Howard also qualified in the 200 individual medley. He placed fifth in that event in a time of 2:02.33.
Three other Hawks–Brock Peterson, Noah Schafer and Zach Zinn–also qualified in two individual events.
Peterson placed fourth in the 200 IM in 1:59.93. He later added a fourth-place finish in the 100 backstroke, posting a time of 54.57 seconds.
Zinn took fifth in the 200 freestyle in 1:47.61. He finished seventh in the 100 freestyle in 49.47.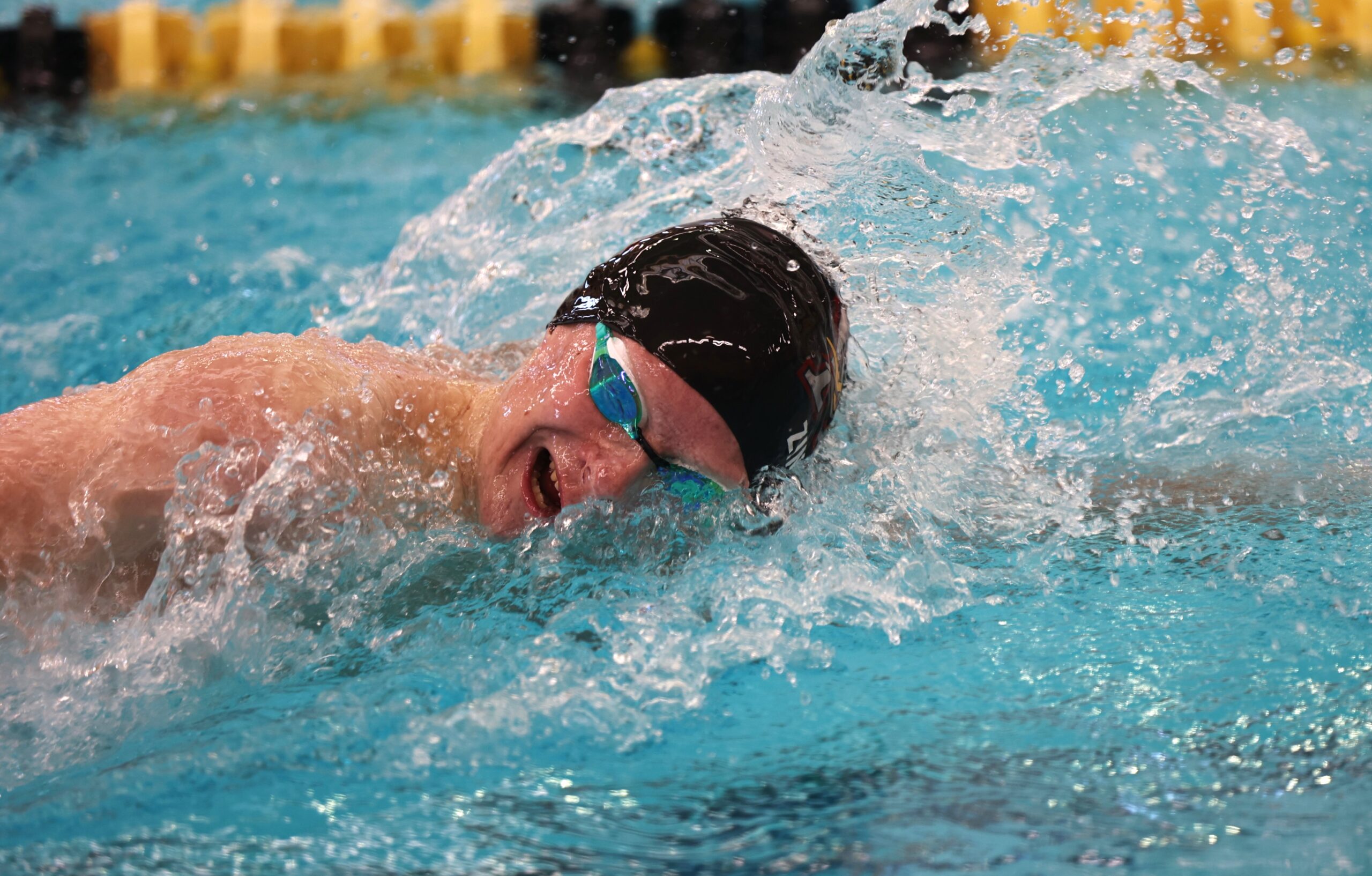 Schafer placed sixth in the 200 freestyle with a time of 1:49.33. He took fourth in the 500 freestyle in 5:01.49.
Ankeny qualified a pair of swimmers in the 100 breaststroke. Nathan Neppl placed third in a time of 1:00.54, while Hudson Griffin took fifth in 1:02.21.
Karsten Peters was the Hawks' other individual qualifier. He placed third in the 100 freestyle in 49.08.
Valley was led to the district title by sophomore distance standout Jacob Pins, who won both the 200 and 500 freestyle events and was named the district swimmer of the year. He finished nearly 20 seconds ahead of teammate Carson Copple in the 500 freestyle.
Reed Wallace also won two events for the Tigers–the 200 IM and the backstroke. Finn Nadel captured the breaststroke.
Valley swept all three relays, including a narrow victory over the Hawks in the 200 freestyle relay. The Tigers posted a time of 1:27.85, while the Ankeny foursome of Swanepoel, Zinn, Devin Thornton and Schwebach was clocked in 1:27.96.
Valley opened the meet by winning the 200 medley relay in 1:35.80. The Ankeny team of Peterson, Neppl, Howard and Thornton was the runner-up in 1:39.19.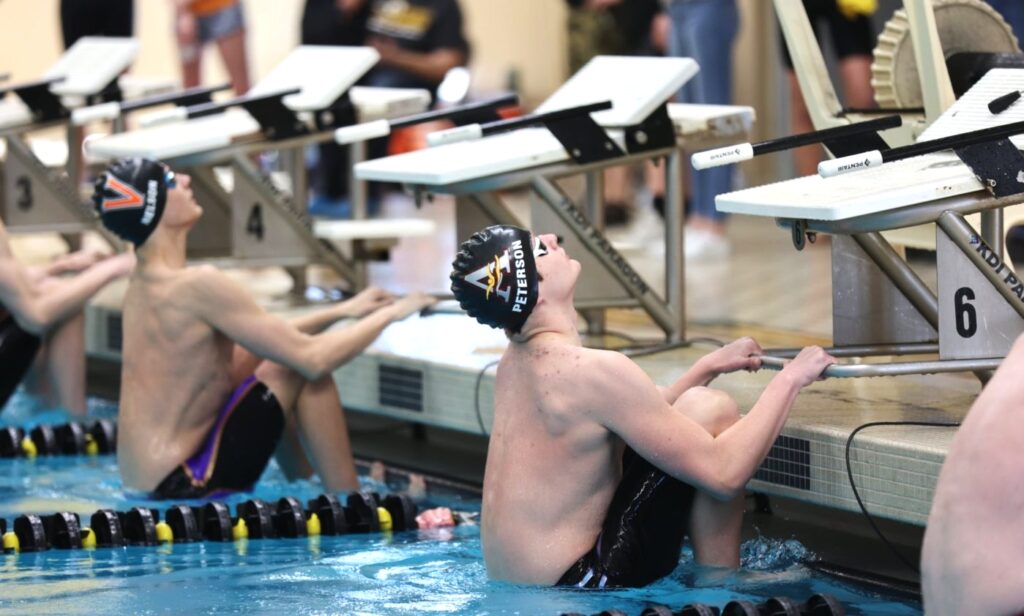 The two teams also finished 1-2 in the 400 freestyle relay, where the Tigers posted a time of 3:11.04. The Ankeny squad of Swanepoel, Zinn, Howard and Schwebach was clocked in 3:12.62.
"To see guys that swam in their first district meet swim with such confidence was really great to see," Crouch said. "I have been really proud of the effort of everyone involved all season long. I told them after the meet that they take a back seat to no one. The work ethic they have exhibited this season will be what makes them successful going forward in swimming, school and life."
Brayton Weber of Des Moines Lincoln, who guided his team to a sixth-place finish, was named the district coach of the year.
State Meet Preview
The state meet will be held on Friday and Saturday at the University of Iowa. For the first time ever, preliminaries will be held in the individual events on Friday, with the finals to follow on Saturday.
Ankeny has placed second in the state meet in each of the last two years after winning a state title in 2019, but those teams were led by eight-time state champion Trent Frandson, who is now a freshman at Cal. No. 1 Waukee is the defending champion and is the top qualifier in five events.
Swanepoel, a two-time runner-up in the butterfly, is seeking his first individual state title. He is seeded third in the butterfly and fourth in the 50 freestyle.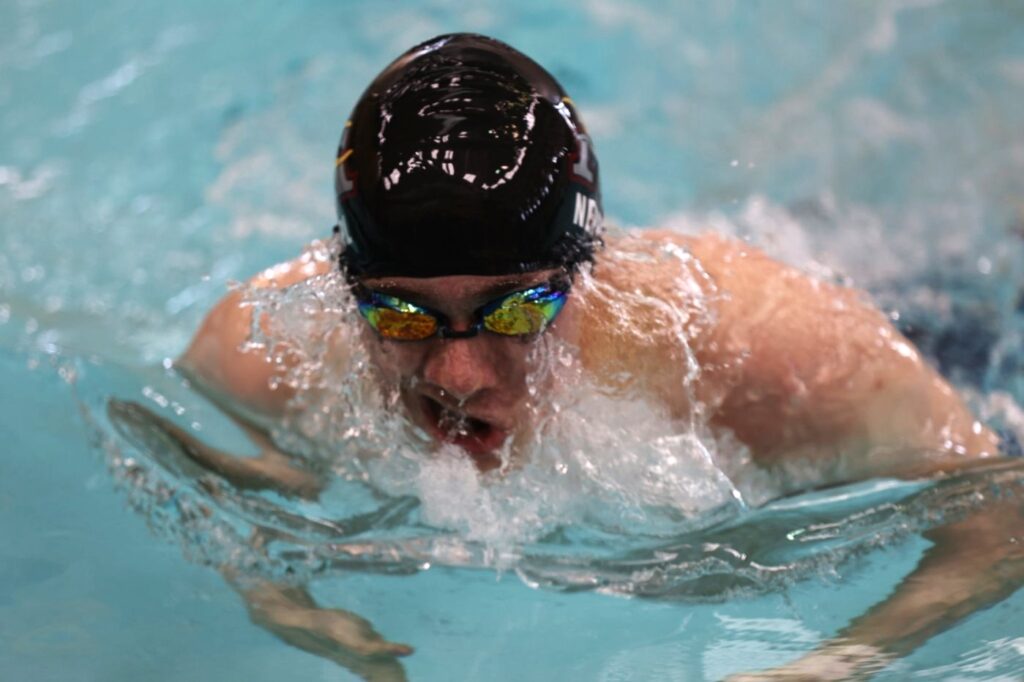 Kyle Hopewell of Davenport Central, who posted a time of 48.91 on Saturday, and defending champion Andrew Reiter of Waukee are the top two qualifiers in the butterfly. Kohen Rankin of Sioux City North was the fastest qualifier in the 50 freestyle (20.68).
"I am more than confident that I have the ability to drop much more time next weekend," Swanepoel said. "For me, it's just about taking it day to day and controlling what I can to put me in the best position. An individual state title would mean the world to me. I know it's possible–I have the times to prove it. It's just about me staying in my lane and doing what I need to do."
Schwebach, a sophomore, should also contend for a spot on the podium. He is seeded seventh in the butterfly and ninth in the 50 freestyle.
Howard is seeded 13th in the butterfly, while Neppl is seeded 15th in the breaststroke and Peterson is 18th in the 200 IM. The top 16 finishers in each event are considered placewinners.
Ankeny should have a good chance to score points in all three relays. The Hawks are seeded sixth in the 400 freestyle relay, ninth in the 200 freestyle relay and 12th in the medley relay.
Ankeny is the defending champion in both freestyle relays. Swanepoel is back in both of those relays, and Schwebach also swam on the winning 200 freestyle relay.