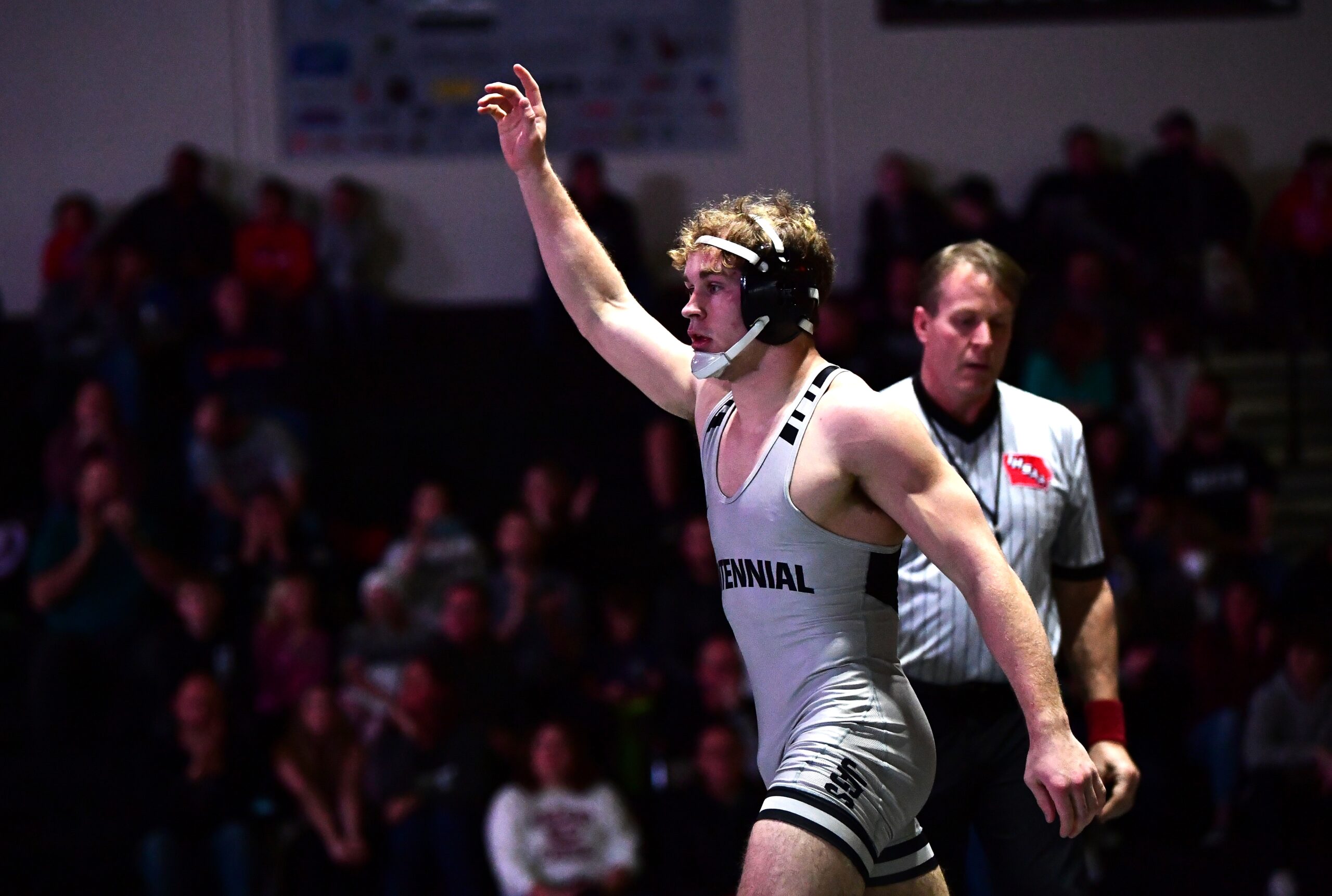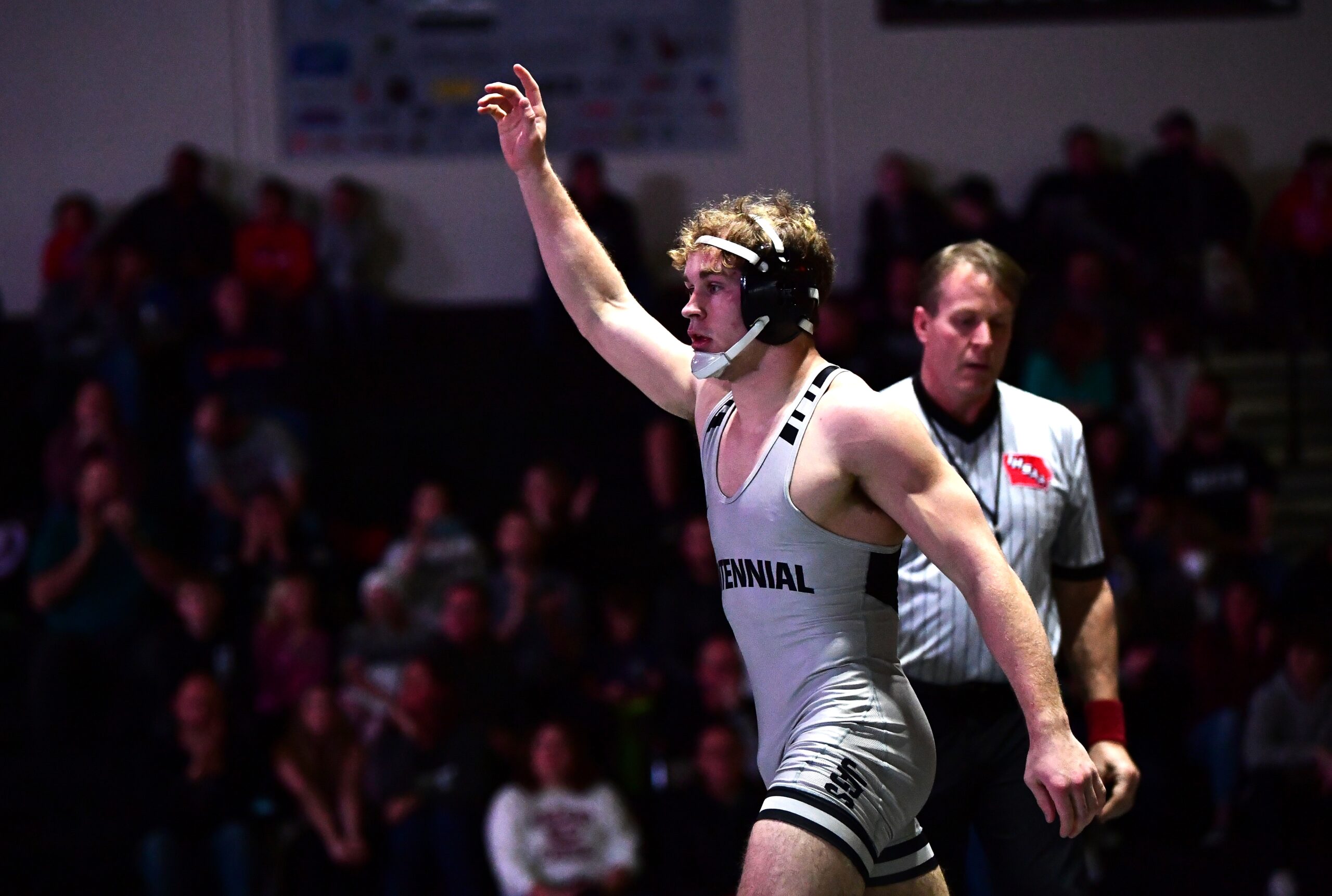 A week ago, the Ankeny Centennial wrestling team closed out the regular season with a 39-35 loss to Waukee Northwest.
The two squads met again on Wednesday with a lot more at stake.
In the final of a regional dual at Northwest, the third-ranked Wolves posted a 45-21 victory over No. 13 Centennial to qualify for the state duals tournament.
"We didn't lose the matches that we won last time, but we didn't score the bonus points that we did last time," said Centennial coach Jay Groth, whose team finished with a 14-11 dual record. "We got a decision instead of a pin, and we missed a major (decision) by a takedown. We weren't executing as well as we needed to in order to beat a team like Northwest. They're a good team with good kids, and they had a full lineup. They outwrestled us."
Northwest opened the meet with a fall by Carter Freeman at 120 pounds and later got a pin from Koufax Christensen at 113 to close it out. In between, the Wolves also got falls from Dom Rubino at 145, Griffin Gammell at 182, Cael Winter at 220 and Ben Reiland at 285.
"It's their first year with a new school, and that's pretty impressive that they made it to state duals," Groth said. "I give them a lot of credit for being tough and getting after it."
Centennial got falls from Drew Dunn at 152 and Cody Vandermark at 106. Cael Wiener at 132, Lucas Bruhl at 138 and Zach English at 170 each won by a decision.
Earlier, the Jaguars posted a 41-28 win over No. 18 Norwalk in the semifinal round. They won eight of the 14 matches.
After the Warriors won three straight matches to take a 10-6 lead, Centennial reeled off seven consecutive victories to build an insurmountable 41-10 advantage. Bruhl got a pin at 138 to put the Jaguars ahead, then Carter Bennett at 145, Carter Cahill at 152 and Jackson Helmkamp at 160 followed with three more pins.
"I thought we wrestled really well against Norwalk," Groth said. "The guys were fired up and wrestled well, and we got bonus points from our crew that usually produces bonus points for us so that was good. Norwalk is a pretty solid team."
The Jaguars will now turn their attention toward the traditional state tournament. They will compete in a Class 3A district tournament on Saturday at Fort Dodge.
"We'll go back to the drawing board (Thursday)," Groth said. "We'll fine-tune a few things, and we'll go see what we can do on Saturday."
Here are the match-by-match results from the regional duals:
Centennial 41, Norwalk 28
113: Vandermark (AC) pinned Moret, 3:26; 120: McKenzie (N) beat Bright, 10-8; 126: Tr. Harper (N) beat Hron, 14-4; 132: Card (N) beat Wiener, 3-1; 138: Bruhl (AC) pinned Jensen, 2:00; 145: Bennett (AC) pinned Adams, 1:29; 152: Cahill (AC) pinned Tigner, 1:59; 160: Helmkamp (AC) pinned Brown, :48; 170: English (AC) beat Nunez, 7-3; 182: Song (AC) beat Kimball, 10-5; 195: Kaiser (AC) won by technical fall over Miller, 21-5; 220: Blomgren (N) pinned Watson, 2:44; 285: Borcherding-Johnson (N) won by forfeit; 106: Ty. Harper (N) won by forfeit.
Waukee Northwest 45, Centennial 21
120: Freeman (WN) pinned Bright, 1:10; 126: Mahoney (WN) beat Hron, 7-2; 132: Wiener (AC) beat Jepsen, 15-8; 138: Bruhl (AC) beat Stotts, 9-4; 145: Rubino (WN) pinned Bennett, 2:55; 152: Dunn (AC) pinned Vollmecke, :31; 160: Broderick (WN) beat Cahill, 7-3; 170: English (AC) beat Weakley, 5-2; 182: Gammell (WN) pinned Song, :45; 195: Spyksma (WN) beat Kaiser, 8-4; 220: Winter (WN) pinned Watson, 2:59; 285: Reiland (WN) pinned Adams, 1:10; 106: Vandermark (AC) pinned Noble, 2:39; 113: Christensen (WN) pinned Muller, :39.