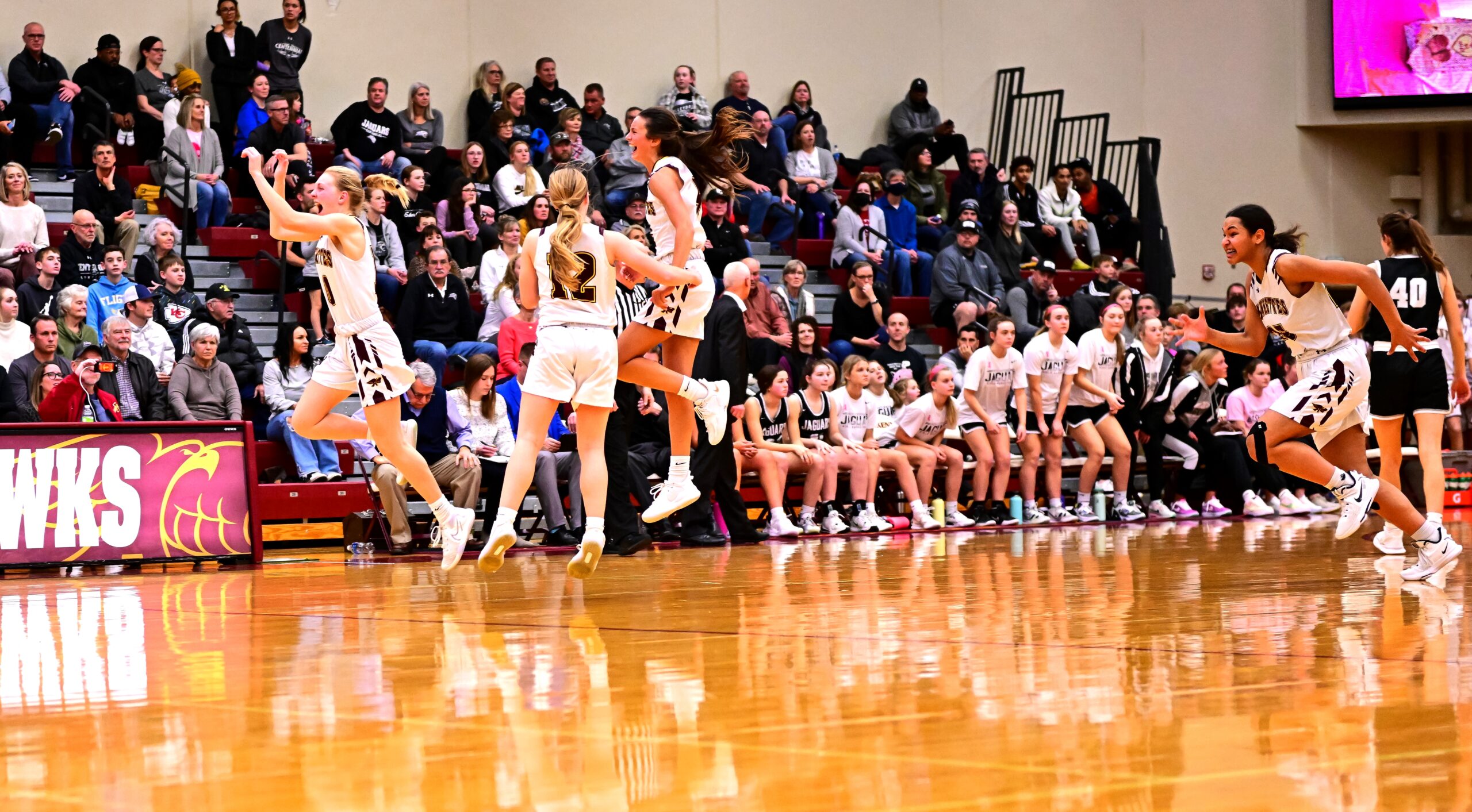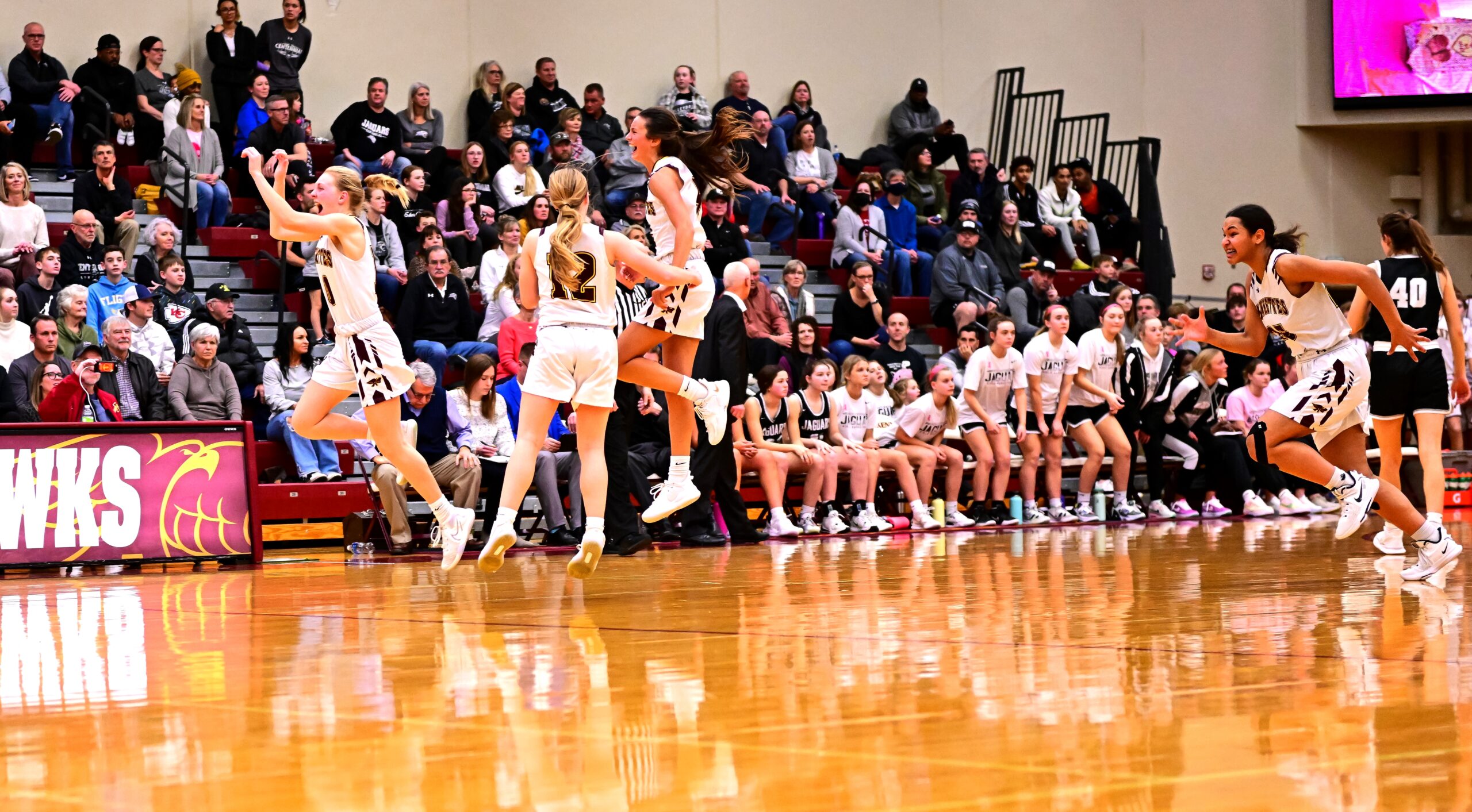 It took nearly a decade for the Ankeny girls' basketball team to finally defeat its crosstown rival.
When it finally happened on Friday night, the 12th-ranked Hawkettes also captured a share of the CIML Iowa Conference title.
The Ankeny players doused coach Dru McAnelly with Gatorade in the locker room after the host Hawkettes rallied past No. 2 Ankeny Centennial, 49-45, for their first win over the Jaguars in 18 career meetings.
"It was definitely a huge win," said junior guard Jenna Pitz, who scored 15 of her career-high 24 points in the fourth quarter. "They're the No. 2 team, and coming in we knew they had a lot of talent. We just came out and played together–we knew what was on the line–and it just came down to who had more energy. I'm really proud of how we finished the game."
The win allowed Ankeny and No. 11 Waukee Northwest to tie Centennial for the league crown. All three teams split a pair of games against each other and finished 10-2 in the conference.
The Hawkettes avenged an earlier 57-37 loss, which was their 15th double-digit setback against Centennial in the previous 17 meetings.
"I'm just so happy for the girls," McAnelly said. "We've had a really good year and I think we've surprised some people, and this is just a great way to end the regular season."
The loss ended a 12-game winning streak for Centennial (18-3), which led most of the way. The Jaguars held a 10-point lead in the third quarter and took a 34-25 advantage into the final period.
That's when Ankeny (15-6) and Pitz took over.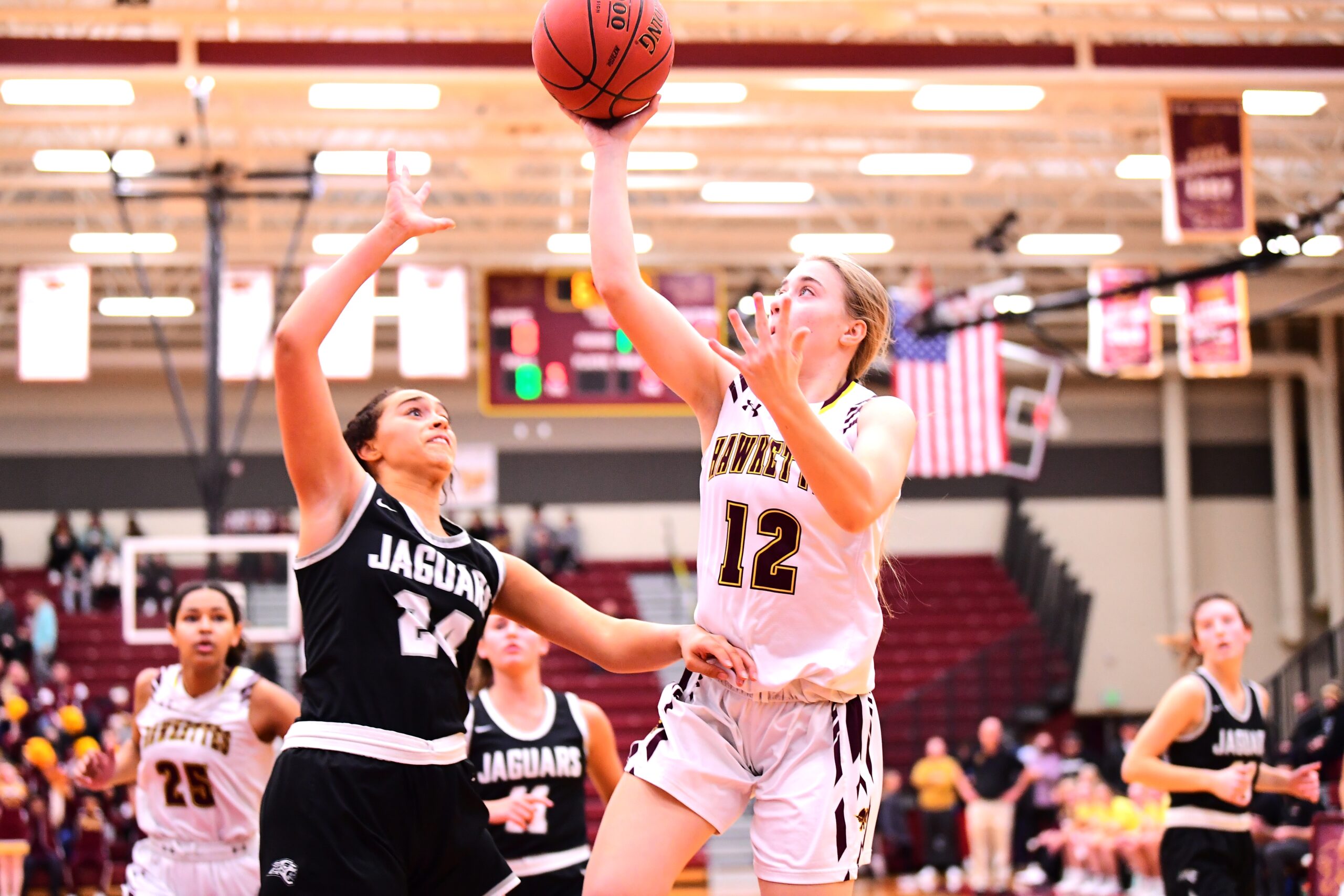 Pitz opened the fourth quarter with a 3-point goal, sparking a 12-2 run. The Hawkettes took the lead, 37-36, on a drive by Karsen Jacks with 5 minutes 15 seconds left.
"We were down 20-plus (points) at Johnston at the half (on Monday), and if we could bring it down to 12 to the No. 1 team in the state, then why can't we come back from a 10-point deficit?" Jacks said. "This game didn't count for our seeding or anything, so we just came in knowing that this game doesn't mean a ton toward our season. We just wanted to come out and have fun and have confidence."
Centennial answered with two straight baskets by Kennedy White and a pair of free throws by Cleao Murray, giving the Jaguars a 42-37 lead with 2:58 left.
"I thought we made a good run after we got behind, but then they answered again," said Centennial coach Scott DeJong.
Pitz converted a 3-point play with 1:50 remaining, then Savannah Gage made two free throws shortly thereafter to tie the game at 42-42. The Jaguars responded, though, with three free throws–one by White and two by Makenna Clark–to take a 45-42 lead with 58 seconds left.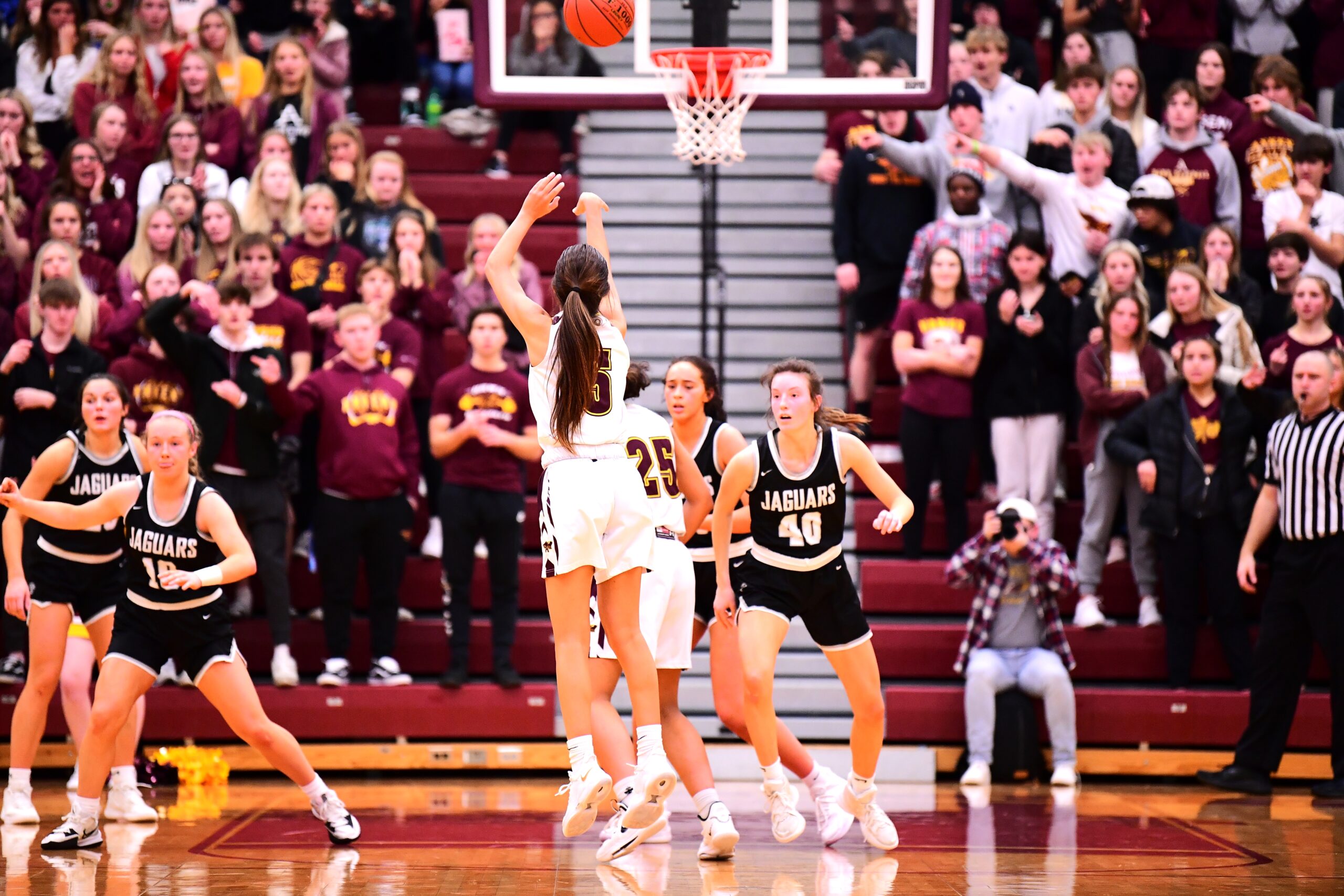 On the ensuing possession, Pitz used a screen at the top of the key to drain a tying 3-pointer with 47 seconds to go.
"Getting down nine to them going into the fourth quarter is like being down 18 to 20 to a lot of people the way that they play defense and are so patient on offense," McAnelly said. "But our girls never went away from the game plan. They stayed disciplined on offense, and the bottom line is–big-time players make big-time plays at big-time moments. And Jenna was unbelievable. I really don't have words."
Centennial had a chance to play for the final shot, but Pitz stole the ball near mid-court and was fouled on a drive to the basket by Clark with 15.7 seconds left. She made both free throws to give the Hawkettes a 47-45 lead.
After the Jaguars missed a 3-pointer, Pitz grabbed the rebound and was fouled again with 4.7 seconds remaining. She hit two more free throws to seal the victory.
"Pitz made the plays," DeJong said. "I thought the second half she was phenomenal. She got to the free-throw line and made them all (12-of-13), and she's a 60 percent free-throw shooter. I thought our defense was good–maybe not great–but I think they had everything to do with that."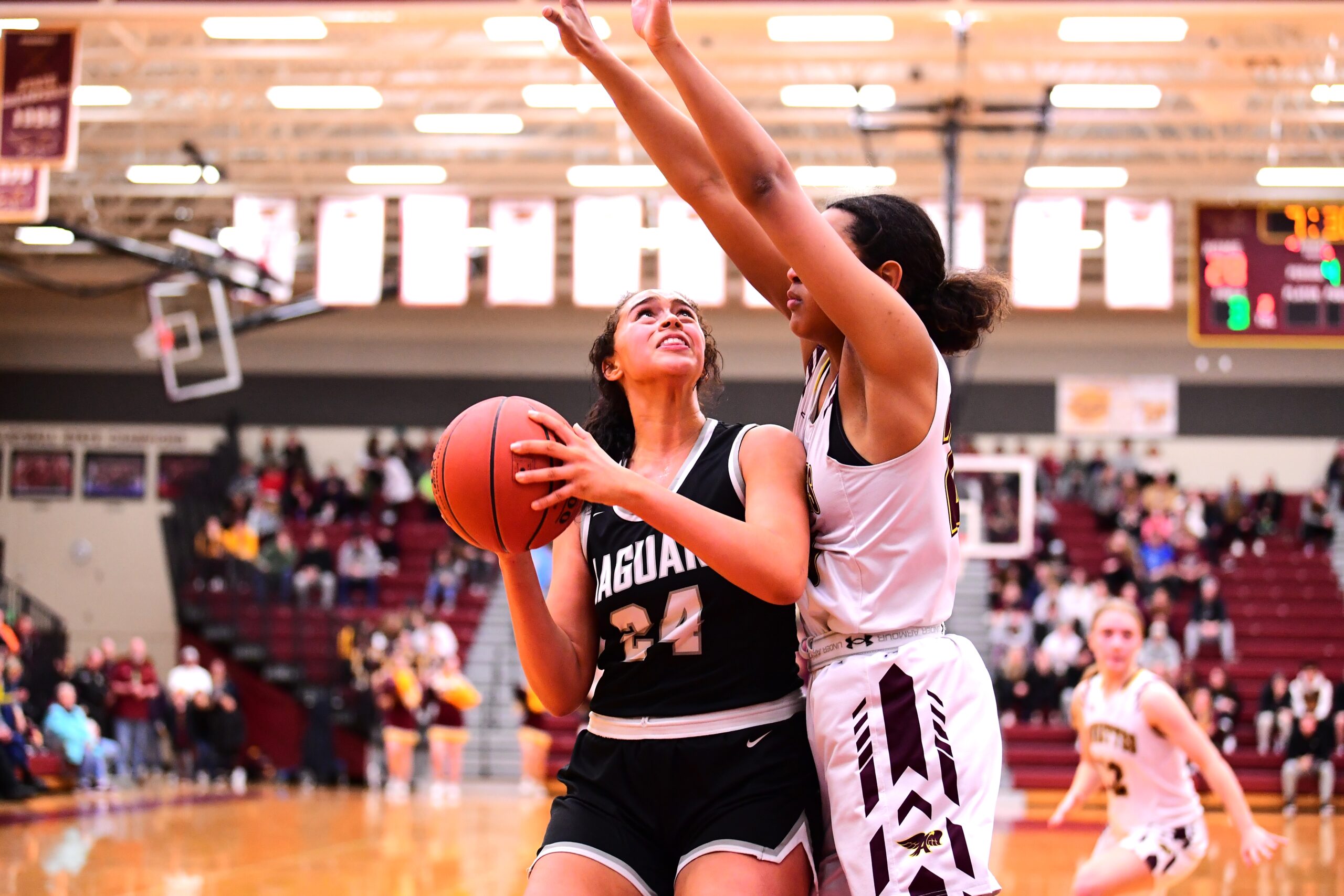 Jacks had 11 points and eight rebounds in the win. Gage added seven points, three assists and four steals.
"It was a great team win," Pitz said. "A lot of girls came up big. Jadyn (Filling) had a big 3-pointer, Karsen had a lot of key finishes, and just hitting free throws down the stretch was awesome."
White led Centennial with 15 points, 13 of them in the second half. She went 6-of-7 from the field, but her teammates combined to go just 8-of-41.
DeJong said the Jaguars should have gotten the ball to the junior post player even more.
"That ball should have gone in there every single time," he said. "They really had some foul trouble, and Kennedy played great the second half. We tried to get a little too fancy maybe with a few plays, and we should have just pounded it inside."
Murray finished with 13 points and 11 rebounds, helping her team to a 33-24 advantage on the boards. Averi Porter had four assists and three steals.
Murray vowed that the Jaguars would bounce back.
"This is really eye-opening and good for us," Murray said. "Obviously, we'd rather lose now than later in the year. They went on a little run, and we struggled to respond a little bit. We'll definitely learn from this and take it into the postseason."
The Jaguars will host Marshalltown in a Class 5A regional semifinal on Saturday, Feb. 19. Ankeny will host a semifinal against Des Moines Lincoln or Waukee.
"I definitely think this gives us a lot of momentum going in," Pitz said. "Obviously, we've got to beat Waukee first, and then after that most likely Roosevelt, and then after that win we're in Wells (Fargo Arena) for the first time since the split which has definitely been a big goal for us this season. I'm just proud of the momentum that we're going to have, and we have to carry that forward."