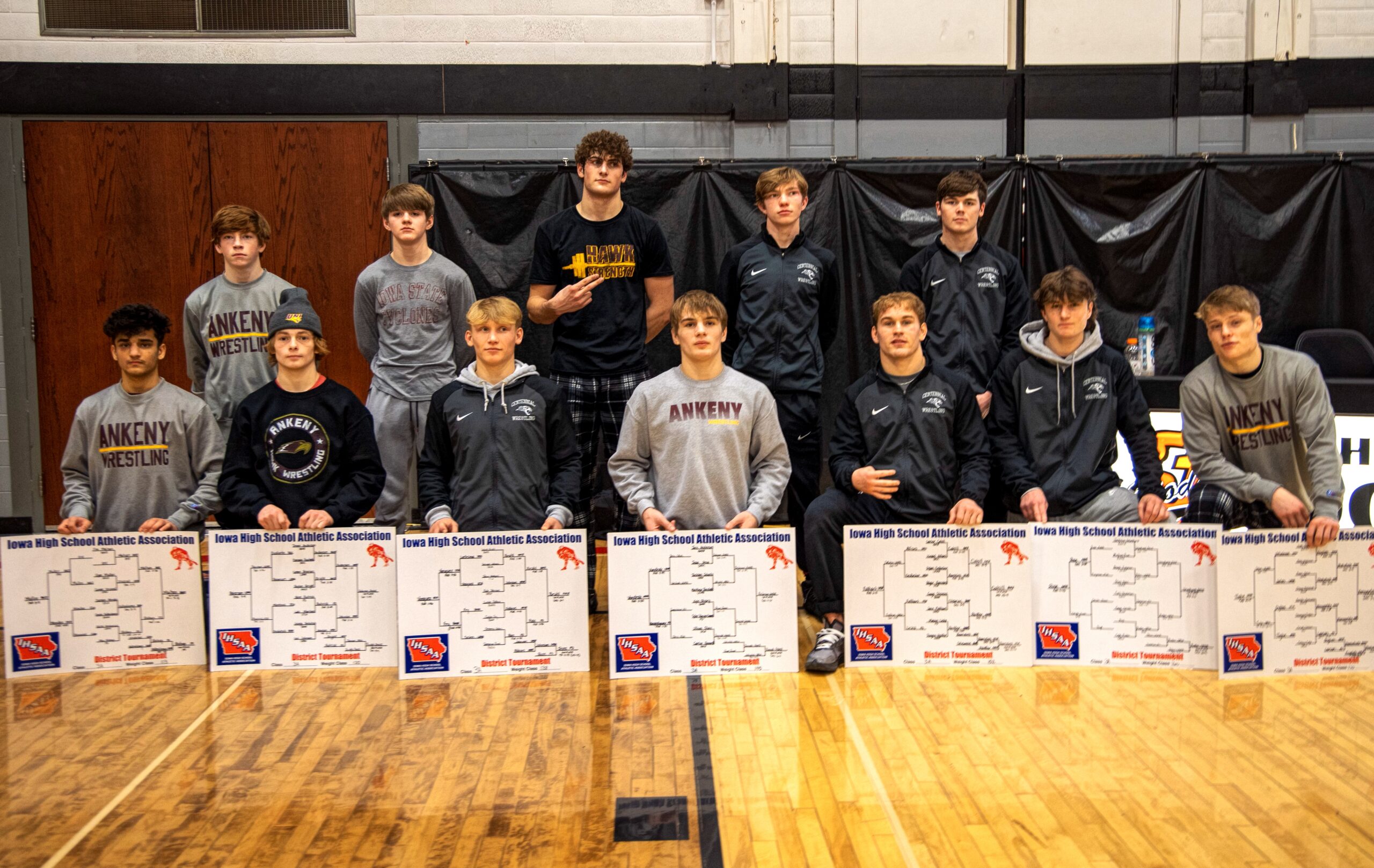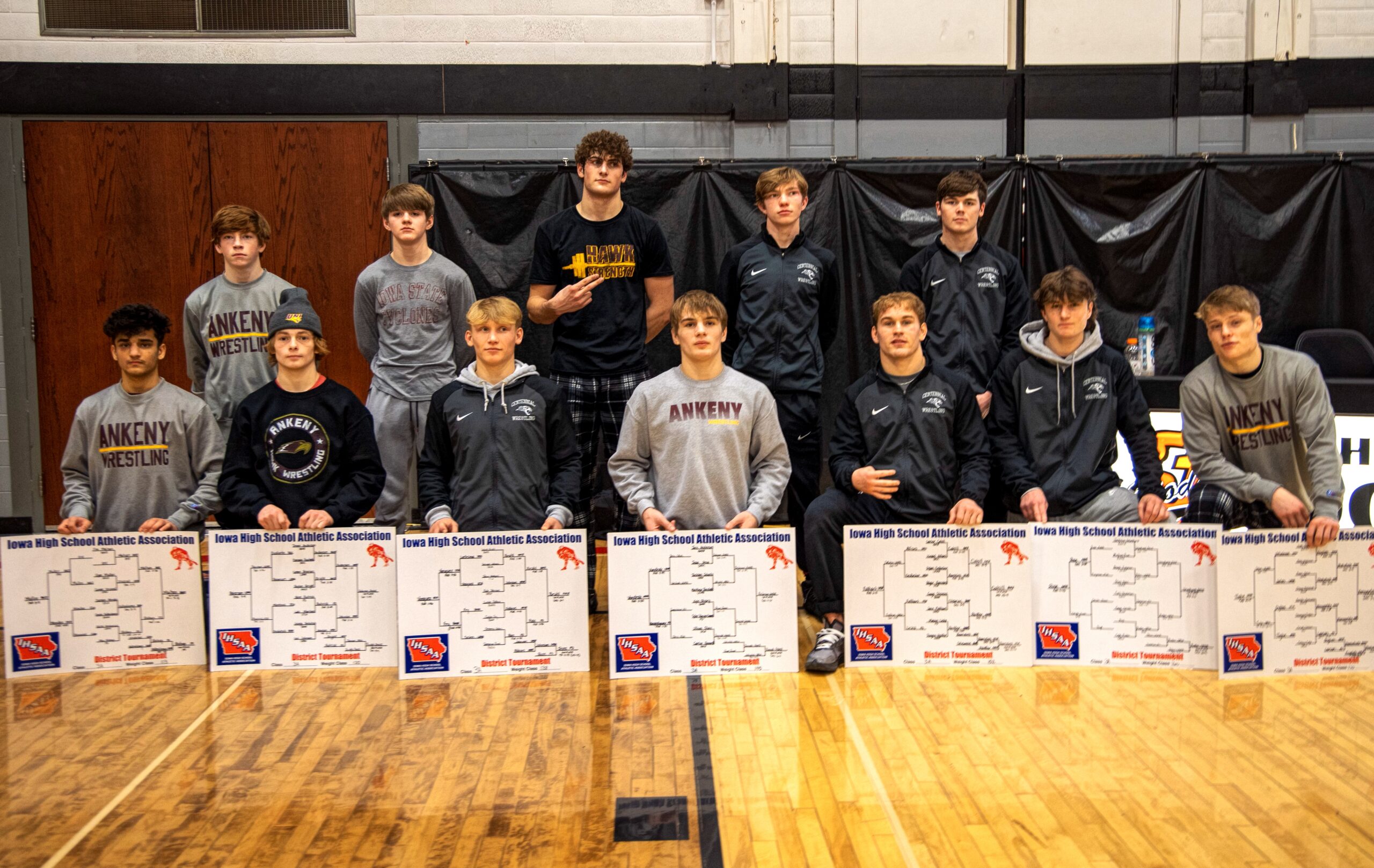 Saturday's Class 3A district wrestling tournament at Fort Dodge featured nine matches between Ankeny and Ankeny Centennial grapplers.
The team title also came down to a battle between the crosstown rivals.
In the end, eighth-ranked Ankeny captured the overall crown with 220 points, even though Centennial went 5-4 in its head-to-head matches against the Hawks. The Jaguars finished with 209 points and matched Ankeny with seven state qualifiers.
"Three or four years ago, I would have been ecstatic to get seven kids through," said Ankeny coach Jack Wignall. "I kind of feel like we underachieved. I just felt like we left some kids home, but you probably always feel that way. I'm happy, though–don't get me wrong. We won a district title, and we had never done that. So we're happy, and we're ready to go to state."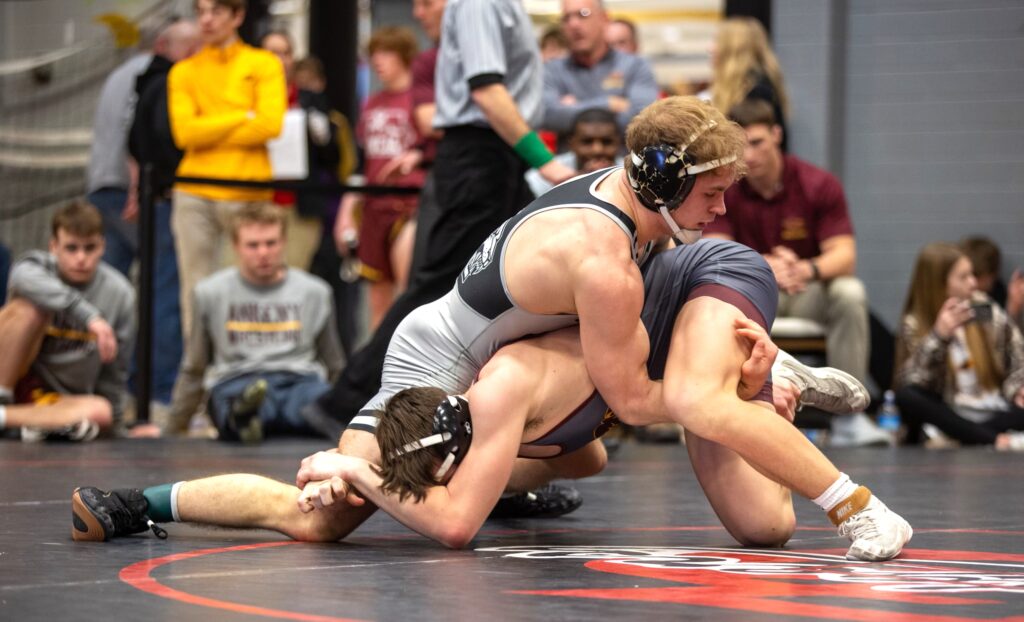 While the Hawks took home four individual titles, Centennial crowned three champions. The Jaguars had four runners-up–and all of them won wrestle-back matches for second place.
"It was a nerve-racking day," said Centennial coach Jay Groth. "To get four guys through in the wrestle-backs, it was great to see them get there. It was touch and go there for a while. But we won every match in the wrestle-backs, and I don't recall that ever happening before with one of my teams."
Ankeny's fifth-ranked JJ Maihan at 113 pounds, No. 2 Trever Anderson at 120, No. 7 Jace Anderson at 145 and Xander Kenworthy at 170 each won titles. No. 6 Truman Folkers at 106, No. 5 Ben Hansen at 126 and Will Hinrichs at 182 also qualified with second-place finishes.
Trever Anderson pinned all three of his opponents in a combined 5 minutes 26 seconds to claim his fourth district title. The two-time state champ improved to 32-1 on the season with a fall over Levi Johnson of Spencer in 3:28 in the finals.
"I feel like I'm in a great place right now, but I've just got to take it one match at a time," Anderson said. "We have a state dual title to win first (on Wednesday)."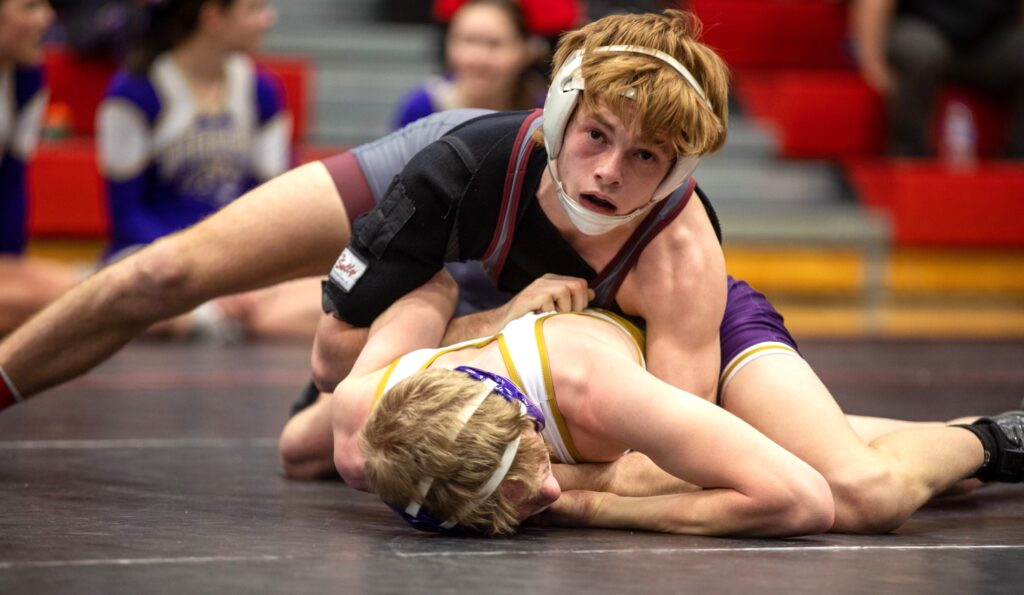 Jace Anderson matched his brother with three consecutive falls to earn his third trip to the state tournament. He pinned Carter Bennett of Centennial in 4:35 in the finals to raise his mark to 32-6.
Maihan (24-11) posted a 9-8 victory over No. 7 Max Bishop of Fort Dodge in overtime. He advanced to state for the second straight year along with Hansen and Hinrichs.
"JJ was in on a shot and Bishop put a figure four on him, which is illegal," Wignall said. "So (Bishop) lost on a penalty point that ended the match. It was an unbelievable match."
While Ankeny's other three champs were all No. 1 seeds, Kenworthy (26-13) emerged from the bottom of the bracket to win his crown. He posted a 7-1 decision over Dylan Pestotnik of Boone, who had knocked off No. 10 Zach English of Centennial in the semifinals.
"Xander ended up wrestling completely different kids than he thought he would, but I was so happy for him," Wignall said. "He did a great job."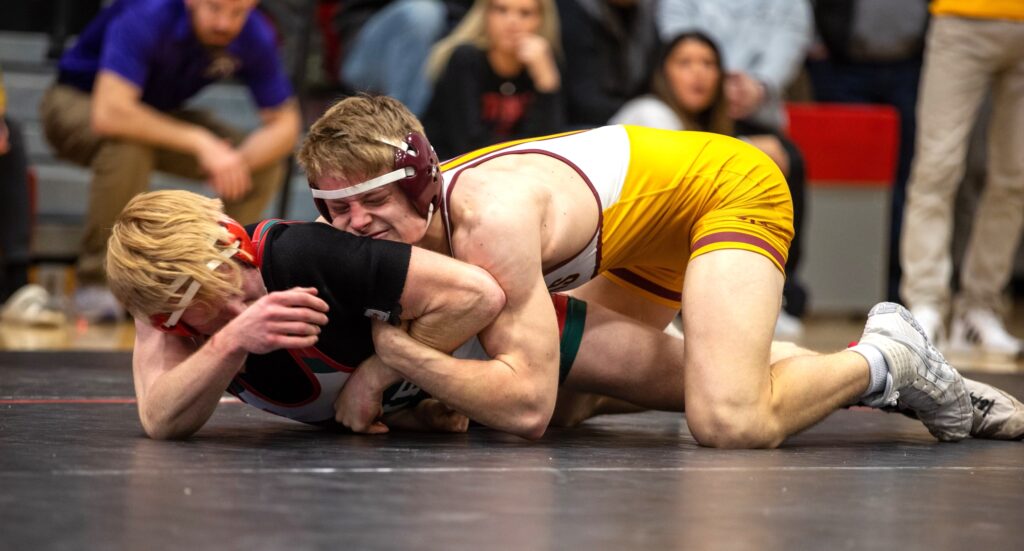 Hansen (28-7) posted a 7-6 decision over Cael Hron of Centennial in the semifinals. He then dropped a 13-4 major decision to No. 2 Koy Davidson of Fort Dodge.
"Obviously, I think I could've wrestled better," Hansen said. "There's a few things I need to touch up on before this upcoming week for sure. I've wrestled Davidson three times this year already, but of course I'd like to see him again at state. I don't care exactly who I wrestle though as I need to be able to beat everybody to achieve my goals."
Folkers also reached the finals before losing by a technical fall, 19-4, to No. 1 Dru Ayala of Fort Dodge. He is now 19-4 on the season.
Hinrichs (14-8) dropped down from 195 after teammate Cade Bennethum, who is ranked fourth at 182, was unable to wrestle due to an injury that he suffered during Wednesday's regional duals.
"It was disappointing that Cade couldn't wrestle, because we felt like we could have gotten in at both 182 and 195," Wignall said.
After dropping a 7-2 decision in the semifinals to eventual champ Ben Egli of Fort Dodge, Hinrichs pinned Logan Song of Centennial in a consolation match. He then posted a 12-3 major decision over No. 7 Jayden Angle of Boone for second place.
"I think our team performed well," Trever Anderson said. "We had some guys lose their wrestle-backs on some heartbreakers, but that's part of the sport. Overall, I thought we wrestled well."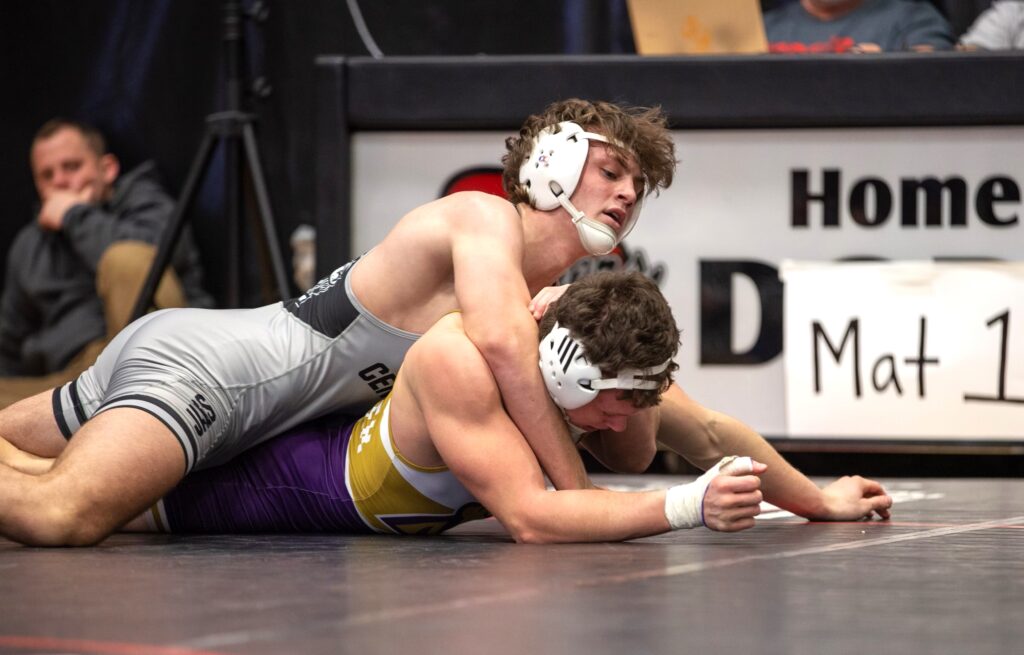 No. 5 Lucas Bruhl at 138, No. 3 Carter Cahill at 152 and No. 4 Jackson Helmkamp at 160 each won titles for Centennial. Teammates Payton Bright at 120, Cael Wiener at 132, Bennett and Kaden Kaiser at 195 also qualified with runner-up finishes.
Helmkamp (8-1) advanced to state with an 8-0 major decision over No. 12 Cole Rutter of Spencer. He becomes only the second four-time state qualifier in Centennial's history, joining current Iowa State wrestler Ben Monroe.
Cahill also dominated his bracket, posting a 15-4 major decision over Teagen Peiffer of Ankeny in the finals. He raised his mark to 33-4 and earned a second consecutive trip to state along with Bright and Bennett.
"I was pretty confident, and my mind got ahead to next week," Cahill said. "I need to wrestle in the moment and not take anything for granted. The ultimate goal is to be on top, and I know what needs to be done."
Bruhl posted a 5-1 decision over No. 6 Damarion Ross of Fort Dodge in the finals. He will take a 17-2 record into the state tournament.
"All three of those (champs) wrestled very well," Groth said. "They're in a good place physically and mentally, and I'm excited about the opportunities ahead of them."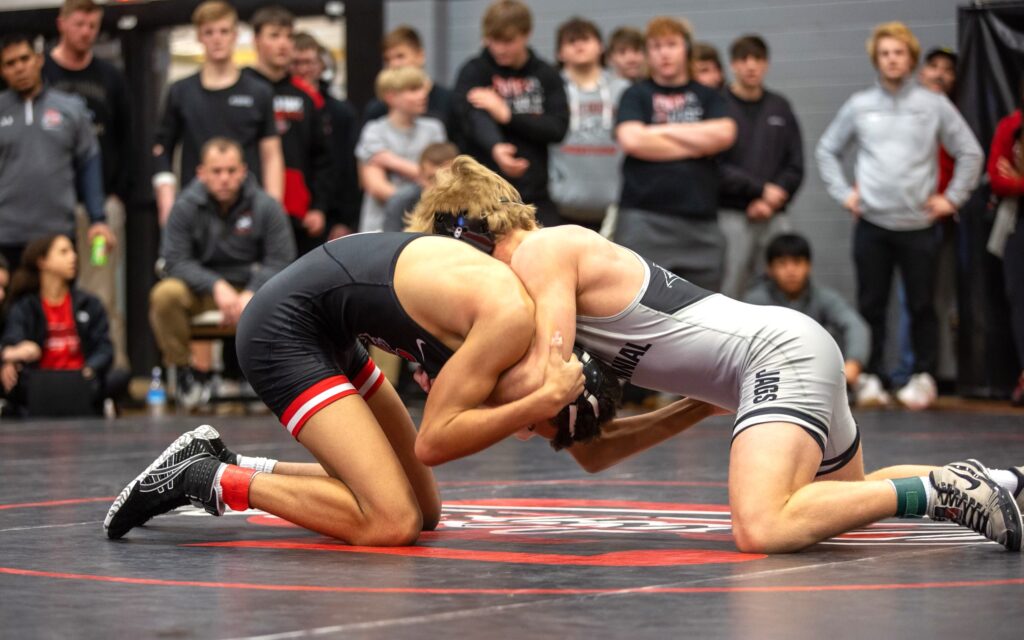 Wiener qualified for state for the third time. After losing in the semifinals to eventual champ Ty Solverson of Boone, Wiener (18-9) then won his next two matches to advance, capped off by an 8-3 decision over Carter Davis of Ankeny.
"Wiener did a great job and followed our plan," Groth said. "He avenged his loss to Davis at the CIML tournament."
Bright and Kaiser also rebounded from semifinal losses to qualify.
After being pinned by Trever Anderson, Bright got a fall of his own against Kane Butrick of Fort Dodge. Bright (19-22) then posted a 9-4 decision over Spencer's Johnson to place second.
Kaiser (30-15) lost in the semifinals to eventual champ Jaxson Hildebrand of Denison-Schleswig. He then pinned Camden Feuerhelm of LeMars before posting a 6-0 decision over McGuire Bryant of Boone.
"Bright had a great tournament, and so did Kaiser," Groth said. "Kaden was the No. 4 seed, but he beat the No. 2 and 3 guys to qualify. That was awesome."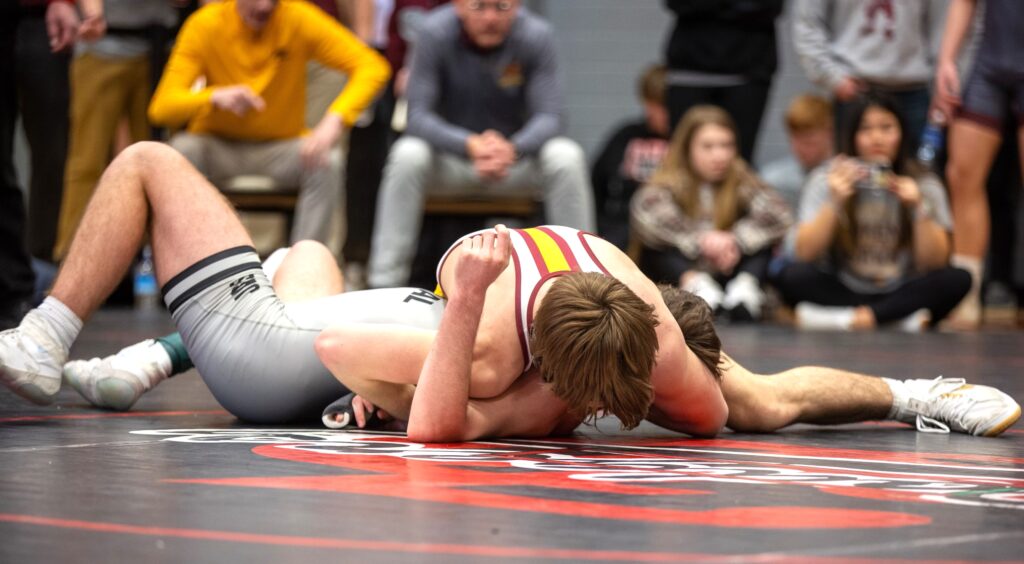 Bennett (30-14) bounced back from his loss to Jace Anderson with a 6-0 decision over Jackson Schultz of Spencer.
"As a team, I was very pleased with how we wrestled, especially in the wrestle-back round," Cahill said. "We wrestled tough and pulled off some great upsets. It was sad to see some of the guys not place, though."
Ankeny will now get ready to face Linn-Mar (Marion) in the quarterfinals of the Class 3A state duals on Wednesday at Wells Fargo Arena. The Jaguars will begin preparing for the traditional tournament that begins on Thursday.
"You always want more (qualifiers), but we're going to take the seven that we got and go out there and try to kick as much (butt) as we can," Groth said.