Ankeny junior Lance Swanepoel won an individual title in the 100 butterfly at the boys' state swim meet on Saturday at Iowa City, posting a time of 48.22 seconds to earn automatic all-American honors. He broke his own school record in the event during Friday's preliminaries with a clocking of 48.20.
Swanepoel also placed fourth in the 50 freestyle in 21.13 seconds. He led the Hawks to a seventh-place finish overall.
Here is some inside info on Swanepoel:
You posted some really fast times on Friday. Did you expect to go that fast in the preliminaries?
For prelims I really just wanted to set the tone of the meet in my favor. I don't think I expected to go 20.76 (in the 50 freestyle), but I knew the 48.2 was coming (in the butterfly).
Did you think you could go even faster on Saturday, or were you just hoping to duplicate those times?
I really did hope to go a little bit faster in finals, but with the 50 free it is very hard to duplicate a half-second time drop and with the fly I was just giving everything I had left.
You knocked off the defending champion, Andrew Reiter of Waukee, to win the butterfly–and I know the two of you have been club teammates. Did that make your victory even more sweeter?
Beating Drew was some sort of a right of passage for me. I'd gotten second the last two years, and I just decided I'd had enough. It does make it nice to have my one up on him, but overall I'm thankful to have a guy like him to race against.
You smashed your own school record in the butterfly by more than a second, and you're now just .36 seconds off the state record of 47.84 that was set by RJ Hemmingsen of Council Bluffs Lewis Central in 2014. Is that a mark you're looking to break next year?
The state record is my biggest goal now. Posting the second- and third-fastest times in state history is just the beginning. I want the state record, and I'm confident that it is possible if I can perform to my best.
How did you feel about your performance in the 50 freestyle?
My 50 free in the finals wasn't my best race of the weekend. I was a little too zoned in, and I ended up having a sloppy race.
You weren't able to match the time of 20.76 that you posted during Friday's prelims. How was your start out of the blocks?
My start was just fine, and I was out with the pack. My breakout was the part that threw me behind the other guys.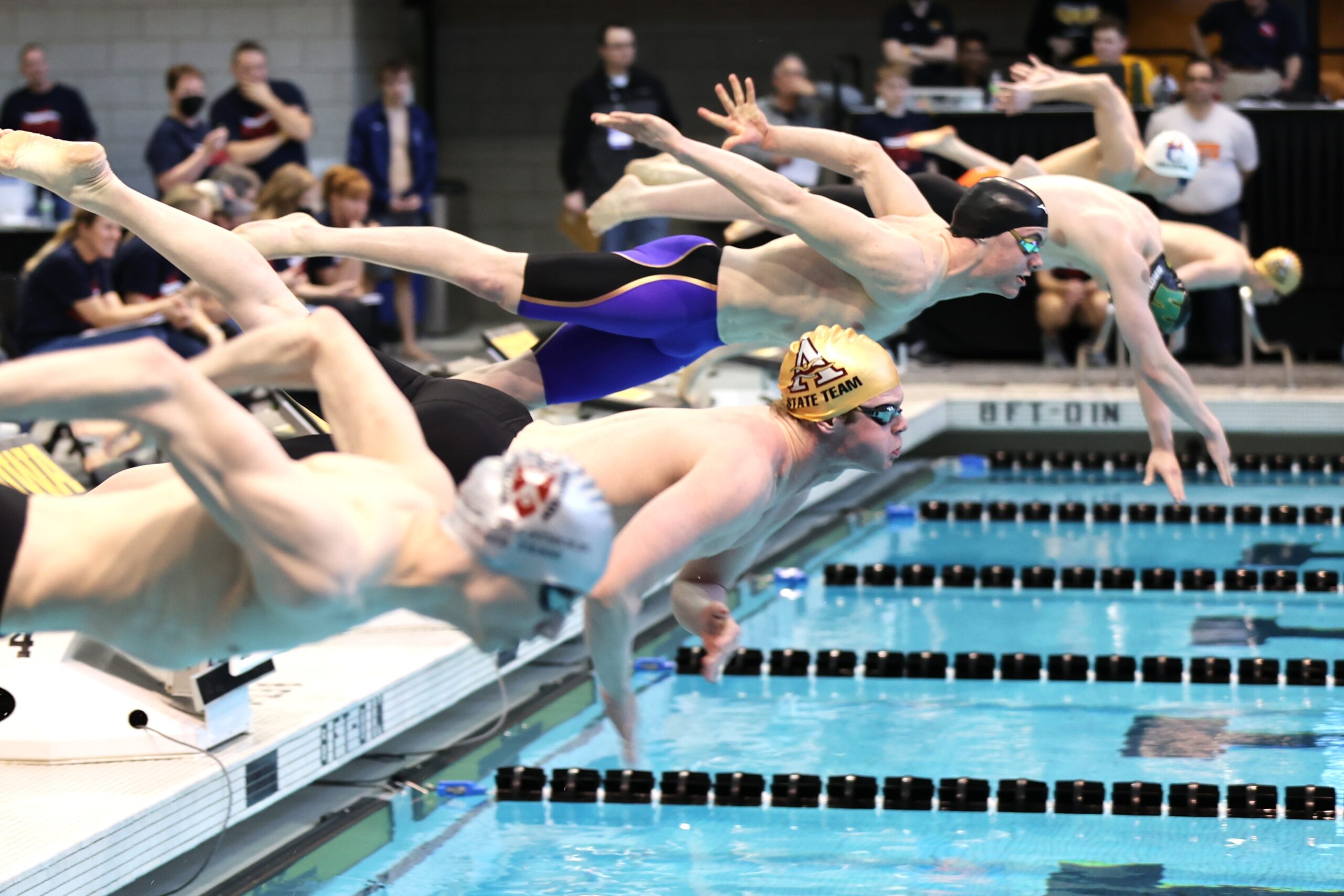 Your teammate, Owen Schwebach, joined you on the awards podium in both of your events, finishing sixth in the 50 freestyle and seventh in the butterfly. Did it help you to have him push you this season?
Having Owen to train with has been such a blessing–I love the kid. We butt heads at times and our personalities don't match up the best, but at the end of the day we have the same goal and that's why both of us got to where we wanted to go this season.
You also swam on the sixth-place 200 freestyle and eighth-place 400 freestyle relays. What did you think of your team's performances in those events?
I'm beyond happy with our relay performances. We really swam out of our weight class in those relays, and I'm proud of our seniors who got to be on the podium one last time.
Your team edged Ames in the 400 freestyle relay to move ahead of the Little Cyclones in the team standings. Did you know where your team stood going into that race?
Going into that last race I stood there and told all of the guys that we were one win away from a tie with Ames. We won our race and when Pleasant Valley (got disqualified) that set up for the jump ahead of Ames.
Your team will have to replace several seniors, but many of the state qualifiers will be back. Do you think next year's team can challenge for a top-five finish?
Next year a top-five finish is more than possible. So many of our guys are doubling down on the sport and are ready to make the next jump. I see amazing things for this team my senior year, and I think a top-five finish would be a great sendoff.
I know you have already committed to swim at Wisconsin. What are you planning to study in college?
I'm planning to study marketing in the business college.