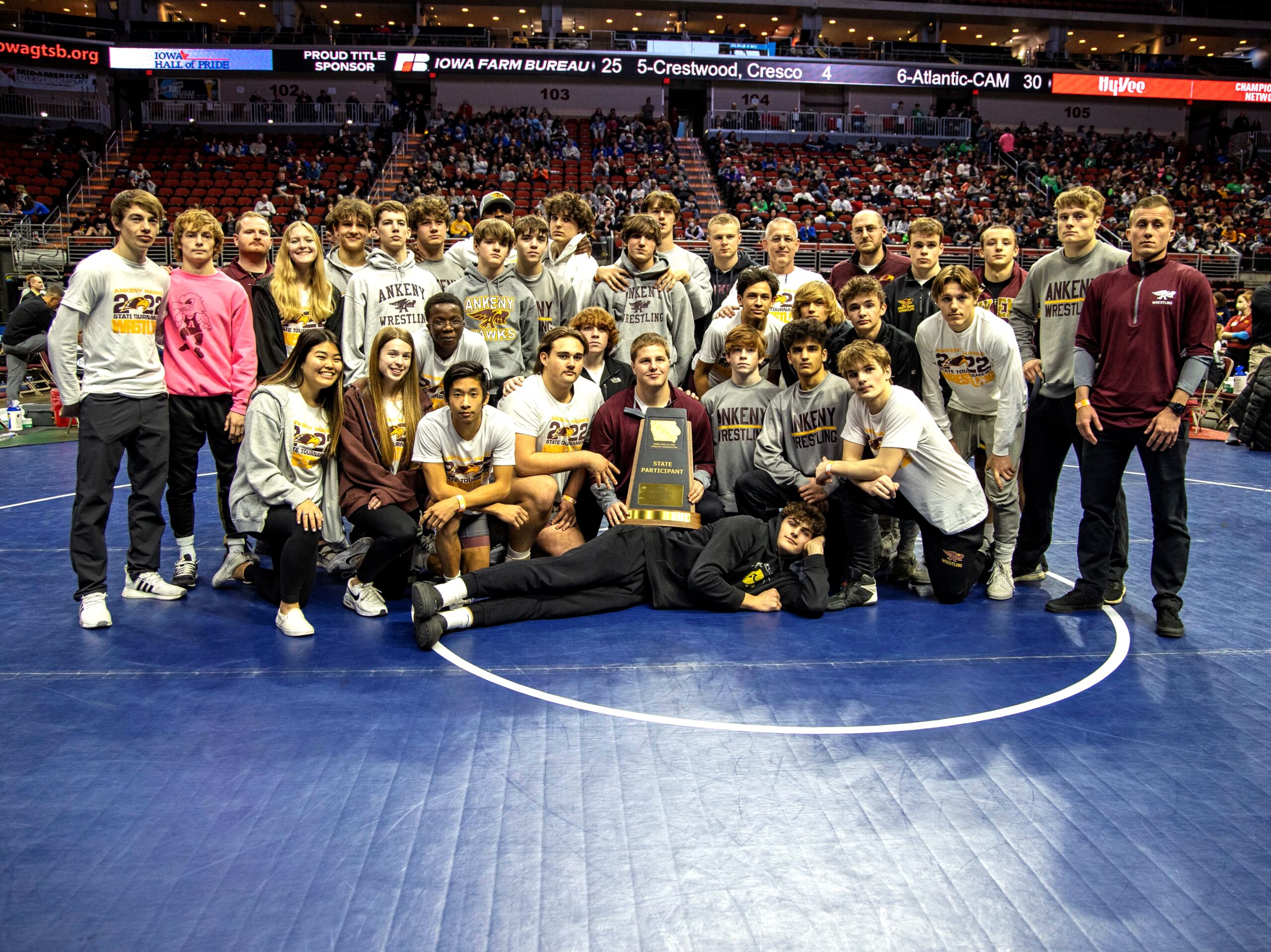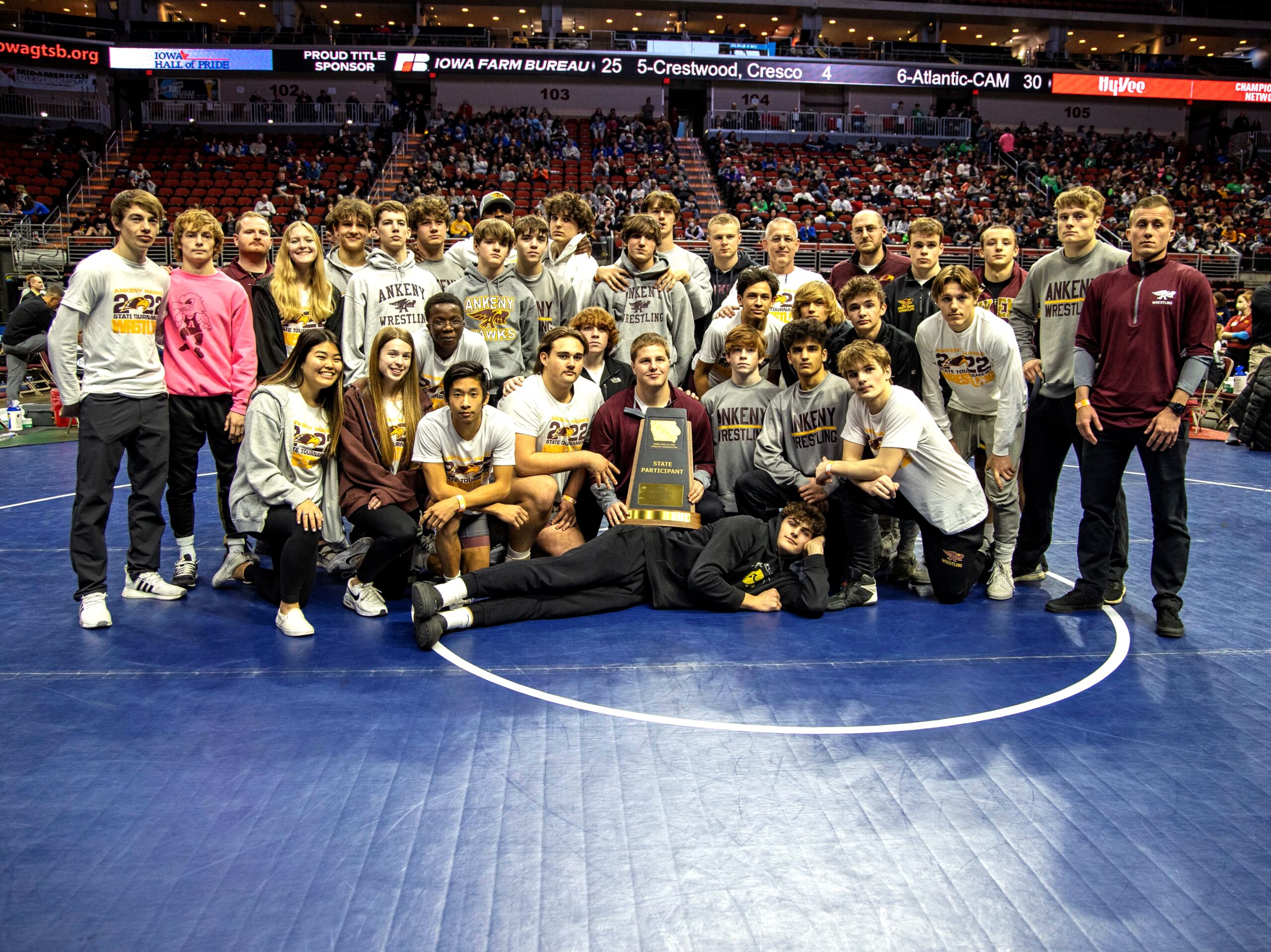 The Ankeny wrestling team was hoping to take its best shot against top-seeded Waverly-Shell Rock in the semifinals of the Class 3A state duals tournament on Wednesday.
To do that, though, the fifth-seeded Hawks needed to get past No. 4 Linn-Mar (Marion) in the tournament's opening round at Wells Fargo Arena.
Unfortunately, Ankeny came up a little short.
The Hawks dropped a 33-30 decision to Linn-Mar in the second close battle between the two teams this season. The Lions also edged Ankeny, 37-35, at the Battle of Waterloo on Dec. 18.
"When you get into (close) duals like that, one bad match or one mistake can cost you a dual meet," said Ankeny coach Jack Wignall. "Against Linn-Mar, it did. And we ended up losing by two or three (points) again."
The loss dropped Ankeny into the consolation bracket. The Hawks rebounded with a 55-19 victory over Johnston, but then lost to Bettendorf, 43-30, in the fifth-place match.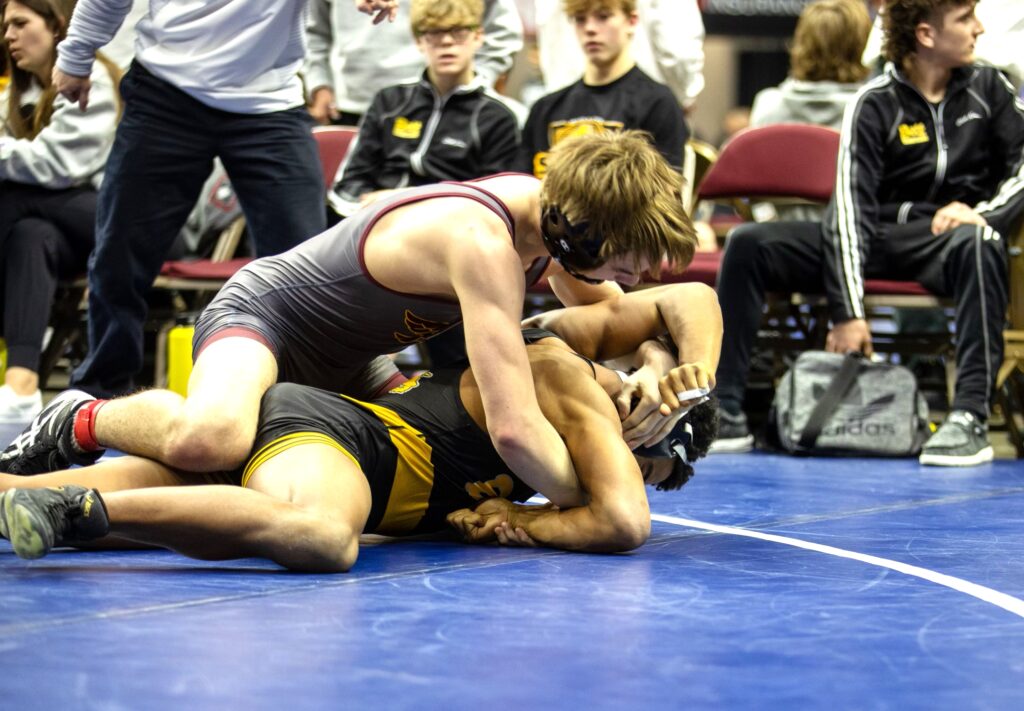 Ankeny, which ends the season with a 17-4 record, settled for a sixth-place finish. It was the Hawks' first appearance in the state duals tournament since 2013.
"We gave up a fall to Bettendorf at a weight where we probably shouldn't have, and it just changed the complexion of the dual meet," Wignall said. "But you know what, we're right there. I used this analogy to explain it to the kids: On the rungs of a ladder we've hit every step. We've never skipped a step, and we haven't necessarily dropped back a step. And this year was a step closer to winning titles. We made it to the state duals and won a dual meet down there. And Thursday, we're really excited about our individuals at the state tournament.
"We just keep climbing the ladder. And I expect another jump in how we do next year," he added.
Bonus points proved to be the difference in the Hawks' loss to Linn-Mar. Each team won seven matches, but the Lions recorded four falls–two more than Ankeny.
Top-ranked Tate Naaktgeboren got a pin at 170 pounds to give Linn-Mar a 33-23 lead with two matches left. Ankeny's Will Hinrichs posted a 13-6 decision at 182 and teammate Carter Smith followed with a 17-4 major decision at 195, but it wasn't enough to overcome the 10-point deficit.
The Hawks then dominated the consolation semifinal against CIML rival Johnston, winning 10 of the 14 matches. Six of their wins came by fall.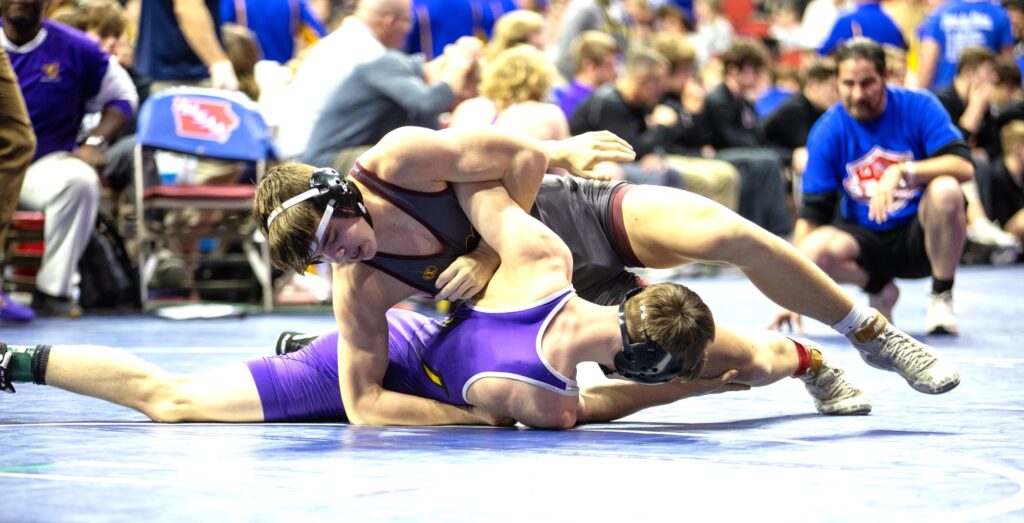 In the fifth-place dual, Bettendorf won four of the first five matches to build a 19-6 lead. Ankeny could get no closer than seven points the rest of the way.
The Bulldogs eventually sealed the victory when No. 2 Bradley Hill recorded a fall at 195 in just 22 seconds.
Hinrichs went 3-0 on the day for the Hawks, and so did No. 7 Jace Anderson at 145 and 152. Anderson posted a 3-2 decision over No. 6 Grant Kress of Linn-Mar in a matchup of state qualifiers at 145. He later bumped up to 152 and posted a 7-2 decision over No. 11 Elijah Mendoza of Bettendorf.
No. 6 Truman Folkers at 106 and No. 2 Trever Anderson at 120 each won both of their matches. Anderson, a two-time state champ, will be back on the mat Thursday along with the Hawks' other six state qualifiers.
Waverly-Shell Rock edged No. 2 Southeast Polk, 30-26, to win the Class 3A crown. Those two teams met in the final for the fourth straight year.
"Some of our kids who have to wrestle (Thursday) were licking their wounds at the end of the day, but here's the deal–we want to be in that upper echelon," Wignall said. "Waverly and Southeast Polk are wrestling for titles right now, and they're going to come back Thursday and wrestle for individual state titles and a traditional team title. That's what the best teams are doing. They are winning it on Wednesday night, and then they're coming back on Thursday, Friday and Saturday. That's what we're working toward. That's where we want to be."
Here are the Hawks' match-by-match results from Wednesday: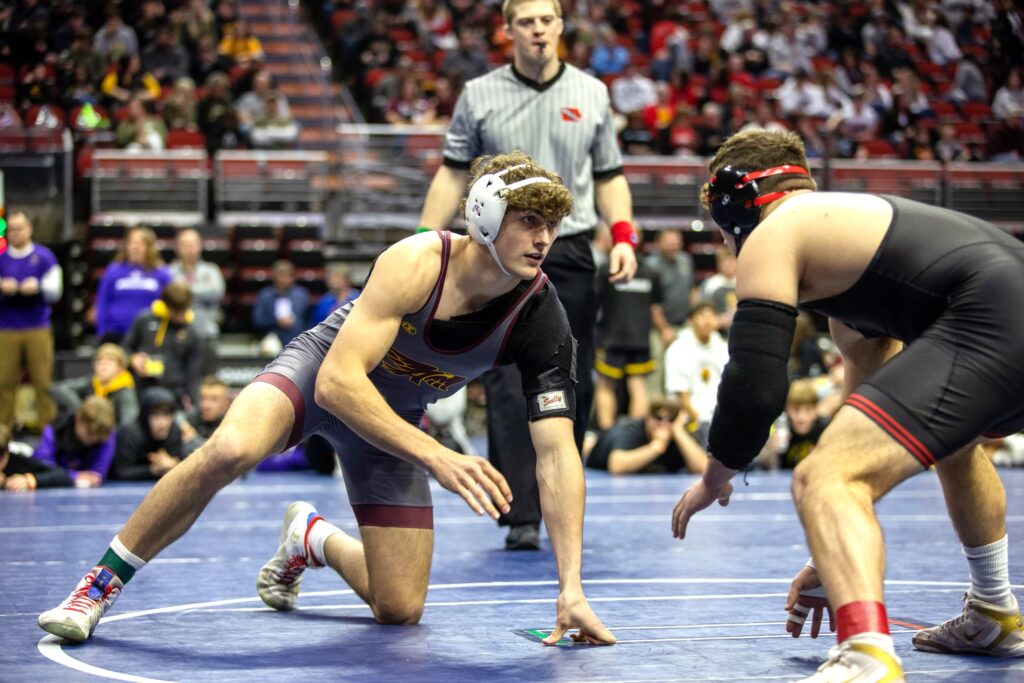 Linn-Mar (Marion) 33, Ankeny 30
220: Schultz (L-M) beat Dorfler, 6-3; 285: Gaffney (L-M) pinned Kingston, :37; 106: Folkers (A) beat DeBow, 13-4; 113: Maihan (A) beat Fish, 13-5; 120: T. Anderson (A) pinned Williams, 3:28; 126: Parke (L-M) beat Hansen, 9-2; 132: K. Naaktgeboren (L-M) pinned Vos, :59; 138: Vandersee (L-M) beat Davis, 8-4; 145: J. Anderson (A) beat Kress, 3-2; 152: Boddicker (L-M) pinned Rose, 2:33; 160: Peiffer (A) pinned Bushman, 3:19; 170: T. Naaktgeboren (L-M) pinned Kenworthy, :49; 182: Hinrichs (A) beat Muszynski, 13-6; 195: Smith (A) beat Bouska, 17-4.
Ankeny 55, Johnston 19
285: Kingston pinned Dolan, 2:22; 106: Folkers won by forfeit; 113: Maihan beat Thompson, 13-4; 120: Cornwell (J) beat O'Toole, 6-2; 126: Madison (J) pinned Perez, 3:09; 132: Davis beat Honkomp, 4-2; 138: King (J) pinned Wernau, 4:28; 145: J. Anderson pinned Brown, :26; 152: Peiffer pinned Harding, 1:55; 160: Fox (J) beat Rose, 14-2; 170: Kenworthy pinned Moss, :46; 182: Hinrichs pinned Frisk, 1:16; 195: Haase pinned Scott, 2:09; 220: Dorfler won by forfeit.
Bettendorf 43, Ankeny 30
106: Koester (B) pinned Wojcik, :40; 113: Diercks (B) beat Maihan, 6-2; 120: T. Anderson (A) pinned Evans, 2:14; 126: Luna (B) beat Hansen, 12-2; 132: Carmichael (B) pinned Vos, :28; 138: Davis (A) pinned Roberts, 4:12; 145: Bohren (B) pinned Peters, 1:38; 152: J. Anderson (A) beat Mendoza, 7-2; 160: Forker (B) pinned Peiffer, 1:59; 170: Kenworthy (A) beat Parker, 3-1 (OT); 182: Hinrichs (A) pinned Agosta, 2:57; 195: Hill (B) pinned Smith, :22; 220: Cortes (B) pinned Dorfler, :27; 285: Kingston (A) won by forfeit.