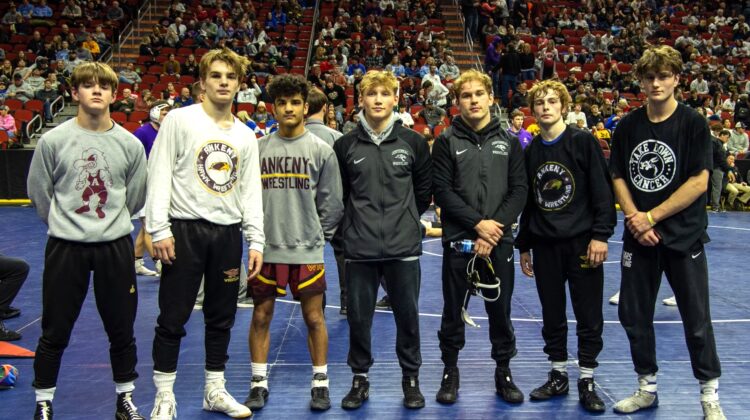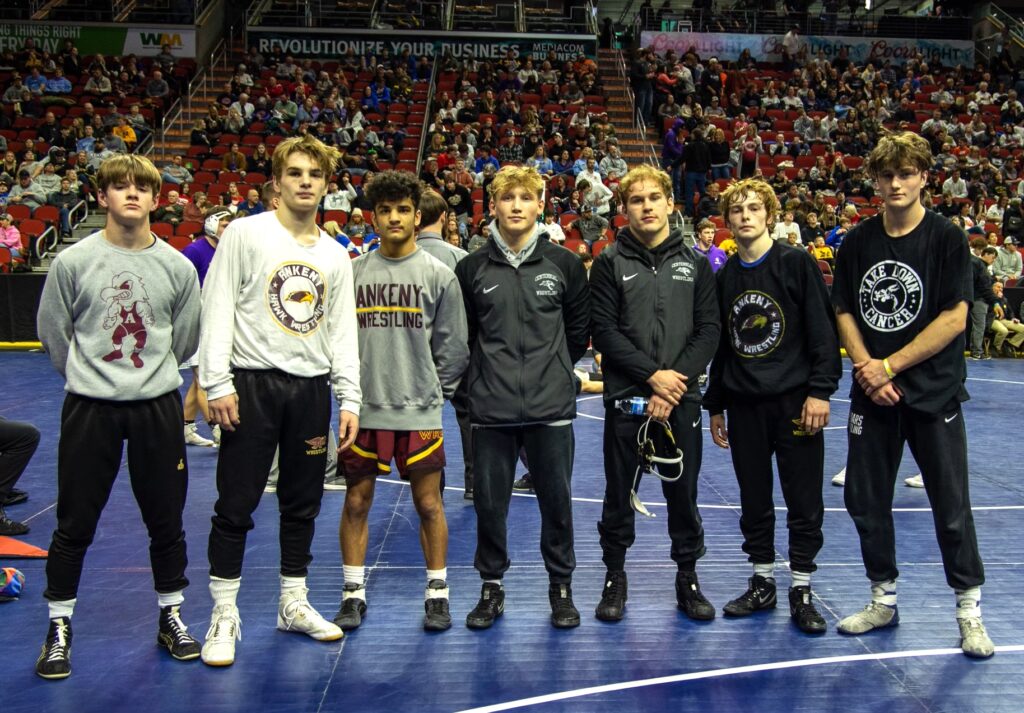 Trever Anderson is one win away from becoming the first three-time state wrestling champion in Ankeny High School history.
The second-ranked Anderson defeated No. 3 Cale Seaton of Iowa City High, 3-1, in overtime in the 120-pound semifinals of the Class 3A state tournament on Friday night at Wells Fargo Arena. He got the winning takedown about 30 seconds into the extra period.
"I was confident that I would end up getting the takedown," said Anderson. "I was able to get my hips up and back under me, and I was able to get the two (points)."
Seaton got an escape in the second period to take a 1-0 lead. Anderson answered with an escape in the third period.
Seaton then got in on a shot in overtime, but Anderson was able to fight him off and get the only takedown of the match. Seaton (40-3) has now lost to Anderson three times this season.
"Trever's defense was impeccable, and not just in overtime," said Ankeny coach Jack Wignall. "There were multiple times that kid was in so deep and Trever never quit wrestling. Elite kids never concede a position. They're going to wrestle out of every position that they can, and that was Trever tonight."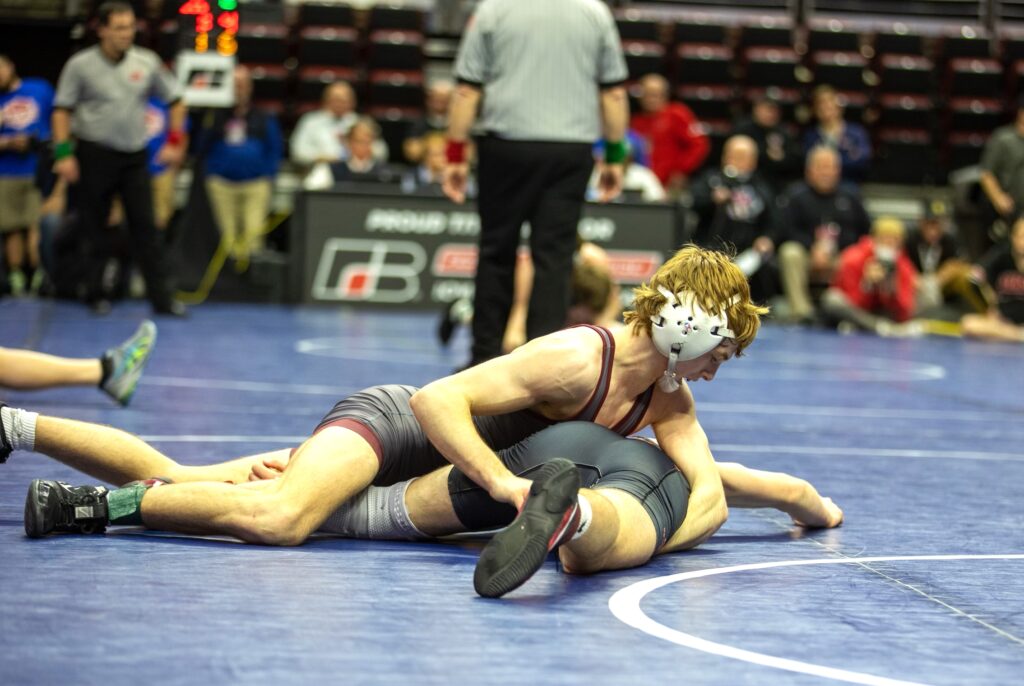 Anderson (35-1) will meet No. 1 Carter Freeman of Waukee Northwest (45-1) in the championship match on Saturday night.
"I just need to let it fly," Anderson said. "I have 6 more minutes of my high school career. I've just got to wrestle my match and score as many points as I can."
Freeman has recorded three falls in the tournament. He handed Anderson his only loss, 3-1, in overtime in the final of the CIML Invitational on Jan. 28.
Wignall is confident, though, that Anderson will emerge victorious.
"Freeman is tough and he's looking to be a four-time champ (since he won last year as a freshman), but Trever's got a lot on his side," Wignall said. "He has a lot to fight for, and I like our chances. Trever has done everything right, from being a good student to being a good teammate. His reward (Saturday) is going to be his third state title. He doesn't deserve it. He has earned it."
The eighth-ranked Hawks are currently in 11th place in Class 3A with 44 points. Crosstown rival Ankeny Centennial is tied with Western Dubuque (Epworth) for 16th place with 29 points.
No. 3 Waukee Northwest has taken the lead with 133 points. No. 1 Waverly-Shell Rock (127) and No. 2 Southeast Polk (124) are still in the title hunt.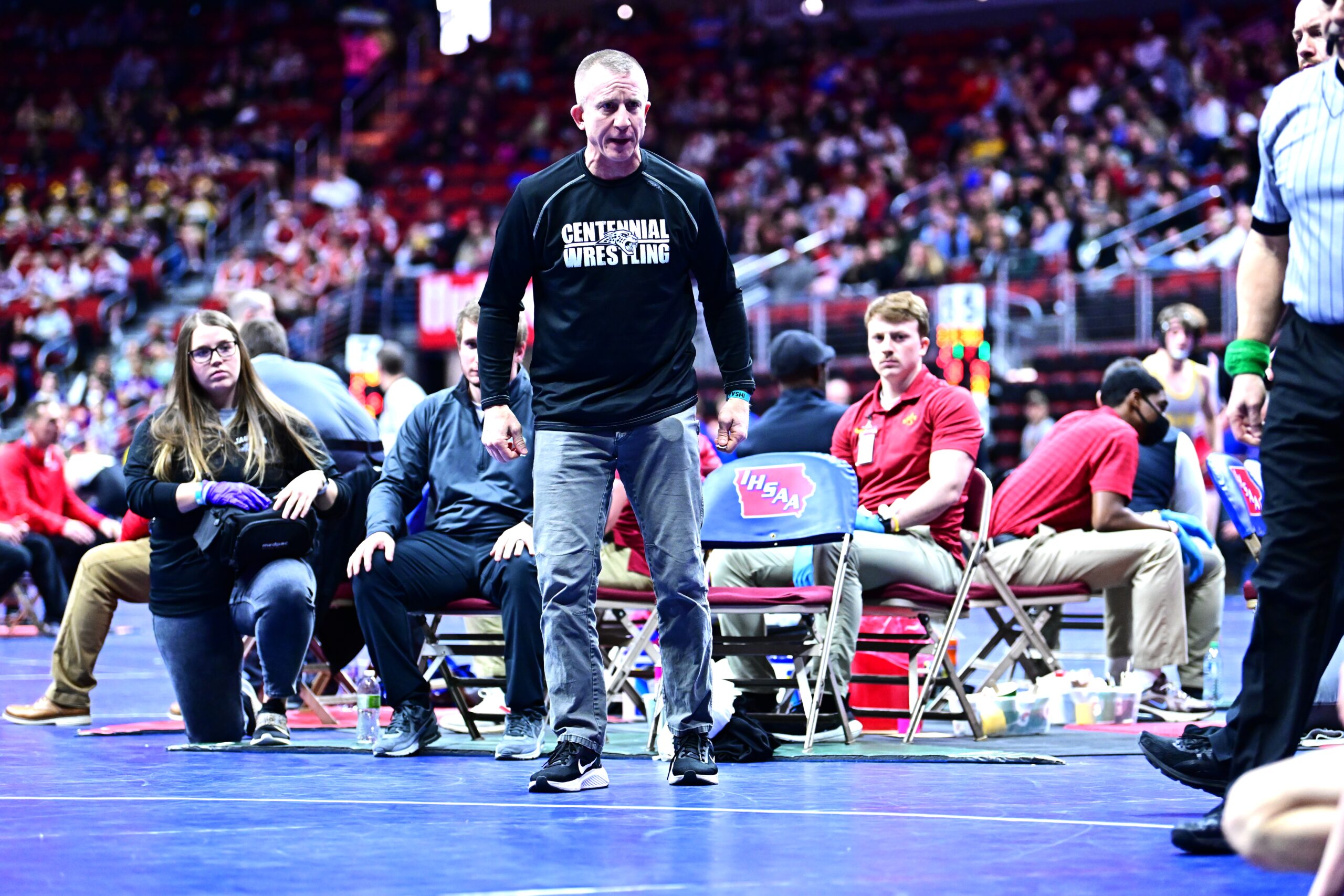 Both of Centennial's semifinalists, No. 5 Lucas Bruhl at 138 and No. 4 Jackson Helmkamp at 160, suffered losses on Friday night.
Bruhl dropped a 19-10 major decision to No. 1 Ryder Block of Waverly-Shell Rock. Block got a takedown just seconds into the match and kept the heat on Bruhl the rest of the way.
"Block is a big kid, and he took it to us early," said Centennial coach Jay Groth. "We finally woke up and started scrapping and hopefully realized then that we can hang with anybody if we go out there and wrestle the way we're capable of from the start. I think that was an eye opener for Lucas."
Bruhl (19-3) will meet No. 7 Grant O'Dell of Iowa City West (42-6) in a consolation semifinal on Saturday morning.
Helmkamp dropped an 11-5 decision to No. 2 Carson Martinson of Southeast Polk. Martinson got a reversal and two-point near fall in the second period to build an 8-3 lead.
"We kind of stumbled a bit at the end of the period," Groth said. "That's a big mountain to climb when you're behind by that much to a wrestler of that caliber. Martinson is tough as nails on top."
Helmkamp (10-2) lost to Martinson for the second time this season. He will face No. 5 Brayden Broderick of Waukee Northwest (29-8) on Saturday morning.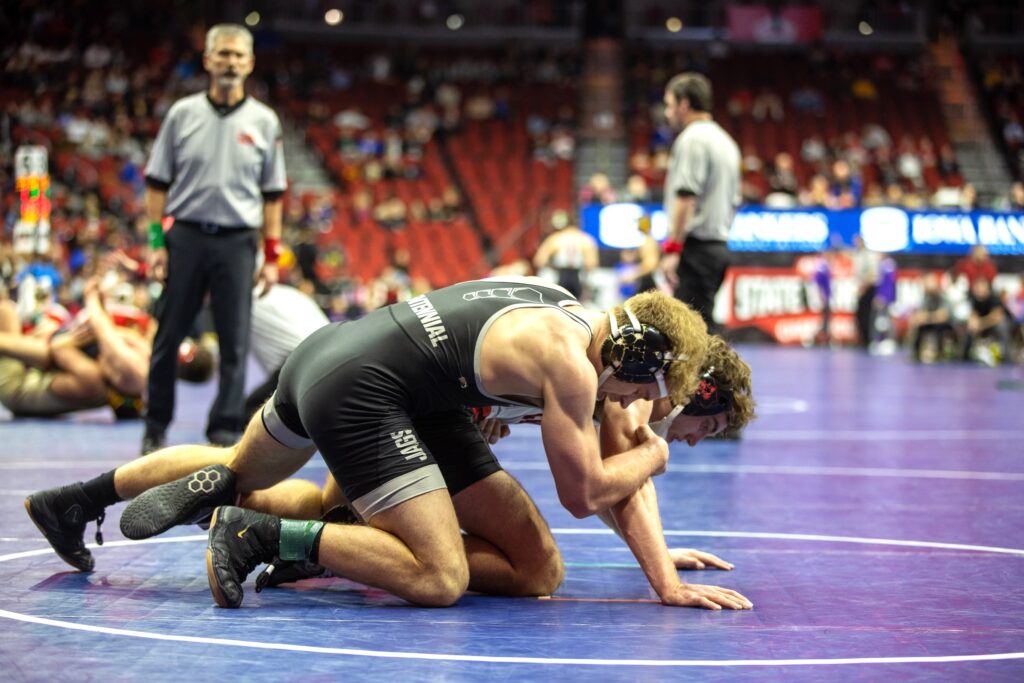 Bruhl and Helmkamp will be joined in the consolation semifinals by teammate Carter Cahill. The No. 3 Cahill posted a 7-5 decision over No. 8 Brennan Amos of Newton in a third-round consolation match at 152.
"The key was to push the pace," Cahill said. "Not everything is going to go your way in the tournament, but it's important to bounce back and get your mind right. A top-six finish is something to be proud of, but there's more on the table and I have a big opportunity to wrestle the best matches of my life."
Cahill has won his last two matches after falling to No. 5 Peyton Westlin of North Scott in the quarterfinals on Friday morning.
"Kind of like last year when he lost, Carter just came back and wrestled the way he can and hopefully he can do it again (Saturday)," Groth said. "He wrestled tough against Amos. We watched some film and knew what he was going to do."
Cahill (36-5) will meet No. 4 Dylan Whitt of Cedar Falls (40-5) on Saturday morning. He could get a rematch against Westlin in the ensuing third- or fifth-place match.
"I would love another shot at him," Cahill said.
Ankeny will also have three wrestlers competing on Saturday morning. No. 7 Jace Anderson at 145 could place as high as third, while No. 5 JJ Maihan at 113 and No. 5 Ben Hansen at 126 will both wrestle for seventh place.
"We're going to have four placewinners, and I'm happy for those four," Wignall said. "I'm not disappointed, but I do feel like we're better than that with where our program is at right now."
Anderson posted a 5-4 decision over No. 6 Grant Kress of Linn-Mar (Marion) in a third-round consolation match on Friday night. He also defeated Kress, 3-2, at the state duals tournament on Wednesday.
"I was really confident going into my match," Anderson said. "We have wrestled quite a few times, and I've picked up on a few things that allow me to keep the upper hand. I wrestled a much better match than Wednesday. I just had to stick to my match and do what I do, and I knew I would be fine."
Anderson (35-7) will meet No. 1 Joel Jesuroga of Southeast Polk (38-2) in the consolation semifinals. He could get a rematch against No. 3 Dustin Bohren of Bettendorf, who defeated Anderson in the quarterfinals, in the third- or fifth-place match.
"That 145-pound bracket is very deep," Wignall said. "For Jace to place in the top six, that's really impressive."
Both Hansen and Maihan lost their third-round consolation matches.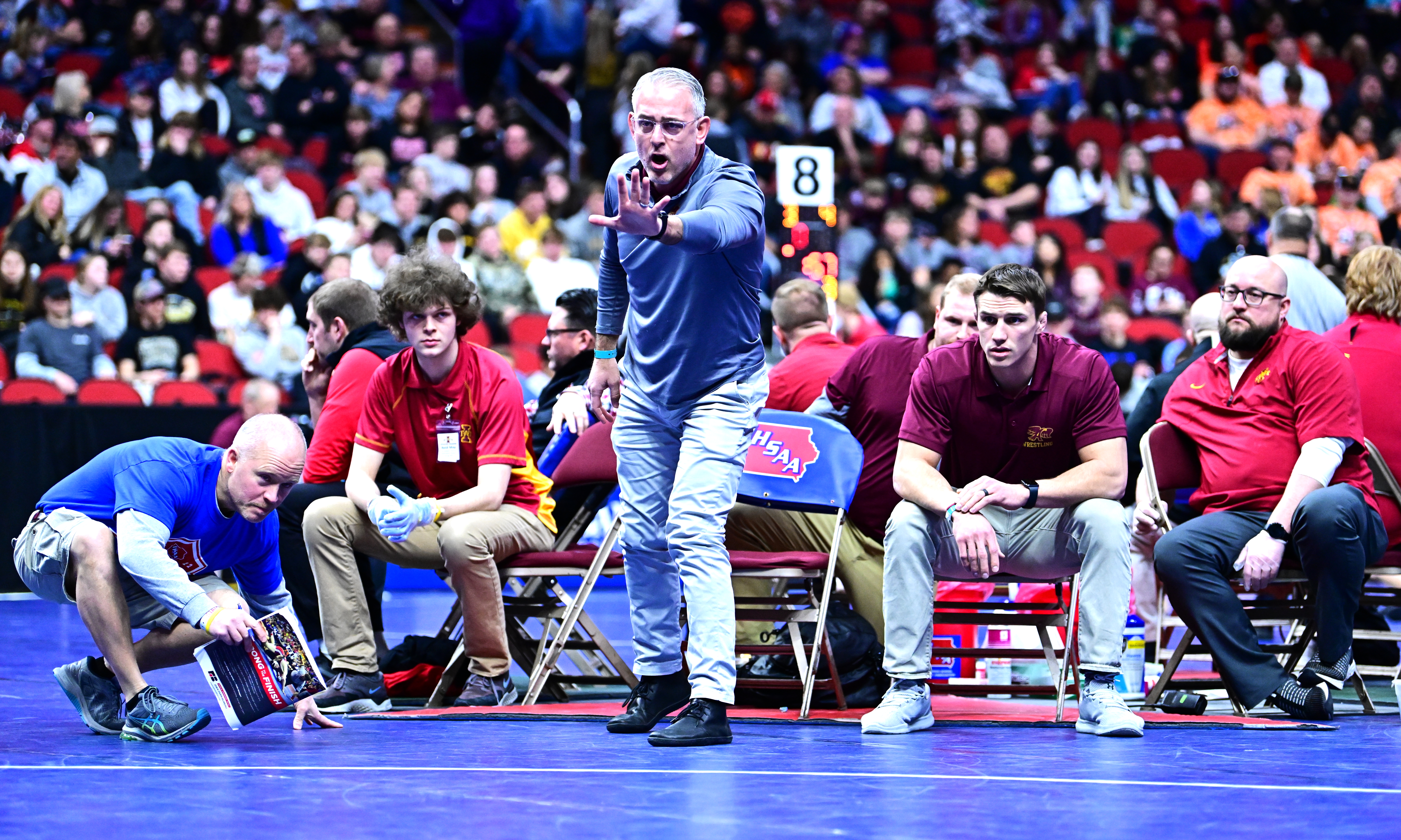 Hansen dropped a 3-2 decision to No. 10 Ethan Mahoney of Waukee Northwest. Mahoney avenged an earlier loss.
"That kid just defended Ben really well," Wignall said.
Hansen (30-9) will face No. 3 Jayce Luna of Bettendorf (37-6) in the seventh-place match on Saturday. Luna posted a 12-2 major decision over Hansen at the state duals tournament.
Maihan lost to No. 7 Max Bishop of Fort Dodge, 5-3, in overtime. Bishop avenged an overtime loss in last week's district final.
"It was a great match," Wignall said. "Those two kids are going to grind it out again next year, I have no doubt."
Maihan (26-13) will meet No. 9 Steele Diercks of Bettendorf (32-5) in the seventh-place match. He dropped a 6-2 decision to Diercks on Wednesday.