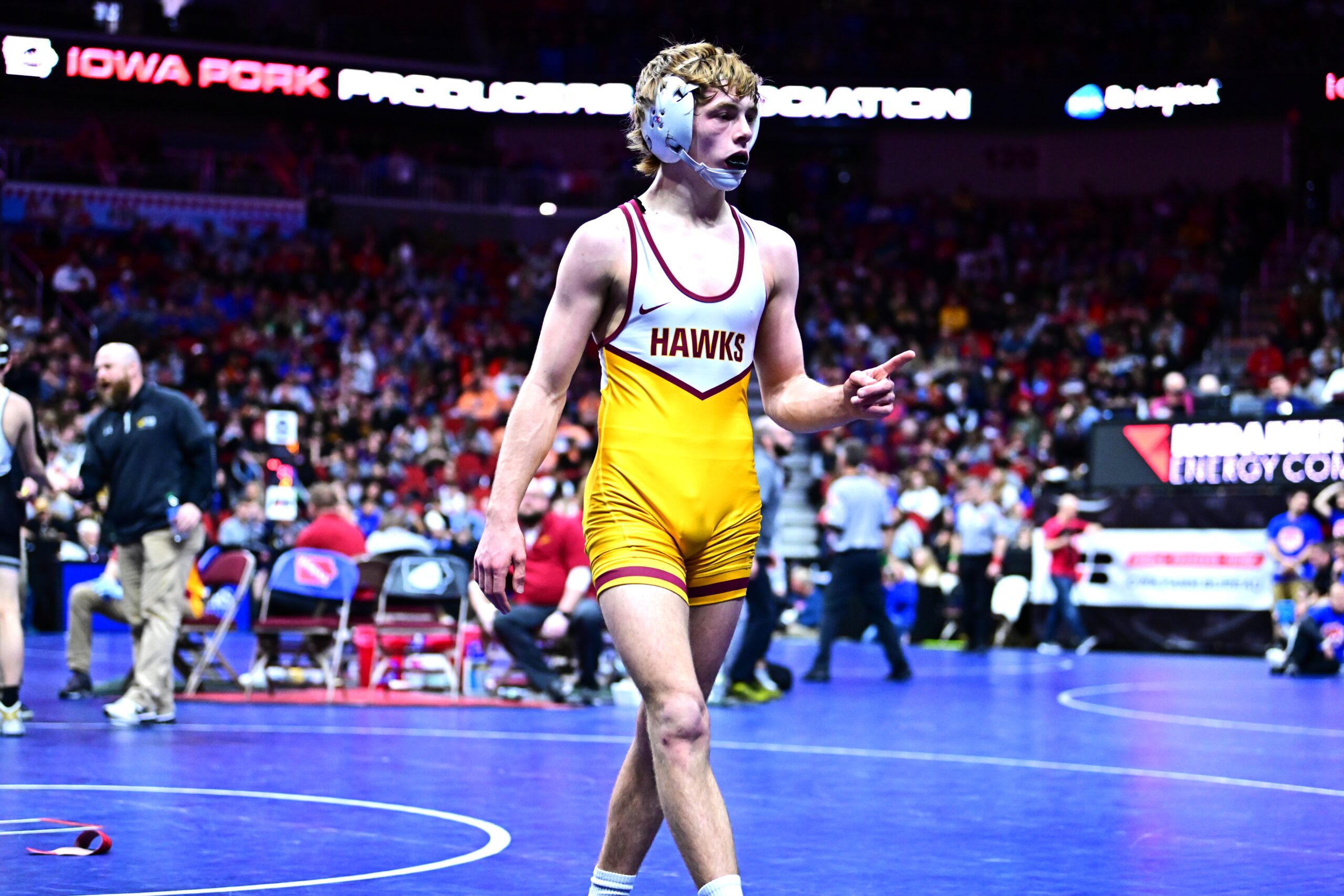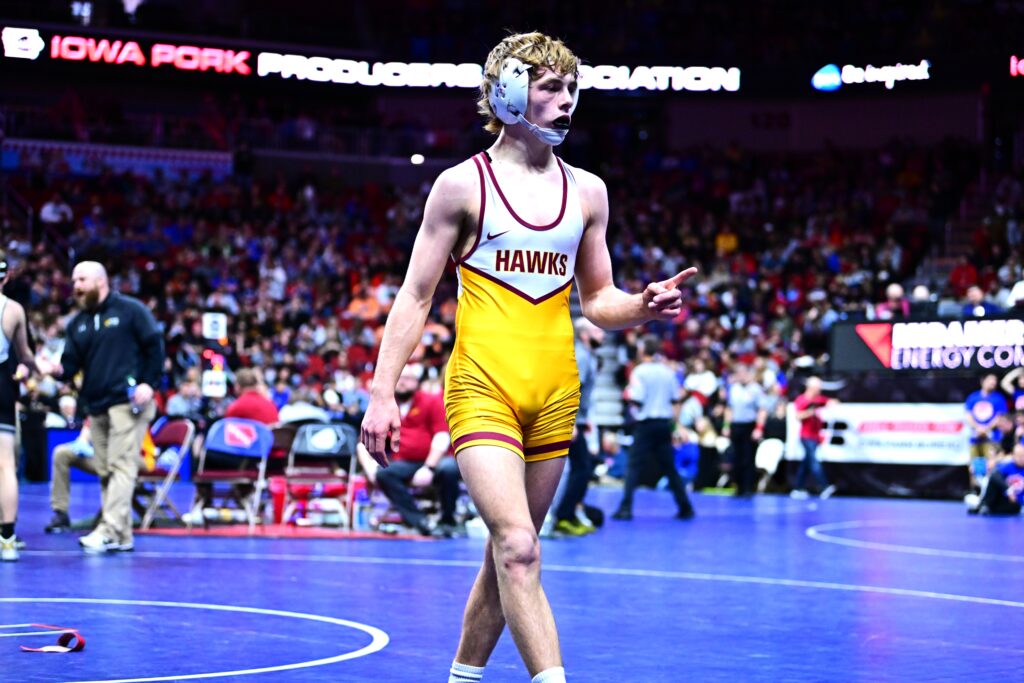 Two-time state champion Trever Anderson of Ankeny has advanced to the semifinals of the Class 3A state wrestling tournament along with the Ankeny Centennial duo of Lucas Bruhl and Jackson Helmkamp.
The second-ranked Anderson posted a 15-4 major decision over No. 12 Braxten Westendorf of Waverly-Shell Rock in the quarterfinals at 120 pounds on Friday morning at Wells Fargo Arena. He raised his record to 34-1.
"I had wrestled him earlier in the year and pinned him," Anderson said.
Anderson will now face No. 3 Cale Seaton of Iowa City High (40-2) in the semifinals on Friday night. Seaton's only two losses this season came to Anderson.
"I think it helps that I've wrestled him before but it has its (negatives) as well. We know each other pretty well," Anderson said. "I just need to wrestle my match and push the pace."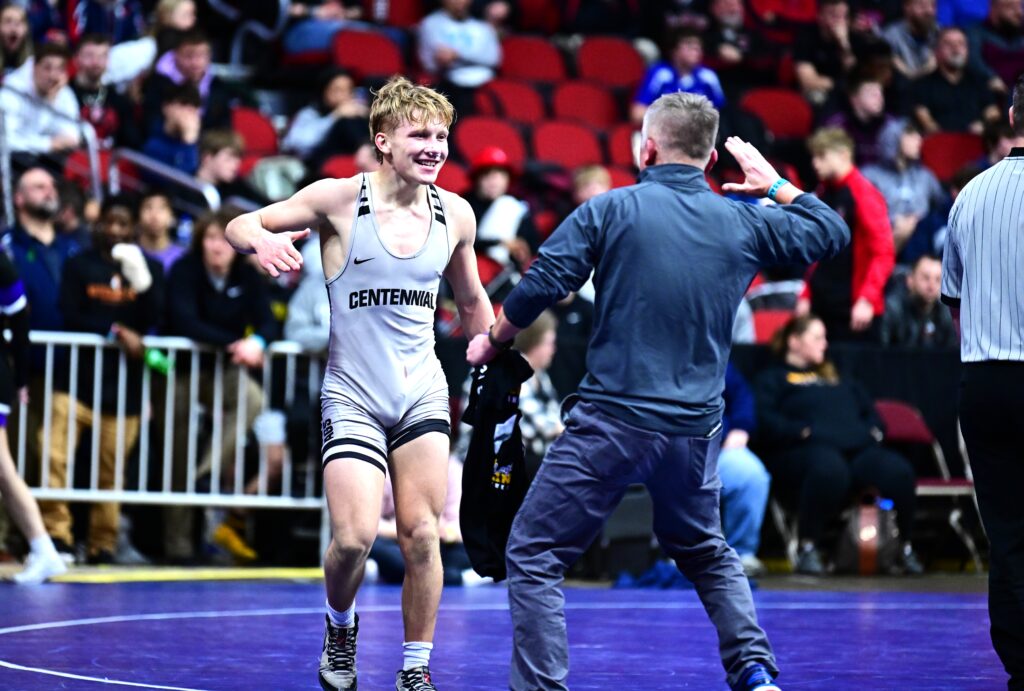 Bruhl, who is ranked fifth at 138, posted a 2-1 decision over No. 4 Jacob Helgeson of Johnston in overtime.
"It was a hard-fought battle between Lucas and a longtime training partner and I guess kind of rival since they were little kids," said Centennial coach Jay Groth. "That was a close, close match, and I'm glad we came out on top."
Bruhl got an escape in the first 30-second overtime period to take a 2-1 lead. He then rode Helgeson out for the next 30 seconds to earn the victory.
"Besides that, the key was my high pace and staying in good position on our feet," Bruhl said.
Bruhl improved to 19-2 on the season. He will meet No. 1 Ryder Block of Waverly-Shell Rock (36-0) in the semifinals.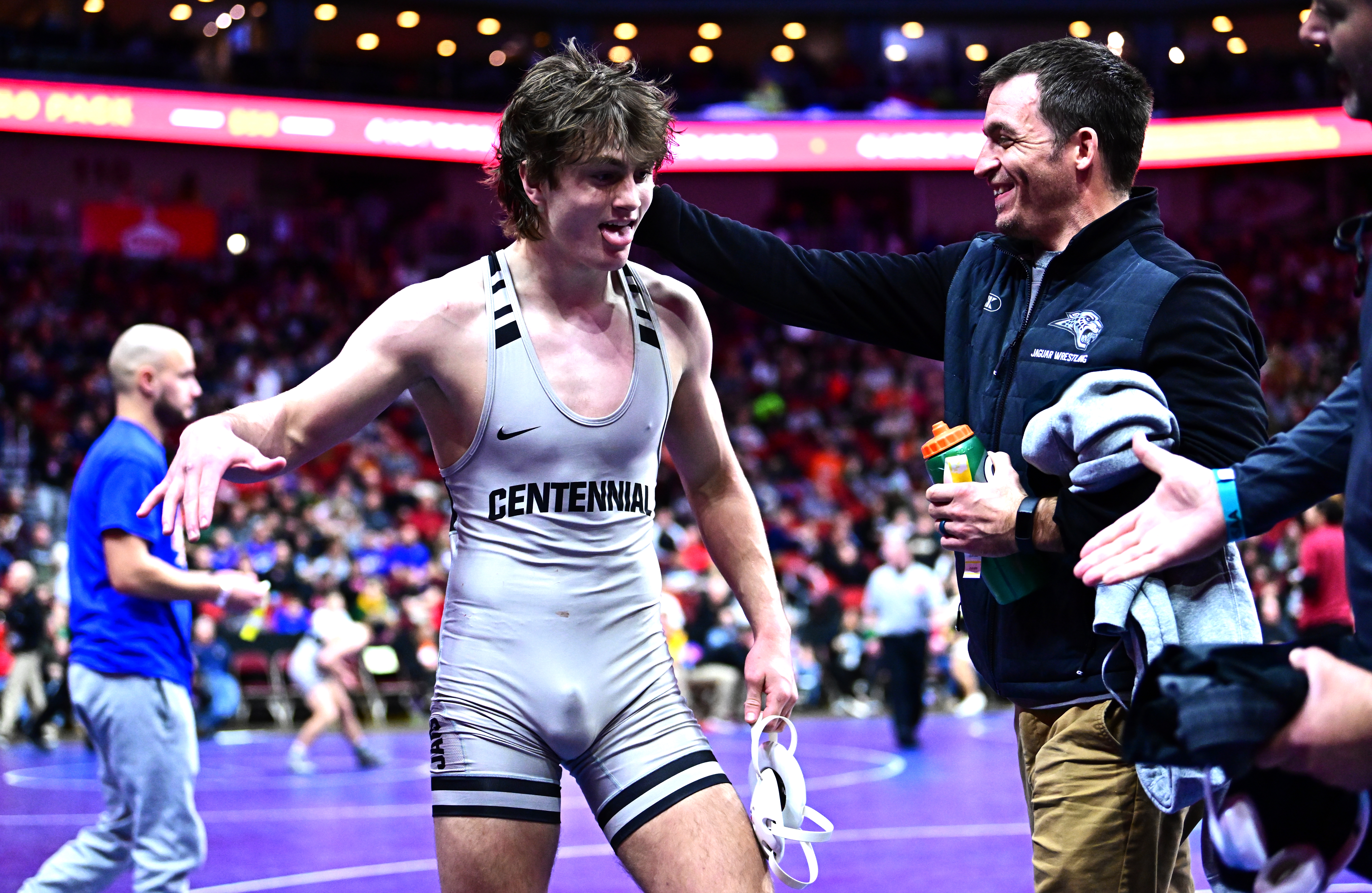 Helmkamp, who is ranked fourth at 160, recorded a fall over No. 12 Cole Rutter of Spencer in 1 minute 4 seconds.
"The kid took a shot and Helmie got in on a front headlock and turned it into a cradle and ended up putting him on his back and getting the fall," Groth said. "That was nice."
Helmkamp had posted an 8-0 major decision over Rutter in last week's district final.
"That earlier match gave me some confidence, but it didn't change how I wrestled," Helmkamp said. "I just wanted to wrestle hard."
Helmkamp (10-1) will face No. 2 Carson Martinson of Southeast Polk (37-4) in the semifinals. His only loss came to Martinson, 9-2, in the finals of the CIML Invitational on Jan. 28.
"I'm excited to wrestle Martinson," Helmkamp said. "The first time I definitely wasn't at my best, so that will be fun."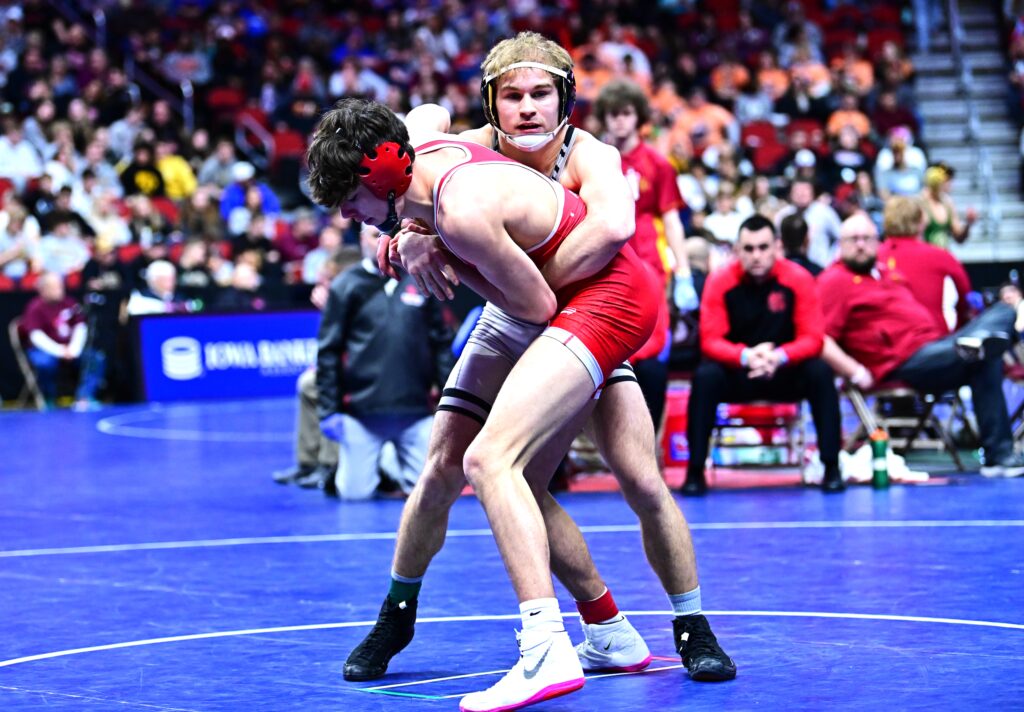 Centennial's other quarterfinalist was No. 3 Carter Cahill, who dropped a 7-0 decision to No. 5 Peyton Westlin of North Scott at 152. The senior ended up wrestling at the same time as Bruhl and Helmkamp.
"It was a little nerve racking, but it's a good problem to have," Groth said. "Carter just had a tough matchup. That kid is really tall, and Carter isn't very tall. It was just a strange match. But I'm hoping we get another shot at him (Saturday). We'll just have to adjust some things."
Cahill (35-5) then bounced back with a 15-0 technical fall over Jackson Van Kley of Pella in a second-round consolation match. He will meet No. 8 Brennan Amos of Newton (17-2) in a third-round consolation match on Friday night.
Ankeny had five wrestlers in the quarterfinals, but Anderson was the only one to advance to the semifinals. His brother, No. 7 Jace Anderson at 145, dropped a 1-0 decision to No. 3 Dustin Bohren of Bettendorf, a returning state champ.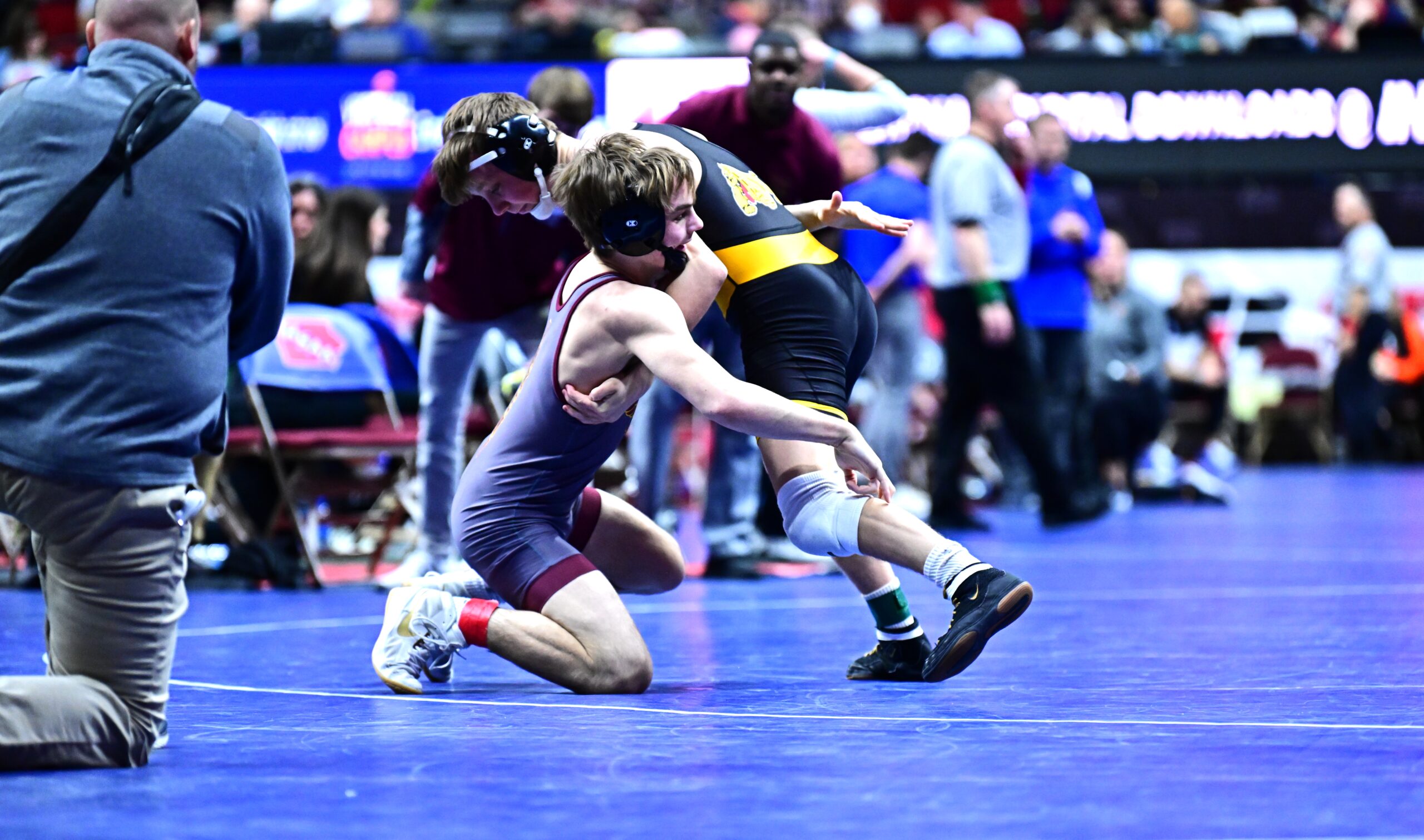 Bohren got an escape in the second period for the only point of the match.
"We were almost out three times or had a reversal (in the final period)," Ankeny coach Jack Wignall said of Anderson. "It was disappointing. Jace had his chances and just couldn't get it done."
Anderson then rebounded with a fall over No. 9 Aydan Cary of North Scott in 1:38. He will face No. 6 Grant Kress of Linn-Mar (Marion) (35-5) in a third-round consolation match on Friday night.
Anderson (34-7) beat Kress, 3-2, at the state duals tournament on Wednesday.
No. 5 JJ Maihan at 113 and No. 5 Ben Hansen at 126 also bounced back from quarterfinal losses to win consolation matches.
Maihan dropped a 14-4 major decision to No. 3 Bowen Downey of Indianola. He then posted a 7-4 decision over Braden Doyle of Iowa City West.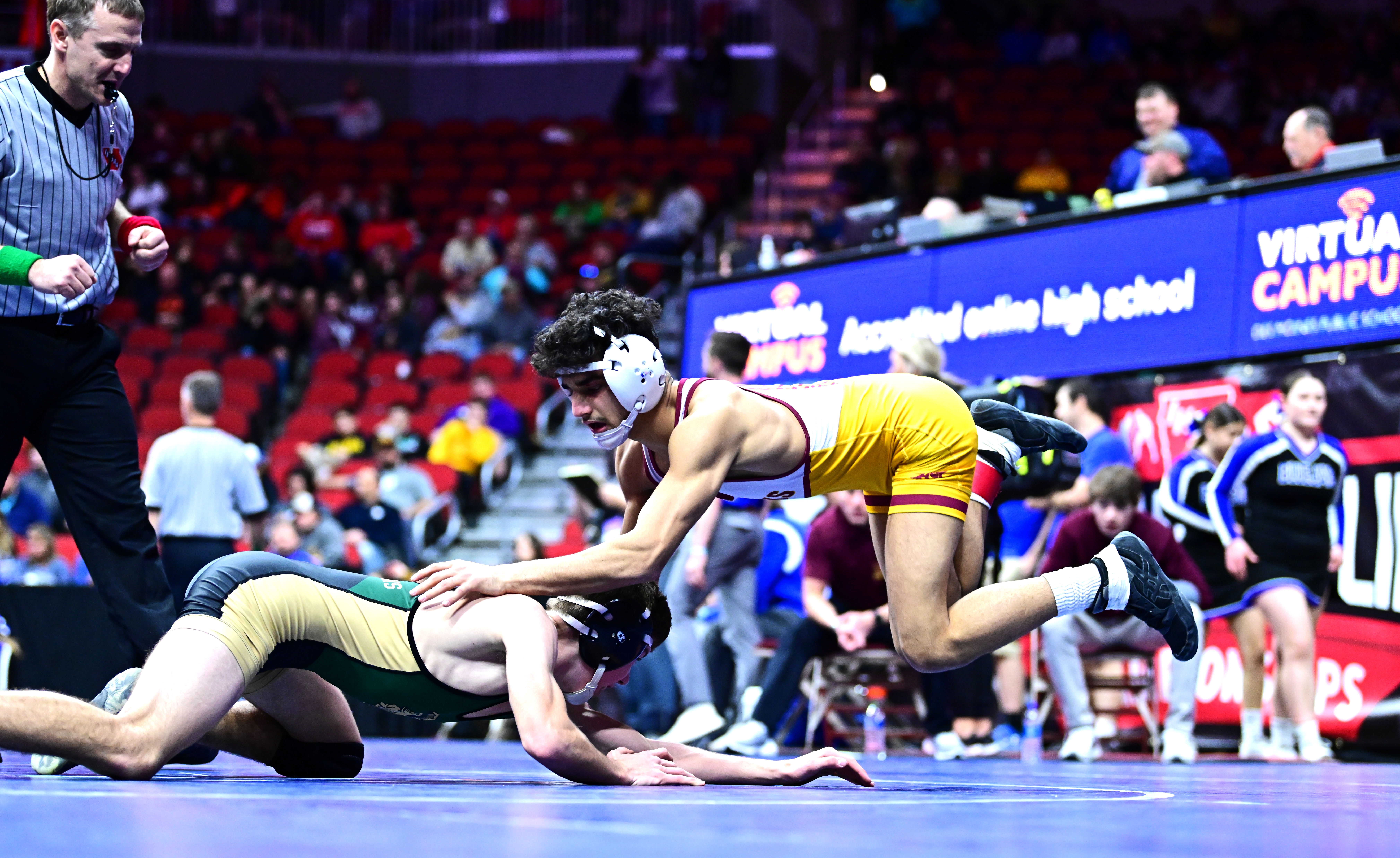 Maihan (26-12) will meet No. 7 Max Bishop of Fort Dodge (27-11) on Friday night. He defeated Bishop, 9-8, in overtime in the district final.
Hansen dropped a 13-4 major decision to No. 7 Kael Kurtz of Iowa City High. It was a rematch of last year's seventh-place match at 106, which was also won by Kurtz, 9-1.
Hansen then posted a 16-3 major decision over Jadyn Friedrichs of Sioux City East. He will take a 30-8 mark into Friday night's match against No. 10 Ethan Mahoney of Waukee Northwest (32-13).
Ankeny's other quarterfinalist was No. 6 Truman Folkers at 106. He dropped an 8-0 major decision to No. 4 Caden Leonard of Johnston, then lost to Malik DeBow of Linn-Mar, 5-2, and was eliminated from the tournament.
Folkers finished the season with a 20-6 record.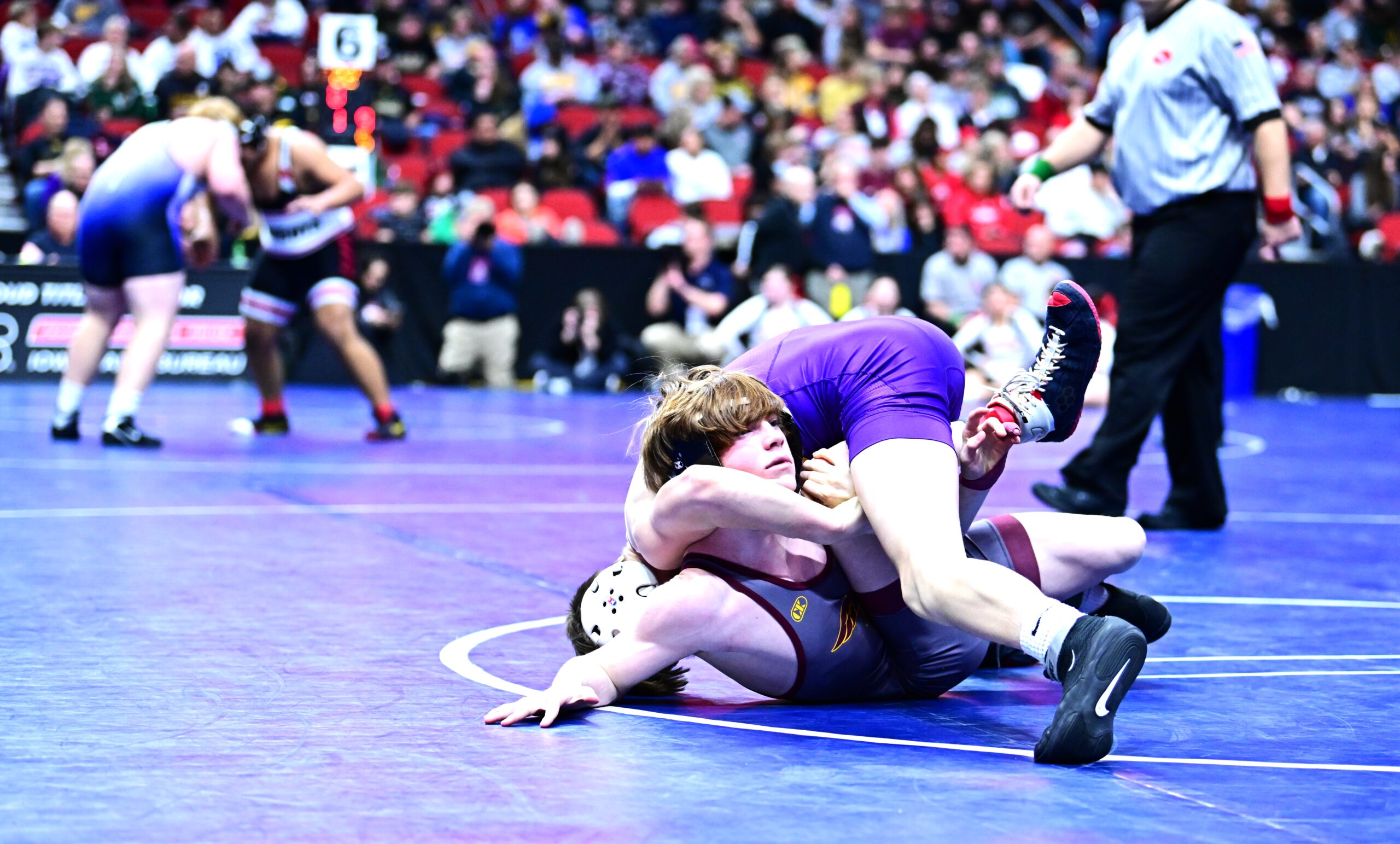 "We wrestled well in the consolations except for Truman, who just looked like he ran out of gas–even before his match started," Wignall said. "He just looked flat. He's majored that kid twice this year and then loses to him in the blood round. He's disappointed, but it'll just make him more hungry to come back next year."
By going 3-1 in the consolation round, the Hawks moved back ahead of Centennial and into 14th place in Class 3A with 30 points heading into Friday night. The Jaguars, who had passed Ankeny after the quarterfinals, are now 16th with 26 points.
Centennial's Cael Wiener was eliminated from the tournament after losing a second-round consolation match at 132. He was pinned by No. 9 Ty Solverson of Boone in 1:36 and finished the season at 19-11.
No. 2 Southeast Polk went 8-1 in the quarterfinals and leads the Class 3A team race with 87 points. No. 1 Waverly-Shell Rock is in second place with 70.5 points.