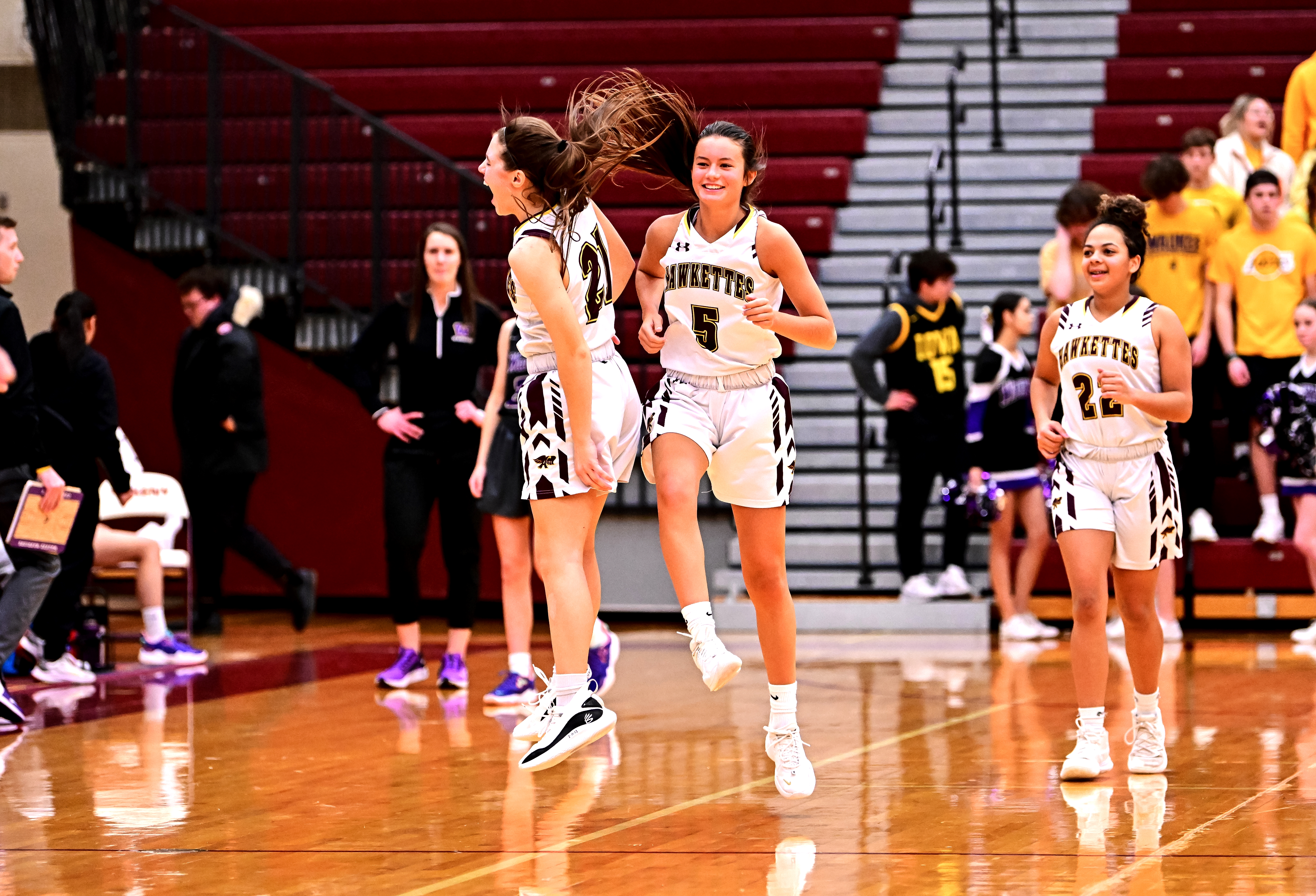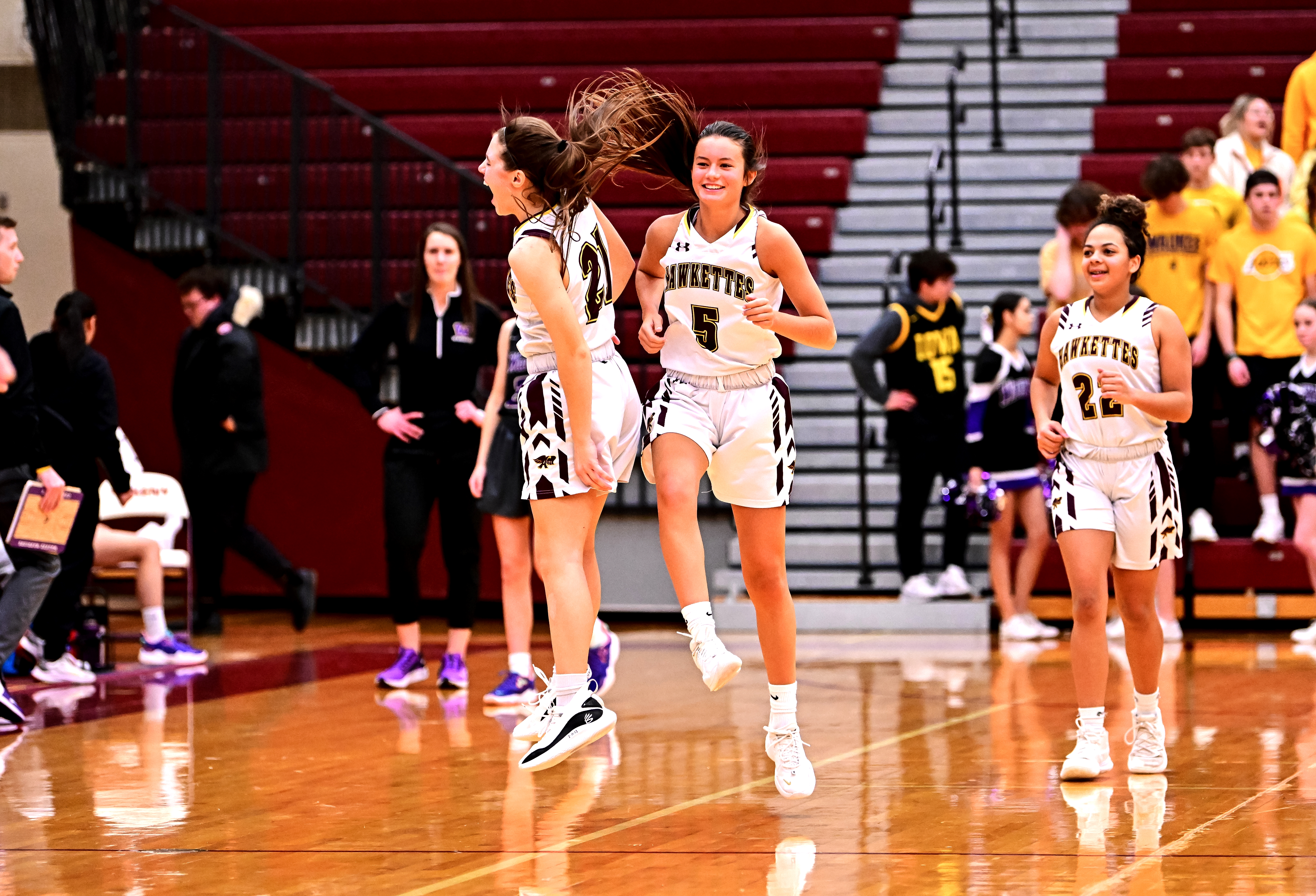 It's been a magical season for the Ankeny girls' basketball team.
The Hawkettes didn't want it to end on Saturday night.
Tenth-ranked Ankeny scored the last five points of the game to beat visiting Waukee, 44-40, in a Class 5A regional semifinal. The Hawkettes avenged a 53-45 loss at Waukee on Jan. 18.
"We definitely had a lot of motivation coming in," said freshman guard Savannah Gage. "That earlier loss had an effect on us, and I think we were ready to play."
Ankeny (16-6) had not played since posting a 49-45 victory over then-No. 2 Ankeny Centennial on Feb. 11. While the Hawkettes received a bye in regional play, Waukee (11-12) rolled to a 58-18 win over Des Moines Lincoln in a quarterfinal game on Wednesday.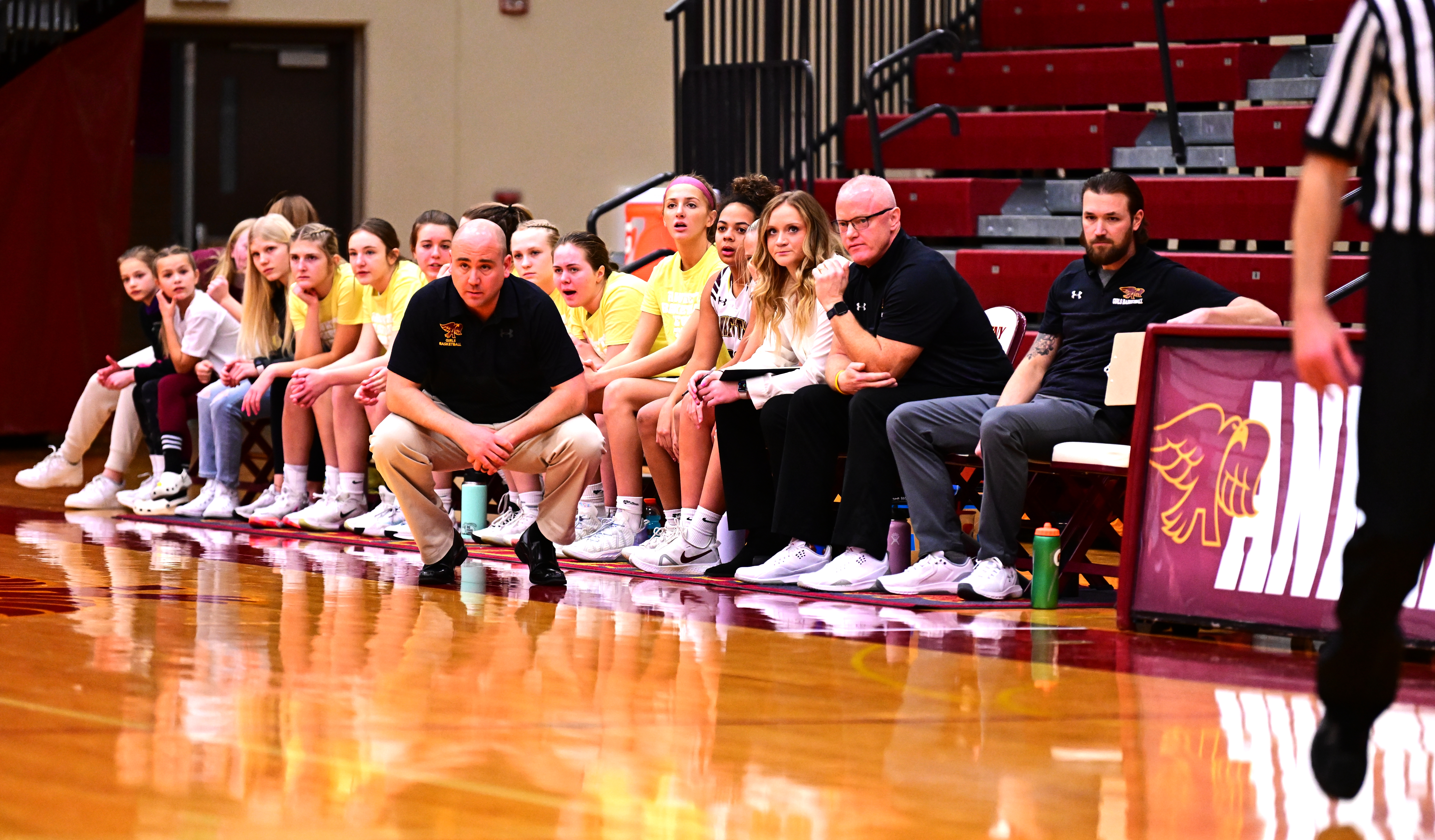 "I really feel like you want to play for that bye and that home court, but not playing a game for eight days this time of year is tough against a high quality opponent like that," said Ankeny coach Dru McAnelly. "It showed on offense–we were a little rusty. But in the end, these girls have a lot of will and a lot of heart. They find ways to win close games."
After Waukee took a 40-39 lead on a driving layup by Kirsten Hauck with 2 minutes 11 seconds left, Ankeny tied the score when Kendra Lewis made the first of two free throws at the 1:48 mark.
Hauck missed a 3-pointer on the ensuing possession, but the Hawkettes then committed a turnover, giving Waukee a chance to hold the ball for a final shot. The Warriors called timeout with 36 seconds to go.
When play resumed, it didn't take long for Ankeny to make a play. Gage stole the ball near midcourt and was then fouled by Hauck.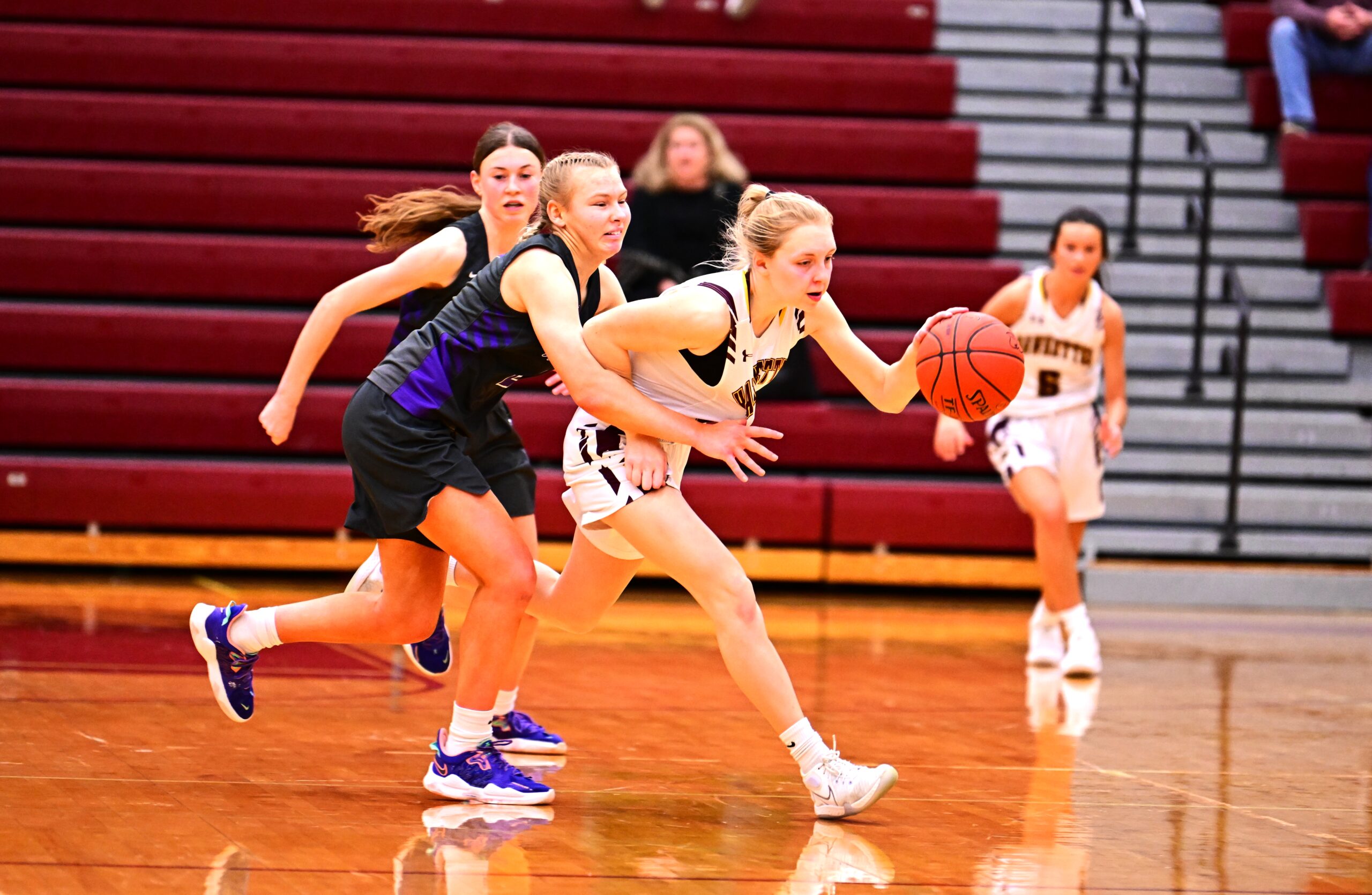 Gage connected on both free throws to give the Hawkettes a 42-40 lead with 31.8 seconds remaining.
"We just wanted to play smart defense and trust your gut," Gage said.
Hauck tried to answer with a drive down the lane, but Ankeny's Jasmine Moser came up with a huge block under the basket. She retrieved the ball and gave it to teammate Karsen Jacks, who was then fouled with 5 seconds left.
"Throughout the game I had really been struggling putting up shots," said Moser, who went scoreless but grabbed eight rebounds. "The defense was rough, but that block at the end really helped us and now we're one step closer to Wells (Fargo Arena)."
Jacks sealed the victory by making both of her free throws. She finished with 17 points, eight rebounds and two steals.
"Those were huge (defensive) plays at the end," McAnelly said. "Waukee is averaging about 55 points and they just came off a win over Southeast Polk–a very good team. We held them to 40, and that's what has won us these type of games. Our defense has been really locked in."
Waukee led at halftime, 19-16, after holding the Hawkettes to just four points in the second quarter. A pair of free throws by Hauck gave the Warriors a 26-22 advantage in the third quarter.
"We were pretty nervous," said Moser, whose team shot just 25 percent from the field (10-of-40). "But Mac got us in shape, the energy from the bench got us really hyped, and we just kind of took care of business."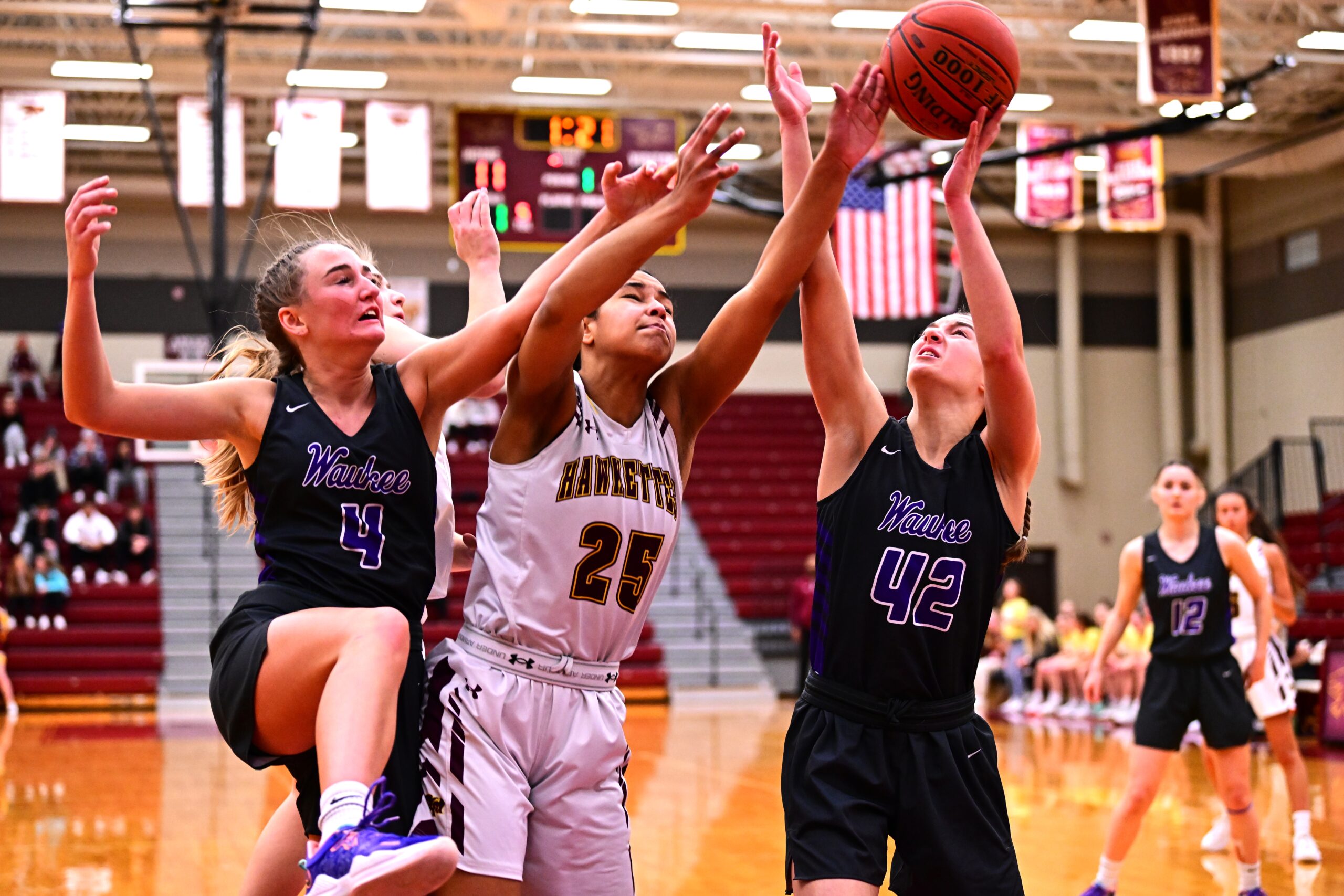 Jenna Pitz made a 3-pointer with 2:14 left in the third quarter to ignite an 8-0 run that gave Ankeny a 30-26 lead going into the final period. Gage followed with a layup, then Pitz passed to Jacks for another 3-pointer with 4 seconds left.
"It was a battle, and we knew it would be tough," McAnelly said. "They're one of the best 3-point shooting teams, and obviously we got beat over there this year."
The Hawkettes extended their lead to 35-29 before Waukee rallied. Emilie Sorensen converted a 3-point play with 5:30 left, then Hauck later scored two consecutive baskets to put her team ahead before Ankeny responded down the stretch.
Hauck and Miranda Peters each had 11 points to lead Waukee. Gage and Pitz each finished with 11 for the Hawkettes, who made 21-of-25 free throws.
"It feels good, but we definitely have some more work to do obviously," Gage said. "Des Moines Roosevelt is a good opponent, so we have to get ready for them."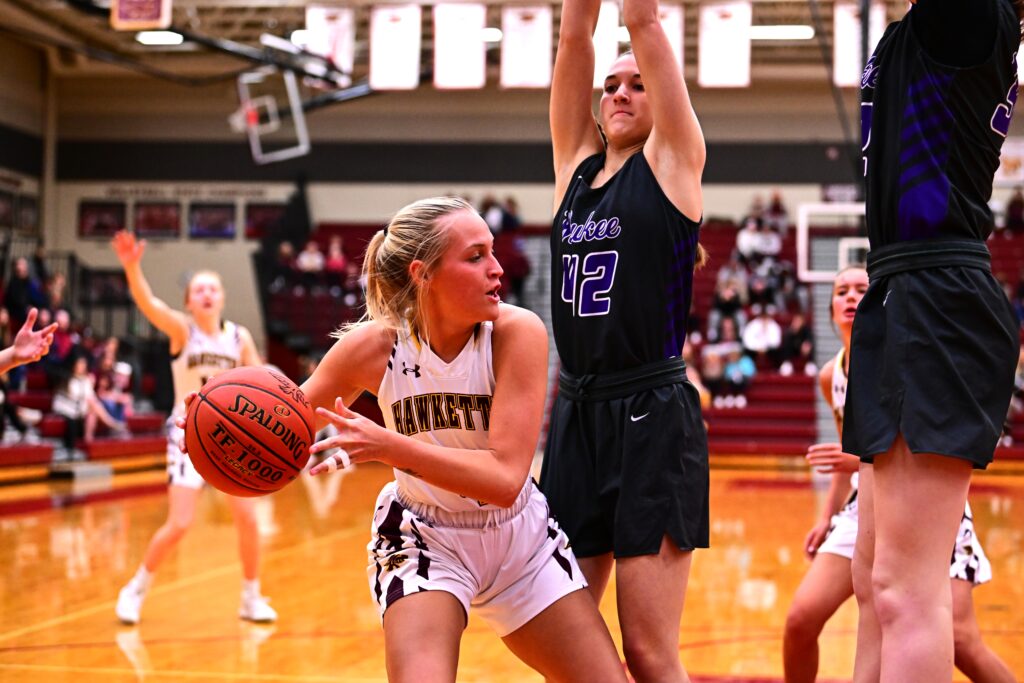 Ankeny will play at No. 2 Roosevelt in the regional final on Tuesday at 7 p.m. The Roughriders (19-2) are riding an 18-game winning streak.
Roosevelt rolled to a 76-2 win over Des Moines East on Saturday, even though the Roughriders apparently rested some of their starters.
"They can score the ball in multiple ways," McAnelly said. "We're going to have to be a lot more efficient offensively, and we're going to have to guard. We're going to have to play defense like we've never played. But our girls know that, and they'll be ready."
There were no surprises in the Class 5A regional semifinals as all of the home teams won. Moser vowed that there could be a surprise coming on Tuesday.
"Roosevelt's got a heck of a game coming up," she said.