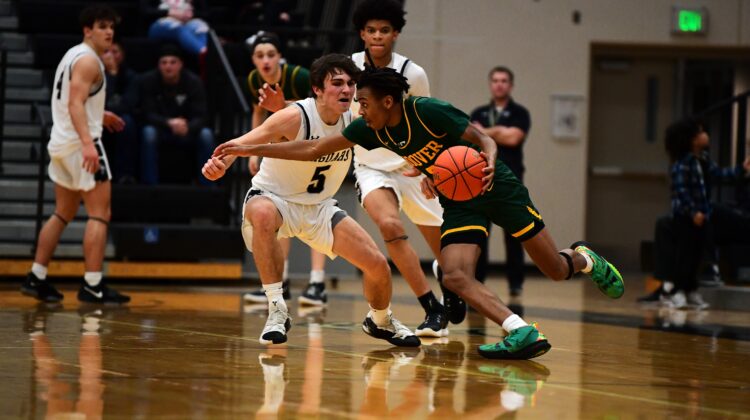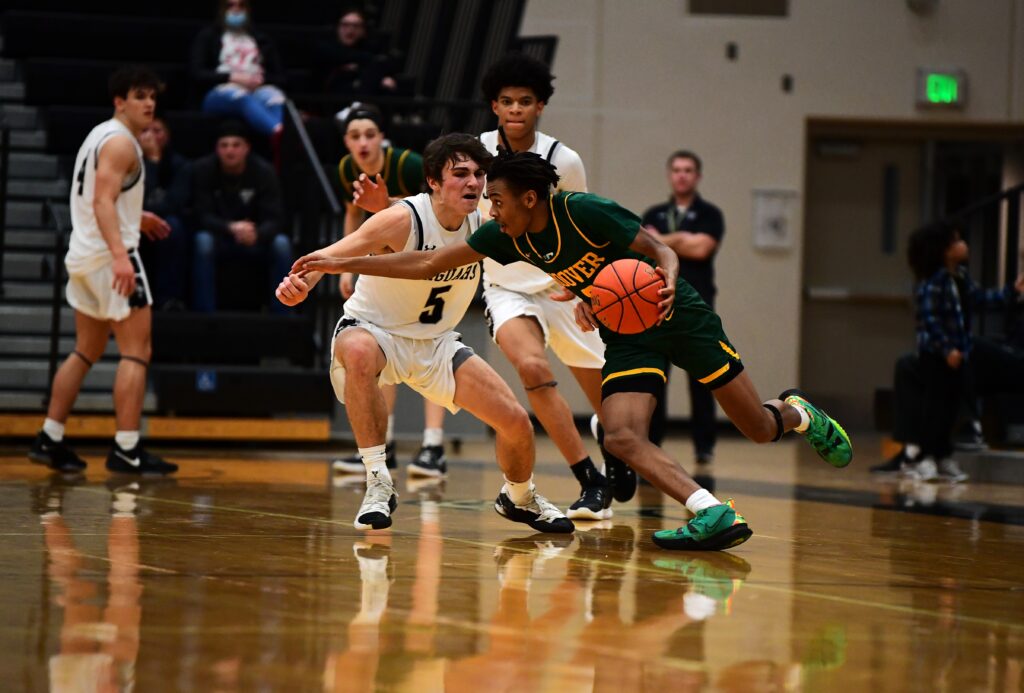 When the Ankeny Centennial boys' basketball team posted a 50-41 victory over Des Moines Hoover on Jan. 18, the Huskies played without their leading scorer, Chase Henderson.
The junior guard showed on Friday just how valuable he is.
Henderson poured in a game-high 23 points despite battling some foul trouble and the Huskies avenged that loss with a 49-37 victory at Centennial in a Class 4A substate semifinal. The 10th-ranked Jaguars finished the season with a 12-10 record.
"It was a tough game," said Centennial guard Caden Kelling. "Our game plan was to get the ball out of (Henderson's) hands, but what makes him tough to defend is how quick he is and how versatile he is with the ball."
Henderson hit a 3-point goal from the top of the key to tie the game at 22-22 with 6 minutes left in the third quarter. After Centennial answered with a jumper by Luke Winkel, the Huskies then went on an 11-0 run that put them ahead for good.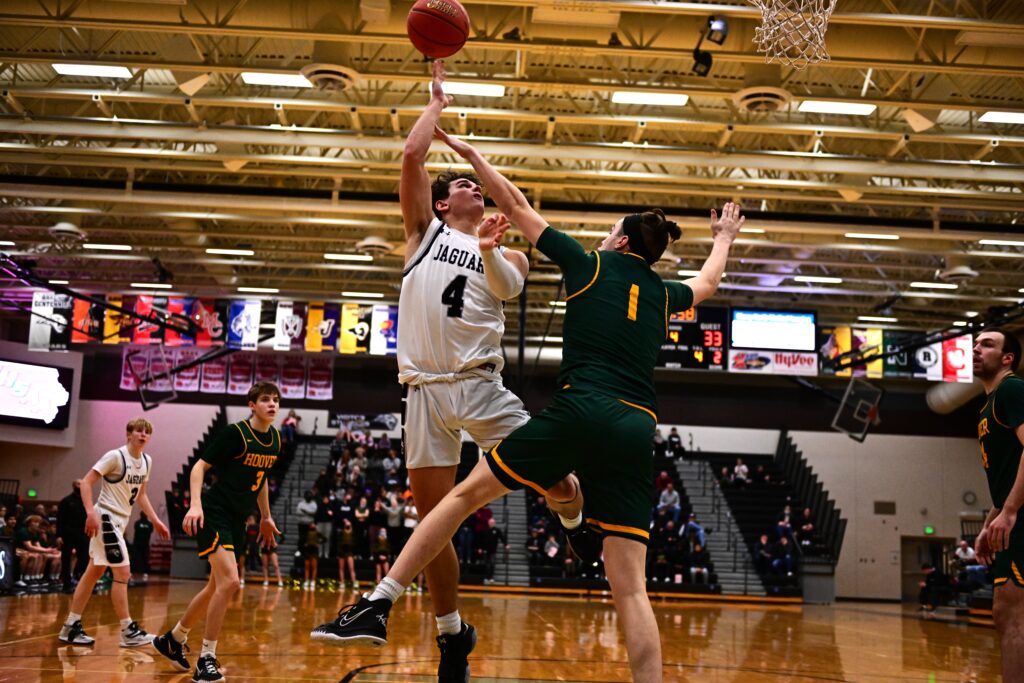 Justin Imani sparked the run when he grabbed an offensive rebound and put it back in. Elijah Vos then followed with a 3-pointer.
On Hoover's next possession, Imani was fouled while converting a layup. He missed the ensuing free throw, but the Huskies got the rebound and Imani eventually scored on another drive to make it 31-24 with 3:18 remaining in the period.
Imani, a 5-foot-7 guard, finished with 11 points–about twice his average–on 4-of-6 shooting.
"He was the difference in the second half," Centennial coach Bob Fontana said.
A basket by Henderson capped the run and gave Hoover a 33-24 advantage with 1:10 left in the quarter. Winkel, who led the Jaguars with nine points, then responded with a 3-pointer to cut the lead to 33-27 going into the final period.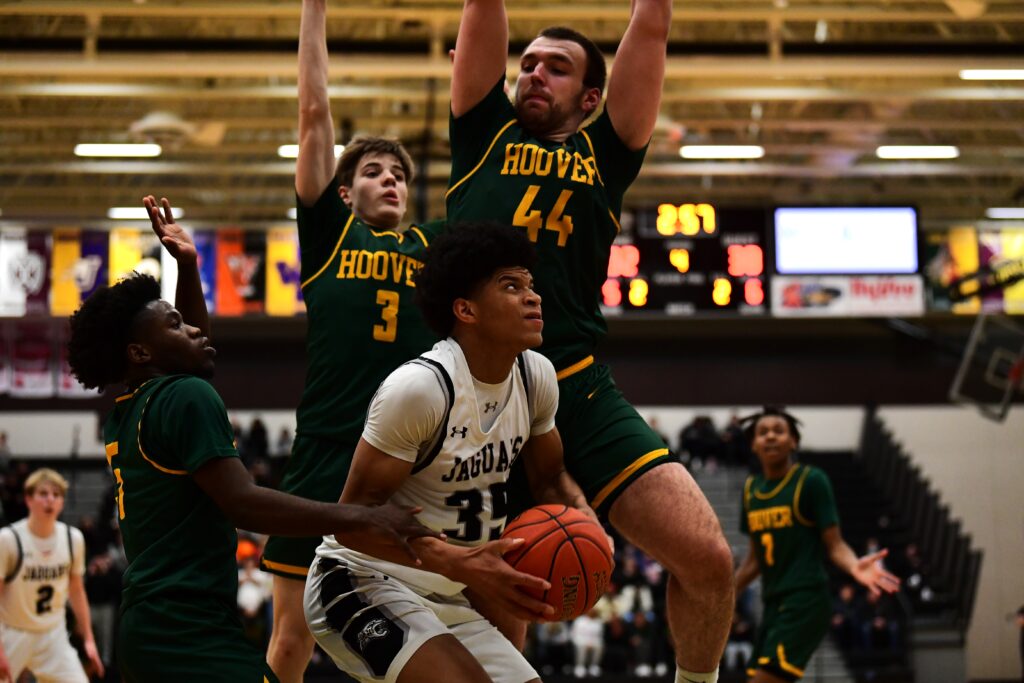 Another 3-pointer by Jackson Snyder pulled Centennial to within 35-32 with 4:13 to go. The Huskies then continued to milk the clock, hoping to shorten the game since Henderson was playing with four fouls.
"When a team holds the ball like they did, it makes it a lot harder for you to come back," Kelling said.
Hoover held the ball for more than a minute before freshman Abe Vos was left alone in the left corner as the Jaguars tried to come up with a steal. Vos, who is almost exclusively a 3-point shooter, then received a pass and drained a shot from behind the arc, giving the Huskies a 38-32 lead with 3:08 left.
Hoover made 6-of-9 3-point attempts.
"They made some plays when they had to, and we didn't," Fontana said. "In substate games it comes down to making plays."
After the Jaguars closed the gap to 38-34 on a driving layup by Chris Louis with 2:17 left, Imani was fouled and missed the front end of a one-and-one opportunity with 1:46 to go. Teammate Chevelle Ruchti appeared to knock the ball out of bounds in the battle for the rebound, but the referees awarded possession to the Huskies.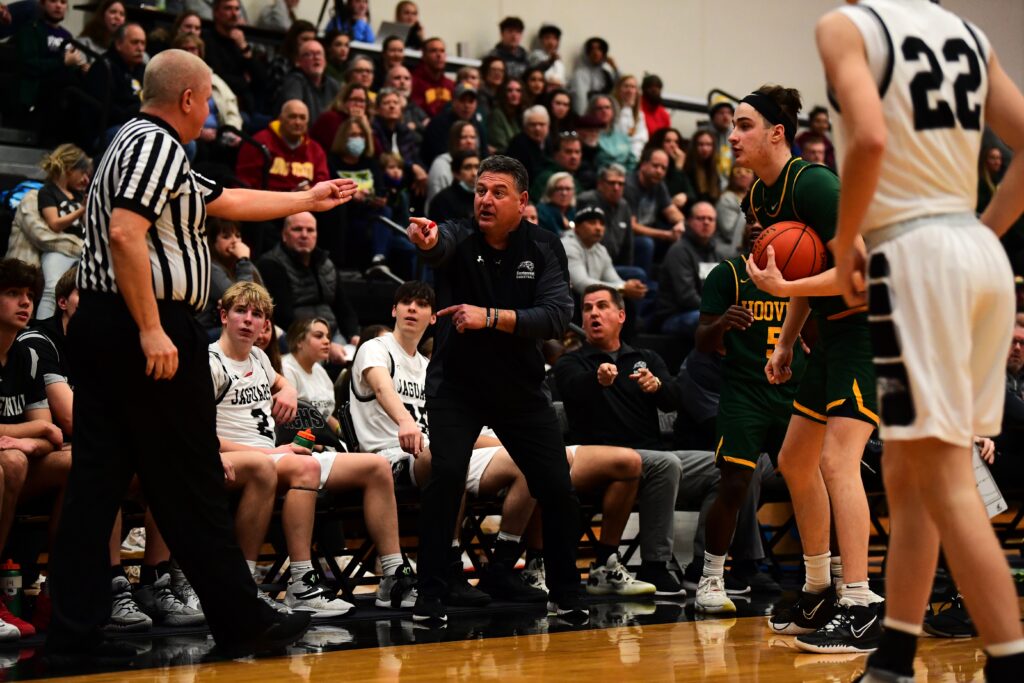 Henderson was fouled shortly thereafter and made two free throws, beginning a Hoover parade to the charity stripe in the final 100 seconds. The Huskies connected on 11-of-12 free throws down the stretch.
"Those were two huge possessions in the final 4 minutes," Fontana said of Vos' 3-pointer and the missed call.
Centennial led by as many as five points in the first half, but could not pull away. Henderson made a deep 3-pointer, then followed with a layup off a turnover to pull the Huskies within 20-19 at halftime.
"We had four turnovers within six possessions," Fontana said. "We did not do a good job of getting the ball side to side, and we tried to force the issue. In a game like that, you're hoping to get the lead up to six or eight but we were only up by one at the half. And then we missed back-to-back layups to begin the second half."
Kelling, Louis and Snyder each scored seven points in the loss. The trio played their final game for the Jaguars.
"We dealt with a lot of adversity this year," Fontana said. "I just admire Caden playing with a rib injury that he had early in the season, and I admire Snyder for dealing with the hip injury and playing through that. Those are the things I'm always going to remember about this team, and I hope our underclassmen learned from some of the valuable lessons they had this season and hopefully those lessons will help them going forward."
Centennial was one of six teams in Class 4A to lose on its home court in the semifinal round. No. 8 Council Bluffs Lincoln was another top-10 team to go down, dropping a 42-39 decision to Dowling.
Fellow CIML schools Urbandale and Waukee also posted wins on the road against Indianola and Sioux City East, respectively.
"Our league flexed its muscle when you look at what Dowling and Waukee did," Fontana said. "Our league is deep, there's no doubt about that. But that's no consolation for us right now."
Hoover (16-8) will play No. 1 Ames (19-3) in the substate final on Tuesday at Centennial at 7 p.m.