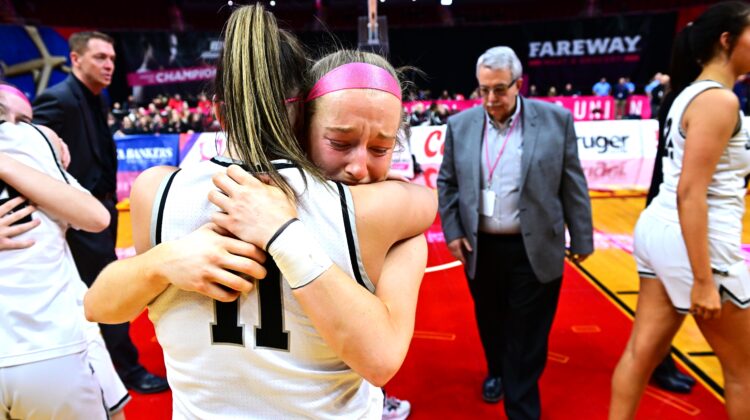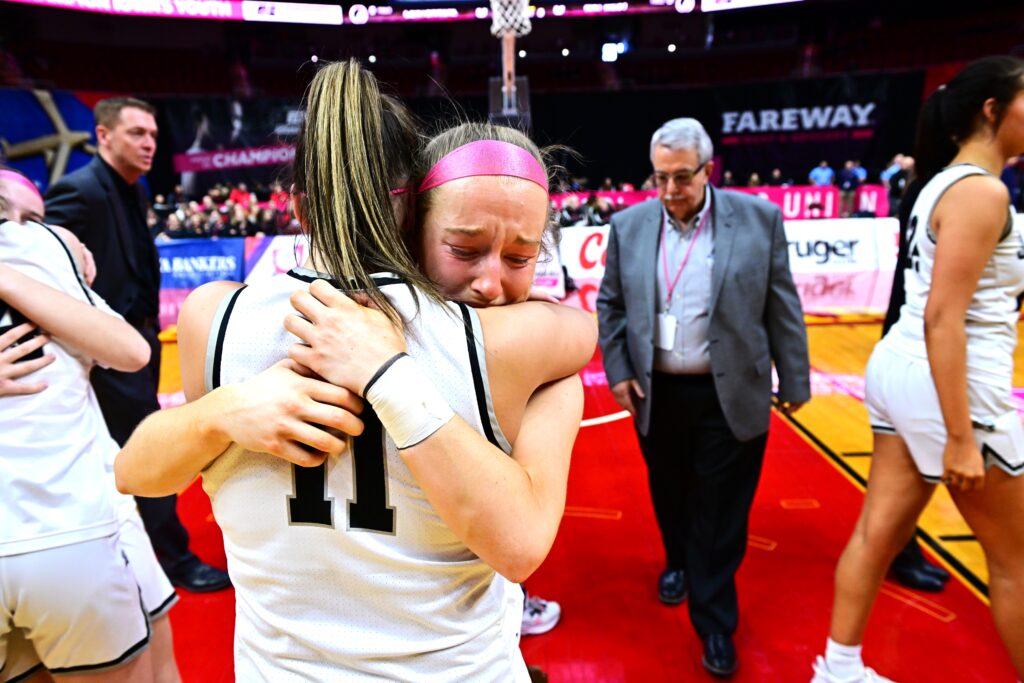 The Class 5A field for this year's girls' state basketball tournament might be one of the best ever.
It's certainly the deepest.
Sixth-ranked Waterloo West showed that it may be the most talented team in Class 5A with a 67-59 victory over No. 3 Ankeny Centennial in the quarterfinals on Monday at Wells Fargo Arena. The Wahawks (22-2) advanced to Thursday's semifinals against No. 7 Valley (19-5), which knocked off another higher-seeded team in No. 2 Des Moines Roosevelt.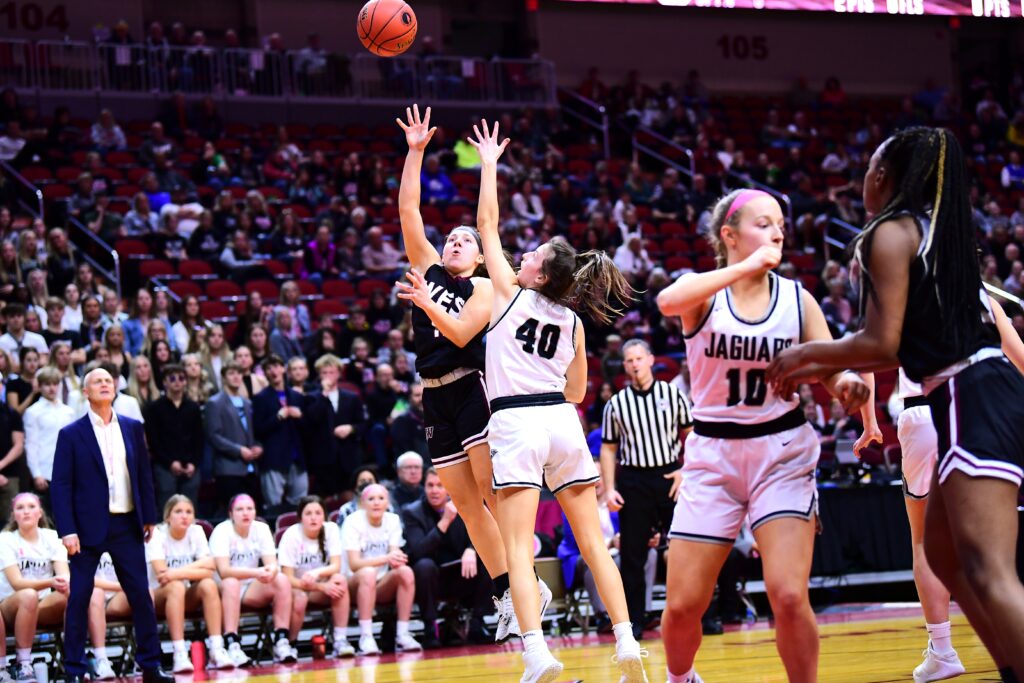 "They were (ranked) No. 2 all year long. They are extremely talented," Centennial coach Scott DeJong said of the Wahawks. "You go all the way down their lineup, and then their role players have stepped up through the tournament. We knew it was a tough draw. We played really well today–we really did. But not good enough to beat that team."
Sahara Williams scored 24 points and grabbed nine rebounds, Halli Poock added 21 points, and Sierra Moore had a double-double with 17 points and 10 rebounds for Waterloo West, which got off to a 15-1 start this season before dropping a 76-46 decision to fellow Class 5A state qualifier Iowa City High on Feb. 4. That loss dropped the Wahawks five spots in the next rankings.
"We knew we were underseeded, and I think most teams knew that because a lot of people picked us to be in the championship game with Johnston," said Waterloo West coach Dr. Anthony Pappas. "Whether that happens or not, we knew we were unseeded. We had the second-best record in 5A. We used that as motivation, and it helped our determination today."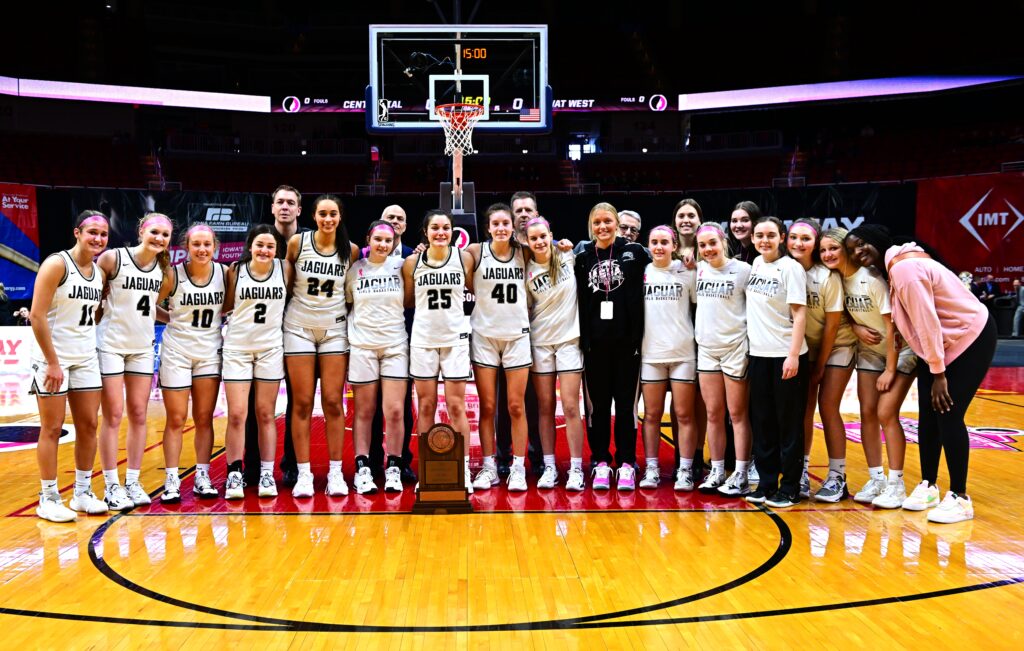 Cleao Murray made five 3-point goals and scored 23 points to lead Centennial (20-4). Elle Street made a basket at the buzzer to finish with a career-high 12 points.
"We played our hardest," Street said. "We gave our best effort and left it on the court. We just played like Jaguars."
It wasn't enough to offset Waterloo West's hot shooting. The Wahawks shot 55 percent from the field (22-of-40) and 60 percent from 3-point range (6-of-10).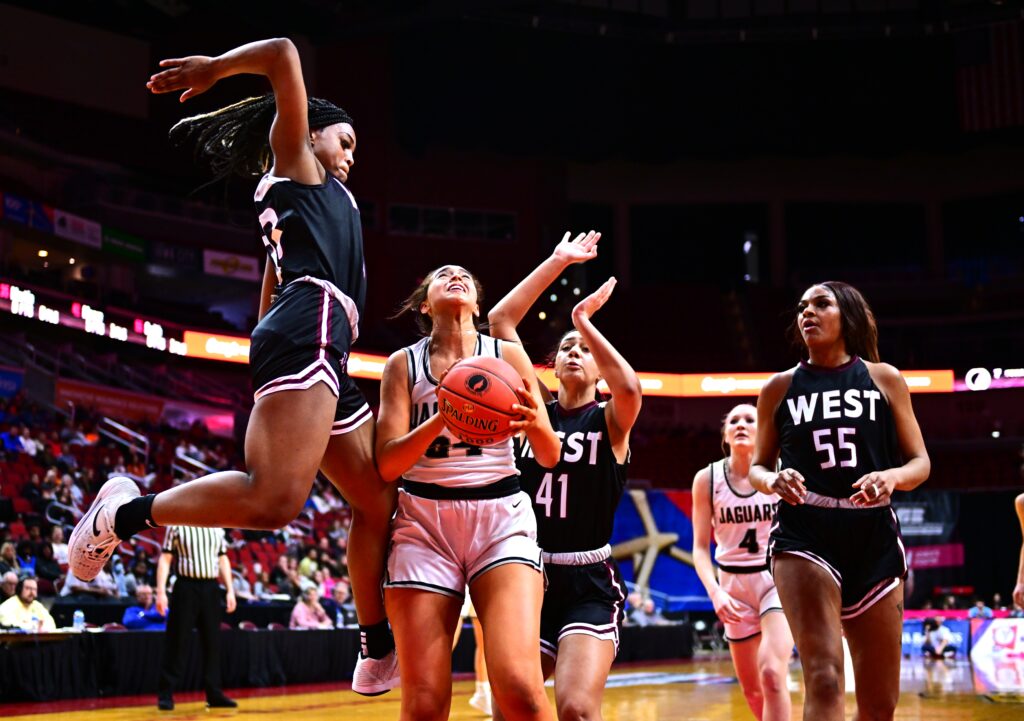 "We weren't going to be denied," said Williams, whose team lost to Iowa City West in last year's quarterfinals. "We know how it feels to be (Centennial)–to not advance. We were like, 'We're not going to let it happen.' We all had the same mindset and were on the same page. We all wanted to win."
Williams and Poock are two of the state's top juniors. They average a combined 43.7 points, so the duo's output on Monday was hardly anything out of the ordinary.
Poock opened the second quarter with a fadeaway 3-pointer to give Waterloo West the lead for good, 15-12. Williams then followed with another basket.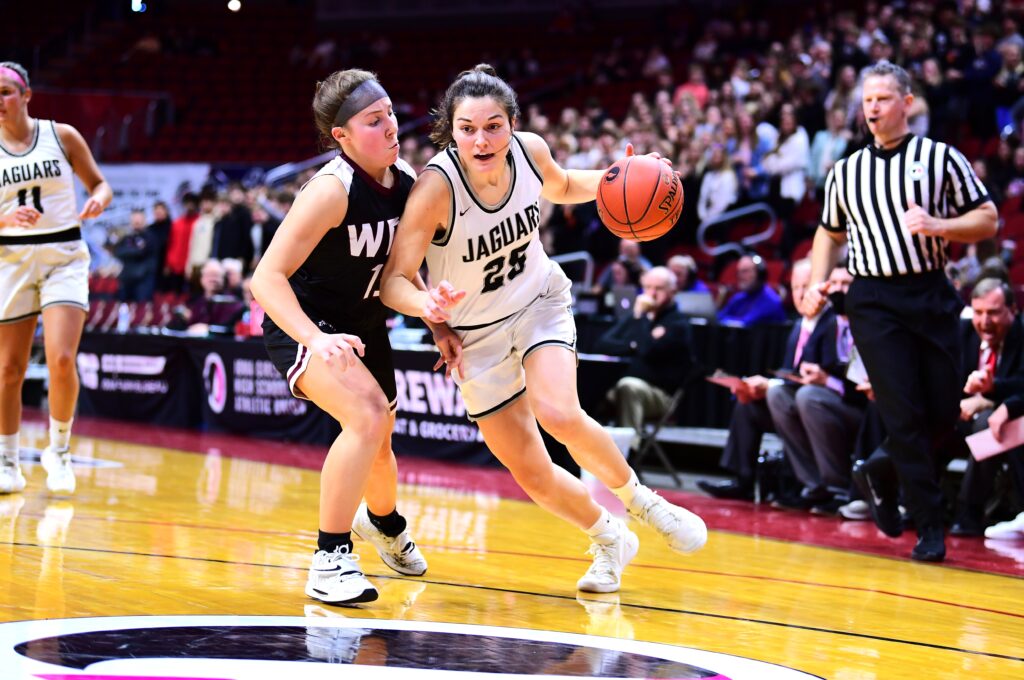 Moore later connected on a 3-pointer to put the Wahawks ahead, 22-14, with 4 minutes 15 seconds left in the half. The 6-foot-1 junior scored on a drive to the basket shortly thereafter, then swished another 3-pointer with 1:10 to go.
"During the whole season you could say it was a struggle for me from the 3-point line," said Moore, who was averaging just 6.0 points and shooting 19.2 percent from behind the arc. "But I think for this game, after the outcome last year losing by two in the first round, I just think we all as a team were determined. I don't think it was just one person. We all came together, and we've been working hard against our boys' varsity (in practice)."
Moore, who went 0-for-10 from the field in the Wahawks' 30-point loss to Iowa City High, then scored off a rebound at the buzzer to give Waterloo West a 31-21 lead at halftime.
"She was 4-of-5 in the first half, so she stepped up for them," DeJong said of Moore.
Centennial made several runs in the second half, but each time the Wahawks responded. The Jaguars could get no closer than three points.
A 3-pointer by Makenna Clark pulled Centennial to within 35-31 midway through the third quarter, but Moore then scored off a rebound and Williams converted another rebound into a 3-point play to make it 40-31. Waterloo West won the battle of the boards by a 31-27 margin, even though the Jaguars had 14 offensive rebounds.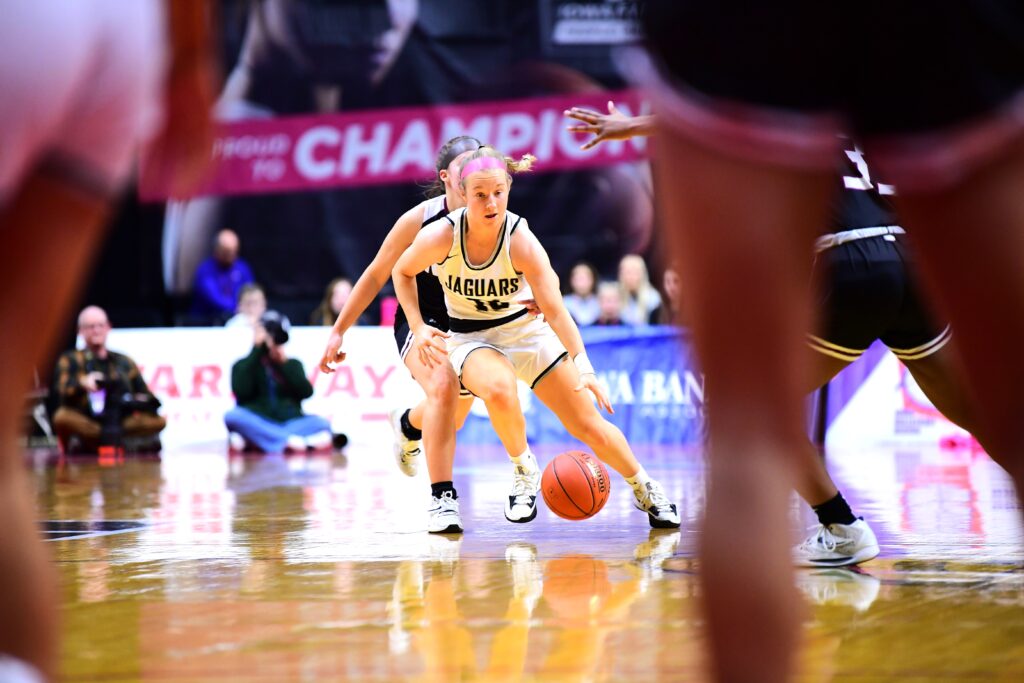 "It was hard to get on the boards," Murray said. "We can try to box out, but they were just bigger and taller than us."
Murray's fourth 3-pointer then sparked a 6-0 run that cut Waterloo West's lead to 40-37 with 2:08 left in the third quarter. Averi Porter capped the run when she converted a steal into a layup.
Centennial had a chance to tie the game on its next possession, but Williams stole the ball and drove the length of the court for a layup at the 1:08 mark. Poock followed with a free throw and missed her second attempt, but Williams grabbed the rebound and put it back in to give the Wahawks a 45-37 advantage after three periods.
"I knew having Brooklynn (Smith) in there would take a little of the pressure off of me, but she got in foul trouble and wasn't having the best game," Williams said of the Wahawks' starting center. "So I knew in order for my team to win, I had to use what I have as a strength and use it to our advantage so that's what happened."
Street made back-to-back 3-pointers early in the fourth quarter, but Williams responded with a basket each time to keep Waterloo West comfortably ahead.
"Williams hurt us on the boards," DeJong said. "She's such a strong, athletic kid. We had Averi on her to start out, and I thought she did a great job. She just overpowered us a few times on the boards. We'd be making a run, but then she'd get a putback and that makes it tough (to come back)."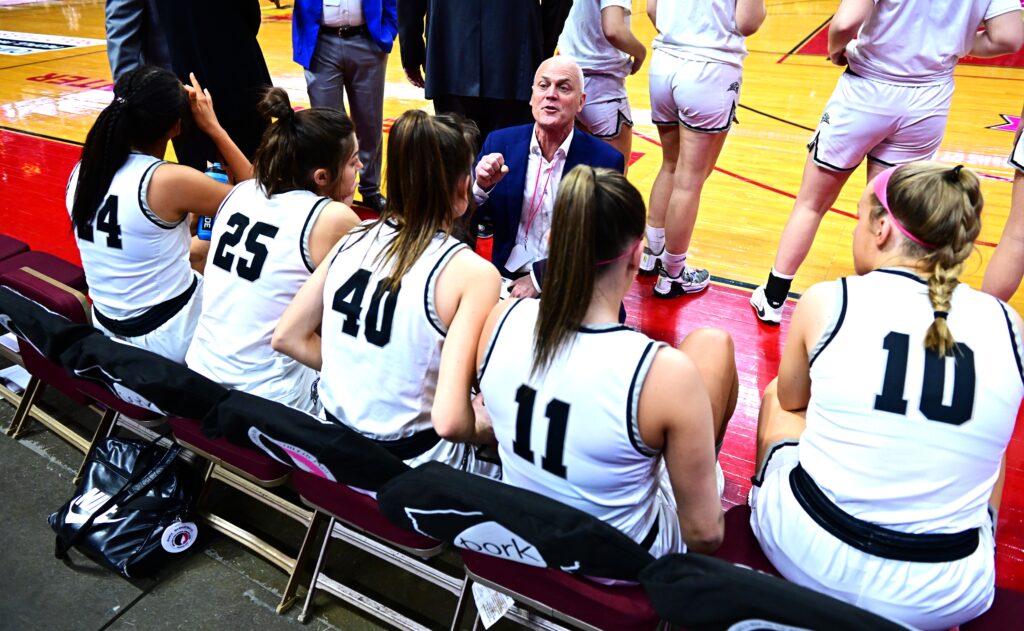 Centennial's last gasp came when Kennedy White made a free throw to pull the Jaguars within 51-46. But Waterloo West then answered with seven straight points, getting a 3-pointer from Jaide Domatob to ignite the run.
"I thought we were going to get over the hump," Murray said. "We had a lot of time left, but it doesn't always happen that way and they always had a basket to answer our runs."
White scored nine points on 3-of-4 shooting, but Centennial struggled to get the ball inside against the Wahawks' taller defenders. Freshman Jaeden Pratt had five points, 10 rebounds and two steals off the bench.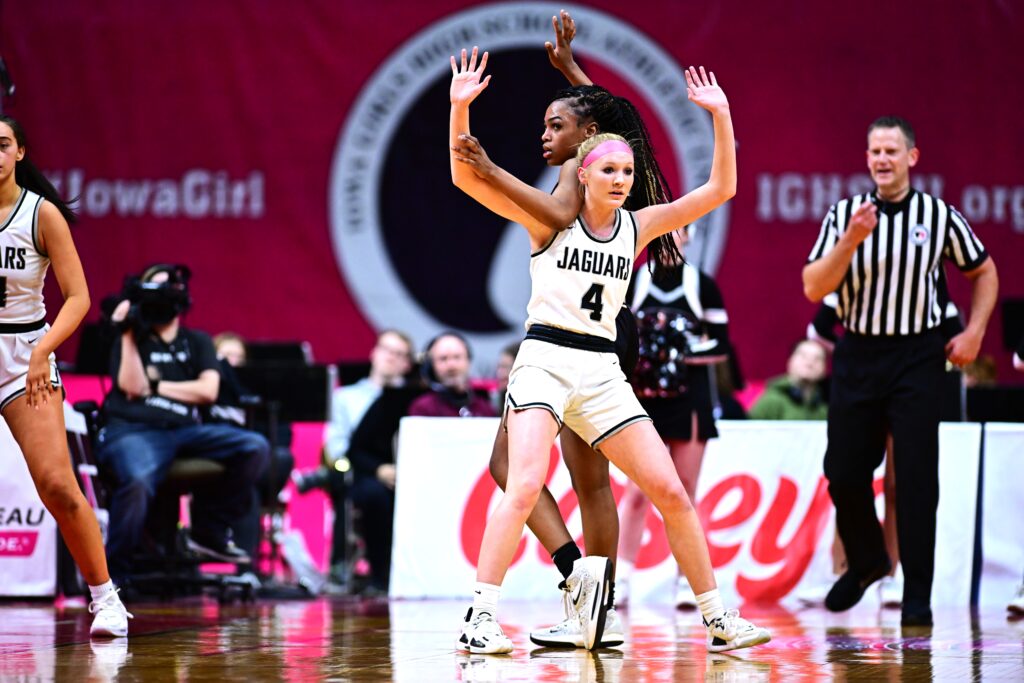 Porter finished with seven points, while Clark dished out six assists. The Jaguars took more than half of their shots from 3-point range, going 9-of-29 from behind the arc.
Prior to Monday, Centennial had been less reliant on its outside shooting, taking just 36.5 percent of its shots from behind the line. But Waterloo West was able to shut off the lane with its size and athleticism.
"They have some great players, and they're well-coached," Centennial assistant Dennis Albertson said of the Wahawks. "They played at a very high level today."