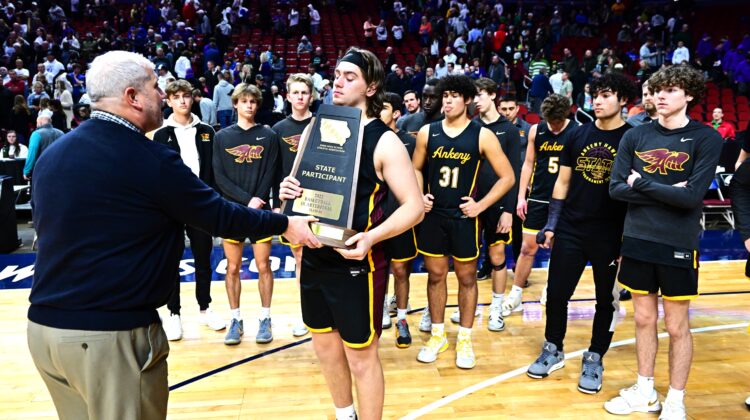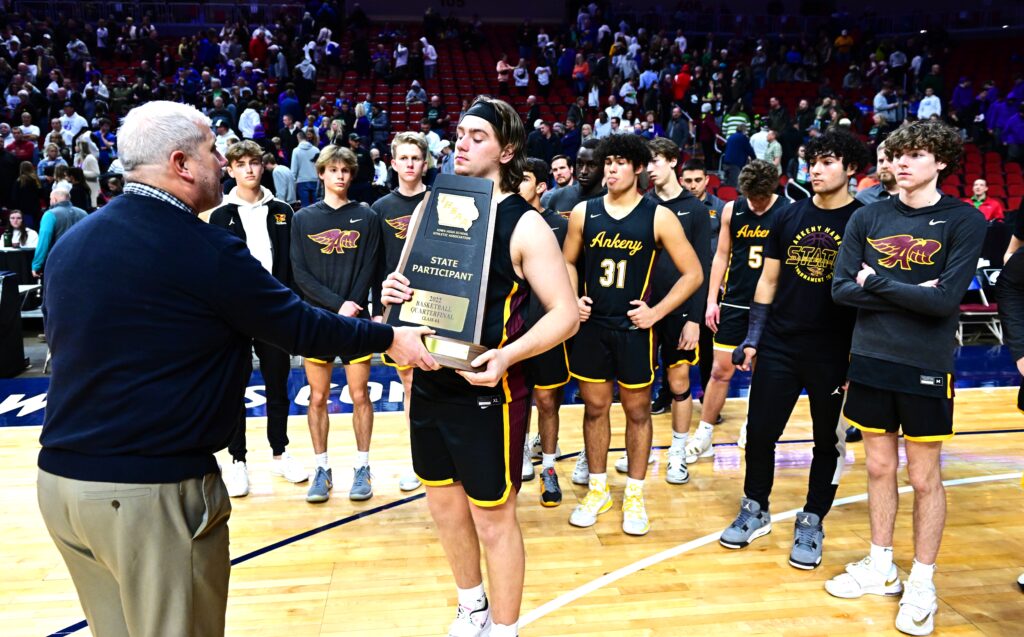 Ankeny's JJ Kohl grabbed the rebound in the lane and put the ball back in the hoop as time expired.
It was a meaningless basket in the grand scheme of things, because it didn't prevent third-seeded Johnston from advancing to the Class 4A semifinals of the boys' state basketball tournament.
But it showed what the sixth-seeded Hawks are all about.
"That's just how our team is. We don't give up until the end," Kohl said after the Dragons posted a 55-53 victory in the quarterfinals on Wednesday at Wells Fargo Arena. "We're hard working, and we put a lot of time in. Today, we came up short, but at the end of the day the bond that we created with this team is special. And it's something I'll never forget."
The seesaw game between CIML rivals featured five ties and eight lead changes. Ankeny took a 42-37 lead into the fourth quarter, but the Hawks were outscored, 18-11, in the final 8 minutes.
Johnston made just two baskets in the last period–both of them by Steven Kramer–but repeatedly went to the free-throw line. The Dragons went 20-of-22 at the charity stripe, including 13-of-15 in the fourth quarter.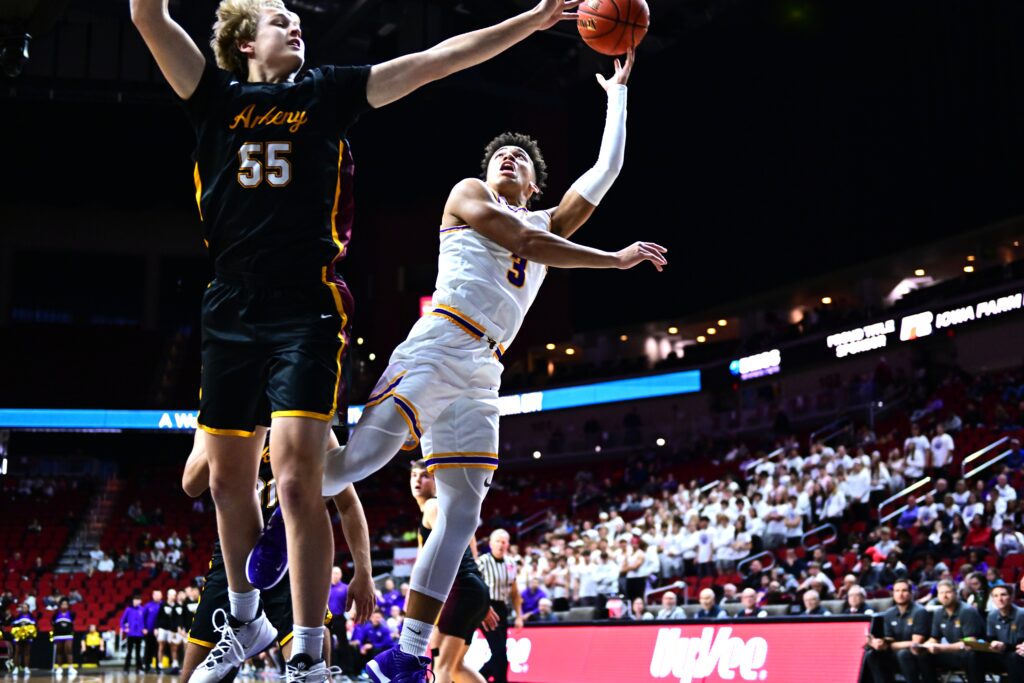 Kramer and Trey Lewis went a combined 17-of-18 for the Dragons.
"We weren't hitting from the field," Lewis said. "We shot 35 percent, but going 20-of-22 from the line helped us a lot."
Kramer scored 12 of his 19 points in the fourth quarter. Lewis added 18 points.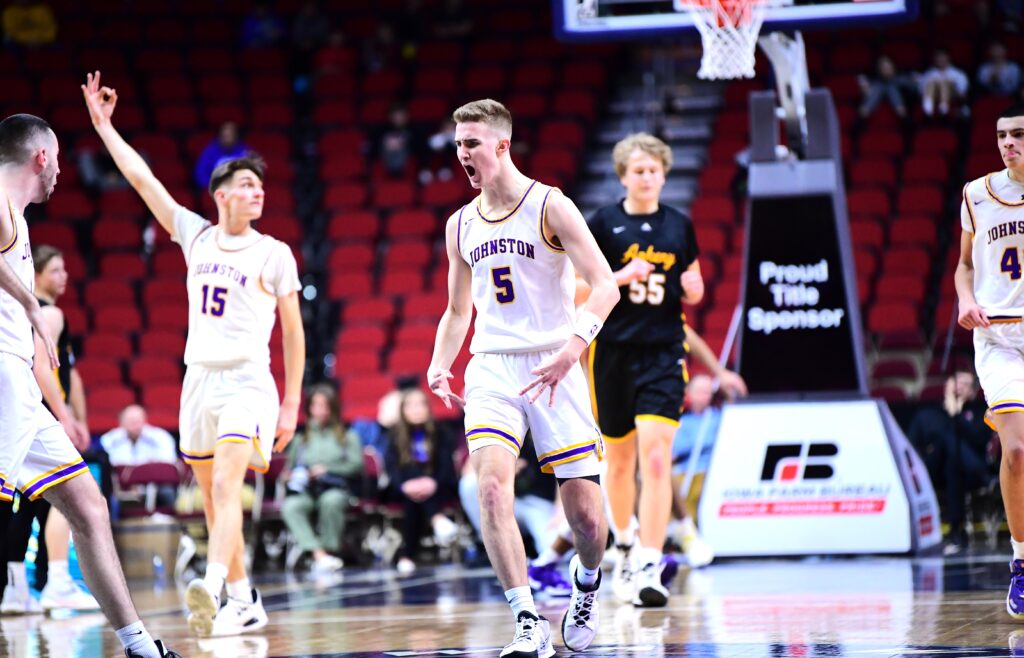 "I knew they were going to be a tough, gritty team," Kramer said of the Hawks. "That's who they've always been–they won (state) in 2020. They're one of the best teams in Iowa, and they get up into you and press you on defense. It was probably the most physical game we've played all year, but it was a fun one."
Kohl scored 14 points and Carson Johnson added 10 for Ankeny, which finished the season at 19-5. The Hawks made 7-of-17 3-point attempts, but could not overcome Johnston's 39-27 rebounding advantage and a huge disparity at the free-throw line, where the Dragons outscored Ankeny by 18 points.
The Hawks connected on just 2-of-5 free throws and were whistled for 17 fouls–six more than Johnston.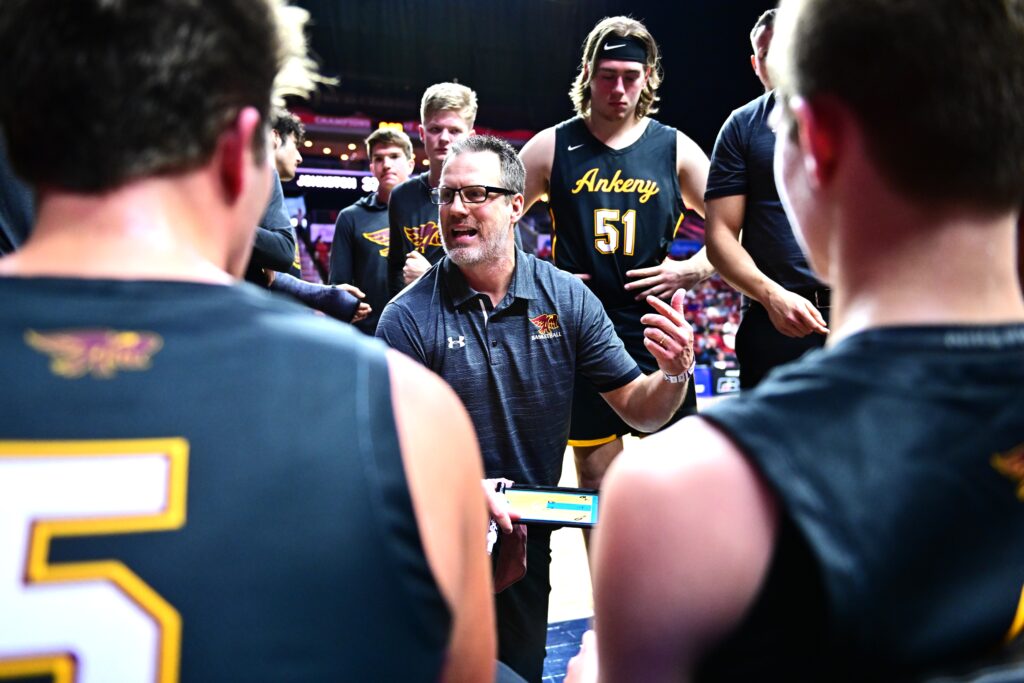 "The fourth quarter offensively we just went dry a little bit," said Ankeny coach Brandt Carlson. "It seemed like every time we missed, they'd get an opportunity at the free-throw line. I just felt like there was a little imbalance. We were attacking real hard, and we didn't get the opportunities. I thought they attacked hard, too, and they did (get those opportunities). That's just how basketball goes sometimes. But we battled, no question about it."
Ankeny rallied from an early 8-2 deficit to take a 24-23 lead at halftime. Karson Wehde made a 3-pointer to put the Hawks ahead at the break.
Johnston (20-3) then opened the third quarter with an 8-0 run, capped off by a long 3-pointer from Masen Ryan. But Kramer, a South Dakota recruit, was forced to go to the bench when he was called for a charging foul and came up hobbling after colliding with an Ankeny player.
"It was just a bad Charlie Horse–I took a knee to the thigh," Kramer said. "Luckily, our trainer was able to help me a little bit and get me back on the court in a couple of minutes."
After going scoreless for more than 4 minutes, Ankeny took advantage of Kramer's absence to rally. The Hawks went on an 18-6 run over the final 3:35 of the third quarter to take a 42-37 lead.
Johnson sparked the run with a 3-pointer off an inbounds play. He then stole the ball from Lewis on the ensuing possession and converted it into a layup.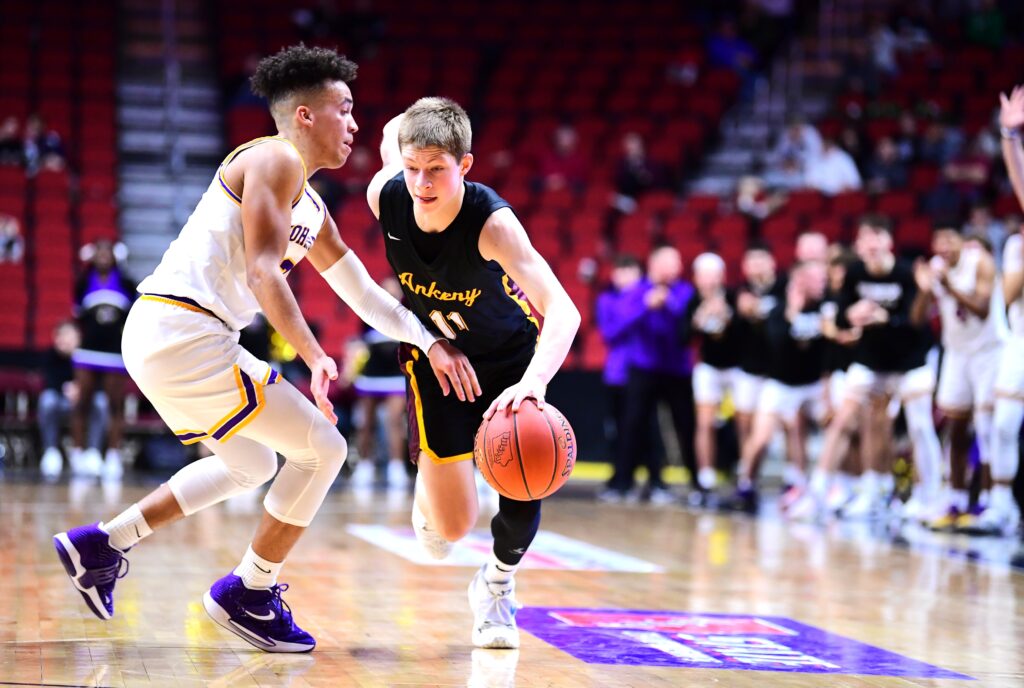 "I felt like it was giving our team a lot of energy," Johnson said. "It's what we needed at that point. We needed to come back. They went on a run before that, but that was a good response by us. We just had to keep fighting all game."
Johnson had four of Ankeny's nine steals. He later swiped the ball from Lewis again, then passed to Maddox Ward, who fed Ryan Crandall for an alley-oop that gave the Hawks a 39-35 advantage.
Lewis went just 4-of-16 from the field and committed five turnovers while being hounded by Johnson and Lio Aguirre for most of the game.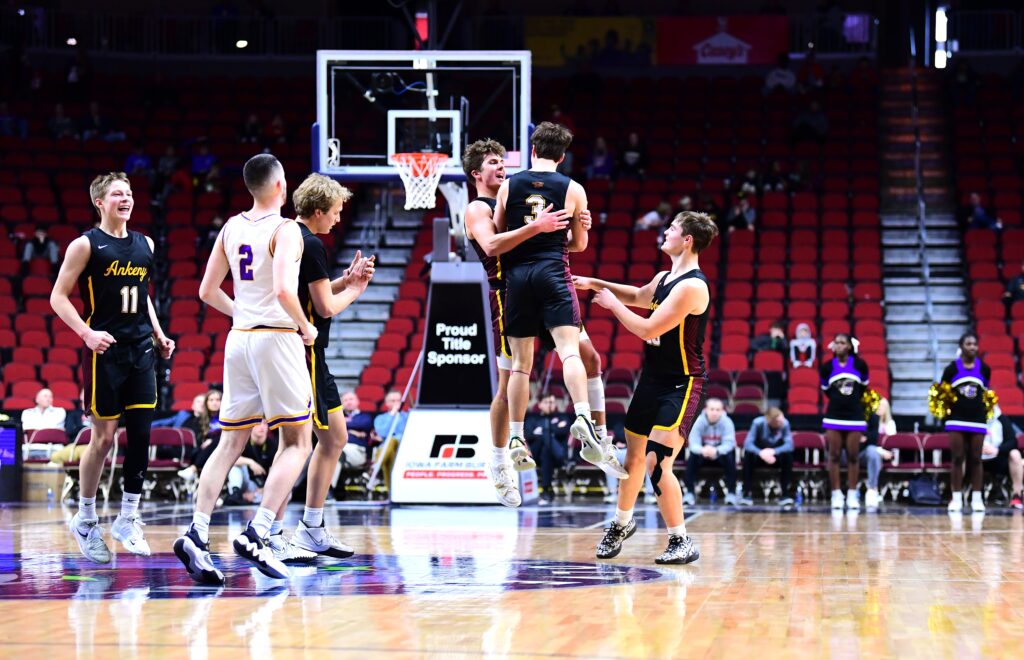 "I like his game, and I've watched him for awhile, and he's just a good player," Johnson said of Lewis. "I felt like it was a good challenge for me, and I needed to step up for my guys."
A 3-pointer by Kohl to end the period gave Ankeny its biggest lead of the game.
"Basketball is a game of highs and lows, peaks and valleys," Kohl said. "We had our peak there, and then they came back and had their peak. That's kind of how the game went. We didn't capitalize enough on our peak, and we didn't limit our valleys enough."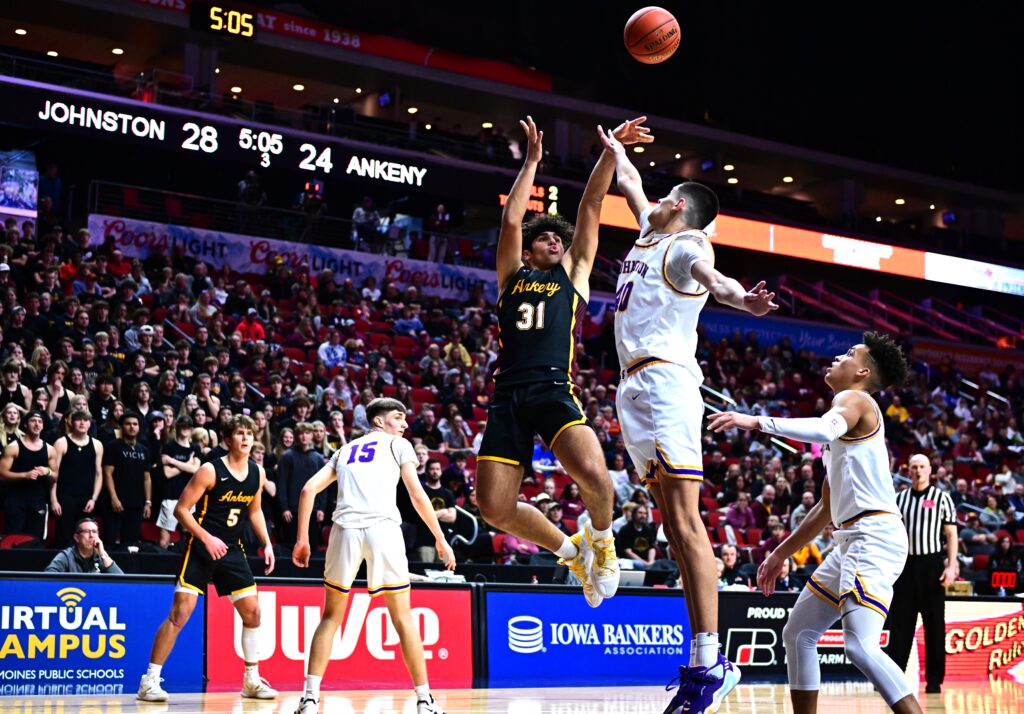 Kramer returned at the start of the fourth quarter and immediately made three free throws to ignite Johnston's rally. Lewis followed with two more to tie the game.
"We weren't worried. We're a comeback team," Lewis said. "We've been in that situation a lot, being down at the end of the third. The fourth quarter is where winners are made, and we made a lot of winning plays down the stretch."
After Aguirre banked in a shot to put Ankeny ahead, Kramer responded with a 3-pointer to give Johnston the lead for good, 45-44, with 5:15 left. Kramer scored again on a post-up move with 2:41 to go before the parade to the free-throw line resumed down the stretch.
Lewis hit four consecutive free throws to extend the Dragons' lead to 53-48 with 20.5 seconds remaining. Ward pulled up for a long 3-pointer with 11.6 seconds to go to close the gap to 53-51, but Kramer then sealed the win by making two free throws with 9.5 seconds left.
"That won us the game," Kramer said of the free throws. "We work on them every day."
Kramer grabbed 10 rebounds for Johnston, which will play seventh-seeded Cedar Rapids Prairie (18-6) in Thursday's semifinals at 7:15 p.m. Samuel Tornabane added 10 points and seven blocks off the bench.
Crandall had seven points and nine rebounds for the Hawks. Fellow senior Braden Simonsen contributed four points in his final game.
Five of the seven Ankeny players who saw action in Wednesday's game will return next year.
"We'll be back," Johnson vowed.