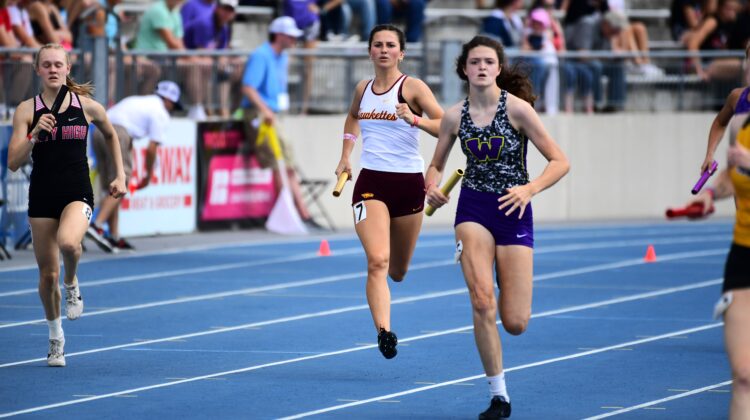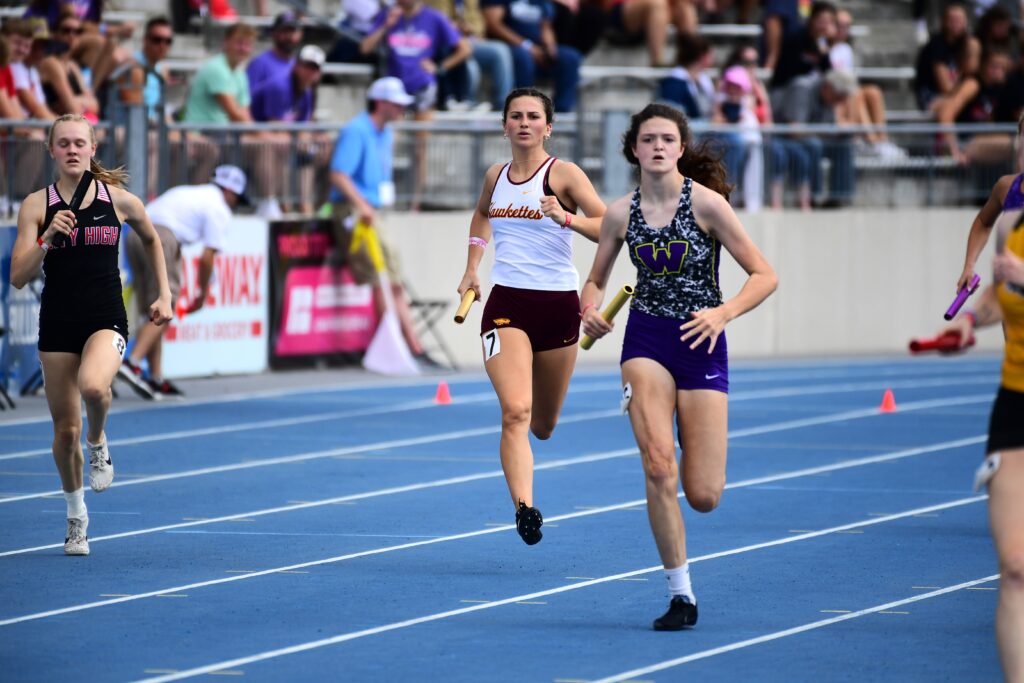 Thomas Cotter is hoping to make the most of his final season as the Ankeny girls' track coach.
Cotter, who is going to Carlisle at the end of the school year, has already had a lot of success with the Hawkettes.
"We have accomplished a lot in the four years I have been here," said Cotter. "With a COVID year, we have won three state championships (in individual or relay events), a Drake Relays title, numerous other Drake medals as well as a conference championship."
Ankeny won three meets a year ago, including the CIML Iowa Conference crown. The Hawkettes then tied for fourth place in the Class 4A state meet with 40 points, the school's highest finish since 1997.
However, Ankeny suffered some heavy losses to graduation. State champions Lauren McMahon (3,000) and Shelby Romig (long jump) both departed along with standout sprinters Mytika Mayberry and Eva van de Mortel.
Mayberry and McMahon are now competing for Iowa. Romig joined the program at St. Cloud State, while van de Mortel is a member of Northern Iowa's squad.
"We did lose a lot, and those girls certainly set the bar very high for the incoming and returning runners," Cotter said. "But we feel like we are a top-five team this season. We want to compete for the podium. Our goal is for Ankeny to be a name we hear a lot of championship Saturday of the state meet."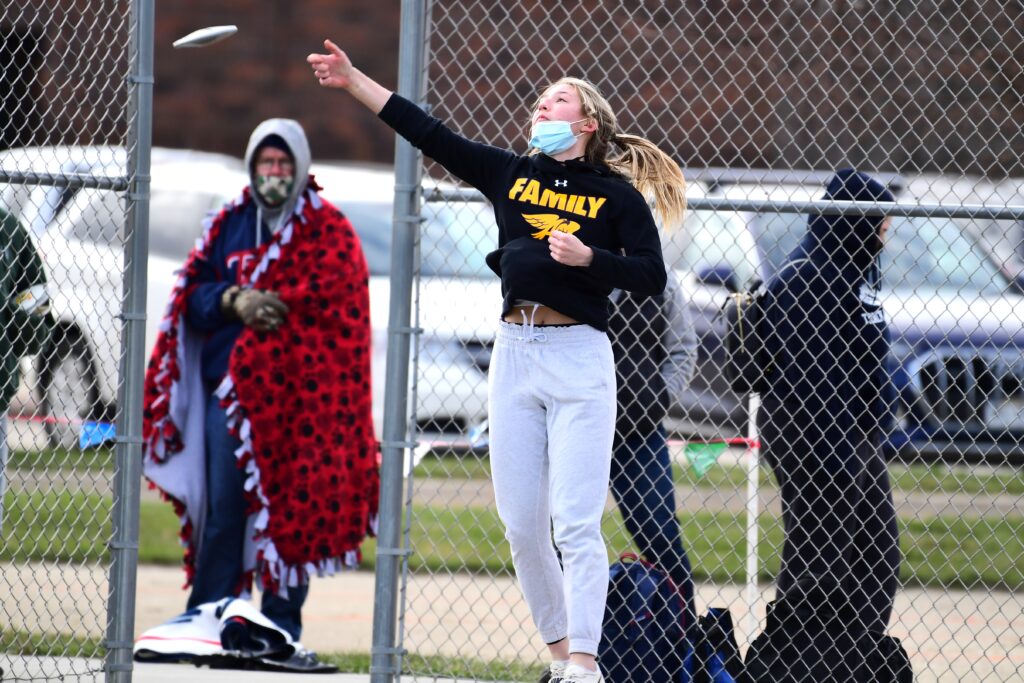 Among the Hawkettes' top returnees in the field events are throwers Hannah Baier and Kendra Winfrey. Baier was the conference champion in the discus and went on to place eighth at the state meet in that event (114 feet 1 inch), while Winfrey took sixth in the shot put (37-9).
"We had six top-10 finishes at the UNI Indoor Meet on Monday, and we had a good mix of varsity veterans and freshmen making a big impact at the Iowa State meet on Thursday," Cotter said.
Winfrey had the top throw among Class 4A competitors at the UNI meet. She then won the event at the Iowa State meet with a toss of 41 feet, which met the Blue Oval standard and tied her for second on the school's all-time list.
"I'm very pleased with how our throwers and high jumpers have started off the season," Cotter said.
On the track, Ankeny boasts a talented group of sprinters. Eva Fulk, Karsen Jacks and Lillian Smith are all back for the Hawkettes.
Fulk ran on the state champion 4×100 relay team as a freshman in 2019. Mayberry and van de Mortel also ran on that unit.
As a junior, Fulk helped Ankeny to a third-place finish in the 4×100 and a 10th-place finish in the distance medley relay. Jacks, a sophomore, also ran on those units.
Smith placed 16th in the 100 in 13.01 seconds. She also joined Fulk on the 11th-place 4×400 relay.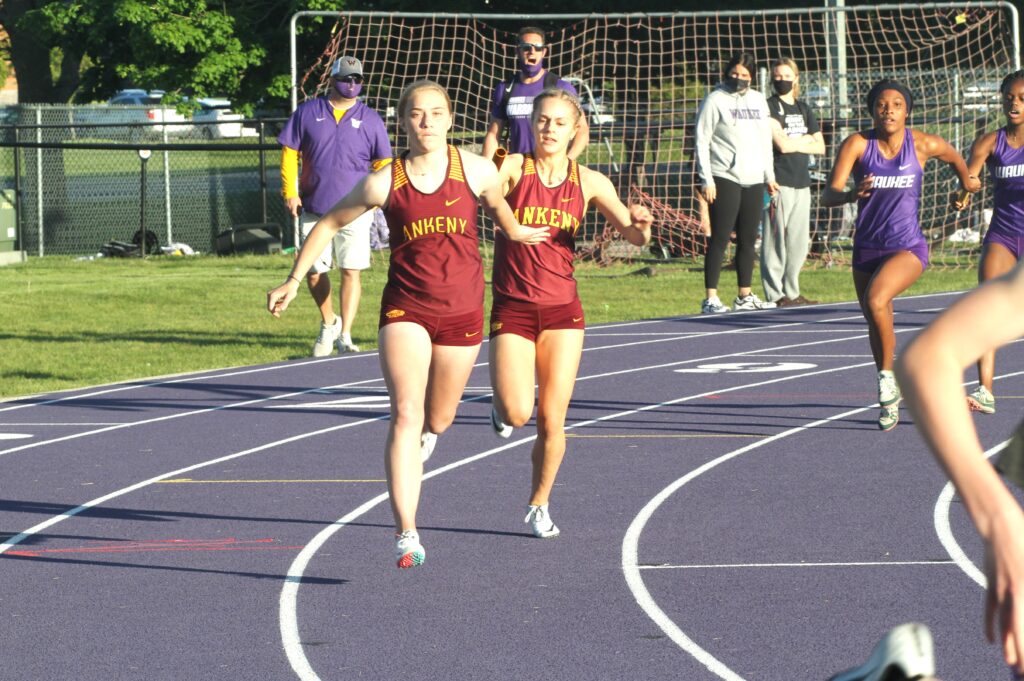 Avery Rubin and Zoe Shadravan are among the others competing for spots in the 4×400.
"Our 4×4 was off their state time by just 2 seconds on Monday," Cotter said. "I look for that group to be as good as anybody this season."
Larissa Miller, Jenna Pitz and Macie Strnad are also expected to play key roles in the sprint relays. There are 86 girls on the team.
"That is our highest number since I started with the program," Cotter said. "It gives us a lot of chances to get kids opportunities to compete."
Other returning state qualifiers are Alex Gloviak and Madeline Poock. Gloviak ran on the 20th-place 4×800 relay, while Poock helped the Hawkettes to a seventh-place finish in the shuttle hurdle relay.
Freshmen Alli Macke and Drew Beason are expected to make an immediate impact after leading the Ankeny girls' cross country team to a sixth-place finish in Class 4A last fall. Macke won the 800 at the Iowa State meet in 2:22, while Beason took third in the 1,500.
"We are a younger team this year and will have to wait for the more technical events to develop like hurdles and distance events," Cotter said. "It is a big jump from eighth grade to varsity track. We feel very strongly our field events will score very well for us throughout the season. Our middle distance (400/800) is as strong as it has been since I started. That will allow us to put a lot of different combinations together including distance medley, sprint medley, 4×400 and 4×200.
"We will have to see how things shake out across the state to best position ourselves," he added.