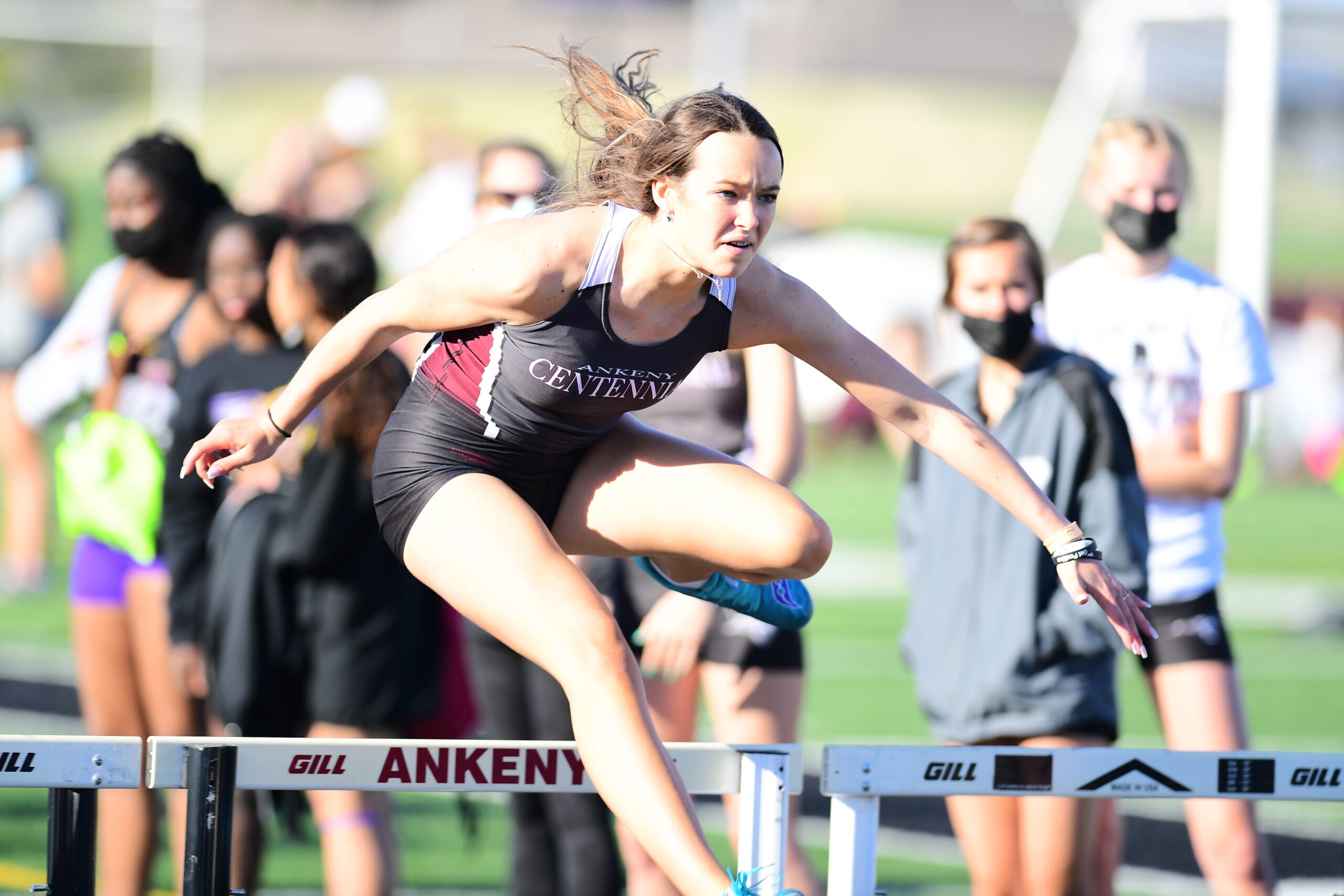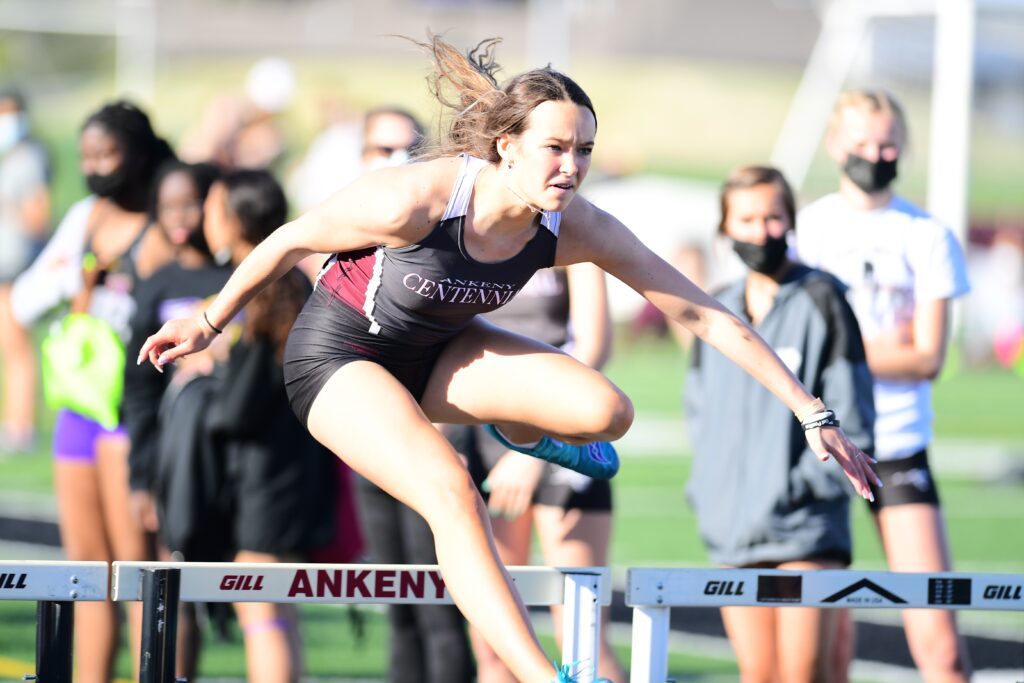 Senior Maraye Breeding is one of 12 returning state qualifiers for the Ankeny Centennial girls' track team. She helped the Jaguars to a 14th-place finish in last year's Class 4A state meet.
Breeding ran on the fifth-place 4×200 relay which set a school record with a time of 1:45.05. She also ran on the 14th-place shuttle hurdle relay.
Here is some inside info on Breeding:
Did you go anywhere on spring break?
Yes! I decided to stay in the country for my senior spring break and headed to Florida with a couple friends. I'll be heading to Spain with my family as soon as I graduate so I'm looking forward to that.
Your team has already had three indoor meets. Have you been happy with your performances?
Indoor is always a little weird since we aren't used to running on 200 and 300 meter tracks. We have a very young team, and it was awesome to go and get in some good quality races before outdoor season. I tweaked a muscle in my hip right before the UNI meet so I have yet to hurdle at a meet this year, but I was happy with my other running event performances.
Do you feel like your team is making good progress?
Yes! Honestly, I feel like the new runners are picking up on things very quickly, and our returning runners are focused and eager to get better.
Your team was supposed to open the outdoor season on Saturday by competing in the Sherwood Relays at Iowa City High, but the meet was cancelled due to the cold and windy weather. What kind of conditions do you prefer to run in?
Every runner's dream would probably be mid 60s and sunny with no wind, although it's a rare occasion that we get that!
What are your goals for the season?
My goals for this season are to improve my 200s, 400s and become an overall stronger athlete. My time goal for this season is to break my 25.14 200 split record. I would also like to help my team qualify for as many possible events for Drake and state. Those are the most fun days of track.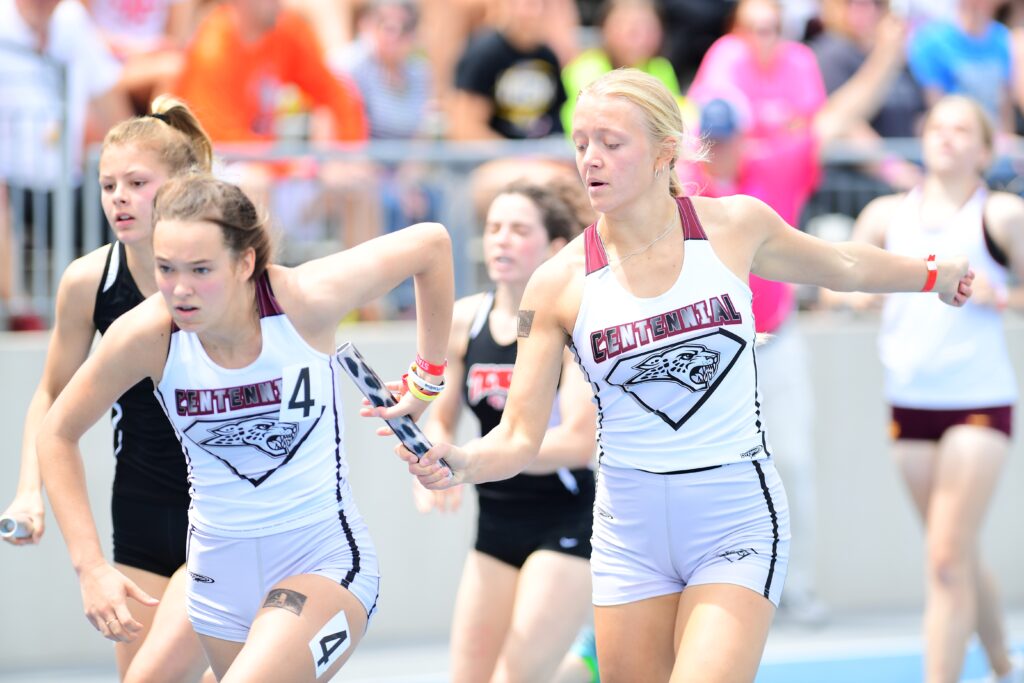 Which event is your favorite, and why?
My favorite event is definitely the 4×200. Relays are so fun, especially since I run them with my best friends. There's no better feeling than beating the school record in a relay and having three other girls to celebrate the success with. I also have really long legs so the 200 is the perfect length for me to be able to get to top speed.
Because of your experience, are you trying to be a leader for the team this season? And if so, how?
Yes, it's so fun being a senior because of the leadership that comes with it. However, I am a firm believer that girls of any grade level can be leaders. I remember my freshman year when I surrounded myself with the loud, outgoing, upperclassmen girls. It wasn't long before I went from the timid freshman to a leader myself.
Both of your parents, Jeff and Jonnah, were standout athletes at Ankeny High School, and your brother Ben was a football and basketball starter at Centennial. So are you the best athlete in the family?
Of course, I'm the best athlete in the family! I also hold the title for funniest and best looking!
Your aunt, Gina Gelatti, was a tremendous distance runner who was named to Ankeny Fanatic's all-time Ankeny girls' cross country team. So have you ever tried the distance events?
Well, my mom did run track, but she was a similar runner to me–mostly 200s. Coach (Eric) Cogdill has tried for many years to try to get me to go out for cross country, but I stuck with rugby in the fall. Honestly, the distance events seem so dreadful, and I admire and respect the girls that have the strength to do them greatly.
Plans for next year? Would you like to run track in college?
I've decided I am going to hang up the spikes next year and just focus on academics at Iowa State.
What are you going to study?
I will be majoring in elementary education and minoring in business. I'm looking to also get some sort of coaching endorsement along the way.