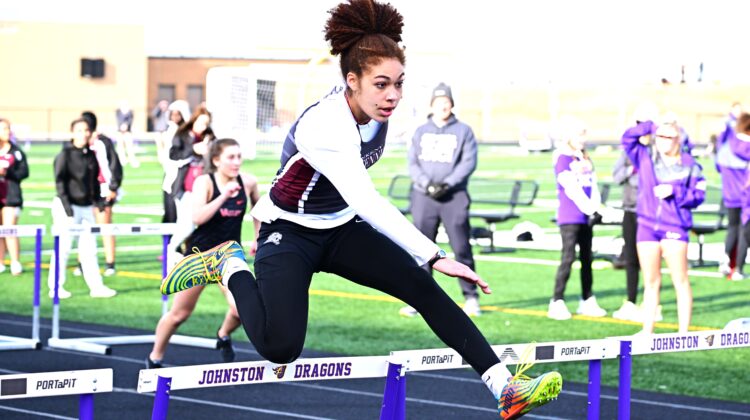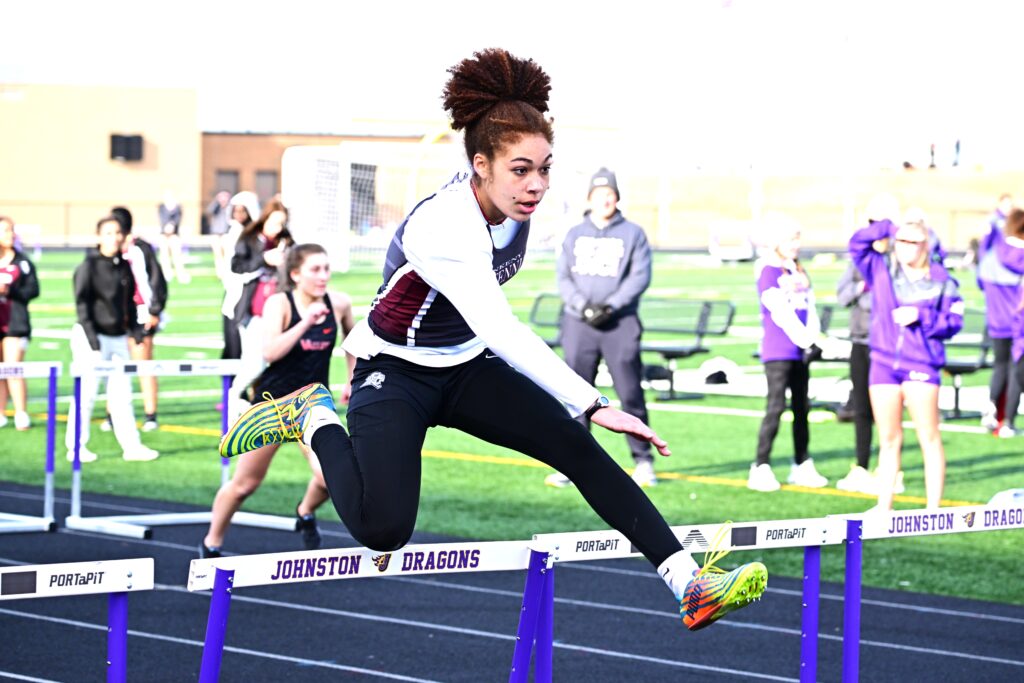 On a wet and windy night, the Ankeny Centennial girls' track team earned a runner-up finish in the Southeast Polk Invitational on Tuesday.
The Jaguars scored 56 of their 184 points in the relays–placing second in all seven of the relay events.
"We ran competitively on the track," said Centennial coach Andrew Kruzich. "We've got some work to do on handoffs–those weren't clean. But we're focused and we're trying, so I think we'll get there. Our hurdlers showed some progress, being more aggressive in trying to three step."
Southeast Polk won the eight-team meet with 204 points. Ottumwa was third with 133.
The Jaguars won three individual events and placed second in three others.
"We had a fun night, much more fun than I was anticipating looking at the weather," Kruzich said. "We added this meet when Iowa City got cancelled, and I'm glad we did looking at Thursday's (forecast). I thought our girls were in really good spirits, and didn't let the conditions bother them. We were excited to run, and made a few discoveries along the way."
Centennial's Rondi Quass won the 1,500 with a time of 5:07.71. Teammate Anika Mohrhauser took second in the 3,000 in 11:18.22.
"Of course our distance events did their usual nice job," Kruzich said. "Polk is always really strong from 400-1,500 meters, but we were in the neighborhood quite a bit. I think that group will continue to get better, too."
Kylin Smith captured the 400 hurdles. She posted a time of 1:13.06.
"That was Kylin's debut in that event," Kruzich said. "Our girls had nice races in some windy conditions."
Kambria Leazer won the high jump, clearing the bar at 4 feet 10 inches. She was second in the long jump with a leap of 16-10.5.
Alee Edwards was the runner-up in the shot put with a throw of 34-3.
"Our field events had a nice night," Kruzich said. "Southeast Polk isn't a great place to high jump, but Kam did a nice job winning that before setting another long jump PR. She's now messing around with the 17-foot barrier, which kind of separates the good from the great. Alee had a nice PR in the shot put. It's been a bit since we've scored consistently in the throws, so that's a real positive. And Maddy LaVoi cleared 4-10 in her first high school high jump competition, so I think we found our No. 2 varsity girl. All of that is a plus."