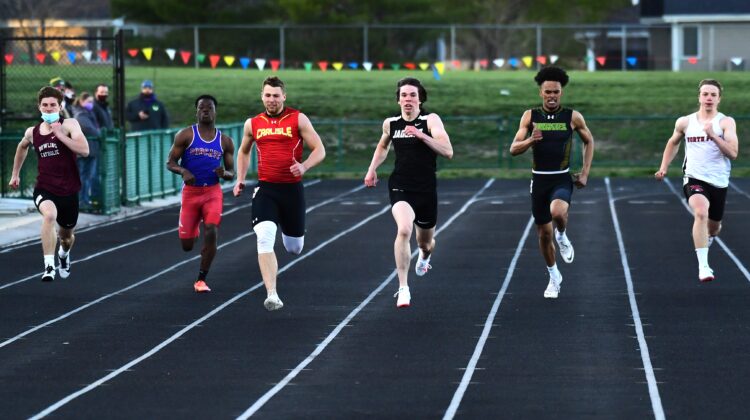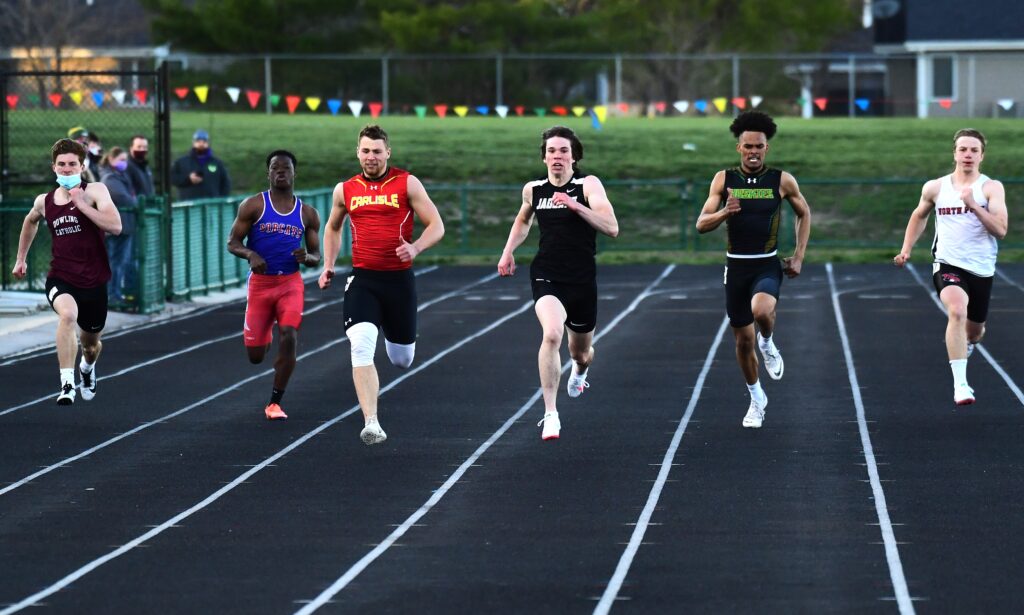 A pair of relay victories helped the Ankeny Centennial boys' track team to a fourth-place finish overall in the Hi Covey Relays on Tuesday at Ames.
The Jaguars won both the 4×200 and 4×400 relays. They finished with 108 points in the seven-team meet.
Iowa City High captured the team title with 203 points. Cedar Rapids Kennedy was second with 134.
Centennial edged Iowa City High by .01 seconds to win the 4×200 relay. The foursome of Alec Schneider, Owen Gates, Connor Welsch and Nick Severson posted a time of 1:30.72.
Schneider placed third in the 100 in 11.20 behind the Southeast Polk duo of Titus Christiansen and Abu Sama. Welsch was fifth in 11.26.
Schneider and Welsch also teamed up with Max Snyder and Severson for a runner-up finish in the 4×100 relay. The Jaguars were clocked in 43.56.
"Alec has been a big part of our sprint relay success and had a nice 100 time along with his teammates Connor and Max," said Centennial coach Nate Smith.
The Jaguars won the 4×400 relay in 3:32.43. That team consisted of Bennett Blakeslee, Gates, London Hershberger and Cooper Majors.
Centennial got a second-place finish from Sam Dietz in the shot put. He again surpassed the 50-foot mark, throwing 50-7.25.
Chase Schutty placed fourth in the high jump, clearing the bar at 5-8. In the long jump, Isaiah Valentine placed fourth with a leap of 21-1 and Cole Grider was fifth with a jump of 20-6.5.
"Both long jumpers continue to get better each week," Smith said.
Centennial placed second in the sprint medley relay in 1:39.54. The Jaguars also took second in the distance medley relay in 3:49.89, getting a strong anchor leg from freshman Aammin Hassan.
"Aammin has been filling a big role for the middle distance crew," said assistant coach Dan Beeding. "He's a hard worker and races hard which will get him on the track for the varsity in May, which is a big accomplishment for his age."
Harrison Makovec placed third for the Jaguars in the 200 in 23.43. Thomas Bunce was fourth in 23.68.
Easton Miller placed fourth in the 110 hurdles in 15.94. Jake Gossett took fourth in the 400 in 54.10, while Karsten Peters finished fourth in the 800 in 2:03.06.
Gabe Hadley and Noah Segar placed 10th and 11th, respectively, in the 1,600.
"Gabe and Noah have been back and forth all season so it was fun to see them battle and push each other," Beeding said.
Centennial placed sixth in the 4×800 relay in 9:27.11.
"I thought the 4×800 battled through some tough conditions and competition to have a nice race," Beeding said. "Luke Auderer ran a big PR on the anchor, and Grant Harris showed some good race strategy during his race."
The Jaguars will compete in the Jim Duncan Invitational on Saturday at Drake Stadium.