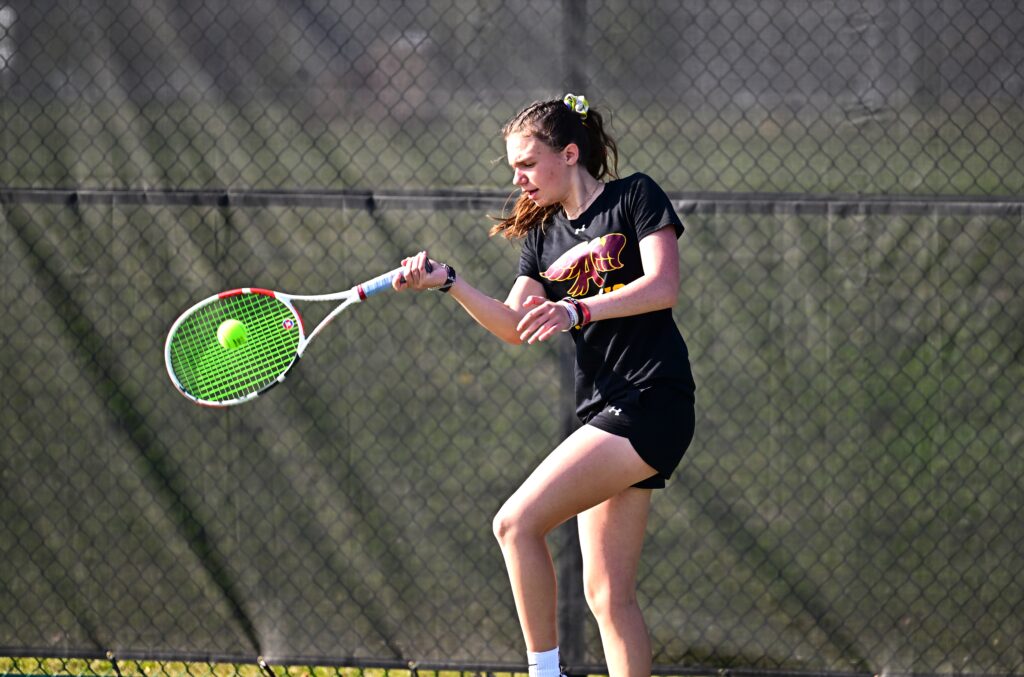 A year ago, Megan Sommerfeld advanced to the girls' state tennis tournament in singles, becoming Ankeny's first qualifier since the split into two high schools.
Now, the seventh-ranked Hawkettes have achieved some more historic feats.
Freshman Kira Smith won a Class 2A regional singles title on Wednesday at Ames, while the Ankeny doubles team of Anna Schmitz and Tori Johnson also captured a crown to qualify for state.
The Hawkettes have not had both singles and doubles qualifiers since 2011, when Emily Coe qualified in singles along with the doubles team of Maddy Larson and Nichol Nitschke.
"It was special to see my seniors–Tori and Anna–fight their nerves from knowing it was their chance to make state and persevere by qualifying for state," said Ankeny coach Steve Smith. "They've both worked so hard this last year, and it's awesome to see the fruits of their labor."
Schmitz and Johnson won their first two matches in straight sets to reach the final. They then held a 5-4 lead in the first set of the title match when the Norwalk duo of Ava and Olivia Johnson defaulted due to the heat.
Emily and Olivia Coe were Ankeny's last doubles qualifiers in 2013.
"We were the No. 1 seed in both singles and doubles, and both of them held their seeds," Smith said.
Smith's daughter lost only two games on the day–both of them during her semifinal match. In the final, Smith rolled to a 6-0, 6-0 victory over Angelina Chen of Ames.
"Kira fought off some nerves at the beginning of the second match, but it was fun to see her take it up another notch in the final!" Smith said.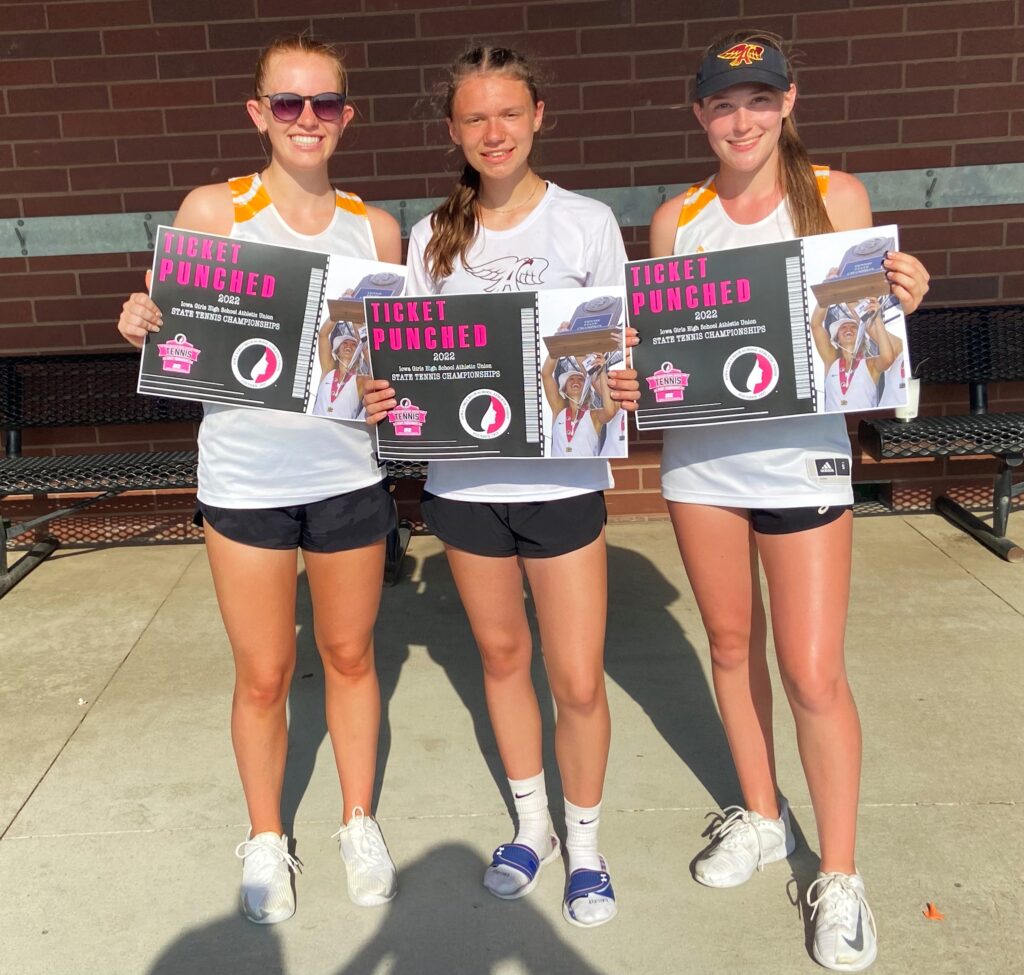 Chen, the Little Cyclones' No. 1 player, earlier needed three sets to outlast Ankeny's Sophie Schmitz in the quarterfinals. Schmitz, a freshman, is the Hawkettes' No. 6 player.
"Sophie played at another level and split sets with Chen (before the super-tiebreaker)," Smith said. "It was great to see Sophie raise her game, and it was unfortunate she started cramping up in the second and third sets. She looked every part of a state level player."
Ankeny also entered the doubles team of Sydney Otto and Payton Blume. Like Sophie Schmitz, they won a first-round match before losing in the quarterfinals.
"They led the second-seeded team from Urbandale, 5-4, before losing," Smith said.
The Hawkettes will play Southeast Polk or Ames in the semifinals of a Class 2A regional team tournament on Tuesday at Ames. The state tournament is slated for May 27-28 at Waukee Northwest.
Here are the match-by-match results from Wednesday's regional:
Singles
Smith beat Bright (DMR), 6-0, 6-0; beat Que (Am), 6-2, 6-0; beat Chen (Am), 6-0, 6-0.
S. Schmitz beat Russell (DMR), 6-1, 6-0; lost to Chen (Am), 5-7, 6-3, 1-0 (3).
Doubles
A. Schmitz-T. Johnson beat Haskell-Kallenbach (Nor), 7-5, 6-0; beat Cordoba-Gu (Am), 7-5, 6-4; beat A. Johnson-O. Johnson (Nor), 5-4 (medical default).
Otto-Blume beat Saidu-Stout (DME), 6-0, 6-0; lost to Serdarivic-Dykstra (U), 7-6 (4), 6-2.