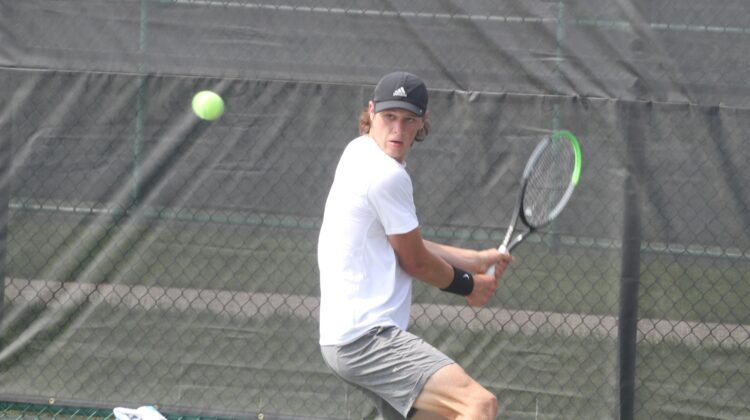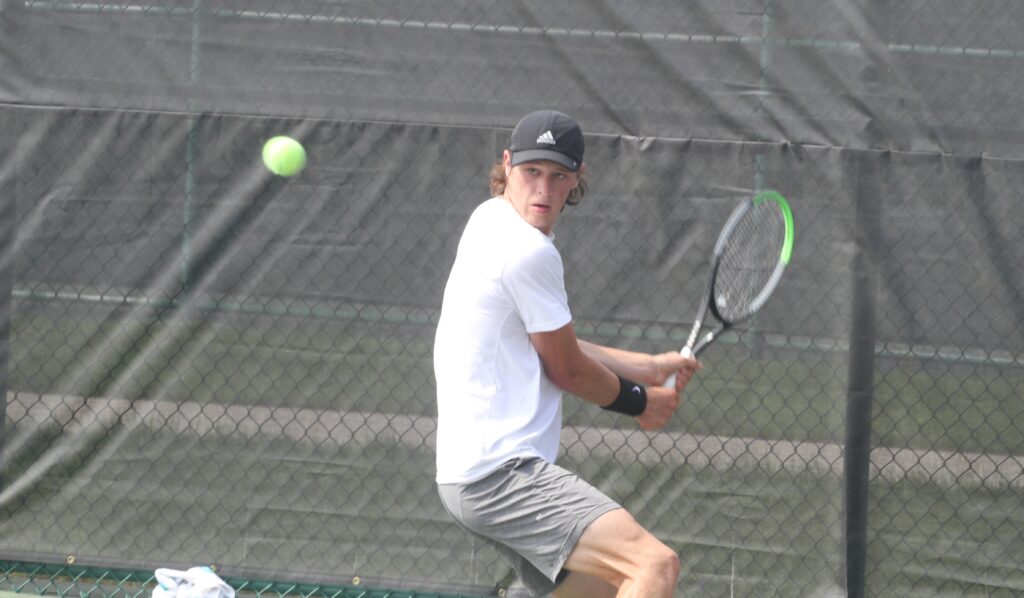 Ankeny Centennial junior Caleb Peterson is guaranteed a second consecutive top-eight finish in the boys' Class 2A state tennis tournament.
After placing sixth in doubles a year ago, Peterson was hoping to contend for the singles title this season. But he lost to second-seeded Kaden Taylor of Waukee Northwest, 6-2, 0-6, 6-4, in the opening round of the tournament on Tuesday.
Peterson dominated the second set and then held a 3-2 lead in the third set when played was halted due to rain at the Veterans Memorial Tennis Complex in Cedar Rapids. The match was moved to the indoor courts at the Hawkeye Tennis & Recreation Center in Iowa City, where Taylor won four of the next five games to seal the win.
"I think the move (inside) did hinder my momentum," said Peterson. "Nonetheless, I had many chances that I didn't convert on. It's a learning experience with growing my game and getting better."
Taylor, who played on last year's state champion doubles team at Waukee with Quinn Monson, then rolled to a 6-0, 6-0 victory over Ottumwa's Toby Schmidt in the quarterfinals.
"Caleb had the match on his racket to upset the No. 2 seed," said Centennial coach Tami Lewton. "I think the move to Iowa City really changed the momentum. It was a frustrating loss, but he came back with a strong win and will continue to battle through consolations."
Peterson rebounded with a 6-1, 6-0 win over Ishan Chawla of Valley in a first-round consolation match. He then won a second-round consolation match against Parker Sprague of Cedar Rapids Kennedy by injury default, assuring himself of a top-eight finish.
"I recovered pretty quickly and told myself the second match is an opportunity to improve and to do the things I want to get better at and I did, so I'm happy about that," Peterson said.
Peterson will take a 16-2 record into a consolation semifinal against Marshalltown's Kevin Strand on Wednesday. He posted a 6-4, 6-3 win over Strand in a dual meet on April 27 at Ankeny.
With a victory, Peterson would face the winner of a matchup between Iowa City West teammates Luca Chackalackal and Seth Smigel for fifth place. A year ago, Peterson and his doubles partner–Nic Mackaman–lost to an Iowa City West duo that included Chackalackal in the quarterfinals.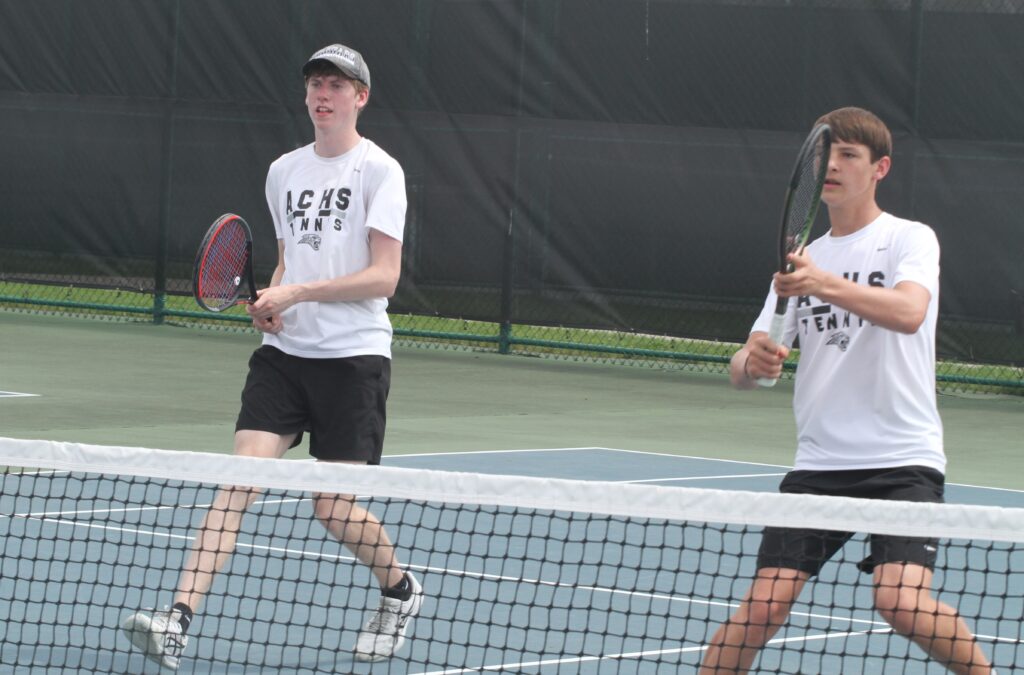 The Centennial doubles team of Kellen Jones and Brayden Wellendorf was eliminated from the tournament on Tuesday after losing its first two matches. They dropped a 6-0, 6-4 decision to Mazen Alsheikha and Gavin Pangan of Pleasant Valley in the opening round, then suffered a 6-3, 6-1 loss to Tyson Trimble and Beck Sissel of Valley in a first-round consolation match.
"Kellen and Brayden both played well at times, but unfortunately never at the same time," Lewton said. "And they had a terrible draw. As district champions, they were guaranteed (to play) a runner-up for their first round. However, the team they played placed fourth in doubles last year.
"They played well in the second set," she added.
The Pleasant Valley duo nearly advanced to the semifinals for the second straight year. They lost to second-seeded Jayden Shin and Samir Singh of Iowa City West, 6-3, 4-6, 7-6 (4), in the quarterfinals.
"I felt like we played pretty well given our draw," said Jones, a senior. "We obviously didn't get the results we wanted but as new players, coming into this we had nothing to lose. There were some nerves coming into this because I wanted to play well and not let my teammate and coaches down, but as far as playing, I wasn't too nervous. In both of our matches we started off slow which kind of discouraged us, but in the second set we became more comfortable and hit some more key shots. It was definitely an adjustment for us as we are new to the sport."
Jones and Wellendorf combined for a 5-4 record this season. Wellendorf, a freshman, said he wants to be back next year.
"I was able to enjoy the experience," he said. "I think that it is a turning point to come back hungrier after seeing the competition we have to go against."