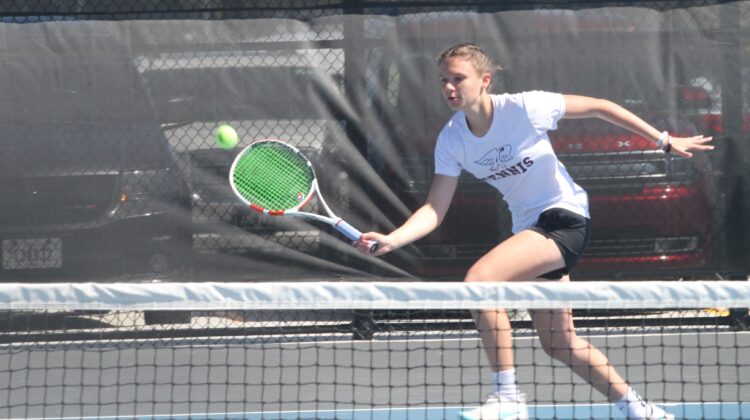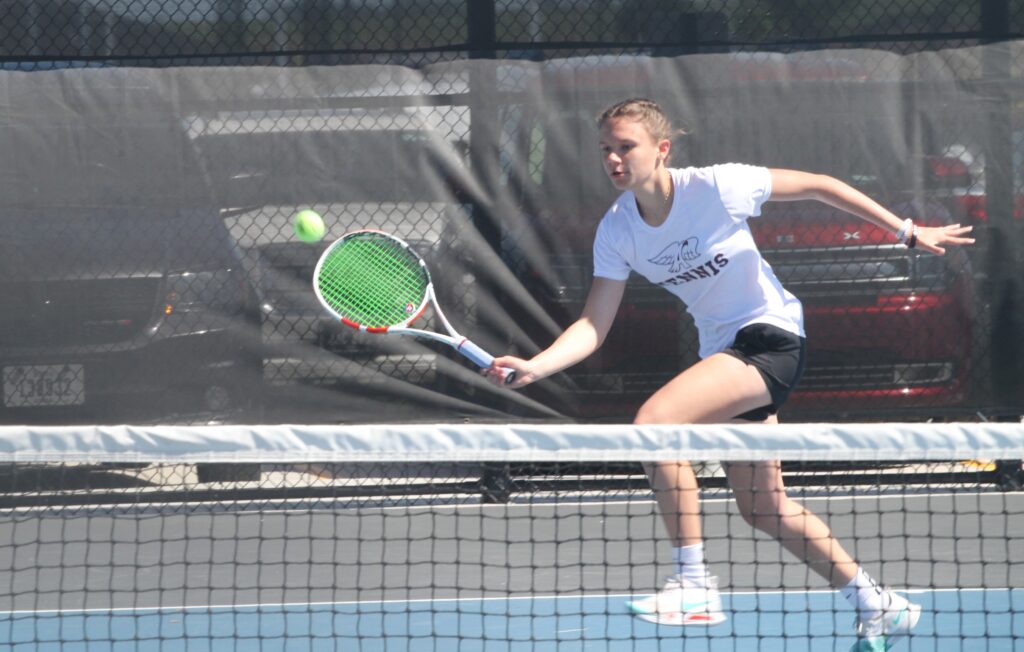 A dramatic rally allowed Ankeny freshman Kira Smith to advance to the semifinals of the Class 2A singles bracket in the girls' state tennis tournament on Friday at Waukee Northwest.
The fourth-seeded Smith won the final four games in the third set to post a 6-4, 1-6, 7-5 victory over Sasha Hyacinth of Waterloo West in the quarterfinals. She raised her record to 20-1 and will meet defending champion and top-seeded Allison Szalay of Dowling Catholic on Saturday morning.
"It was a really tough match against a really good player, and I'm glad I was able to win," said Smith.
Earlier, Smith opened the tournament with a 6-0, 6-3 win over Celine Matthews of Mason City. She defeated Matthews for the second time this season.
"Kira had a tough draw," said Ankeny coach Steve Smith, her father. "It's always tough to have to beat the same player multiple times in a year, especially when it's your first state tournament match, and you're playing someone as talented as Celine. Kira came out on fire in the first set before having to overcome some nerves in the second set."
After winning the first set against Hyacinth, Smith began to struggle. She lost nine of the next 10 games and found herself in an 0-3 hole in the third set.
Hyacinth is the reigning Class 1A state champion.
"Sasha is an amazing player, and her slice was nasty today," said coach Smith. "Kira faced some adversity after losing the second set, then going down 0-3 and 3-5 in the third before she took her game to a new level the last four games of the match. When Kira plays with confidence, she's really tough to beat."
Smith will now try to dethrone Szalay, who advanced to the semifinals without losing a single game. Second-seeded Claire Gu of Valley will face third-seeded Maya Mallavarapu of Cedar Falls in the other semifinal.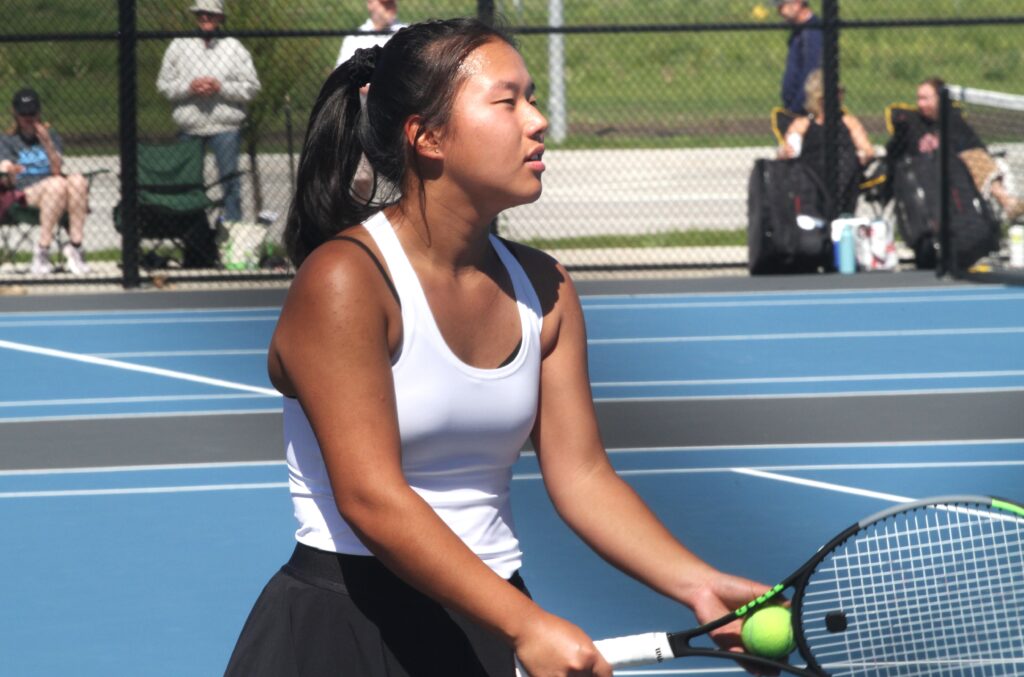 Szalay opened the tournament with a 6-0, 6-0 victory over Esther Guan of Ankeny Centennial. The match was closer than the score indicated.
"I feel like I played pretty well against her," said Guan. "It definitely wasn't my best, but I'm proud of the way I played and hung in rallies with Allison. I think the score doesn't reflect the effort I put in."
Several of the 12 games went to deuce before Szalay prevailed.
"I thought Esther played tremendous tennis today," said Centennial coach Alli Gustafson. "Against Allison, although the score did not show it, Esther made her fight for each point."
The loss dropped Guan into the consolation bracket. She later fell to Lauren Masengarb of Pleasant Valley, 4-6, 6-4, 10-8, to end the season with a 17-9 record.
Masengarb won seven of the last nine points to erase a 6-3 deficit in the third-set tiebreaker.
"It was probably one of the best matches I've played in," Guan said. "Even though I didn't win, I'm proud of the way I defended against one of the strongest forehands I have seen. Although I couldn't capitalize in the tiebreaker, I'm still happy with the way I fought until the end. It felt like every game went to deuce and if a couple points went my way, I would have won. But overall, I can only be happy with the way I played because all credit to Lauren for playing such a clean yet aggressive game."
Masengarb, who defeated Centennial's Jordyn Gustafson in a first-round match last year, opened this year's tournament with a three-set loss to Hyacinth. She then overcame a one-set deficit against Guan.
"I thought Esther played smart," Gustafson said. "She attacked her backhand when necessary and used changes of pace to control the match. The tiebreak unfortunately just didn't fall her way. Esther had a great season and gained a lot of valuable experience. I am very proud of her! I can't wait to see her compete again next season."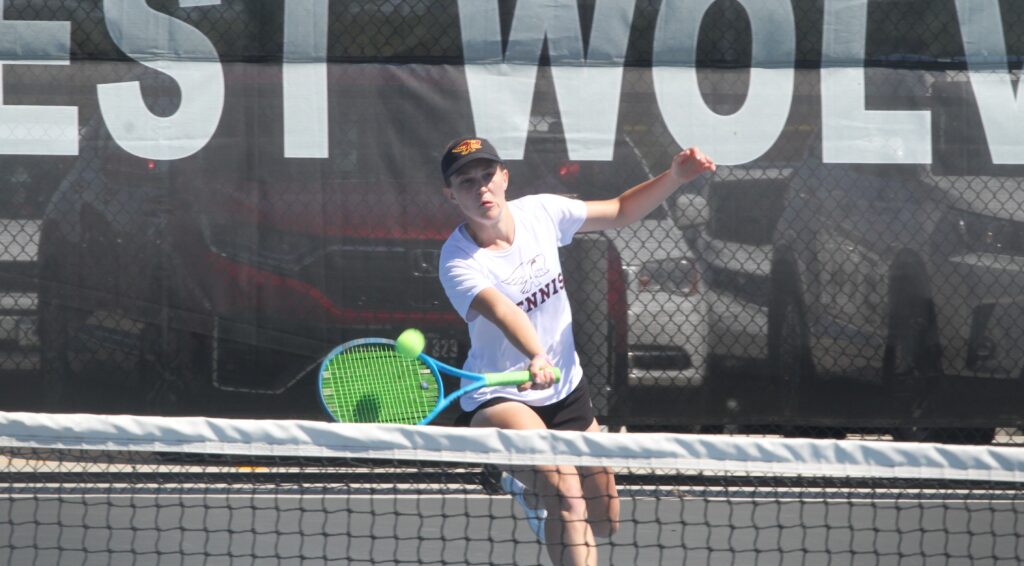 The Ankeny doubles team of Anna Schmitz and Tori Johnson reached the quarterfinals on Friday before losing their next two matches. They opened the tournament with a 6-4, 6-3 victory over Izumi Brown and Allison Rickert of Valley.
"When we went into the tournament, we knew who we were playing and we really wanted to win that first match," said Johnson. "After that we were just grateful to be where we were. It's rare that seniors end with a win, but I was thankful for the time that I got to play with Anna and the amazing season we had."
The duo then dropped a 6-1, 6-1 decision to top-seeded Ava Petersen and Kenzie Klein of Dowling Catholic.
"I'm so proud of how my seniors played today," coach Smith said. "They really showed they belonged on this stage winning their first match against Valley, really competing well against the Dowling team and then coming within a few points of reaching the second day. Given how much they've done for our program, I was glad they were able to show how amazing they are in the biggest tournament of their lives."
In a second-round consolation match, Schmitz and Johnson fell to Ava and Olivia Johnson of Norwalk, 6-3, 3-6, 7-0. The Johnsons avenged an earlier loss in the regional final.
Schmitz and Johnson finished with a 9-2 record.
"Tori and I had a really awesome day of tennis, and we created a lot of great opportunities at both the net and through our ground strokes," Schmitz said. "Coming into the tournament we really just felt grateful to be a part of something that not too many players get to experience. Being able to win in the main draw was probably the highlight of our day. Simply put, I feel we have gone far beyond any expectations and I'm so proud of where we ended up."