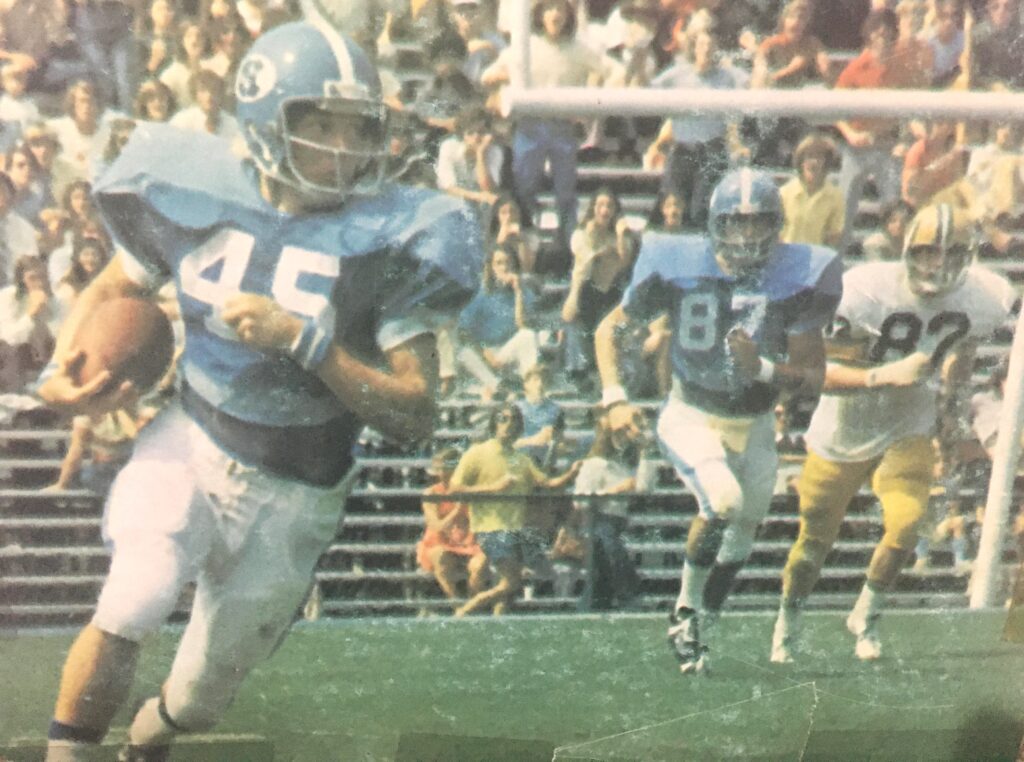 Ankeny's success on the football field didn't begin with coach Jerry Pezzetti's arrival in 1969.
In the previous four decades, Ankeny racked up 11 undefeated seasons, including five in a row from 1933-37 that resulted in a 44-game winning streak. The Hawks also went unbeaten in 1943, 1946, 1950, 1957, 1959 and 1961.
Unlike today, most of the stars of that era played on both sides of the ball. Many of them also had to play special teams.
Ted Leverenz was one of the standouts from the pre-Pezzetti era. As a junior, he played quarterback for the Hawks in 1968–the year before Pezzetti was hired.
Leverenz never got a chance to play for Pezzetti, though. His family moved to Alexandria, Va., right before the start of the 1969 season, and he went on to become a star at Mount Vernon High School–where he was voted the school's Athlete of the Year.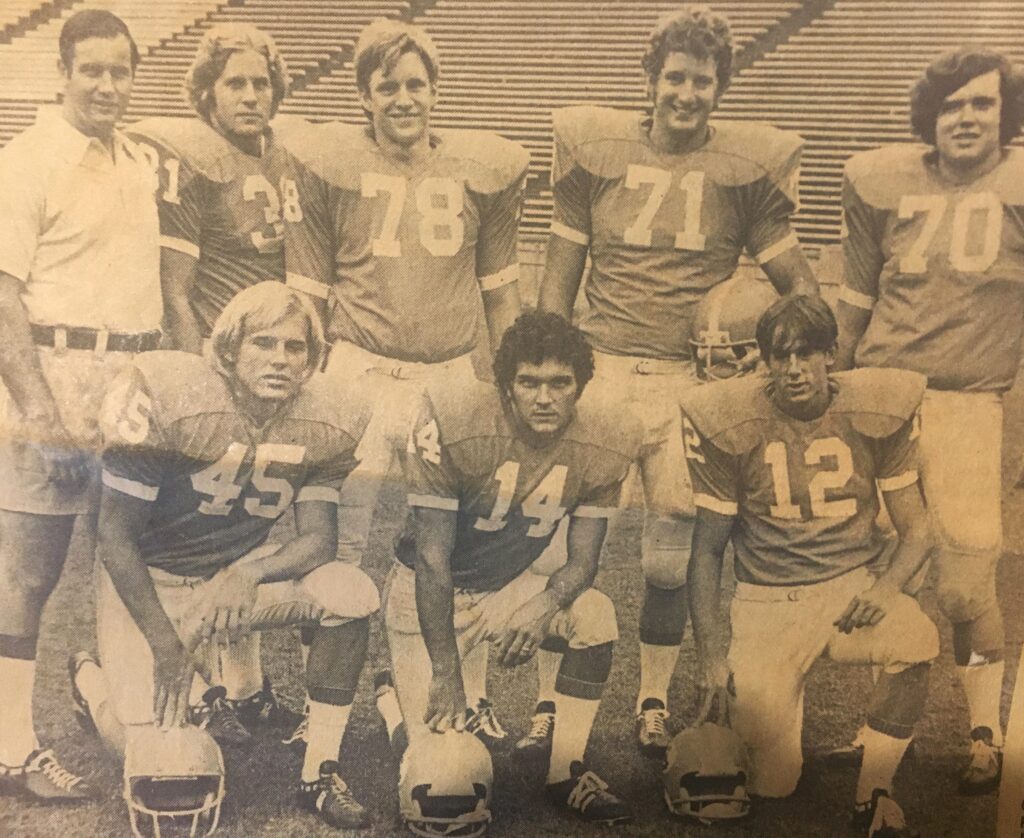 Leverenz then went on to play for North Carolina, where he was the starting wingback and played in two bowl games for the Tar Heels.
"I don't have too many memories from my Ankeny (football) days," said Leverenz, who was the state long jump champion in 1968 and then defended his title one year later, when he helped the Hawks to the state track crown. "We weren't very good."
Leverenz and Bob Fontana, the son of former Ankeny star Ron Fontana, recently sat down for lunch at the Yankee Clipper with Ankeny Fanatic publisher Dan Holm. Holm was compiling some information for the Ankeny Fanatic all-time Ankeny football team.
Leverenz and his classmate, Jerry Heston, both went on to enjoy outstanding collegiate careers. But the Hawks won just one game in their sophomore year in 1967, then had two wins the following season.
When Leverenz moved to Virginia, he became a split end and cornerback at Mount Vernon. In his first game, he had a pick-six in a 17-10 win over T.C. Williams, the school that was depicted in the movie "Remember the Titans".
"In the movie they portrayed that school as being integrated in 1972," said Leverenz, who eventually moved back to Ankeny. "But that was incorrect. I know for a fact they had a lot of black guys on the team in 1969."
Leverenz was the only Mount Vernon player who started on both sides of the ball. But after the team lost its next three games, he was moved to quarterback.
"My mom was ticked off, and she told the athletic director that I had played quarterback at Ankeny," Leverenz said. "So the AD went to the coach and said something. When we went out to practice on Monday, they changed the whole offense. It was QB (run to the) right, QB left and QB up the middle, and once in a while I'd throw the ball. We never lost another game."
Leverenz was recruited by numerous schools from across the country. He took 12 recruiting visits, including one with Heston to Tennessee Tech–where their former Ankeny coach, Bobby Joy, had become an assistant coach for the Golden Eagles.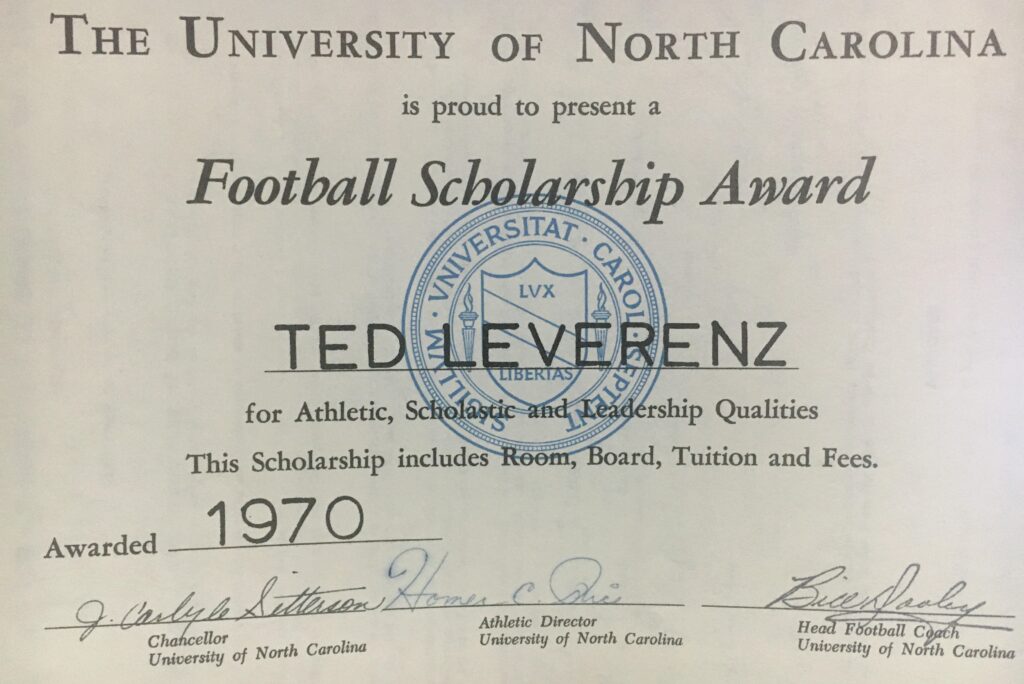 In the end, Leverenz picked the Tar Heels over an offer from Iowa.
"I just wanted to go somewhere different," he said. "And I thought they were an up-and-coming team."
Leverenz spent some time at defensive end as a freshman, when he was ineligible to play for the varsity. He then moved back to wingback as a sophomore and also played some tailback for the Tar Heels during his career.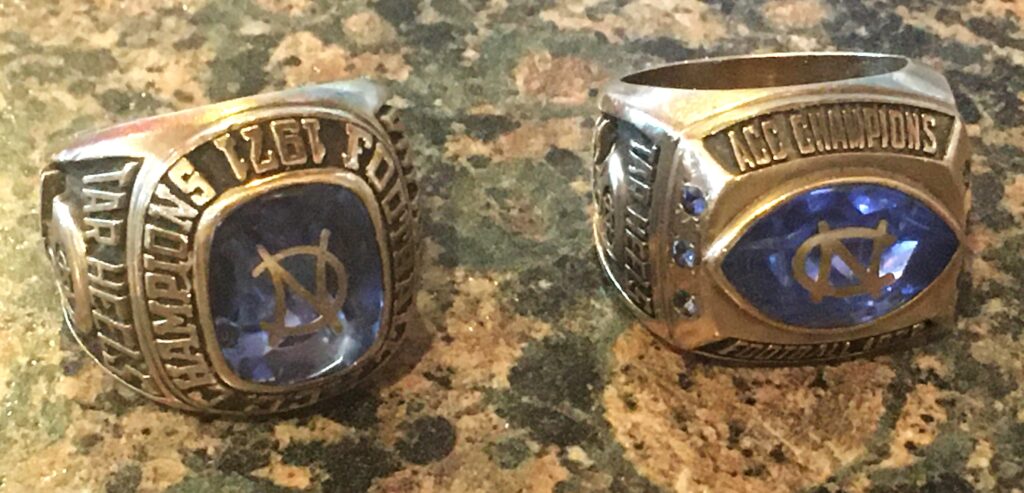 Leverenz was a part of two Atlantic Coast Conference championship teams. He will be attending a 50-year reunion for those squads later this fall in Chapel Hill.
One of the biggest games of Leverenz's career came during his junior season, when the Tar Heels played at Ohio State in a battle of undefeated teams.
"I think we were both 4-0, and they were ranked No. 1 or 2 in the country," Leverenz said of the Buckeyes. "We knocked their first two tailbacks out of the game by the middle of the second quarter, so we were feeling pretty good. And then their third-string guy comes in and runs for 245 yards in 2 1/2 quarters. That was (eventual two-time Heisman Trophy winner) Archie Griffin. They beat us like 31-17."
Leverenz also recalled another game at Tulane, where he likely suffered a concussion on a kickoff return.
"I was one of the up backs and we formed a wedge, and out of the corner of my eye I see that there was a fumble," he said. "I dive for the ball and some guy just coldcocks me with his helmet, and I get up and he had hit me so hard that my face mask (had just collapsed) and was bent all to heck. They had to unscrew the facemask to get my helmet off.
"I played just one play at wingback, and I didn't know where the heck I was. It was the worst headache I've ever had in my life," he added.
In another game against Notre Dame, Leverenz attempted to block Irish defensive end Walt Patulski to no avail. Patulski tackled Leverenz and North Carolina quarterback Paul Miller at the same time, blowing up what was supposed to be an option play.
At the end of the season, a video clip of that play was shown on national television when Patulski was named to Bob Hope's All-American team.
"We made him an All-American," Leverenz said. "He went on to play for the Buffalo Bills."
Leverenz also played against future NFL Hall of Famer Randy White, who was a star at Maryland.
"We got graded for every game, and that was the worst score I ever had," Leverenz said. "He kicked my ass that day."
Leverenz also had a lot of highlights, though. He scored the winning touchdown in the 1972 Sun Bowl, catching a 12-yard pass from Nick Vidnovic with 1 minute left to give the Tar Heels a 32-28 victory over Texas Tech, capping off an 11-1 season for a team that became known as "The Cardiac Kids".
In the book "North Carolina Tar Heels' Greatest Football Games", Vidnovic credited Leverenz for sparking the team's rally from a 21-9 deficit. Vidnovic threw a beautiful pass to Leverenz, who eluded the Tech secondary and raced 62 yards down the sideline and into the end zone.
Vidnovic took a hard hit on the play and didn't see the touchdown.
"We needed a big play of some sort to get us going again," Vidnovic said. "And we needed to score quickly. I remember saying to myself at this point, 'My God! What are we going to do now?' This is where Ted Leverenz came through for us. I didn't know we had scored until I got off the field and learned that Ted had made a great run."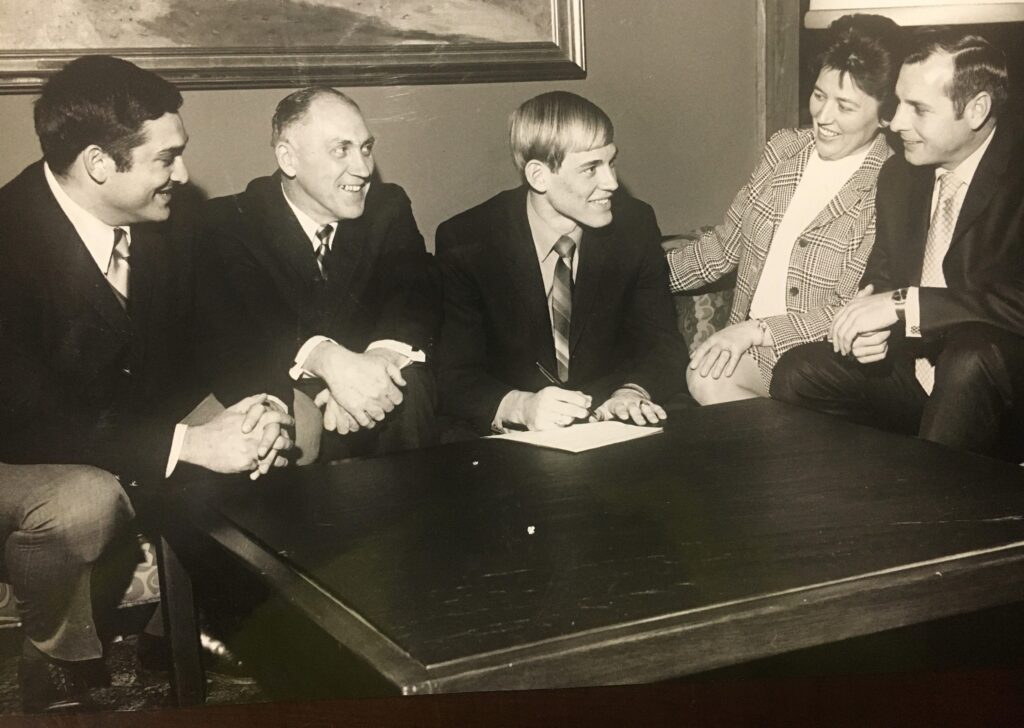 The coach who recruited Leverenz to North Carolina, Bill Dooley, called him a "fine competitor" at the time.
"He has outstanding hands and we regard him as one of our best pass catchers," he said. "He's got good speed, too, and can run with the football. He's another in a long line of fine players we have been able to recruit from the state of Virginia."
Leverenz was one of the best players to ever wear Ankeny's maroon and gold uniform prior to the playoffs era. In 2006, he was named the No. 16 greatest athlete in Ankeny High School history by the Ankeny Register & Press Citizen.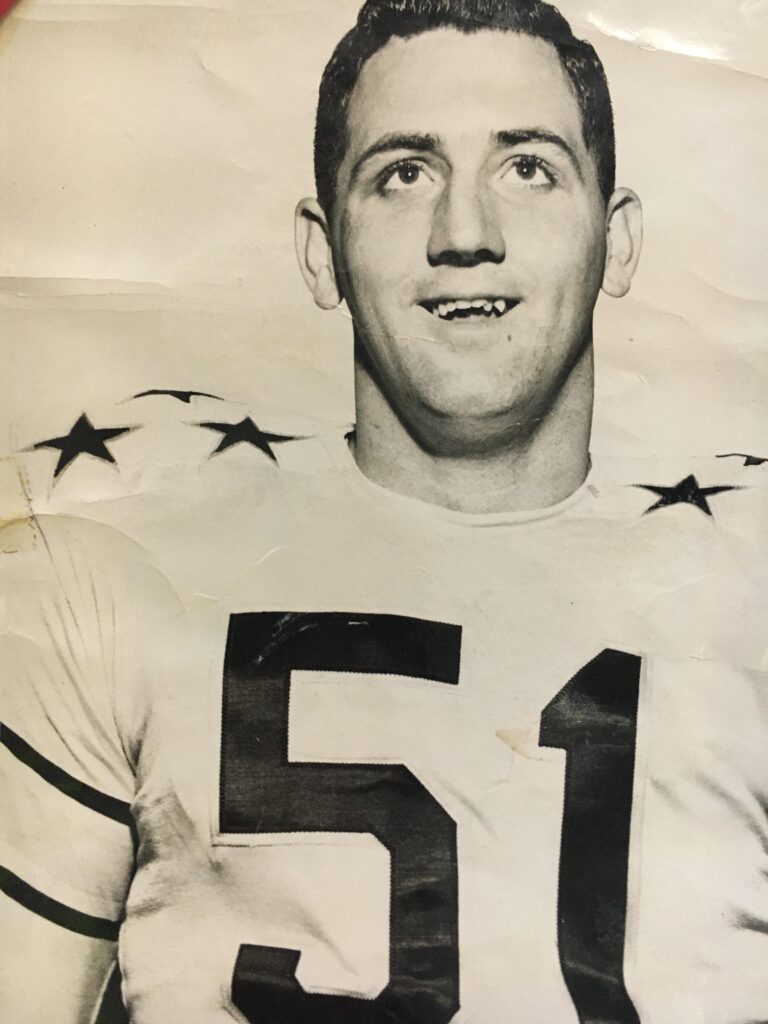 There were many more stars in the 42 seasons that preceded the hiring of Pezzetti. One of them was Ron Fontana, who excelled at several different positions while helping Ankeny to a 30-3 record over a four-year career, capped off by an undefeated 8-0 season in 1950 under coach Merritt Parsons.
As a freshman in 1947, Fontana played at defensive tackle as well as an end on offense, where he caught passes from his older brother Dick. After Dick graduated, Ron and his other brother, Ray, traded off playing the quarterback and end positions during the 1948 season.
Fontana eventually became the full-time quarterback in his last two seasons, when he also played defensive back and linebacker on defense. As a senior, he earned fourth-team all-state honors as a quarterback.
Fontana went on to become a letterwinner at Iowa State, but his college career was interrupted when he was drafted into the U.S. Army's 24th Infantry Division and served in the Korean Conflict from 1954-56. While in Korea, he continued to play football on the base camp team.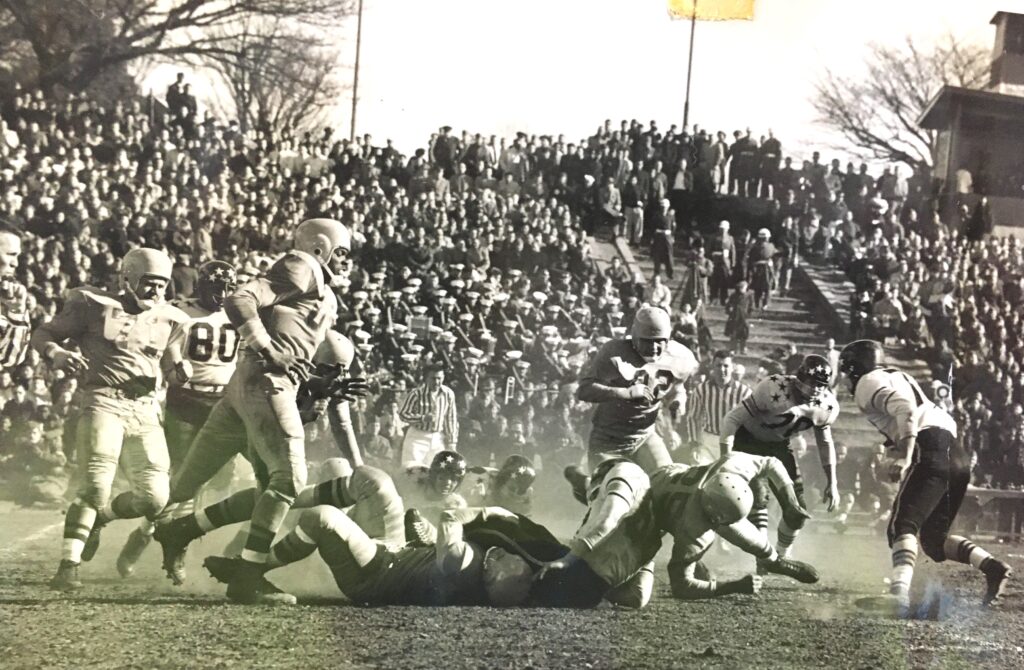 One of his greatest memories was being selected to play on the Far East Army All-Star team. A master sergeant would drive him an hour in a jeep to their practices in preparation for the Armed Services All-Star Series. He was then flown to Tokyo, Japan for two weeks as the Army All-Star team played against the Navy and Air Force All-Star teams.
After returning from Korea, Fontana re-enrolled at Iowa State and played one more season for the Cyclones. In one game, Fontana helped Iowa State to a 7-7 tie at top-ranked Syracuse.
"My dad was a tight end, and at the end of one play he just got clocked by Ron Luciano–who was a defensive tackle for Syracuse and went on to become a major league umpire," said Bob Fontana. "The guy hit him, snapped the facemask and my dad's nose was (going in a different direction). They taped him up, and when he got back to Ames they took him to Mary Greeley (Hospital). And when they took the tape off, blood just went everywhere."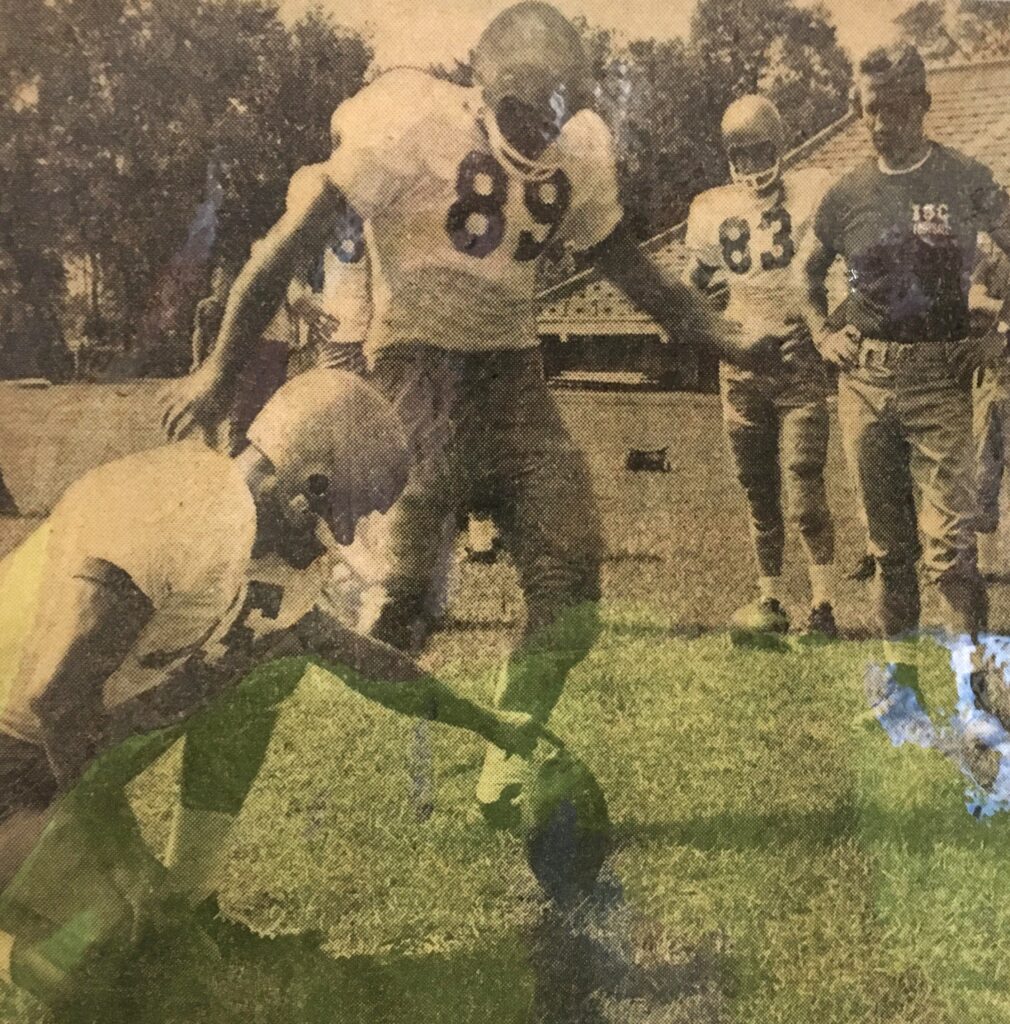 In 2006, Fontana was named the No. 33 greatest athlete in Ankeny High School history by the Ankeny Register & Press Citizen. Let's make him the captain of our pre-Pezzetti era all-time football team.
"I know my dad would be humbled to be on this team," said Bob Fontana, who played at Ankeny as well and is now the boys' basketball coach at Ankeny Centennial.
Here, now, is the rest of the Ankeny Fanatic all-time Ankeny football team from the pre-Pezzetti era:
Carroll Essick: He was one of the first Ankeny standouts nearly a century ago, helping the Hawks to a 4-3-1 record in 1927. He was the captain of the team a year later, when his kicking provided 25 percent of the team's offense as Ankeny won the Polk County championship. As a defensive end, "he was without peer in the conference," according to the AHS yearbook. He spoke at the team banquet and was presented the Polk County championship cup.

Norman Hendrickson: He was a teammate of Essick's on both of those squads. Hendrickson "was a big, fast-charging tackle who compared with any high school tackle in the state," according to the yearbook. He was described as a stone wall on defense. In 1928, the Hawks went 8-1 and outscored their opponents by a 159-25 margin. Ankeny's only loss came at Mitchellville, 7-6, in the fifth game of the season. A missed extra point proved to be the difference.
Wilbur Harvey, Charles Irvine, Albert Schmidt and Herman (Babe) Schmidt: This quartet played key roles in Ankeny's string of five straight undefeated seasons in the 1930s. Harvey became the first Hawk player to earn all-state honors in 1934, landing a spot on the fifth team as a halfback. Irvine was a fourth-team all-state pick as a tackle in 1935. (In those days, there were no classes–all of Iowa's best players fought for spots on the same all-state teams.) Albert Schmidt was a two-way lineman on the 1935 squad, and his brother Babe filled the same role two years later.
Wally and Willie Stitsworth: Wally, a senior, and Willie, a junior, both played on Ankeny's undefeated team in 1946. Wally was an offensive and defensive lineman, while Willie was a running back and linebacker. The brothers both went on to play for Mankato State.
Dick Fontana: A three-year starter at quarterback and defensive back, he also played on the 1946 team. Fontana was a junior on that squad. Like many of the athletes during that era, he starred in multiple sports. He also played basketball and was an all-stater on the baseball team. He went on to play professional baseball in the Cincinnati Reds' organization in Ogden, Utah. He also played semi-pro ball for the Slater Nite Hawks for many years and was later inducted into the Greater Des Moines Softball Hall of Fame. Fontana was earlier named to the Ankeny Fanatic all-time Ankeny baseball team. He was the No. 21 greatest athlete in Ankeny High School history by the Ankeny Register & Press Citizen.
Ray Fontana: He was a standout receiver in the late 1940s, relying on his height and jumping ability to overwhelm opposing defensive backs. He caught passes from his older brother, Dick, early in his career, then later was on the receiving end of throws from his younger brother, Ron. Ray was better known as a basketball star, though. He racked up 1,899 points in his high school career and is a member of the Iowa High School Athletic Association Basketball Hall of Fame. He was earlier selected the captain of the Ankeny Fanatic all-time Ankeny boys' basketball team. He was the No. 11 greatest athlete in Ankeny High School history by the Ankeny Register & Press Citizen.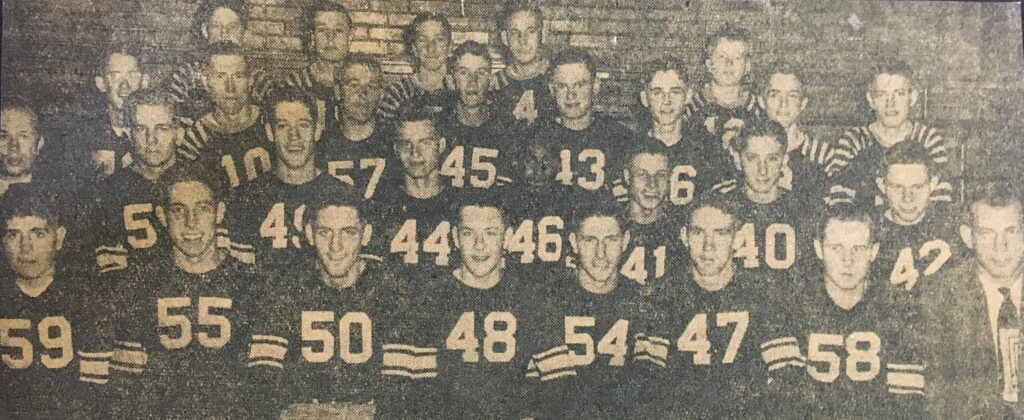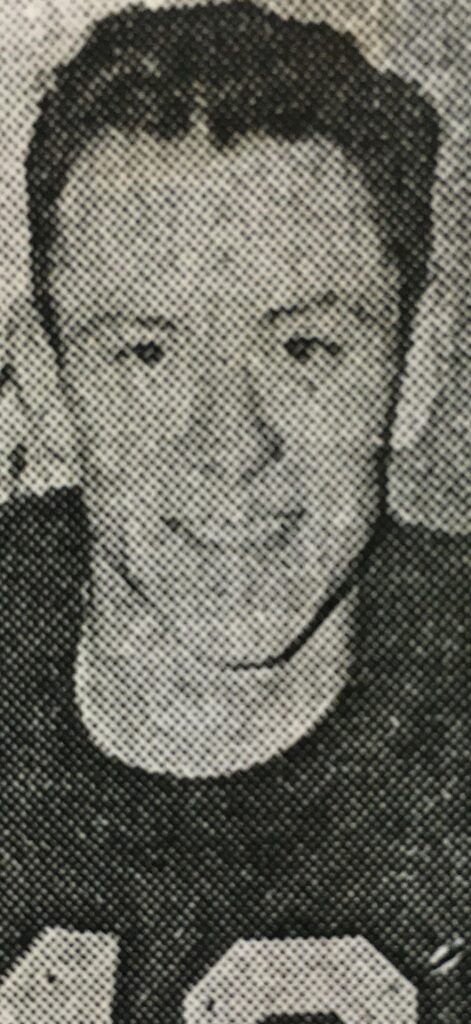 Barney Alleman: He was a star tailback and defensive back on Ankeny's undefeated team in 1950. Also an all-state forward on the basketball squad, he earned a scholarship to play that sport at Iowa State, but was invited to football practice as a freshman and eventually switched to a football scholarship. He went on to become a three-year letterwinner in both sports. As a receiver and a punter on the football team, Alleman earned second-team all-Big Seven honors as a senior. He was earlier named to the Ankeny Fanatic all-time Ankeny boys' basketball team. He was the No. 26 greatest athlete in Ankeny High School history by the Ankeny Register & Press Citizen.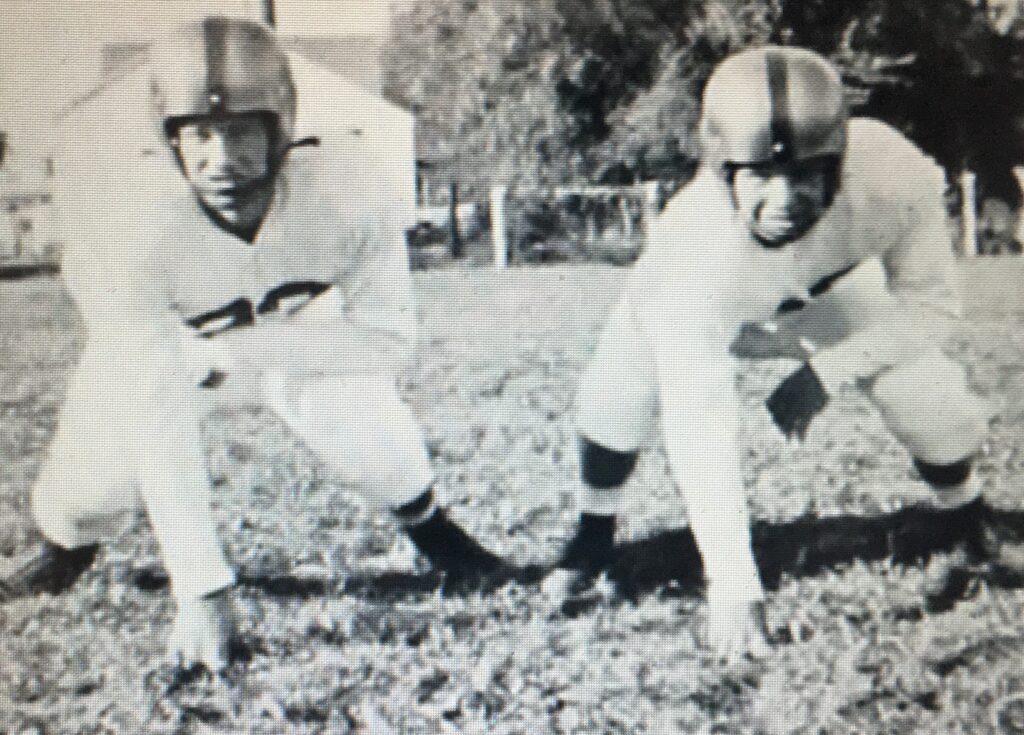 Gale Gibson and Jack Kovacevich: Both players were standouts on Ankeny's 1951 team that posted a 7-1 record. The Hawks' only loss came to Indianola, 13-6. Gibson was a running back on offense and a linebacker on defense. He went on to play for Iowa State. His son, Dennis, also starred at Ankeny and eventually played nine years in the NFL. Kovacevich, a guard, was one of the linemen who paved the way for Gibson. He earned fourth-team all-state honors, matching Irvine and Ron Fontana for the highest accolades during that era of AHS history.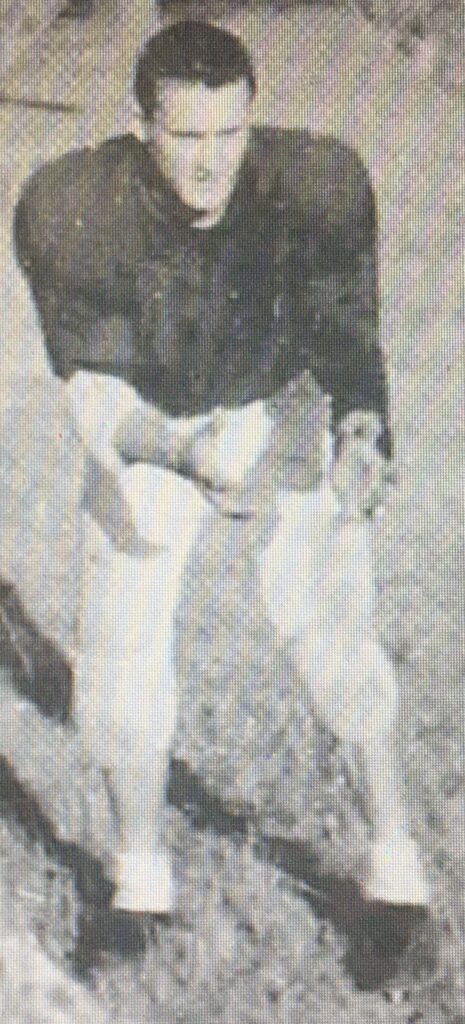 Ken Purdy: While quarterbacking the single wing and wing-T formations, he compiled nearly 4,000 yards of total offense in his career, which began as a freshman in 1952. As a sophomore, he helped the Hawks to a 6-2 record–they won their first six games before falling to Indianola and Johnston. In 1954, Ankeny again posted a 6-2 mark. The Hawks won their last four games, capped off by a 40-7 win over Johnston. As a senior, he led the team to a 7-1 record. The only loss came to Indianola, 18-6, in the season opener. The Hawks then outscored their final seven opponents by a 206-45 margin. He was a four-time letterwinner in four different sports and was a two-time first-team all-conference pick in both football and basketball. Frank Whitely, Purdy's baseball, basketball and football coach at Ankeny, was quoted on several occasions as saying that "pound for pound, Ken was the best athlete he ever coached". He was earlier named to the Ankeny Fanatic all-time Ankeny baseball team. He was the No. 47 greatest athlete in Ankeny High School history by the Ankeny Register & Press Citizen.
Lonnie Lambertie: He was a standout quarterback on Ankeny's undefeated team in 1957. The Hawks posted a 7-0-1 record, with the lone blemish being a 13-13 tie against Indianola. Ankeny outscored its opponents by a 233-67 margin. Lambertie was named to the all-state seventh team.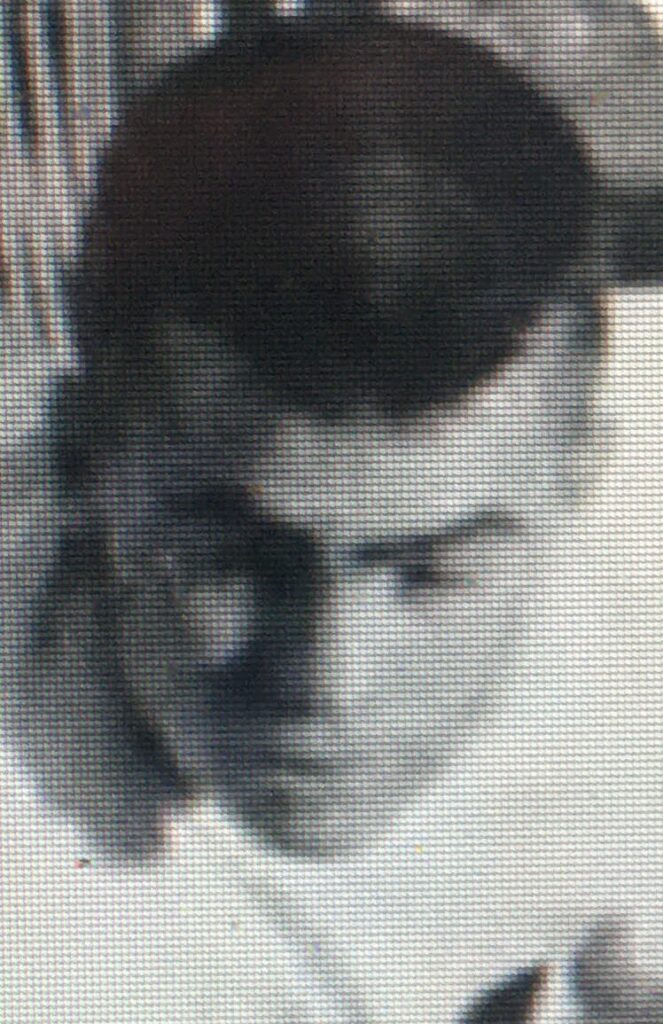 Ted West: He was a sophomore lineman on the 1957 team. As a junior, he helped the Hawks to a 6-1-2 record. In 1959, he again was part of an undefeated team. West was a fifth-team all-state pick as a guard. "As a young kid, I thought Ted was a stud," said Sid Conkel, a 1964 graduate of AHS. "He went on to play at Drake–I think he was a tight end. I always thought he was huge, but he's not. He's about my size. He's about 5-10, although he might have been heavier than me–maybe 220 pounds. He was just a bulldog. He was a farmboy who grew up."
Ray Brown: In 1961, he helped the Hawks to their third undefeated season in five years. The standout end was named to the all-state sixth team, becoming the first player in school history at that position to earn all-state honors. Ankeny would not go undefeated again for 51 years. "His older sisters were all-state basketball players at Ankeny," Conkel said of Brown. "He was just a prince of a guy. He was very good in track and basketball, too."
Tarry Cory: He was a four-year letterwinner from 1962-65, earning all-state honorable mention as a quarterback. But his teams didn't have a lot of success. "One year we had one of the worst records for an Ankeny team ever–we were like 2-7," Cory said. He earned all-conference honors in baseball and basketball, and his best sport may have been track–where he captured three state titles in the pole vault and set a state record in the event. He went on to become a pole vaulter at Luther College. "He wasn't a big guy, but he was a hell of an athlete," Conkel said. Cory also played in numerous regional and national fastpitch and slowpitch softball tournaments, and he also excelled as a quarterback in flag football. He led his team to the national crown four times and was named the MVP all four years. "That was great," Cory said. "We traveled a lot for those tournaments." He was inducted into the National Flag Football Hall of Fame in 1986. He was named the No. 49 greatest athlete in Ankeny High School history by the Ankeny Register & Press Citizen. Now 74 years old, Cory still competes in slowpitch softball at a high level. "Last year we won the world championship in my age group," he said. "I travel all over the United States to play. I've got two artificial knees, and I've had a heart valve replacement. But I just keep going."
Jason Smith: A four-year starter who played on the same teams with Cory, Smith provided a lot of protection on the offensive line, relying on his strength and athleticism. "He was an animal," Cory said of Smith. "I remember one year he went through three helmets. He literally cracked three helmets–he hit people that hard. He was tough." As a senior, the guard was named to the all-state seventh team. Cory recalled one time when Smith was moved into the backfield to carry the ball. "We got down to about the 3-yard line, and we needed to punch it in for a touchdown," he said. "Jason was just going to run a dive straight ahead, and I got the ball and put it in his stomach and he clamped down on my arm and he literally dragged me through the line. He got stopped before he scored, and the coach told us to run the same play again. So I get the ball and tossed it out to him the next time." Smith was even better on the wrestling mat, where he won a state title at 165 pounds in 1966 to cap off an undefeated season. He went on to become a two-time national champion at Iowa State and is a member of the Iowa High School Athletic Association Wrestling Hall of Fame. "He was a very powerful athlete," said Bob Sharp, his wrestling coach at Ankeny. Smith was earlier named the co-captain of Ankeny Fanatic's all-time Ankeny wrestling team. He was the No. 13 greatest athlete in Ankeny High School history by the Ankeny Register & Press Citizen. According to Conkel, Smith used his strength off the field as well. "This farmer, Marv Nichols, lived east of town and would have kids come out and bale hay for him. He would want the bales on the hay rack to be eight or 10 high, and it would take two or three guys to get that rack completed. He hired Jason one day, and he did the rack all by himself. His strength and coordination was just phenomenal."
(EDITOR'S NOTE: The Ankeny Fanatic all-time team was selected by publisher Dan Holm. A modern era all-time team will be released at a later date.)