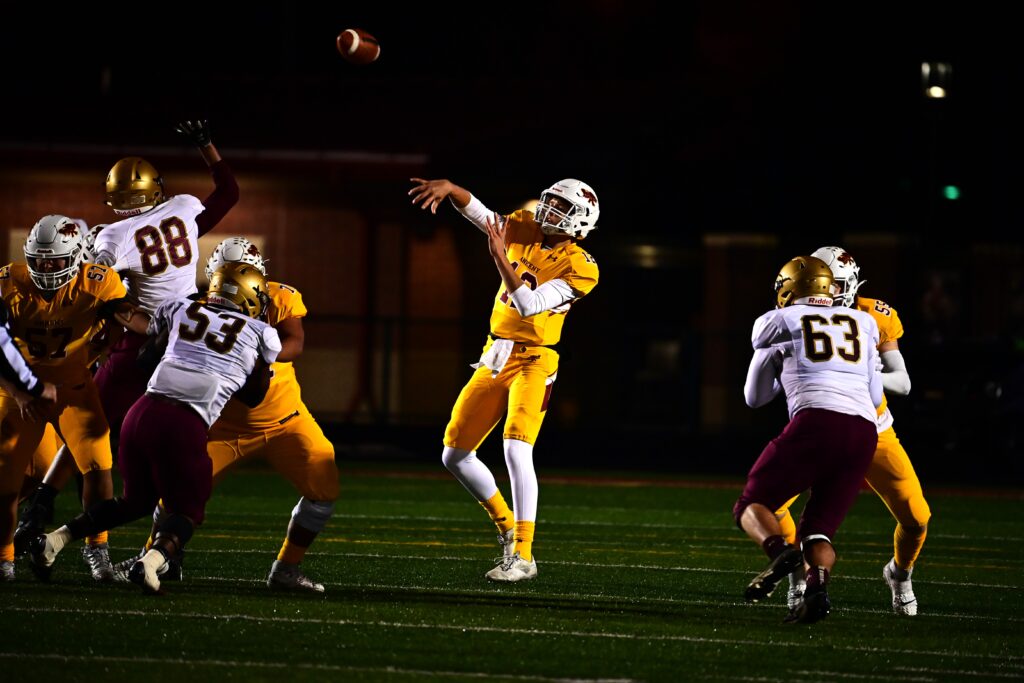 There's been a lot of hype surrounding the Ankeny football team the last couple of seasons.
It might be time to take the hype up another notch.
The Hawks are No. 1 in the Class 5A preseason rankings by The Des Moines Register. They return several standouts from last year's state runner-up squad–and have also added some talented newcomers.
"It's a good group of kids," said Ankeny coach Rick Nelson, whose team went 10-3 a year ago, capped off by a 24-7 loss to Southeast Polk in the Class 5A title game. "I think we'll have a good team. I can tell you a lot more after the first game."
On paper, Ankeny looks the part of a team that could win its second state championship in three years. The Hawks boast five players on The Register's list of the state's top 100 players, led by senior quarterback JJ Kohl.
Kohl completed 143-of-237 passes for 2,185 yards and 25 touchdowns while being intercepted just three times a year ago. He was named to the Class 5A all-state second team by the Iowa Print Sports Writers Association and was an all-district first-team selection.
Kohl, an Iowa State commit, is considered one of the nation's top recruits in the Class of 2023. A four-star prospect, he is now the No. 5 quarterback and No. 36 overall nationally in the latest rankings by On3 Recruits.
The 6-foot-7 Kohl could become the highest-ranked recruit in Cyclones' history.
"We got out under the lights (Sunday) and threw some (passes)," Nelson said. "I'm guessing out of the 50 balls that JJ threw maybe two hit the ground. He's really accurate. He just has a strong arm, and he obviously knows our offense better now than he did last year. We expect a lot of output from him."
Kohl is No. 2 on The Register's list of top 100 players behind star offensive lineman Kadyn Proctor of Southeast Polk. Other Ankeny players on the list are senior defensive back/receiver Jamison Patton (No. 5), senior running back Jazan Williams (No. 24), and senior offensive linemen Joe Kingston (No. 49) and Drew Monsivais (No. 83).
Patton transferred to Ankeny from Des Moines Roosevelt, where he starred as a dual-threat quarterback as a junior, racking up 1,826 total yards and 21 touchdowns. He earned all-state second-team honors at a defensive utility position.
Patton has also committed to play for Iowa State.
"He's a really good player, and he's just an unbelievable kid…such a nice kid," Nelson said. "The only time he'll probably be off the field is when he gets tired. We're very fortunate to have him at our place. He's a special kid."
Williams is another talented transfer. He was named to the Class 5A third team after rushing for 1,239 yards and 12 touchdowns on 258 carries at Cedar Rapids Kennedy last year.
"He is fast, and he's a nice sized kid–about 190 pounds," Nelson said. "He's kind of a slasher, and he has a little bigger stride than (former Ankeny standout Colin) Kadolph. They ran him a ton last year, and he didn't catch a lot of balls so we worked hard with him this summer catching some balls. He feels a lot more comfortable now catching the football."
Williams will run behind an offensive line anchored by Kingston and Monsivais, a Northwest Missouri State recruit. Kingston was an all-state second-team pick a year ago, while Monsivais earned third-team honors.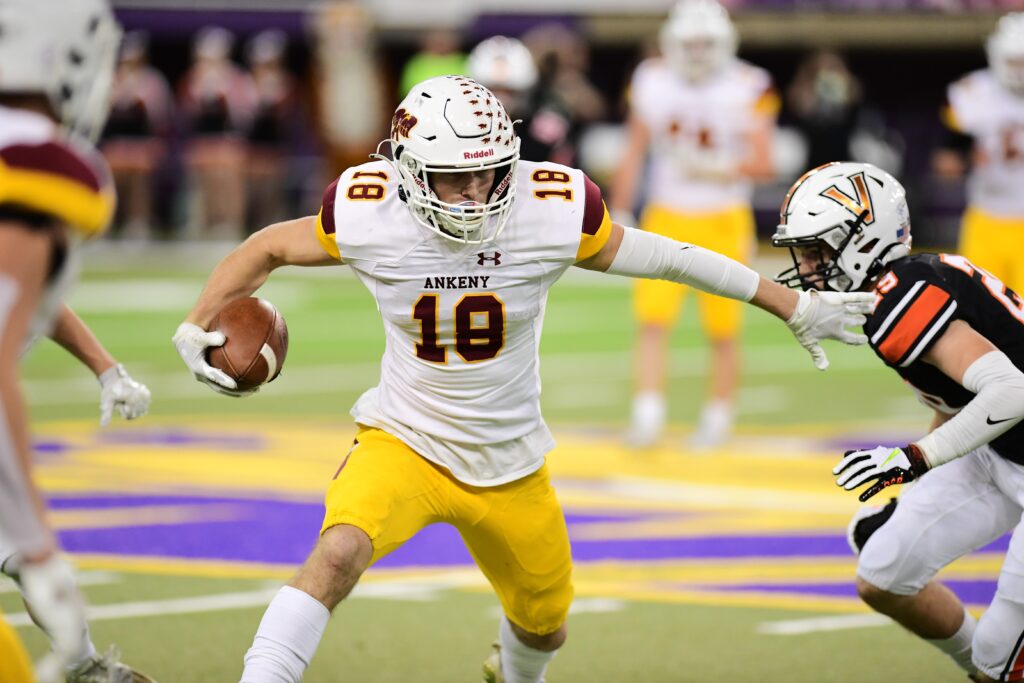 Among Ankeny's other returnees on offense are receivers Will Hinrichs and Maddox Ward. Hinrichs, who caught 31 passes for 422 yards and four touchdowns, joined Kingston and Monsivais on the all-district second team. Ward, meanwhile, had 16 catches for 306 yards and two scores.
On defense, the Hawks return a trio of players who had key roles on last year's squad–defensive end Diego Jackson and defensive backs Reid Johnson and Ben Sandvig.
Johnson made 25.5 tackles and intercepted two passes, including one that he returned for a touchdown. Sandvig had 23.5 tackles, two interceptions and a fumble recovery.
Jackson, a Minnesota State-Mankato recruit, added 15.5 tackles. He received all-district honorable mention.
"We lost a lot of good kids on that side of the ball," Nelson said. "I think our secondary is going to be pretty solid, but we've got some unknowns. I think we've got some talent, but we just haven't played. We'll find out Friday. It's hard to replace eight starters."
Ankeny will play at Waukee in its season opener. The Hawks won last year's meeting, 49-0.
"We saw Waukee at the ADM scrimmage," Nelson said. "I think they'll be better, but we'll see. We're anxious to see what will happen."
The Hawks will host Ankeny Centennial and Dowling Catholic in Weeks 2 and 3 before visiting Southeast Polk for a showdown against the Rams on Sept. 16.
"Our first four games are going to be tough," Nelson said. "We'll have to play all phases (of the game). We've always had tough times with Centennial, then we play Dowling and Southeast Polk. I think we'll steadily get better, and that's what we need them to do. We'd love to come out 4-0 those first four weeks, but we'll see. Our goal right now is to be 1-0 after Friday. We'll start there."