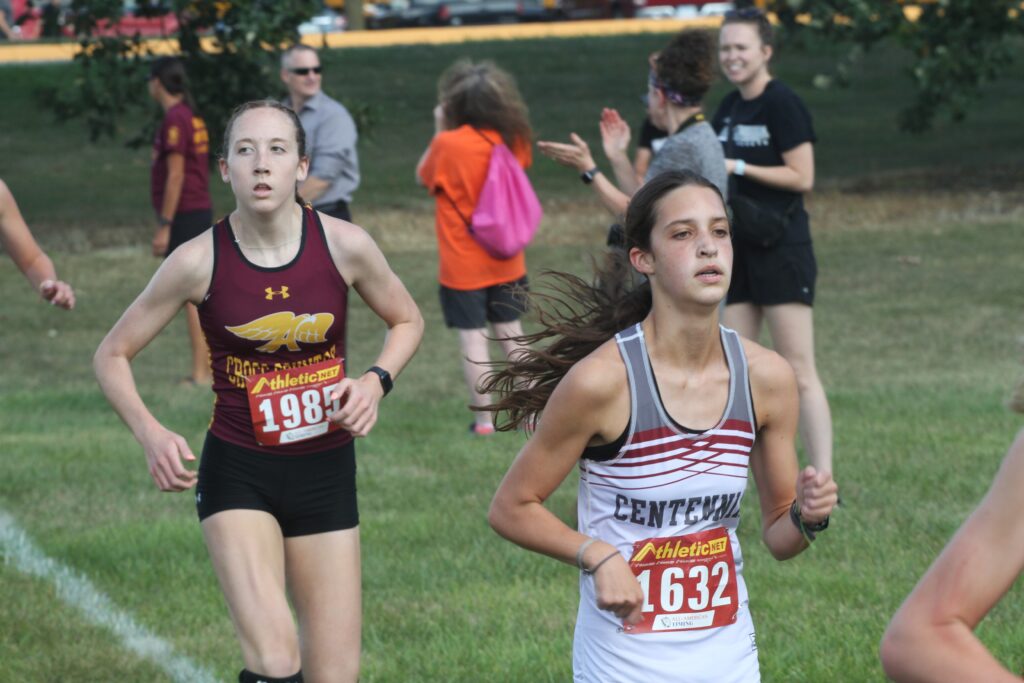 Thursday's season-opening Ankeny Centennial Invitational featured three of the top 10 girls' cross country teams in Class 4A.
Sixth-ranked Ankeny won the 11/12 division with 44 points, while No. 7 Centennial captured the 9/10 division with 27 points. No. 9 Valley took second in both divisions and won the overall title with 40 points, edging the Jaguars by one point when the results of the two races were merged.
"We were the only school to put four individuals into the top 10 merged results, which sets us up nicely for the rest of the season," said Centennial coach Eric Cogdill. "This was just the second time in our team's history that I recall our team running particularly well in a season opener–with 2013 being the other time. I think that can be attributed to our girls setting and pursuing high goals while also executing good race plans."
The Jaguars placed five girls in the top 10 of the 9/10 race. Anika Mohrhauser led the way, placing second on the 5k course at DMACC with a time of 18 minutes 52 seconds.
Mohrhauser finished about 7 seconds behind Valley freshman Greta Bergman.
"Anika had a tremendous summer of training, and she and I both believed she'd have a shot at winning the race along with Drew (Beason of Ankeny) and Greta," Cogdill said. "Her taking that runner-up spot was definitely a highlight of the race."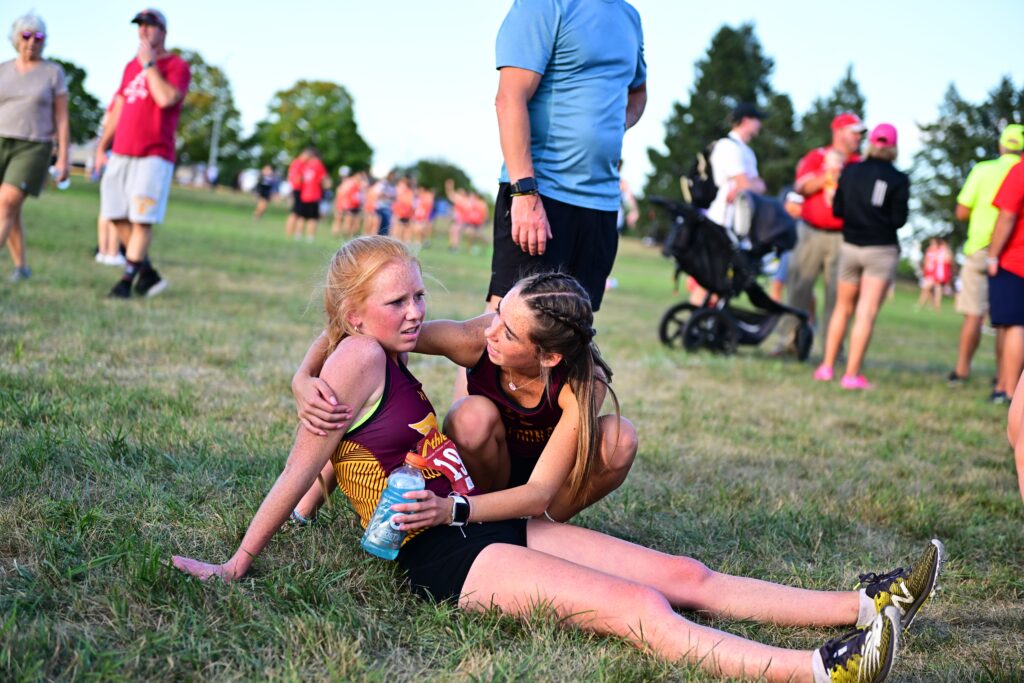 Beason took the early lead, but was eventually passed by Bergman and Mohrhauser. She finished third in 19:21.
"I definitely went out too fast," Beason said. "I didn't know my competition."
Ankeny coach Eric Klingensmith said the warm temperatures may have been a factor.
"Tonight's races were deceivingly warmer than we thought at the onset of the 9/10 race, but each of our ladies ran with grit to continue pushing as the race developed," he said. "Drew took the lead early, attempting a race strategy that held out for the majority of the race and we learned how she needs to strategize for future races this season. Her third-place finish was exceptional for the start of the season."
Beason is still adjusting to her new role as Ankeny's No. 1 runner. Her classmate, Alli Macke, filled that role a year ago, but elected to focus on club soccer this fall.
"It's different (without Macke), but I still think we'll be good," Beason said.
Centennial's Bella Hodges placed fourth in 19:59. Kylee Patterson took fifth in 20:13, Julia Flick was seventh in 20:41, and Tillie Smith finished ninth in 20:43.
"I think we had good strategy going. We all had a good day," Hodges said. "I personally was going to stick with Lauren Jackson (of Ankeny). Anika was going to go by Drew."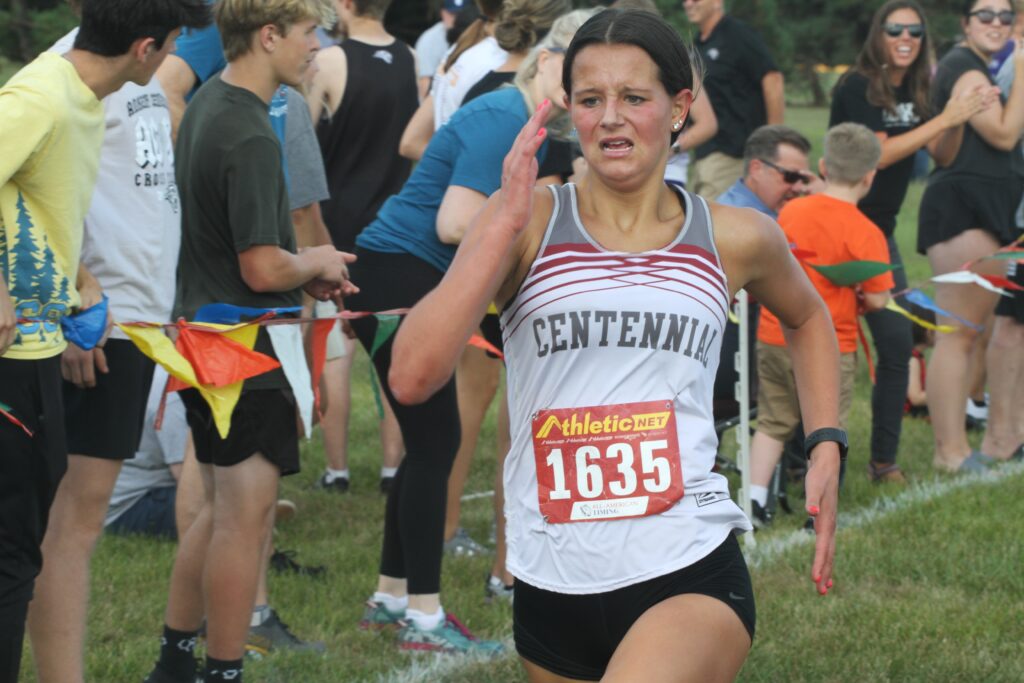 Jackson led Hodges most of the way before dropping out late in the race. If she had finished, Ankeny would have scored much closer to Valley and Centennial in the merged results.
"Bella fought back from a big gap that Lauren had opened up, eventually passing Lauren at half-mile to go before (Jackson) dropped out in the bowl of dust that got kicked up behind the administration building at DMACC," Cogdill said. "We also had three runners succumb to the dusty conditions."
The Hawkettes finished with 55 points.
"Unfortunately, Lauren had a setback and was unable to finish the race due to a bit of dehydration, but she sat there cheering on each of her teammates as they passed her," Klingensmith said.
Ankeny's Sophia Graber placed 12th in a time of 21:15. Teammates Reagan Prendergast and Ivy Wiegand finished 13th and 14th, respectively–both in 21:21.
The Hawkettes placed four runners in the top 10 of the 11/12 race. Brylee Moyer took sixth in 20:24 and was followed immediately by Paige Beason (7th, 20:35), Gwen Briggs (8th, 20:36) and Alex Gloviak (9th, 20:39).
"Our 'nest' of Moyer, Paige Beason, Briggs and Gloviak stayed tightly bound to one another for the entirety of the race, which is an aspect of our racing that we are focused on this year: protecting the nest," Klingensmith said. "With such depth on our team and being closely packed together, our Hawkettes are going to be a tough team again this year. We are setting our sights high."
Defending state champion Addison Dorenkamp of Valley easily won the race in 17:37. Centennial's Rondi Quass was the runner-up in 19:25.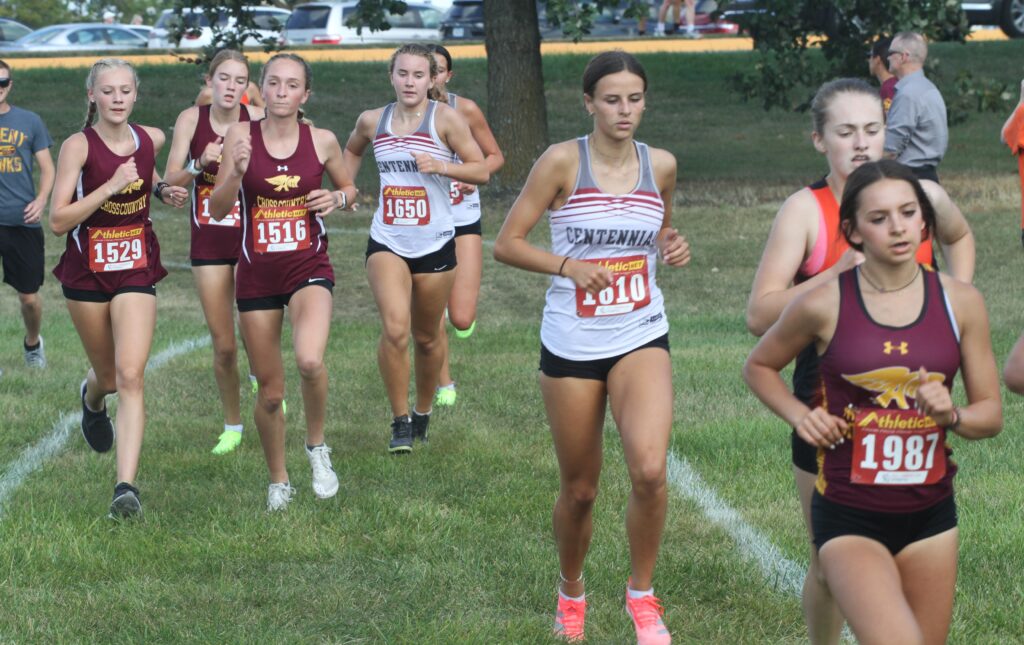 "I didn't do as well as I wanted to today. I just didn't feel my best. I've been a little bit sick the past few days, and it just didn't help me today," said Quass, who was fifth in the Class 4A preseason rankings. "My plan, if it went well, was to try to reel (Dorenkamp) in the best that I could. That didn't happen today, but in the future I want to try to chase her down."
Cogdill is confident that Quass will eventually close the gap on Dorenkamp.
"Rondi is looking tremendous in workouts, and I can't wait for her to show what her summer efforts have led to," he said.
The Jaguars also got an 11th-place finish from Anja Peck. She was clocked in 20:58.
Ankeny will compete in the Dragon Twilight Invitational on Saturday at Johnston. The Hawkettes will join Centennial in the Kirk Schmaltz Invitational on Thursday at the Iowa State cross country course in Ames.
"It's going to be a good season," Hodges said.