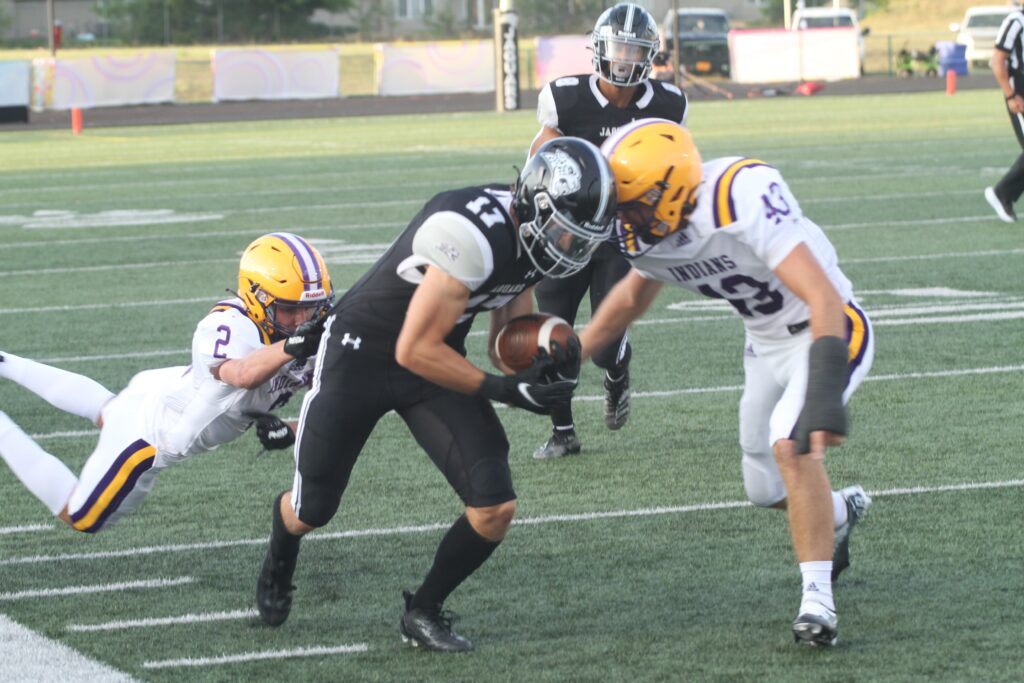 A late rally fell short for the Ankeny Centennial football team in its season opener on Friday.
The Jaguars scored two touchdowns in the final 4 1/2 minutes before visiting Indianola recovered an onside kick to preserve a 26-20 victory at Ankeny Stadium.
"The second half was just too little and too late," said Centennial co-head coach Ryan Pezzetti. "I think we found some players and some ideas we want to do going forward. You hate to see that during the game, but we still like our team."
The win was Indianola's second in a row over Centennial. The Indians, coached by former Ankeny linebacker Eric Kluver, rolled to a 42-13 triumph in last year's opener.
Kluver now owns three victories against Jerry Pezzetti, his former coach. His first one came in 2010, when the Indians posted a 21-10 win at Ankeny.
"This was really a different situation," said Kluver. "The last four years we really feel good about where our program has come. Just the expectations–we expect to be a Dome team and a championship-type team. We didn't talk about that in 2010. As fun as that win was in 2010, we feel like we can win every single game every week. This is a big win for us, but we've got a lot of things to clean up, too."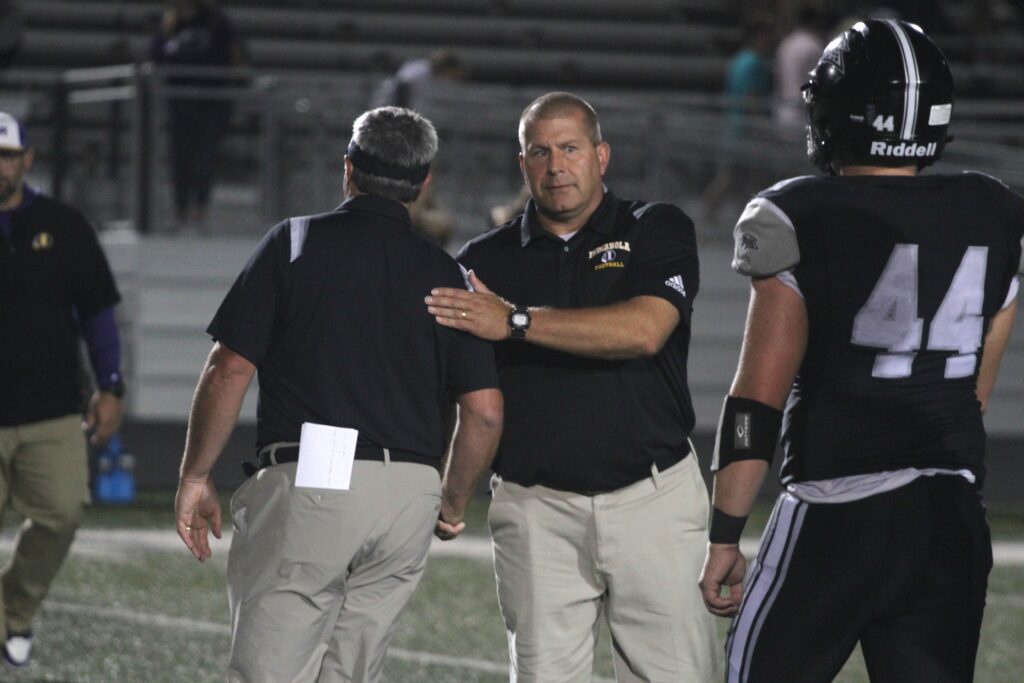 Indianola outgained Centennial by a 305-274 margin, but the game wasn't as close as those totals–and the final score–indicated. The Jaguars gained almost all of their yards on just three possessions.
After opening the game with an 80-yard drive, Centennial managed just 18 total yards over the next 34 1/2 minutes before putting together two more scoring drives in the final period.
"We started off great. That was about as perfect a drive as you could expect for your first series," Pezzetti said. "But we just couldn't get things going after that first drive in the first half."
The Jaguars took a 7-0 lead on a 3-yard run by Easton Miller less than 90 seconds into the game. Elijah Porter set up the touchdown with runs of 24 and 32 yards.
"I thought our guys really overcame adversity early in the game," Kluver said. "We got a lot of new guys. We've got a lot of seniors playing, but not very many with varsity experience. They were able to just keep fighting and stuck with the game plan and made some plays."
Indianola answered with a 35-yard field goal by Aiden Keller with 7:28 left in the first quarter. The Indians then added a safety less than 2 minutes later when Centennial quarterback Trenton Smith was sacked in the end zone.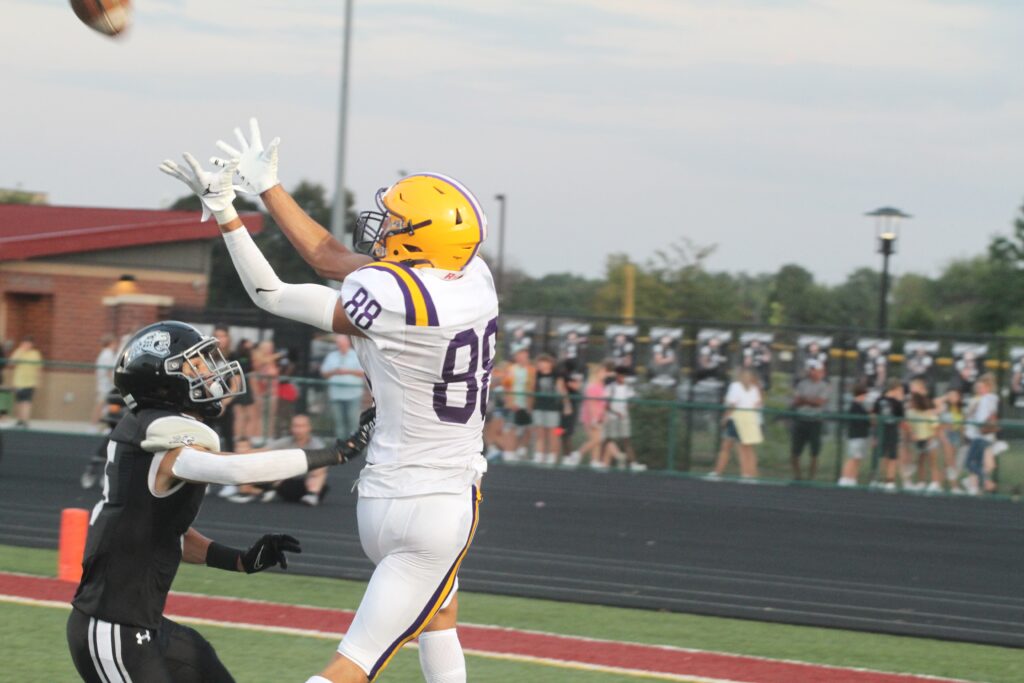 Early in the second quarter, Indianola took advantage of a Centennial fumble to take the lead for good. Two plays later, Bennett Brueck fired a 27-yard scoring pass to basketball standout Drew Kingery with 8:32 left until halftime.
Kingery, who caught six passes for 71 yards in the first half, had taken a hard hit from Centennial defensive back Joe Talmadge on the Indians' previous possession.
"He is, in my opinion, the best receiver in the state of Iowa," Kluver said of Kingery. "I think if he said he wants to play football he'd have a lot of offers from a lot of big schools. He showed his toughness there. He took a big shot and came back and continued to make plays and finished the game. He's a big part of what we want to do, and we're very fortunate to have him."
Kingery scored again on a 2-yard pass with 5 seconds left in the half, giving Indianola a 19-7 lead. Brueck completed 4-of-6 passes for 55 yards on the drive.
"They moved the ball on us consistently and hit some big plays–some big third-down plays," Pezzetti said.
The Indians extended their lead to 26-7 on a 1-yard sneak by Brueck midway through the third quarter. Brueck scrambled and threw a 30-yard pass to Jonce Hale to set up the score.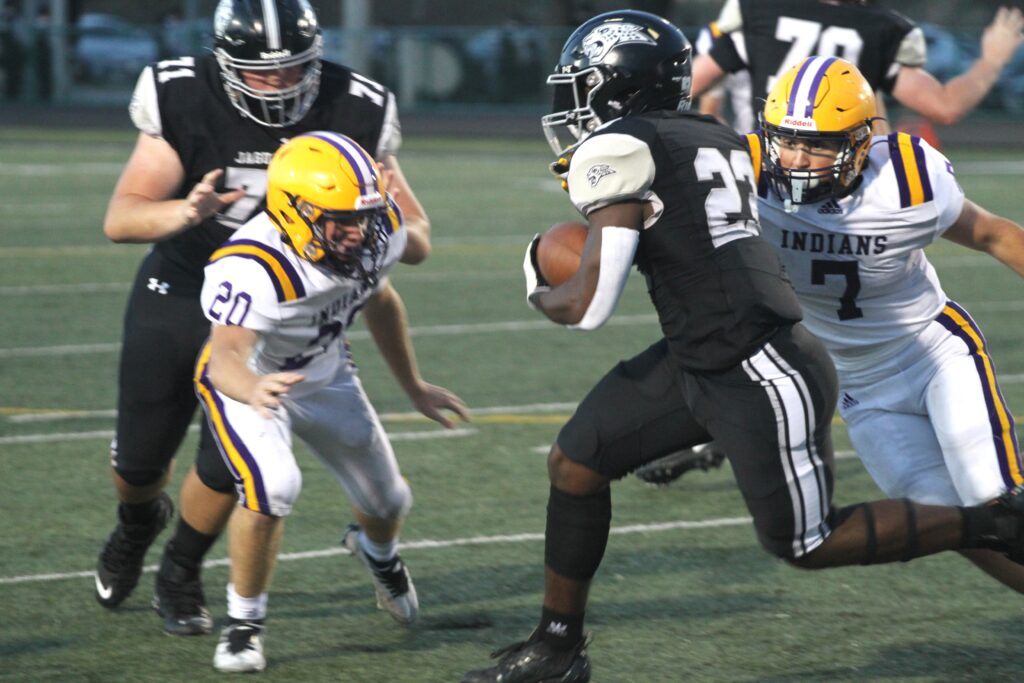 After Centennial's Connor Welsch blocked a 40-yard field-goal attempt by Keller early in the final period, the Jaguars then went to a hurry-up offense and drove 81 yards in 13 plays. Smith capped the drive with a 23-yard toss to Chase Schutty, who outjumped an Indianola defender in the end zone with 4:25 left.
"That was kind of like a rebound (in basketball)," said Schutty. "It felt good to get in the end zone. It was actually my first (touchdown) ever."
Colton Kitt recovered an Indianola fumble with 2:16 remaining, setting up Centennial's next score. Smith connected on four straight passes–three of them to Schutty–before Porter scored on a 4-yard run with 58 seconds to go.
"I think we found some things," said Schutty, who caught five passes for 93 yards. "I think we can do what we were doing. It was just some mental mistakes. We can get that down, though."
Indianola was able to kill the clock after Cael Meacham recovered the Jaguars' ensuing onside kick.
"I thought our defense played really well, and we made enough plays offensively to win tonight," Kluver said.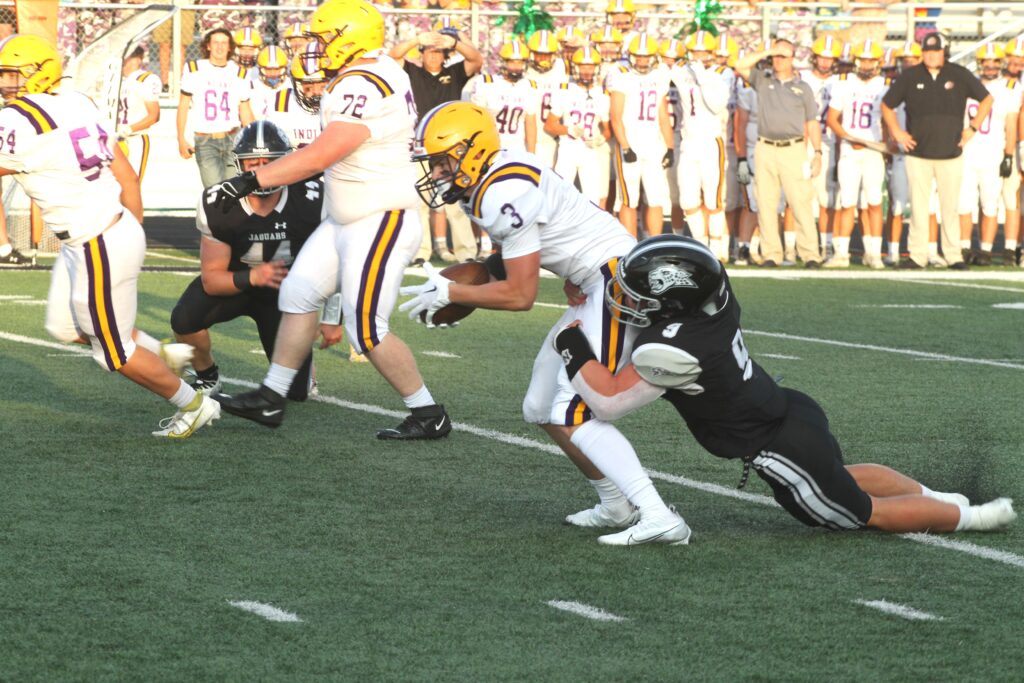 Smith completed 18-of-26 passes for 161 yards in the loss. Porter ran 12 times for 83 yards.
Zach English had nine tackles to lead the Jaguars' defensive effort. Hudson Simon picked off a pass.
Centennial running back Ty Morgan and left tackle Cavan Jones both left the game with injuries.
"We lost two starters tonight, and that's always tough," Pezzetti said. "The way it looks, we won't have those kids back. But with what we have, we just got to keep grinding and be who we are and get better.
"The schedule doesn't get any easier next week with Ankeny, but we'll get better this week and go from there," he added.