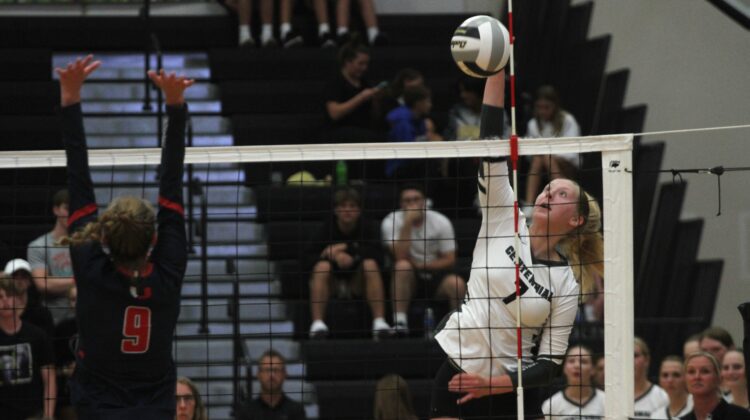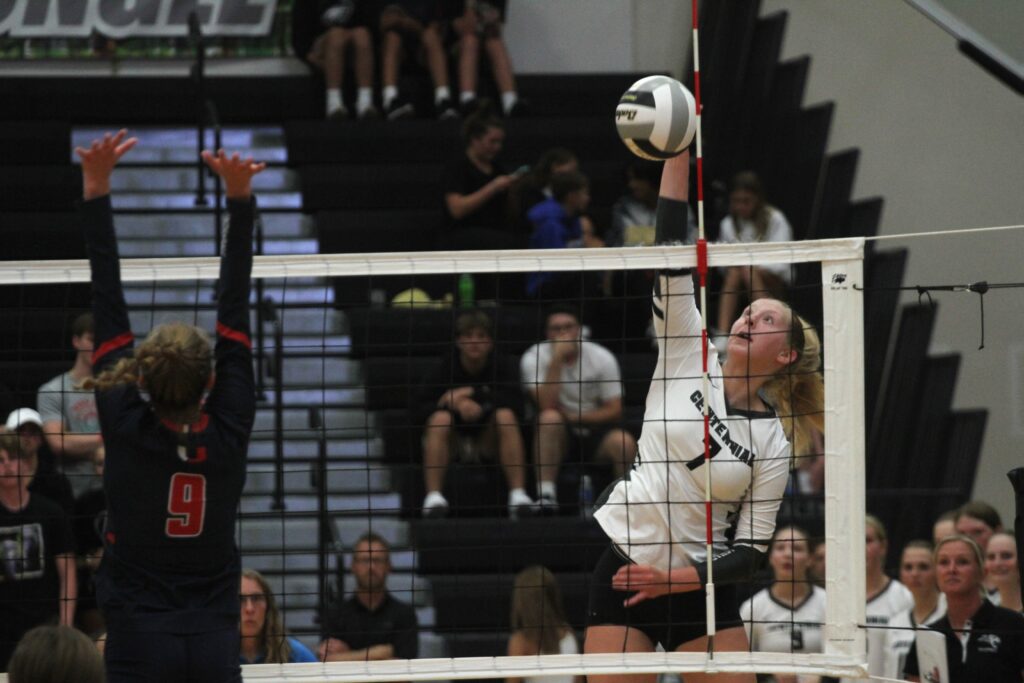 The Ankeny Centennial volleyball team wasn't able to get over the hump on Saturday against second-ranked Cedar Falls and No. 3 Pleasant Valley, losing a pair of close three-set matches at the Centennial Invitational.
On Tuesday, the No. 11 Jaguars had another opportunity to knock off a top-10 opponent–and they didn't let it go to waste.
Host Centennial got off to a fast start and rolled to a 25-11, 25-21, 25-19 victory over No. 7 Urbandale in the CIML Conference opener for both teams.
"We're still slightly haunted by the ones that got away from us this weekend, but we also know that we can figure out those five points (that made the difference) in the next couple of weeks and hopefully get more opportunities like that," said Centennial coach Jessica Rinehart. "This was a good win. Winning in three (sets) always feels good, especially with it being the home opener."
The Jaguars hit .233 as a team while raising their overall record to 6-3. All three losses have been to top-five teams.
Urbandale dropped to 4-4 on the season.
"I think we have a lot of potential," said Centennial outside hitter Delainey Winkel, who had eight kills and eight digs in the win. "We're ready to play. This is a lot of our senior years, and it's go time!"
After dominating the first set, Centennial rallied from a 17-13 deficit to win Set 2. A kill by Anna Sash and an ace by Taylor Bechen broke a 19-19 tie and put the Jaguars ahead for good.
The J-Hawks struggled with Centennial's aggressive serving all night. The Jaguars completed 70-of-74 serves (94.6 percent) and had 10 aces, three of them by Winkel.
"That was kind of the game plan going in," Rinehart said. "We knew they had a couple of passers that we were going to try to go after, and I thought our servers did a nice job of that."
The Jaguars then jumped out to a 12-4 lead in Set 3 before Urbandale answered with a 6-0 run. A kill by Winkel halted the J-Hawks' momentum, then Bechen served the next four points as Centennial extended the margin to 17-10.
However, Urbandale refused to go away quietly. The J-Hawks scored eight of the next nine points, including three consecutive aces by Lauren Nepper, to tie it up at 18-18.
The Jaguars regained the lead for good on a double hit by Urbandale. They closed out the match with a 7-1 run, capped off by another kill from Winkel.
"We've been working on our consistency," Winkel said. "That, and serving tough."
Centennial also relied on a strong defensive performance to neutralize Urbandale star Lily Dykstra, who entered the match having accounted for 61.7 percent of her team's kills (95 of the 154) this season. The all-stater also had 30 kills in a five-set loss to Ankeny in last year's Class 5A quarterfinals.
"She's great, but I thought we did a really good job of slowing her down," Rinehart said. "We didn't let her go off…to be able to control the match."
Winkel said it took a team effort.
"Getting that good block on the right side really helped stop her," she said.
Jaeden Pratt and Jada Schmidt each had four blocks for Centennial. Bechen added nine digs.
Delaney Miller led the Jaguars' offense with 14 kills and a .435 hitting percentage. She also went 15-of-15 from behind the serving line and had a pair of aces.
Pratt, Schmidt and Reagan Angus each contributed five kills. Angus also dished out 25 assists and had two aces.
The Jaguars will compete in the Little Hawk Invitational on Saturday at Iowa City High. They went 4-0 to win last year's tournament.
Rinehart needs eight more wins to reach the 300-victory mark for her Centennial career.