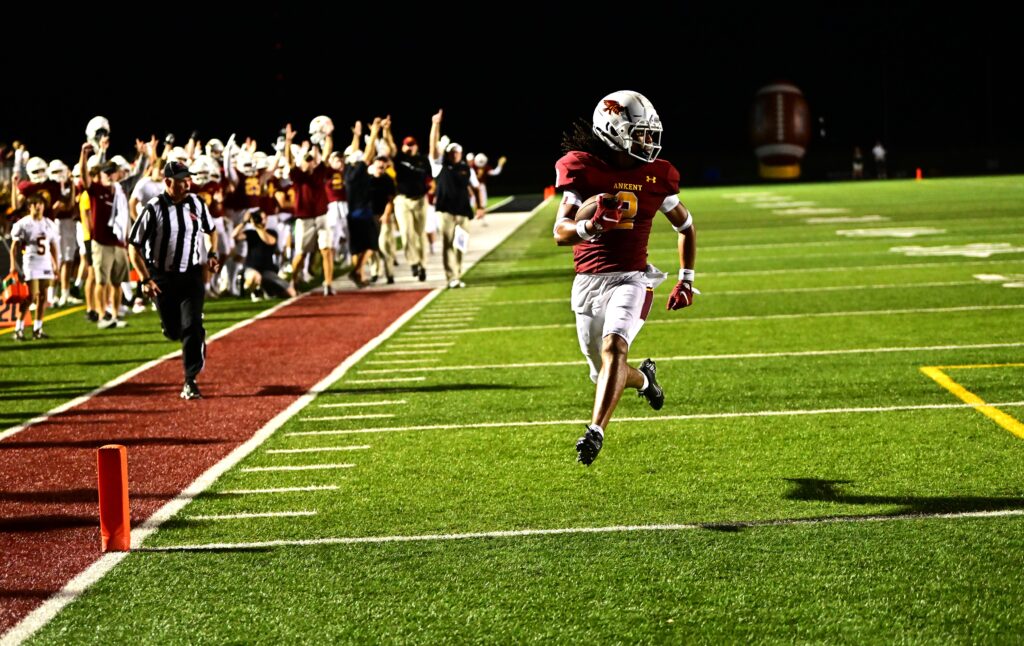 Jamison Patton transferred to Ankeny to play in football games like Friday night's showdown against Ankeny Centennial.
The move has paid off for the Hawks.
Patton scored the go-ahead touchdown in the third quarter and second-ranked Ankeny went on to defeat the Jaguars, 17-10, before an overflow crowd at Ankeny Stadium. The former Des Moines Roosevelt standout caught eight passes for 112 yards and was named the game's Most Valuable Player.
"It was intense," said Patton of the Jag-Hawk rivalry. "We were going at it all game."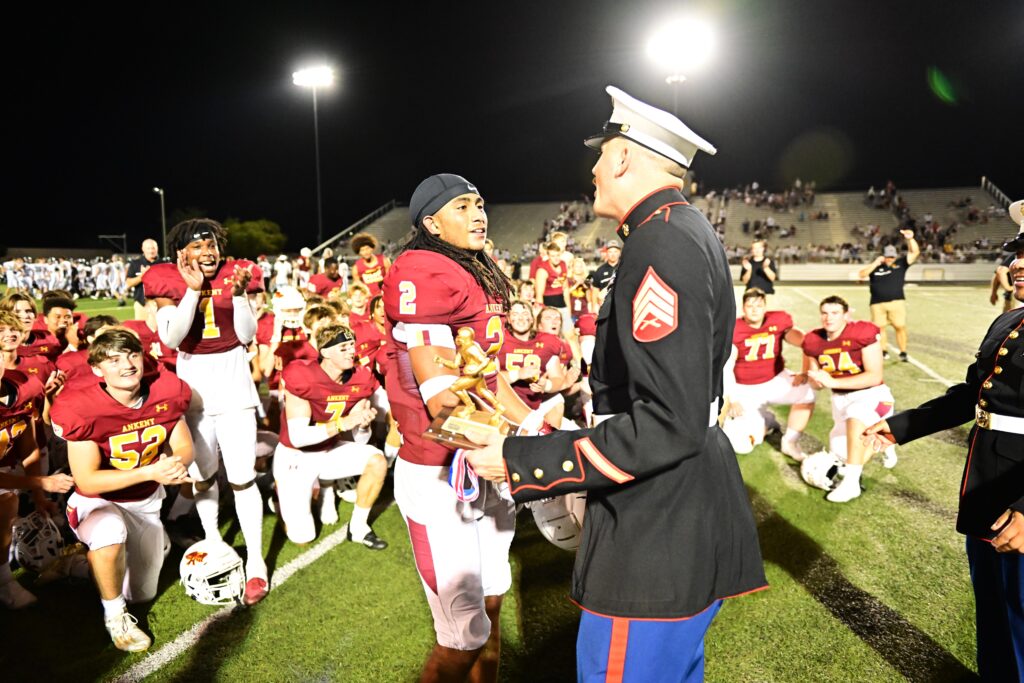 The Hawks (2-0) won for only the third time in the history of the rivalry. Centennial (0-2) now owns an 8-3 lead in the all-time series.
Ankeny avenged last year's 14-7 loss to the Jaguars, when former Centennial quarterback JJ Kohl struggled against his old team.
"It feels great to win this one," said Ankeny receiver Maddox Ward, who scored the tying touchdown in the second quarter. "Last year was disappointing–probably the worst loss of my life actually. Coming out here and winning today is awesome."
Kohl completed 21-of-26 passes for 203 yards in the win. The Hawks outgained Centennial by a 286-225 margin.
"They're coached up well, and they have some good athletes, too," Kohl said of the Jaguars. "It's always going to be a hard time when you're playing a team like that. But I feel like offensively we did our job when we needed to. We've still got some things to work on, but it's better to learn off a win than a loss."
The game was tied at halftime, 10-10. Ankeny then opened the second half with a seven-play, 64-yard drive to take the lead for good, getting help from a 15-yard face-mask penalty against the Jaguars.
Kohl threw passes of 6 yards to Patton, 16 yards to Will Hinrichs and 7 yards to Evan Irlmeier before Patton took the ball on an end around and waltzed 14 yards into the end zone with 8 minutes 53 seconds left in the third quarter.
"The first time (we ran that play) was a little rocky, but we came back to it and the line had some incredible blocks and I got in," Patton said.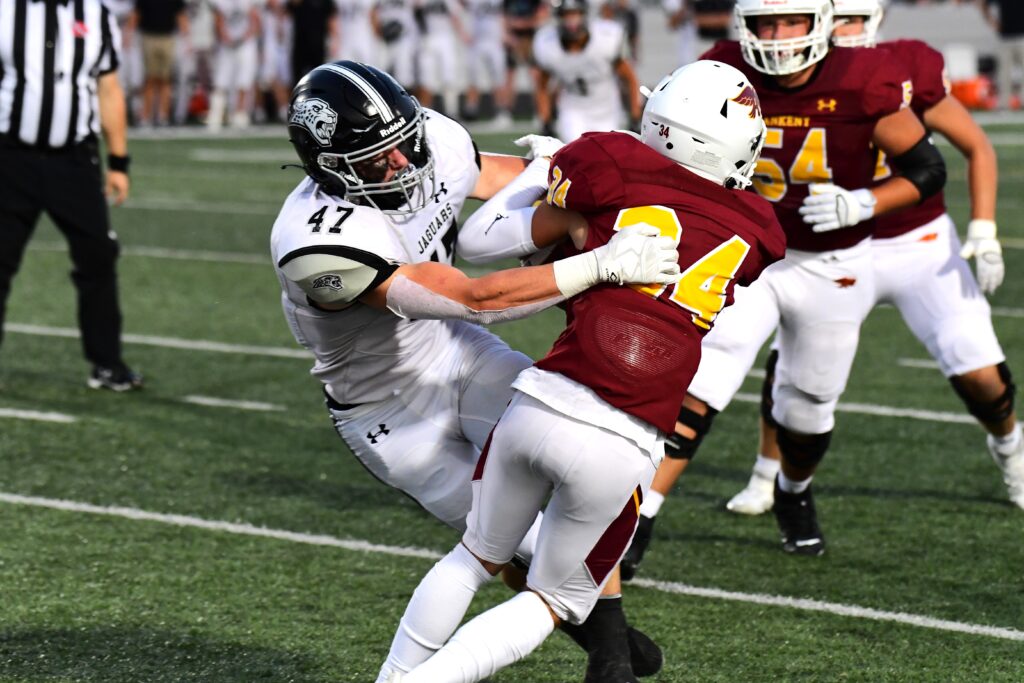 The Hawks had a chance to increase their lead on their next possession, when they drove to Centennial's 5-yard line before the drive stalled. They set up for a field-goal attempt on fourth-and-3, but after the Jaguars were called for an offsides penalty, Ankeny coach Rick Nelson elected to go for a first down on fourth-and-inches.
However, Jazan Williams was tackled for a 1-yard loss on the ensuing play.
"That really hurt us when we kept taking timeouts down here, and we still didn't run the play right," Nelson said. "We might have needed five timeouts to get that right. I don't know what happened. I think if we had scored there, we would have felt a little better."
It didn't matter, though, as Ankeny's defense held the Jaguars to just 55 total yards in the second half. Centennial had as many punts as first downs (3) in the last two quarters.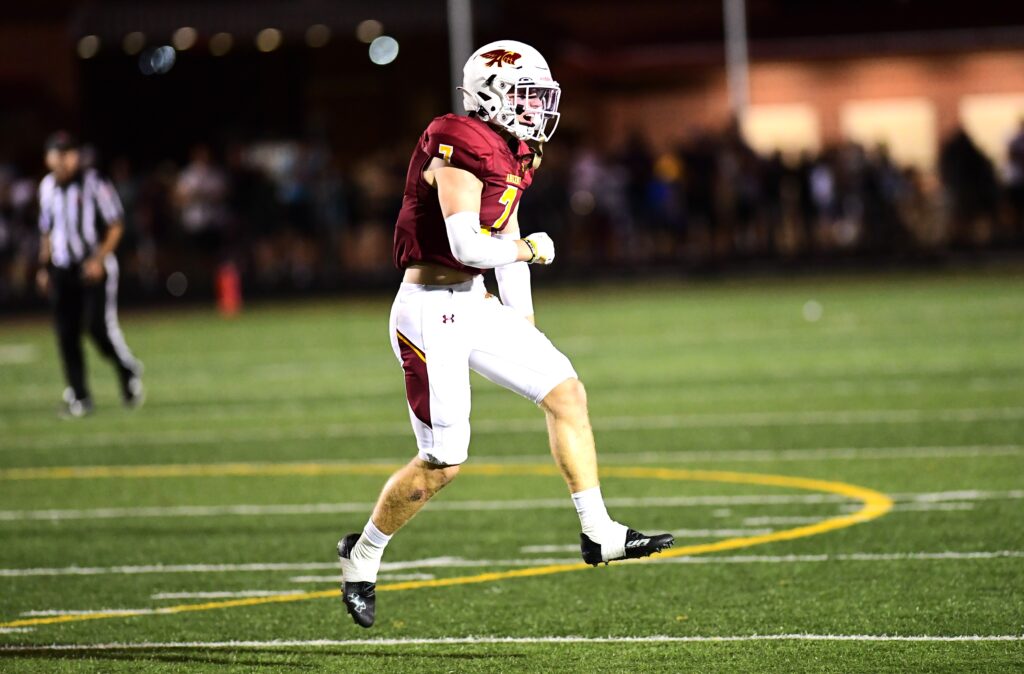 "We felt like we could shut them down," said Ankeny linebacker Connor Kayser, who forced a fumble that went out of bounds when he sacked Centennial quarterback Trenton Smith in the third quarter. "We thought if we kept them to seven points, we were going to be in good shape. We gave up a little more than that, but our offense got the job done. It's a good win."
The Jaguars started their final drive at their 27-yard line with 1:33 left. Smith scrambled for an 11-yard gain that moved the chains, but he was eventually tackled at the Centennial 46 on fourth-and-4–2 yards shy of a first down–by Ankeny defender Nolan Morrison with 57 seconds remaining.
Smith was held to just 35 yards through the air on 7-of-16 passing.
"We got behind the sticks quite a bit, and I knew the second half we were going to have to balance it out," said Centennial co-head coach Ryan Pezzetti. "And once they got the lead, it put us in a situation where we had to throw, and with the pressure defense that they run it's hard to protect the quarterback in the pocket."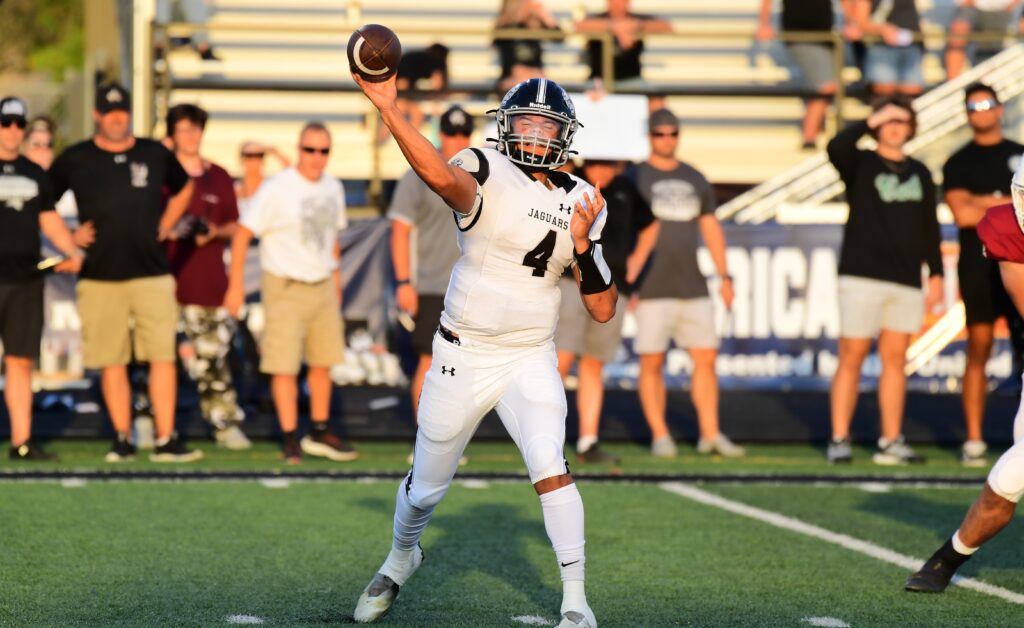 In last year's game, Centennial quarterback Peyton Goode ran for two touchdowns as the Jaguars pulled off the stunning upset. On Friday, Ankeny's defense pitched a shutout in the second half.
"Last year we just kind of pooped ourselves," Kayser said. "And we were kind of shaky in game one (at Waukee), but we bounced back–we're a second-half team. Our defense played really well the second half tonight, and we held them."
Centennial's Elijah Porter ran for 88 yards on 16 carries, while Easton Miller carried six times for 43 yards. Most of those yards came in the first half.
The Jaguars opened the game with a 16-play drive that took more than 8 minutes off the clock.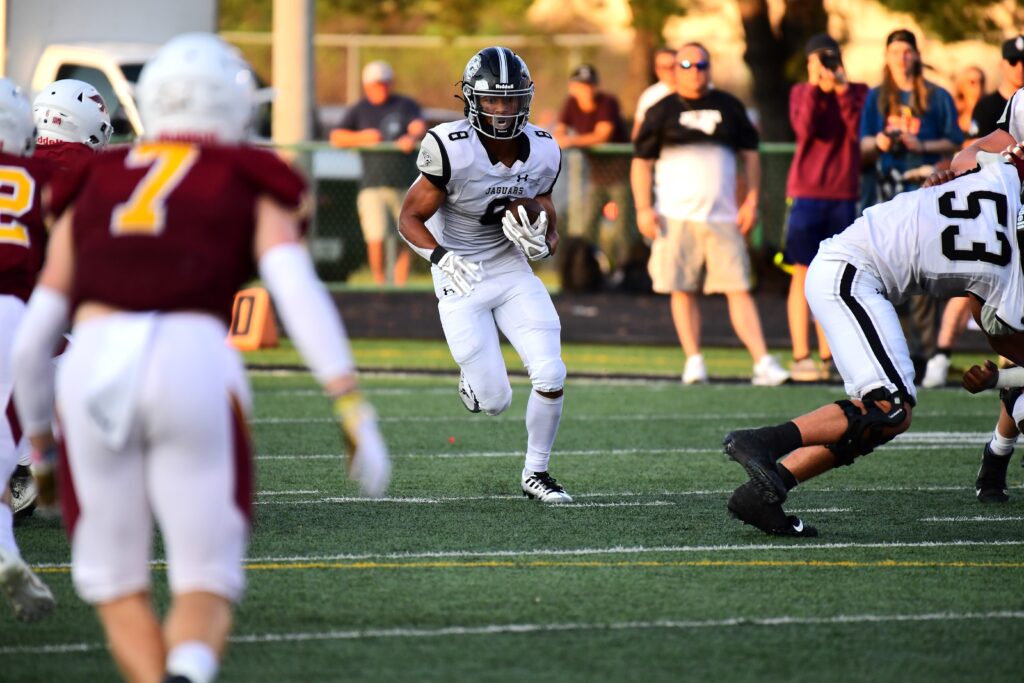 "We knew it was going to be tough," Nelson said. "And they came out and just pounded the ball at us–five yards every crack. Oh man, I was like, 'Uh oh'. But at least we didn't give up any points."
Centennial converted two third downs and a fourth down before the drive finally ended on an incomplete pass by Smith at Ankeny's 30.
"Our kids played hard. They really did," Pezzetti said. "They came out and executed that first drive, which was everything we wanted. I don't think we knew we'd be able to run the ball that well against them.
"We knew we had to go for it on fourth down, because we were just out of field-goal range. We thought we had the right play called, but we just didn't execute," he added.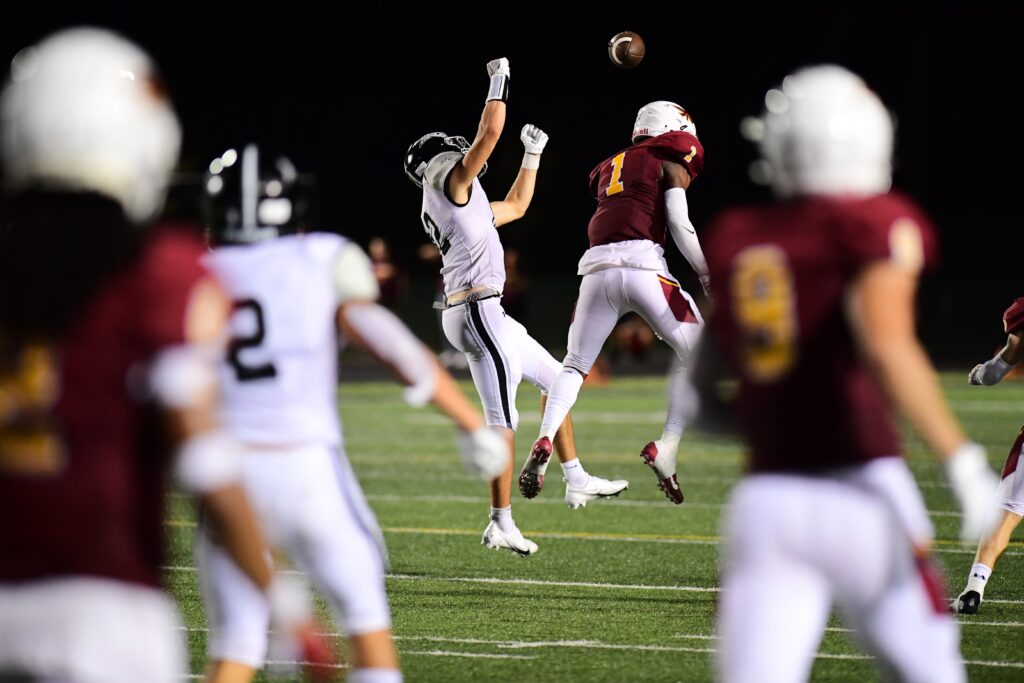 Ankeny answered with a 13-play, 77-yard drive that produced a 25-yard field goal by Keeghan Warner with 10:20 left in the first half. Kohl was 4-of-6 on the drive for 55 yards.
The Jaguars tied the game less than 3 minutes later on a 30-yard field goal by Cael Wiener. Porter started the drive with four consecutive carries for 45 yards.
After a short punt by the Hawks, Centennial needed just four plays to drive 29 yards for the go-ahead touchdown. Miller ran 10 yards for the score with 5:15 to go until halftime.
"We had a lot of momentum going," Miller said. "We definitely showed what we have, but unfortunately we came up short. I felt like we could have done more on the offensive side. The defense played their hearts out. But overall, it's a team loss, and we'll lose as a team."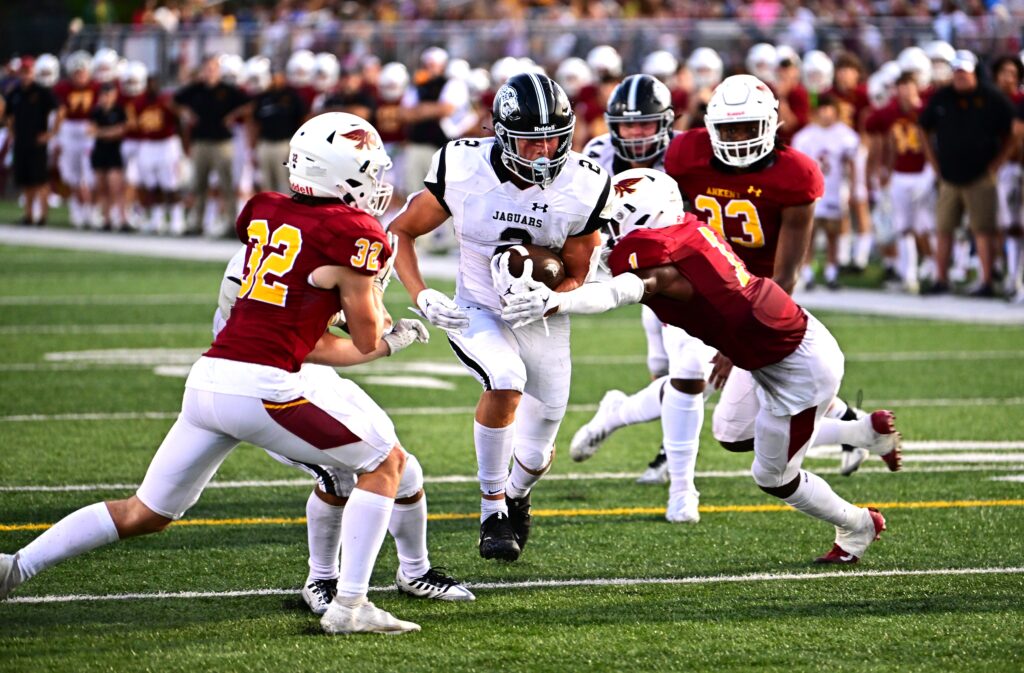 After an exchange of punts, Ankeny drove 77 yards in just four plays to tie the game. Ward broke free in the end zone and caught a 17-yard pass from Kohl with 1:33 left in the second quarter.
"I was trying to have Jamo (Patton) move in, but then we snapped it and I saw everyone (on defense) was committed to the run," Ward said. "It was play-action, and I was wide open. I was thinking about my cele(bration) when I was doing my route. I did a little Karate Kid."
Kohl threw passes of 12 and 42 yards to Patton to set up the touchdown.
"It kind of seemed like we couldn't get things going, but that drive was huge," Kohl said. "Shoutout to my O-line and to Jamo for making a huge play there, and then Maddox with the touchdown grab. That was a really good drive, and credit to our coaches too for scheming it up."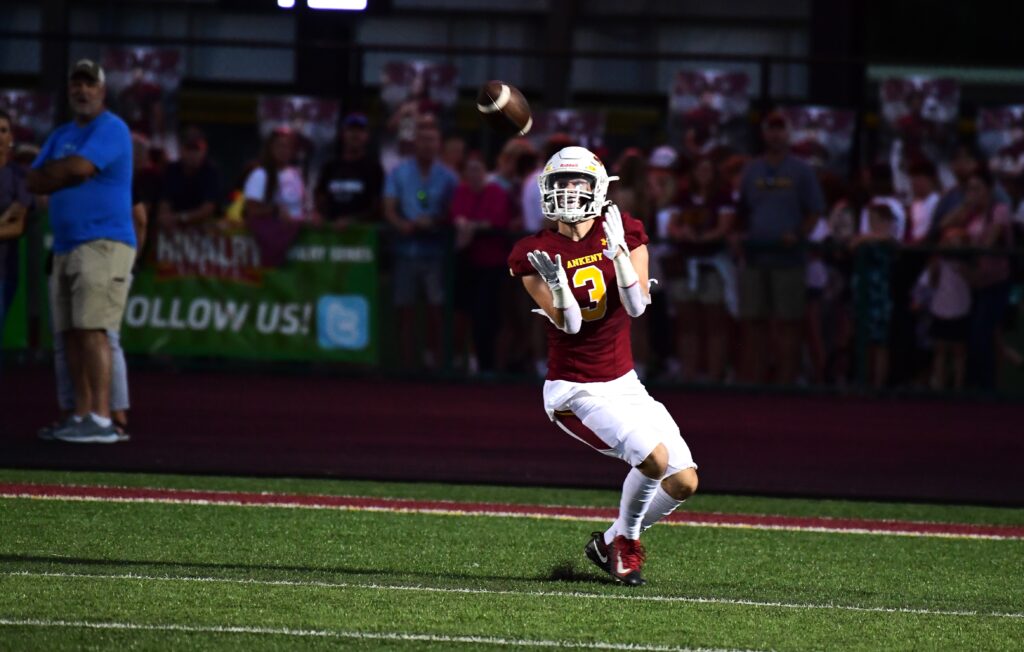 Patton had four catches for 86 yards in the first half alone. He seldom left the field on Friday–starting at both receiver and defensive back and returning kicks as well.
"He is a dynamite receiver and a phenomenal athlete," Pezzetti said of Patton. "He's a DI (recruit), and those guys can get open in a hurry. You've just got to try to hold up in the back end as much as you can, but when you have talented kids like that, it makes it tough."
Kohl, who will play with Patton at Iowa State next year, is happy to have him on the Ankeny squad.
"He's starting to feel really good in this team and this offense," Kohl said. "He's starting to pick up everything, and when he's got the ball, who knows what will happen? He's definitely a playmaker."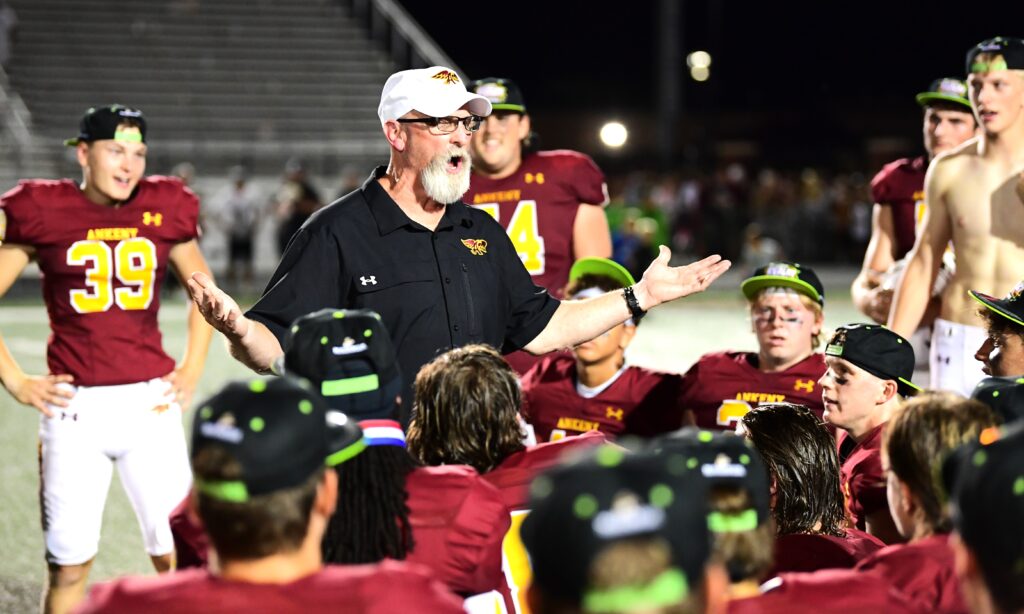 Nelson breathed a sigh of relief after the game.
"I think Jerry (Pezzetti)'s a great guy, and they do a fantastic job at Centennial," he said. "We're just fortunate to beat them."
Ankeny will host Dowling Catholic (1-1) on Friday. The Jaguars will play at Waukee (1-1).