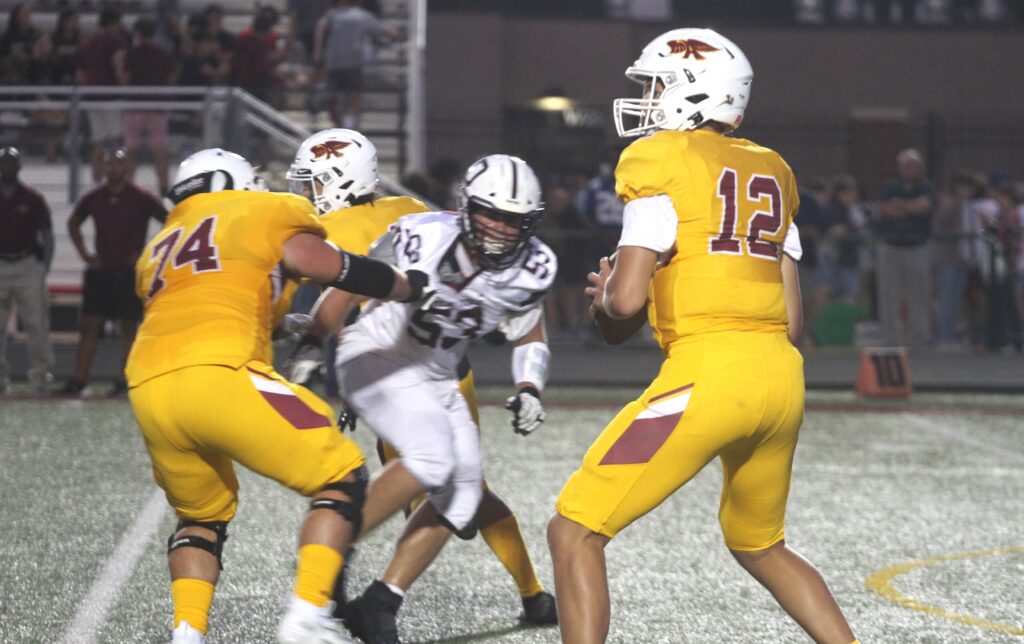 A loss early in the season doesn't mean that the Ankeny football team won't be playing for a championship in November.
In 2020, the Hawks suffered a loss at Waukee in Week 2, but went on to capture the Class 4A state title.
Last year, Ankeny was 4-2 at one point, but still went on to play for the Class 5A championship.
Now, the Hawks will try to rebound once again.
Fourth-ranked Dowling Catholic survived a Hail Mary pass on the game's final play to post a 17-10 victory at No. 3 Ankeny on Friday. Both teams are now 2-1 on the season.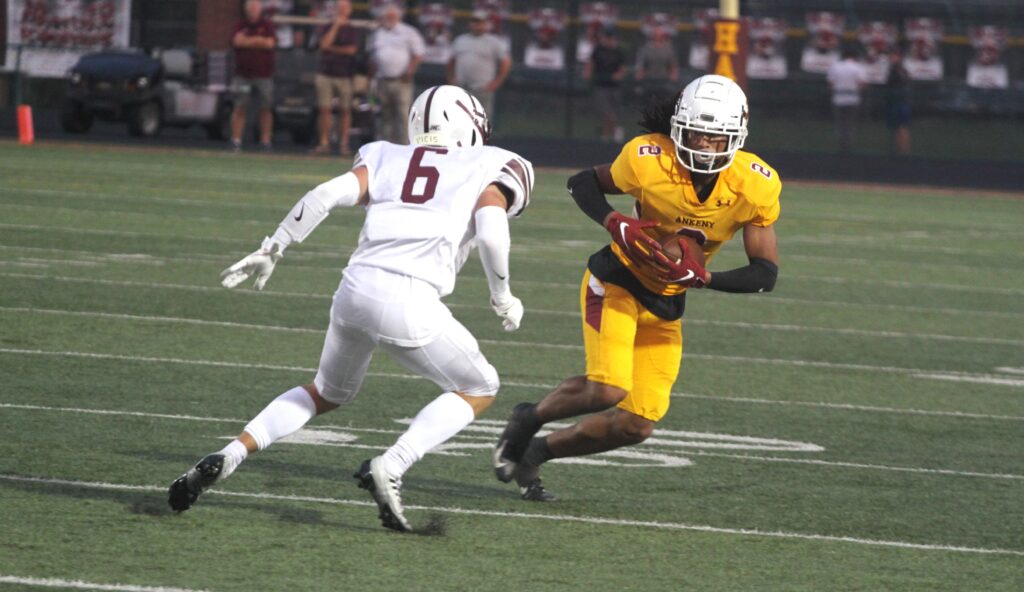 "We're going to be there in the end," said Ankeny coach Rick Nelson. "We've just got to keep getting better. We weren't quite good enough tonight."
Friday's game was billed as a matchup between two of the state's top quarterbacks. Ankeny's JJ Kohl has verbally committed to play for Iowa State, while Dowling's Jaxon Smolik is headed to Penn State.
But on a windy night at Ankeny Stadium, the Hawks struggled to get their offense untracked. Kohl actually ran for more yards (28) than he passed (22) in the first half, which ended with the Maroons holding a 7-3 lead.
"I think the wind affected us a little bit," said Ankeny running back Jazan Williams, who rushed for 102 yards on 11 carries. "If we could have got some momentum in the passing game, it could have opened up some other things."
Smolik, meanwhile, completed 9-of-12 passes for 73 yards in the first half, including a 47-yard scoring toss to Cooper Nicholson on the game's opening drive. But it was the Maroons' potent ground game that dominated much of the second half.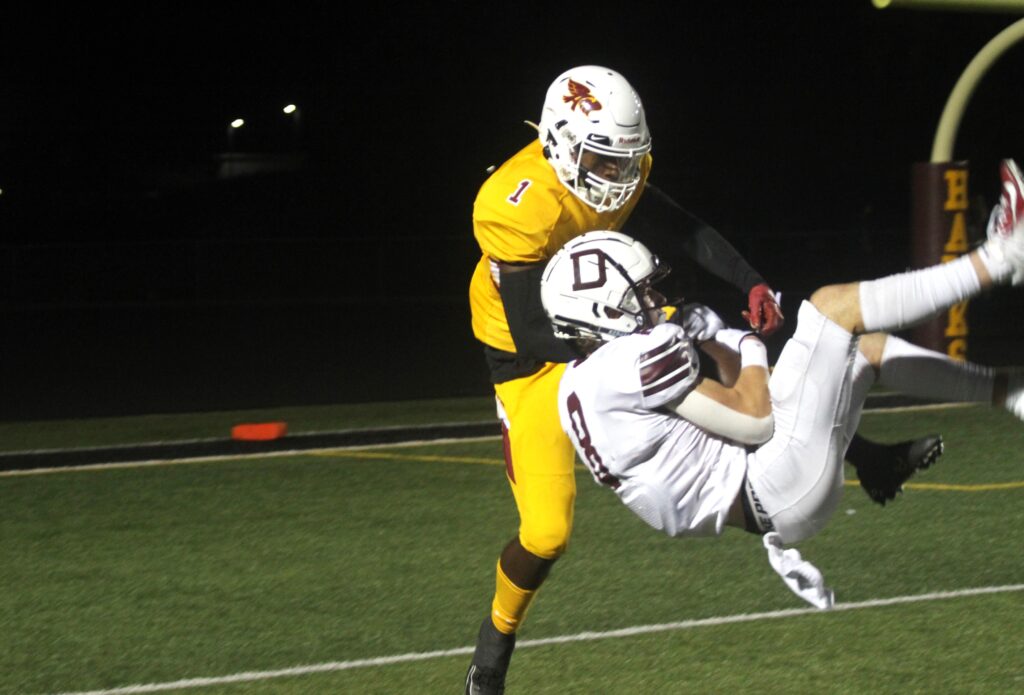 Ra'Shawd Davis ran for 105 yards on 23 carries, while CJ Phillip ran 20 times for 70 yards. The two backs rotated throughout the game.
Davis had nine consecutive carries for 49 yards on Dowling's opening drive in the second half. Smolik then scored on a 1-yard sneak to give the Maroons a 14-3 lead.
"Dowling's a good football team," Nelson said. "Defensively, I thought we played probably our best game. I was proud of our defense."
The Maroons started their next possession at Ankeny's 39-yard line, but the Hawks quickly forced a punt that sailed into the end zone.
Then, on the next play, Williams took a handoff from Kohl, found a hole at the line of scrimmage and dashed 80 yards for a touchdown, pulling Ankeny to within 14-10 midway through the third quarter.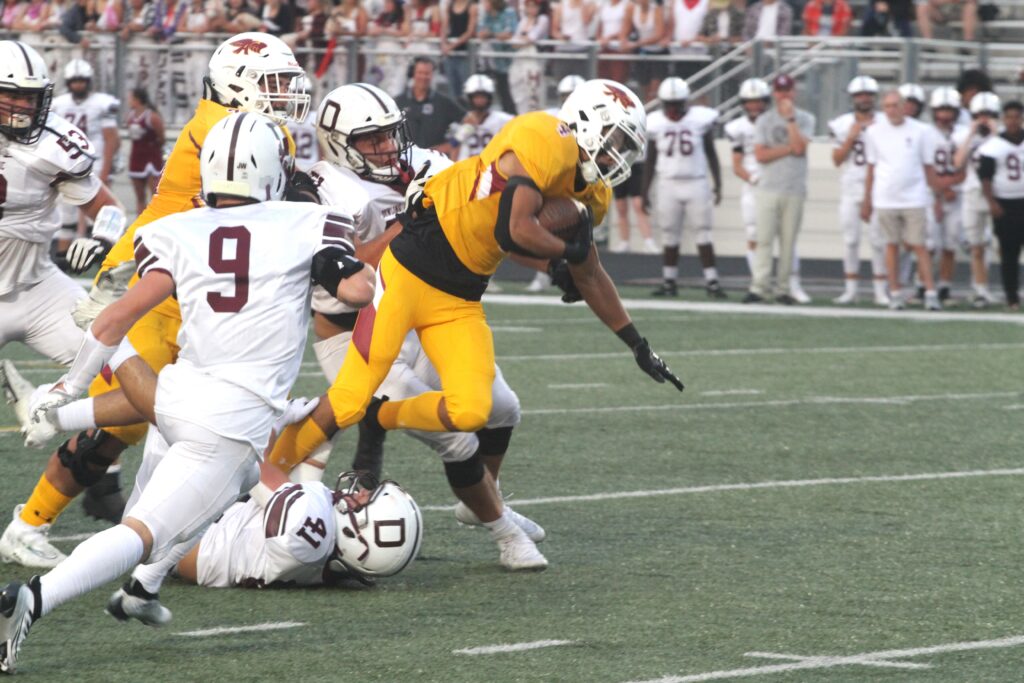 "Our line just got things going a little bit, got our blocks where they were supposed to be, and I just found my hole and hit it," Williams said.
Nelson said the play showed a glimpse of the Hawks' potential.
"We're close on some things," he said. "On that big long run, we actually got into the second level. But other than that, I don't think (Williams) ever got to the second level."
Ankeny's Dylan Dougherty recovered a fumble by Smolik on Dowling's next possession, but the Hawks were unable to capitalize and had to punt.
Later, Kohl threw a 40-yard pass to Jeremiah Kruger–his longest completion of the night–early in the fourth quarter, but the Maroons knocked the ball loose at the end of the play and recovered at Dowling's 40-yard line.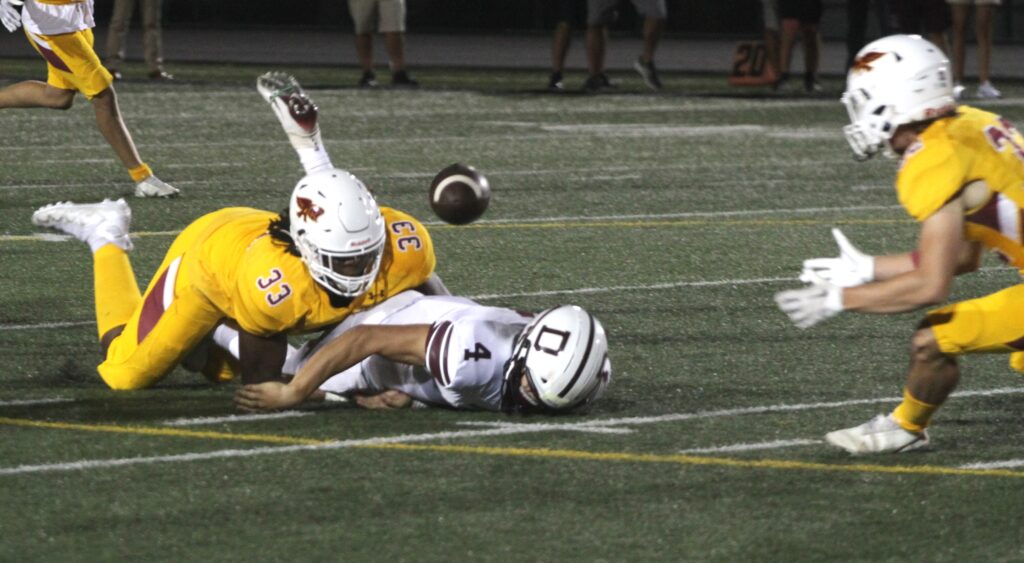 "I never had a doubt that we weren't going to win," Williams said. "I thought we could come back, and we kept fighting. It was just mental errors, and we beat ourselves tonight."
Dowling then used an 11-play drive, including a 23-yard pass from Smolik to Nicholson on fourth-and-6, to set up a 19-yard field goal by Andrew Schumacher. It gave the Maroons a 17-10 advantage with 3:08 remaining.
Ankeny turned the ball over on downs with 1:52 left, but eventually got the ball back at its 31-yard line with 28 seconds to go. Kohl completed passes of 18 yards to Jamison Patton and 10 yards to Maddox Ward on fourth-and-7, giving the Hawks a final play from Dowling's 38 with 3 seconds on the clock.
Kohl rolled out to his right and then lofted a pass into the end zone. But it was batted down by the Maroons' Justus Williams and Matthew Hanten.
"I thought both quarterbacks threw the ball pretty well," Nelson said. "I think it was the kicking game with the field position that was more of a factor with the wind."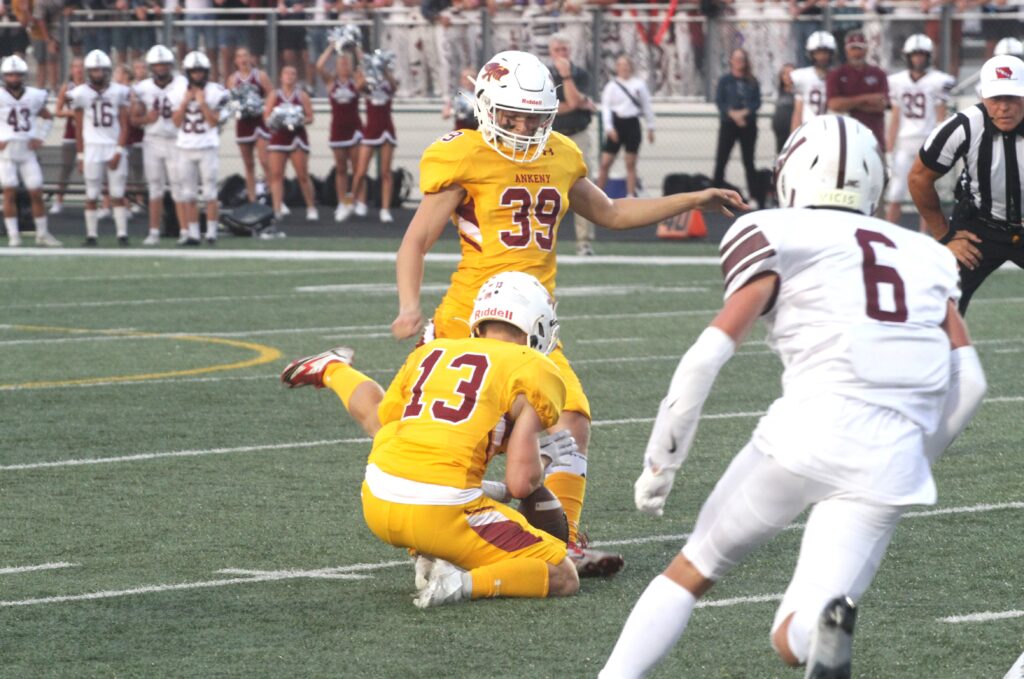 Kohl finished 15-of-30 for 115 yards. Smolik went 13-of-19 for 122 yards as Dowling outgained the Hawks by a 319-234 margin.
Ankeny got a 39-yard field goal from Keeghan Warner to cut the Maroons' lead to 7-3 with 4:04 left in the first quarter. But the rest of the half turned into a defensive struggle–the two teams combined for six consecutive punts and just one first down in the second quarter.
Kael Halstead led the Hawks' defensive effort with 9.5 tackles.
"I'm not taking anything away from Dowling, but I think we're better than 10 points," Nelson said. "We've just got to flush this because we've got another tough opponent next week. I think they will."
Ankeny will play at No. 1 Southeast Polk (3-0) on Friday in a rematch of last year's Class 5A final, which was won by the Rams, 24-7.