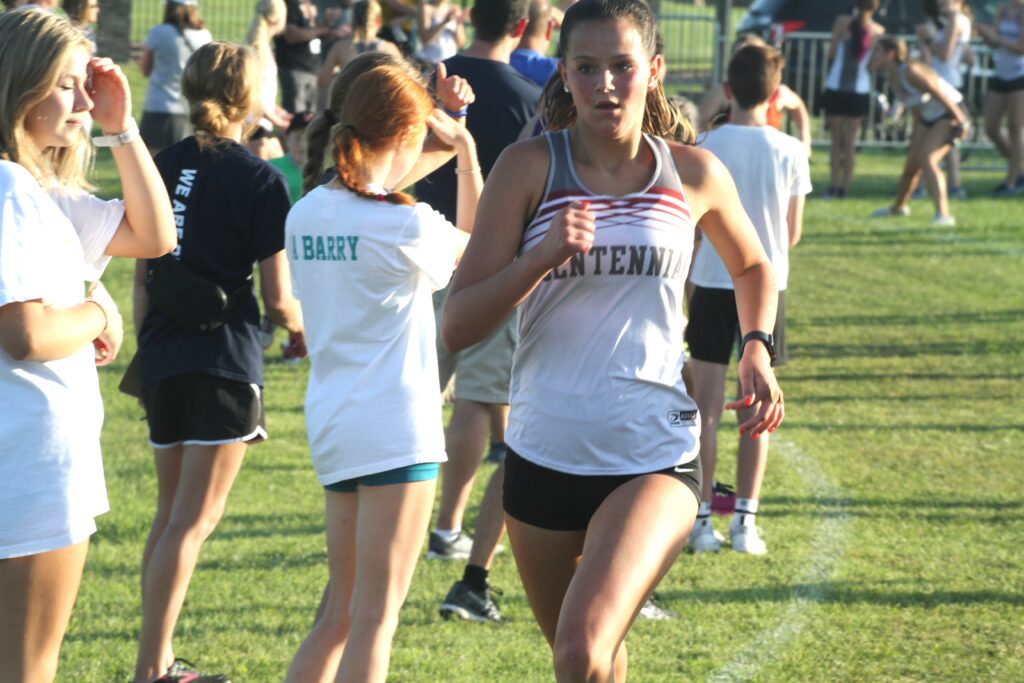 After the Ankeny Centennial girls' cross country squad captured another team title on Tuesday, Centennial junior AJ Schermerhorn won an individual crown in the boys' race.
Schermerhorn came from behind to win the Tom Karpen Invitational at Valley Southwoods Freshman High School. He posted a time of 16 minutes 15 seconds on the 5k course to earn his first varsity victory.
"It feels really good," said Schermerhorn, who led the Jaguars to a third-place finish in an eight-team field. "I thought I had a chance (to win it). It was kind of my mentality going in that I knew there were five guys in my area, and I just had to beat them."
Fourth-ranked Centennial won the girls' division with 24 points, edging No. 5 Valley by seven points for its third consecutive victory. The six-team meet essentially turned into a dual competition–the Jaguars and Tigers combined to earn the top 14 places.
"I was a little surprised that so few teams fielded a true varsity lineup," said Centennial girls' coach Eric Cogdill. "The meet ended up being a de facto dual between us and Valley while Norwalk, Waukee and Waukee Northwest put JV runners into the varsity race to save their girls for a race on Saturday. A dual with Valley isn't a bad thing as the two of us are ranked (among the top five teams) in the state, but that wasn't what we had planned to be racing against."
Defending state champ Addison Dorenkamp of Valley easily won the race in a time of 18:36. She finished nearly a full minute ahead of runner-up Rondi Quass of Centennial, who was clocked in 19:31.
"I definitely felt like I was a lot closer to (Dorenkamp) today," said Quass. "I kept her in my sights a lot longer and I think as we begin to taper off, I'll be a lot closer when I stop lifting and stuff."
Quass was followed closely by teammate Anika Mohrhauser, who took third in 19:36. Bella Hodges placed fourth for the Jaguars in 20:41.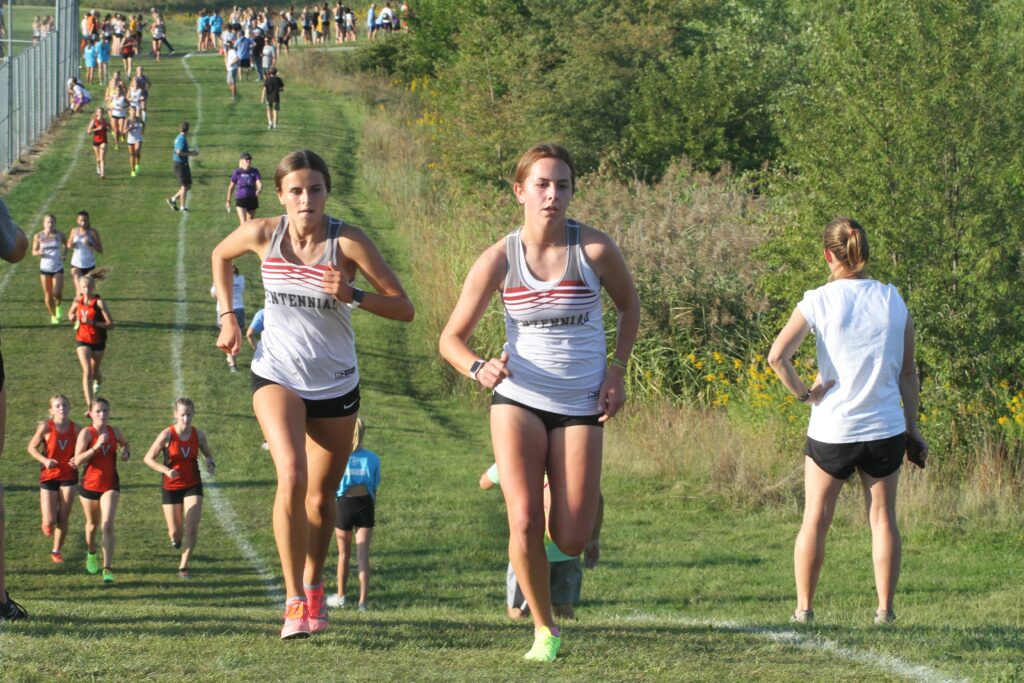 Hodges ran alongside teammate Julia Flick until Flick dropped out of the race.
"We planned to run together and then at about the mile and a half mark she kind of dropped off a little bit," Hodges said of Flick. "We were just trying to run in a pack and finish as close up as we could and stay in front of Valley. I think we did a nice job of that."
Cogdill said his team needed some strong finishes to overtake the Tigers.
"As the race unfolded, Valley went in with a game plan of running their No. 2 through 7 runners together and they were well positioned early," he said. "Eventually we moved our top four runners ahead of their group, giving us a comfortable lead. Unfortunately, one of our top five girls dropped–in addition to the planned absence of another (Anja Peck)–and suddenly we found ourselves shorthanded and behind Valley in the team score."
Centennial got a late boost from the trio of Kylee Patterson, Tillie Smith and Tallie Plueger. Patterson placed seventh in a time of 21:31, Smith was eighth in 21:37, and Plueger finished 11th in 21:48.
"That's where the highlight of the race came," Cogdill said. "With 3/4 of a mile to go, I asked Tillie, Kylee and Tallie to each make one more pass to help us secure the head-to-head win. They embraced the challenge, and each made two more passes. Our depth really came through today when we were shorthanded."
Centennial also got a 13th-place finish from Lauren Reimer. She was clocked in 22:24.
The Jaguars prevented Valley from earning its third straight Karpen title. The Tigers finished 12 points ahead of Centennial at last year's meet.
"I'm super happy (with how we did)," Quass said. "All the girls from 1st to 15th are looking really strong this year. I'm just really proud of where our team has come from this year to last year."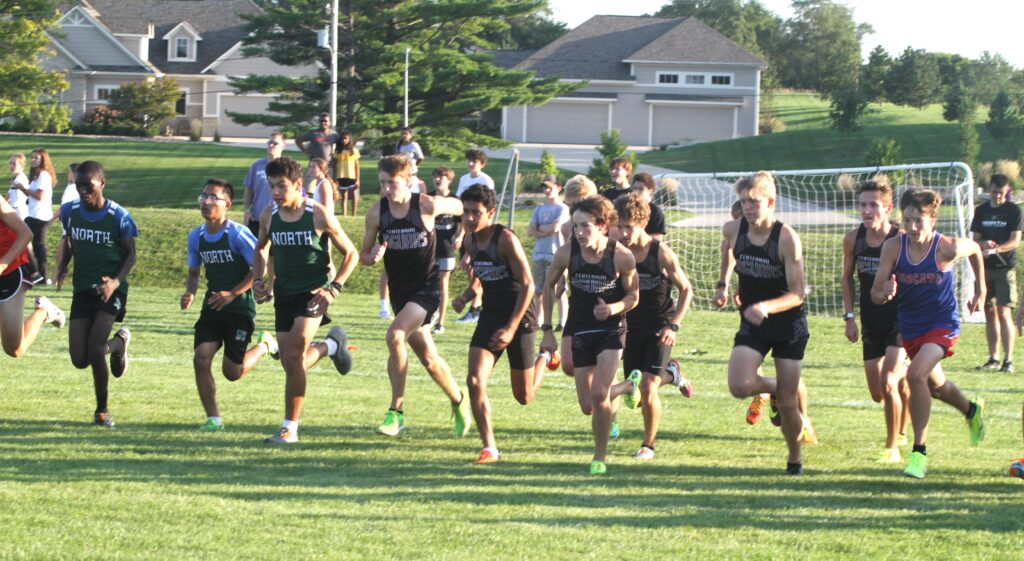 No. 8 Valley won the boys' crown with 44 points. No. 9 Norwalk took second with 73 points, despite using a JV lineup.
Centennial finished with 88 points.
"It's still the whole team mentality," Schermerhorn said. "I know where I need to be, but I'm still trying to get the team there as much as I can, whether it's at practice or getting the guys mentally ready to race."
Council Bluffs Lewis Central's Ethan Eichhorn led most of the way before Schermerhorn tracked him down. Eichhorn took second in 16:17.
"I know how he races," Schermerhorn said. "He kind of goes out fast, so my strategy was to hold back and slowly progress and then the last mile go for it."
The strategy worked perfectly, according to Centennial boys' coach Chad Fickbohm.
"AJ had a great plan and executed well," Fickbohm said. "He had a strong race the entire time both mentally and physically. This race should give him a lot of confidence for the rest of the season."
Austin Lundberg placed 10th for the Jaguars in 17:56. Brayden Vander Wilt took 21st in 18:20, Ammin Hassan was 26th in 18:31, Jack Behrens placed 32nd in 18:50, Bennett Blakeslee was 42nd in 19:12, and Mark Nelson finished 43rd in 19:14.
Both Centennial teams will compete in the Indianola Invitational on Sept. 22 at Pickard Park.