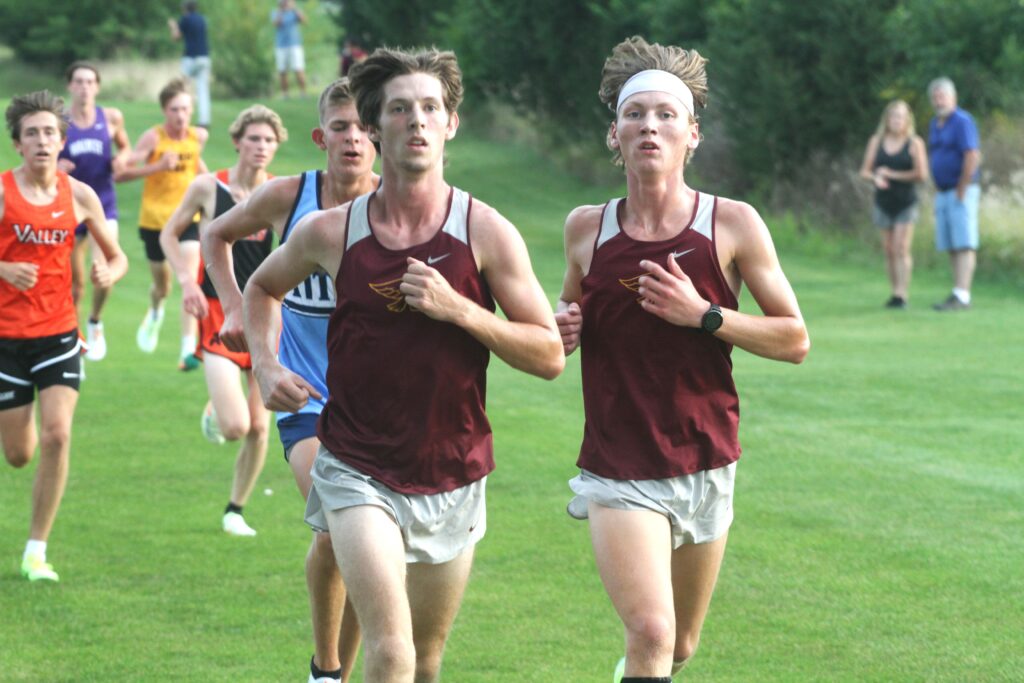 After rising to the No. 2 spot in the latest Class 4A rankings, the Ankeny boys' cross country squad placed 10th among 37 teams in the prestigious Heartland Classic on Saturday at Central College in Pella.
More than 500 runners competed in the event, which was merged into just one division following a lengthy extreme weather delay. The field included 12 teams from Nebraska, Kansas and Minnesota.
Top-ranked Dowling Catholic won the meet with 120 points. No. 9 Norwalk was second with 175, followed by No. 4 Waukee Northwest with 250 and Papillion-La Vista (Neb.) with 251.
The Hawks finished with 320 points.
"We decided to play it safe and hold (Ethan) Zuber out," said Ankeny coach Jon Lindaman. "Pella had almost three inches of rain, and the course conditions were pretty nasty. Any time you leave a potential all-state runner out of your lineup, it makes you a little more vulnerable. Despite our team place not being where we wanted, we still beat several top 15 4A teams and the No. 1 and 2 teams in 3A. That shows the resiliency of these kids."
Dowling's Jackson Heidesch won the 5k race in a time of 15:24. He finished 13 seconds ahead of runner-up Colby King of St. Thomas Aquinas (Kan.).
Levi Hill led Ankeny with an 18th-place finish. He was clocked in 16:23.
Jake Bosch took 34th for the Hawks in 16:42. Abel Squires placed 64th in 17:12, Tate Brownsberger was 86th in 17:27, Aidan Farrell took 122nd in 17:43, and Ike Smith finished 143rd in 17:53.
"Hill was solid again. I know the competitor in him would love to have this race back, but he continues to go about his business and will be a force down the stretch," Lindaman said. "Bosch, Squires and Brownsberger all continue to get better each week, and I was really proud of the way each of them raced. Even though he didn't feel 100 percent Aidan always fights hard for us, and Ike continues to run well. As a freshman, every race is a different experience and a chance to learn and grow."
Ankeny will compete in the Newton Invitational on Tuesday at Maytag Park.