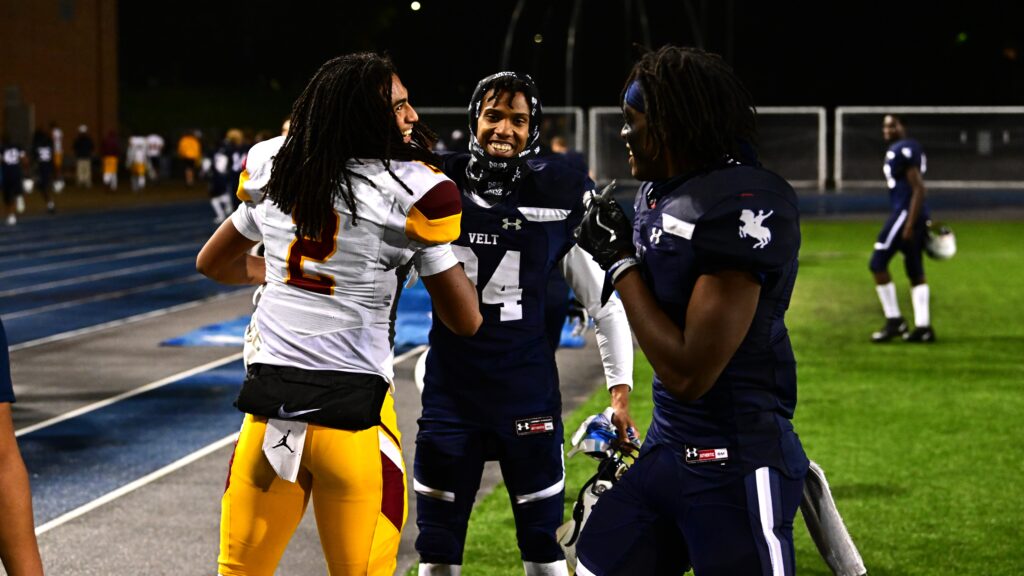 Jamison Patton felt right at home on Friday night at Drake Stadium.
So did his Ankeny football teammates.
Patton caught four passes for 37 yards against his former team as the third-ranked Hawks built a 28-0 lead and went on to post a 35-18 victory over host Des Moines Roosevelt. He played for the Roughriders last season before transferring to Ankeny.
"I treated it just like any other game but it was definitely a different feeling than any other game," said Patton, who also ran three times for 20 yards. "I got to talk to almost everyone. It felt so good to be back there. I've missed the feeling of playing in Drake and the whole atmosphere."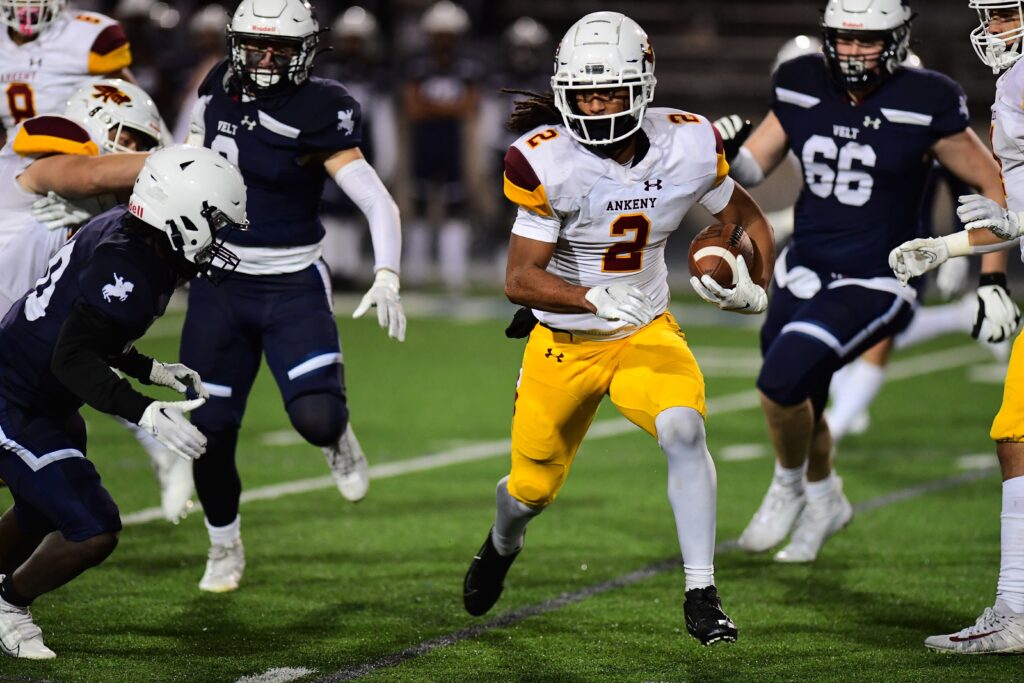 Patton, a two-way starter and an Iowa State recruit, helped Ankeny improve to 4-1 on the season. The Roughriders' record dropped to 2-3.
Patton mostly played on offense during Friday's game, even though he's expected to become a safety for the Cyclones next year.
"I think he wanted to do well," said Ankeny coach Rick Nelson. "He did some nice things. He played a little bit on defense, but not a lot–maybe 10 snaps. We're going to need to use him quite a bit next week (against Valley)."
Ankeny jumped out to a 14-0 lead in the first quarter and then added two more touchdowns in the second quarter. Evan Irlmeier scored on a 9-yard pass from JJ Kohl to put the Hawks ahead with 5 minutes 7 seconds left in the opening period.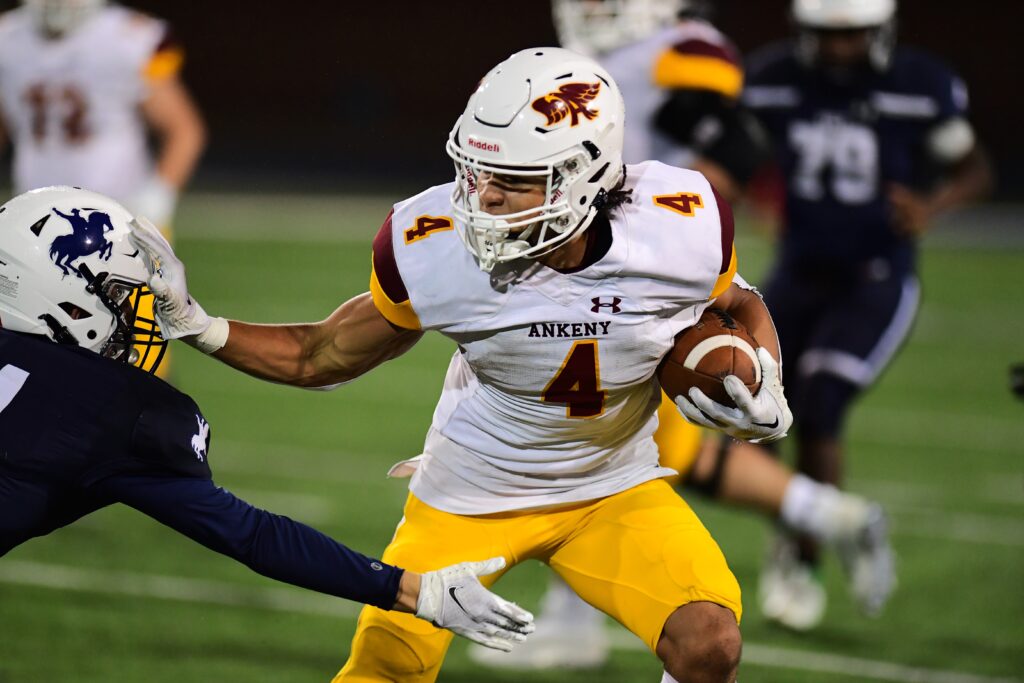 Jazan Williams scored the next two touchdowns before Kohl found the end zone himself to make it 28-0 with 4:18 remaining in the half.
"We started off pretty well, then kind of slowed down a little bit and then picked it back up," Nelson said. "It was a good win. I wasn't anticipating the rain–I think it rained the whole game."
Roosevelt got on the board late in the first half to close the gap to 28-6. The Roughriders then scored again after recovering an onside kick to open the second half.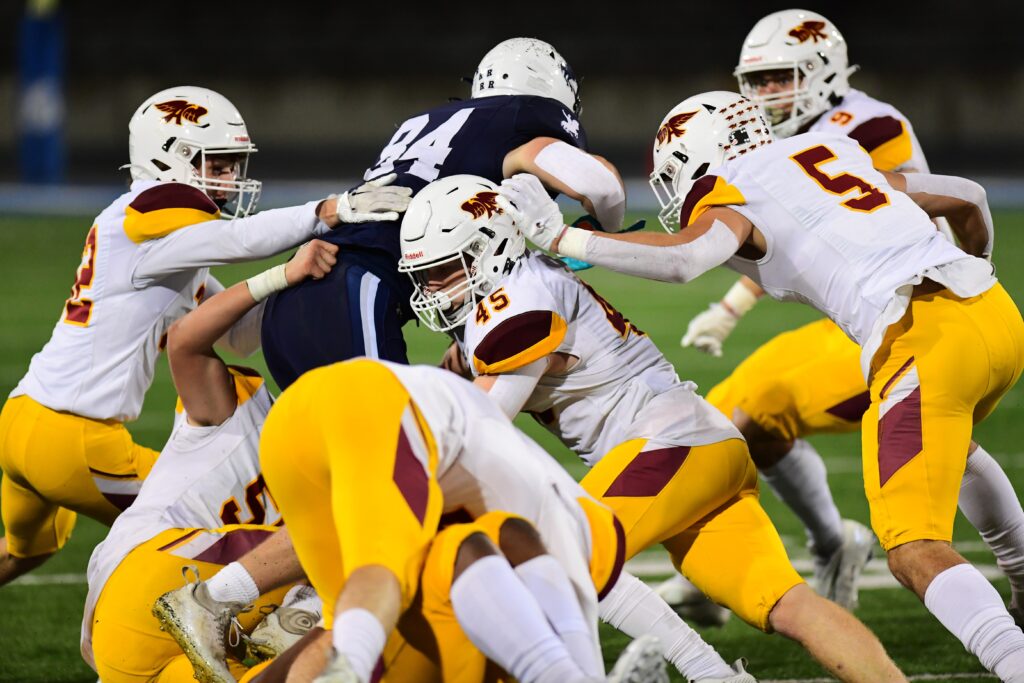 However, Ankeny then drove down the field and answered with Williams' third touchdown run of the game.
"They got us on a trick play, then got us on a hurry-up play when we weren't quite ready," Nelson said. "We had a lot of penalties, especially in the second half. We just kind of shot ourselves in the foot. But overall, our kids played pretty well."
Williams carried 17 times for 68 yards. He also caught two passes for 46 yards.
Kohl completed 11-of-18 passes for 196 yards. Irlmeier had three catches for 66 yards, and Jeremiah Kruger added a 38-yard reception.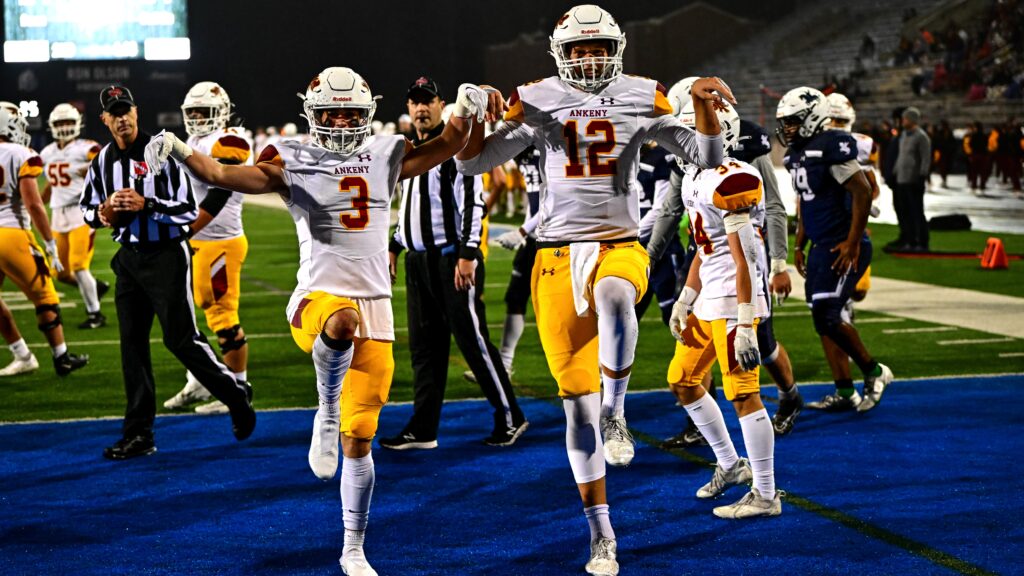 "Jazan rushed well, Jamo did some nice things, and JJ had a nice game," Nelson said. "I thought our line played pretty well."
The Roughriders scored their final touchdown with 8:22 left in the game.
"They have a couple real nice players–like the big tight end," Nelson said. "But we were happy. It's always nice to win."
The Hawks will host Valley (3-2) on Friday.