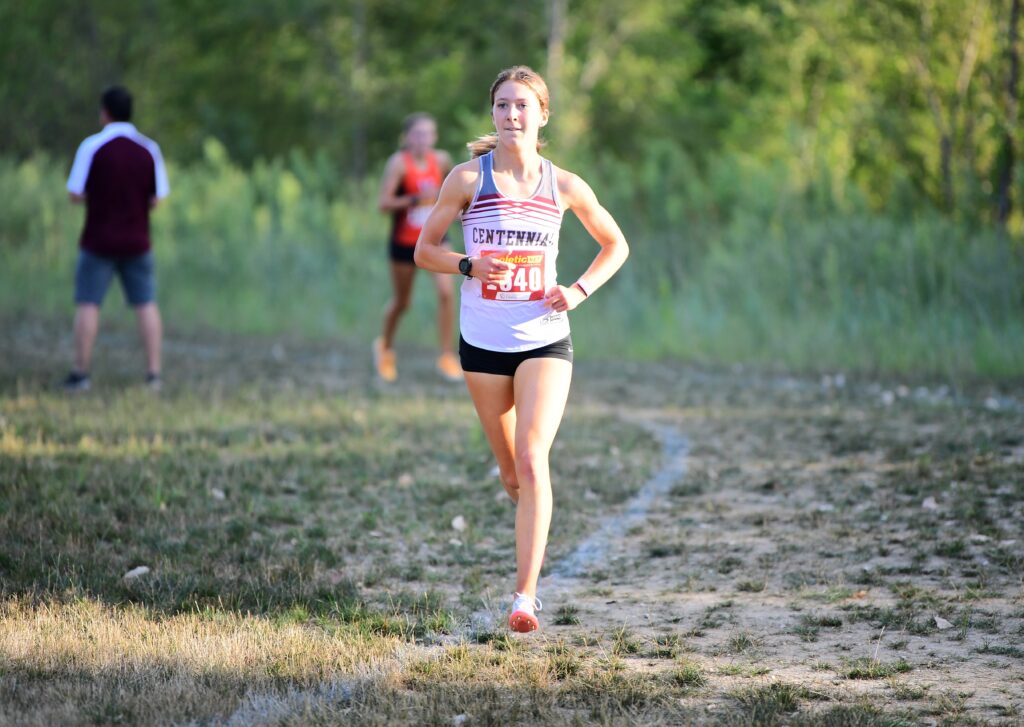 Although its winning streak came to an end, the Ankeny Centennial girls' cross country team still enjoyed a successful meet on Thursday.
The fourth-ranked Jaguars placed second among eight teams in the Bud Williams Invitational at Iowa City. They finished with 47 points.
"We had an outstanding day of racing after a terrific week of training!" said Centennial girls' coach Eric Cogdill. "The team was very sharp at practices and is getting better every day, which is all we ask as October nears. We had 19 girls race at Iowa City, and 18 of them came home with lifetime bests."
The Centennial boys' squad, meanwhile, took fourth among 11 teams with 107 points. The Jaguars finished behind a trio of ranked opponents.
No. 5 Iowa City High scored 31 points to defend its boys' title. No. 13 Pleasant Valley was second with 48 points, followed by No. 16 Cedar Rapids Prairie with 60.
"We competed well," said Centennial boys' coach Chad Fickbohm. "Across the board we had PRs or right at their all-time best. The entire team is still learning how we best race and this meet gave them a lot to build upon."
No. 5 Dubuque Senior won the girls' crown for the second straight year. The Rams placed all seven of their runners in the top 11.
Centennial had won all four of its previous meets in September.
"We did take a defeat to Dubuque Senior, which boasts the tightest 1-7 pack of any team in the state–just 13 seconds at this meet," Cogdill said. "However, I like our chances in the likely rematch at state where we will have the opportunity to put our top three girls in front of their first finisher."
Centennial senior Rondi Quass earned her first career cross country victory. She won the 5k race in a time of 18 minutes 21 seconds, which broke her own school record.
"What I am super happy about was my ability to relax and take control of my own race," said Quass. "This was the best I have felt all season, and I will definitely be trying to approach our big October meets the same way."
Quass, who is ranked 12th in Class 4A, finished 42 seconds ahead of teammate Bella Hodges. Hodges is ranked 30th.
"Rondi won in dominating fashion," Cogdill said. "She bested the No. 16, 19 and 20 runners in the state by 45-55 seconds. Bella also finished ahead of those same three competitors to take the runner-up honors in the race. She had to unleash a fierce finish to outkick one of the premier 800 runners in the state, Ani Wedemeyer of Iowa City High."
Kylee Patterson placed 13th for the Jaguars in 19:29. Julia Flick was 14th in 19:30.
"Julia did an amazing job of talking Kylee through the entire race, and those two stuck together," Cogdill said. "That's a strategy that is very encouraging, and we hope to add Anja (Peck) to that pair next week at Fort Dodge."
Centennial's Tillie Smith took 17th in 20:03. Tallie Plueger was 18th in 20:04, and Lauren Reimer finished 20th in 20:13.
"Tillie rounded out our scoring with a terrific race and carried Tallie to a terrific time as well. Behind them, Lauren closed out our top seven with a lifetime best," Cogdill said. "The varsity squad lowered the school record for fastest scoring five runners and fastest varsity seven runners. These team time accomplishments came despite the absence of Anika (Mohrhauser) and Anja, girls who are consistently finishing in our top five and who will be racing next week at Fort Dodge where 27 teams await us."
Quass and fellow seniors Cam Hershberger, Charlie Brink and Bri Hynick all ran lifetime bests and qualified for the IATC Senior All-Star meet the week after the state meet. Centennial's Cora DenHartog won the junior varsity race.
"Our JV team has averaged a meager 18 points in their last four competitions–all very convincing wins," Cogdill said.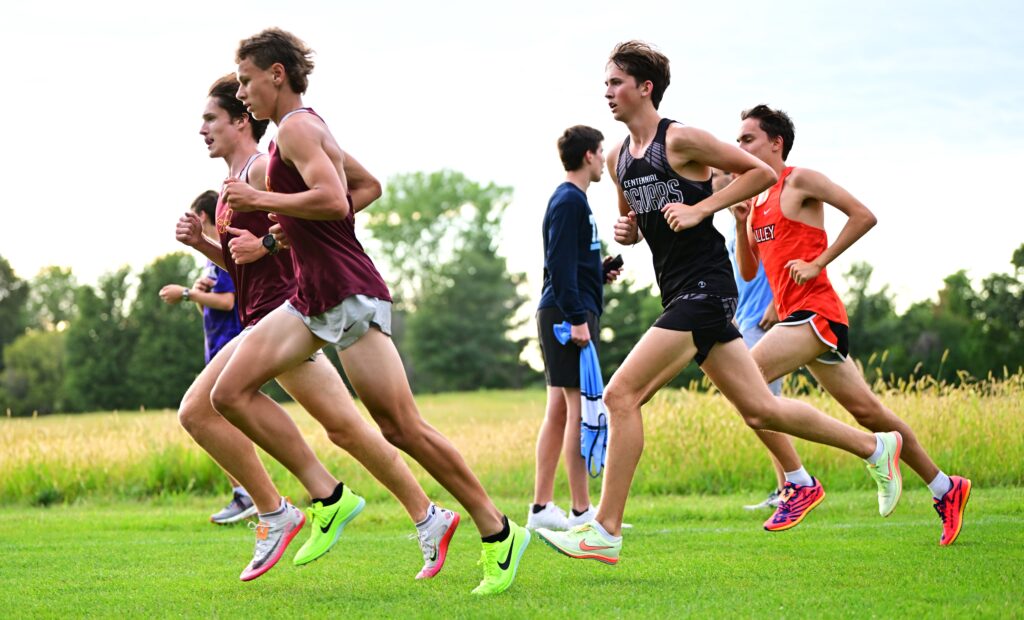 In the boys' race, AJ Schermerhorn again led the way for the Jaguars. He placed third in a time of 15:50.
"I was very happy with how I finished," said Schermerhorn. "I am also thrilled with how the rest of the team did as well because we had nearly everyone get a big PR and execute their strategy."
Iowa City High standout Ford Washburn, who is ranked second in Class 4A, easily won the race in 14:51. Jacob Mumey of Pleasant Valley was the runner-up in 15:18.
"Ford definitely deserves to be recognized as one of the best runners in the state," said Schermerhorn, who is ranked 11th. "It gave me a good look at what the top people in the state will be like in comparison to me when it comes to the state meet."
Centennial's Aammin Hassan placed 26th in 17:03 and was followed closely by two of his teammates. Austin Lundberg was 27th in 17:04 and Brayden Vander Wilt finished 28th in 17:06.
"AJ put forth another solid race, and the sophomore pack of Aammin, Austin and Brayden gained a ton of confidence from this race followed by Brendan (Owens) and Parker (Lundberg)," Fickbohm said.
Owens placed 33rd in 17:17, and Parker Lundberg was 36th in 17:24. Vibu Gantalamohini added a 40th-place finish in 17:36.
Both Centennial teams will compete in the Fort Dodge Invitational on Thursday.