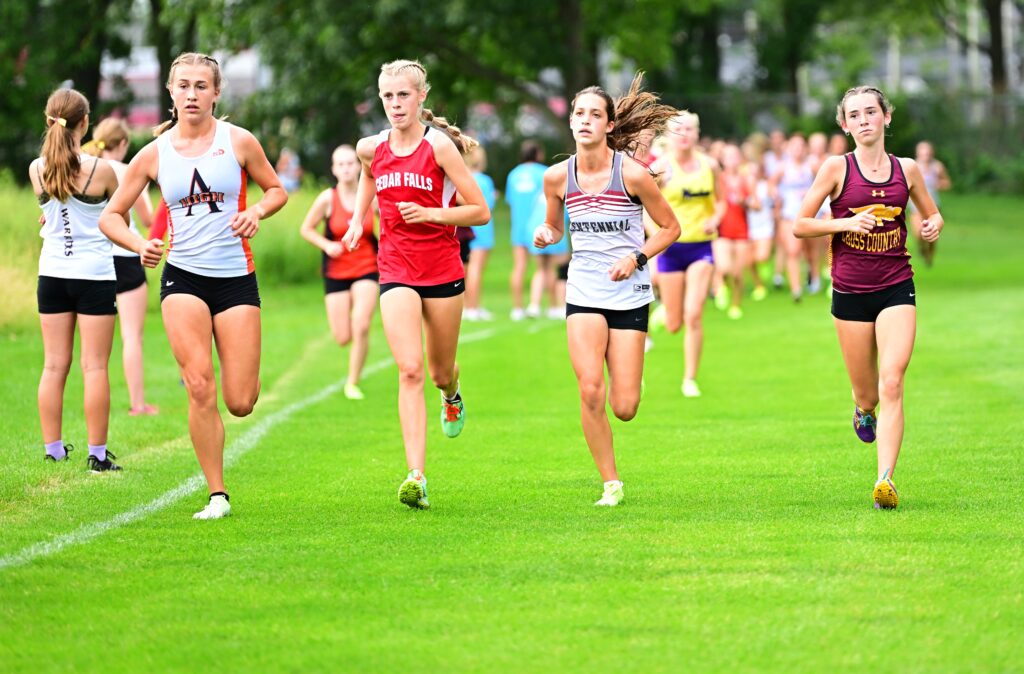 The Ankeny Centennial girls' cross country team earned its fifth victory of the season on Thursday–and it's probably the Jaguars' most impressive win yet.
Fifth-ranked Centennial defeated 23 other teams to win the Fort Dodge Invitational at Lakeside Golf Course with 118 points. No. 6 Johnston placed second with 138 points, followed by No. 8 Ames with 162.
No. 11 Ankeny earned a sixth-place finish. The Hawkettes scored 191 points.
The No. 7 Ankeny boys' team placed fourth in a 27-team field with 154 points. Centennial took 15th with 398.
"Our varsity has been a bit under the radar the past few weeks," said Ankeny boys' coach Jon Lindaman. "Two weeks ago we raced out of state, and last week we focused on training and were missing some varsity guys so it was great to get back after it. It was a great meet–we had the opportunity to race the top three teams in the state. This meet gave us a good indication of what we need to do to earn one of the coveted top three spots at the state meet."
No. 1 Dowling Catholic easily won the boys' crown with 55 points. No. 2 Norwalk was the runner-up with 128 points, followed by No. 3 Johnston with 133.
"As well as we ran, those top three teams ran really well too, and showed why they are ranked 1-2-3 in the state," Lindaman said. "Our guys know we still have to find a way to be a little better over the next three weeks. Our goal will be to find a way for all seven of our varsity guys to shave off 3-5 seconds, which really isn't a lot over 3.1 miles. If we do that we will position ourselves for a really strong state meet finish."
Centennial's Rondi Quass placed eighth in the girls' 5k race with a time of 18 minutes 27 seconds. Teammate Anika Mohrhauser was 10th in 18:40.
Bella Hodges took 15th for the Jaguars in 19:14. Anja Peck placed 40th in 19:51, Tallie Plueger took 47th in 19:56, Tillie Smith was 60th in 20:17, and Kylee Patterson finished 69th in 20:31.
Drew Beason led Ankeny with a 12th-place finish. She was clocked in 18:58.
Paige Beason placed 37th for the Hawkettes in 19:49. Brylee Moyer was 39th in 19:51, Reagan Prendergast took 42nd in 19:53, Makenna Madetzke was 65th in 20:21, Alex Gloviak placed 71st in 20:34, and Sophia Graber finished 82nd in 20:43.
"This meet was a true showing of what our Hawkettes can do when they are running with a strong mental faction," said Ankeny girls' coach Eric Klingensmith. "While Drew ran a strategic race from the front as our low stick, finishing with a season PR, the remainder of our 'nest' ran strategically smart races. Our main pack came out a bit slower, starting in the high 90s and 100s, but reeled in one runner at a time to finish in the top 45. Adjusting our start to ensure we can push forward to finish a few places higher will be our main focus for the next few weeks. Right now we are concerned with position and knowing that Paige, Brylee, and Reagan can move up almost 50 places after mile one is astounding.
"In addition, we were missing a main staple, Gwen Briggs, who is resting after a slight injury so that she can heal before our championship races. Having Gwen, and all of our Hawkettes, healthy for the next three weeks is pivotal to our success. We are excited to see where we land during the next few races and are looking forward to making a bid for another team state appearance," he added.
Paityn Noe of Ballard (Huxley) won the girls' race in a time of 17:10. Valley's Addison Dorenkamp was second in 17:31.
Dowling's Jackson Heidesch won the boys' race in 15:11. He finished 11 seconds ahead of Sioux City North's Gabe Nash.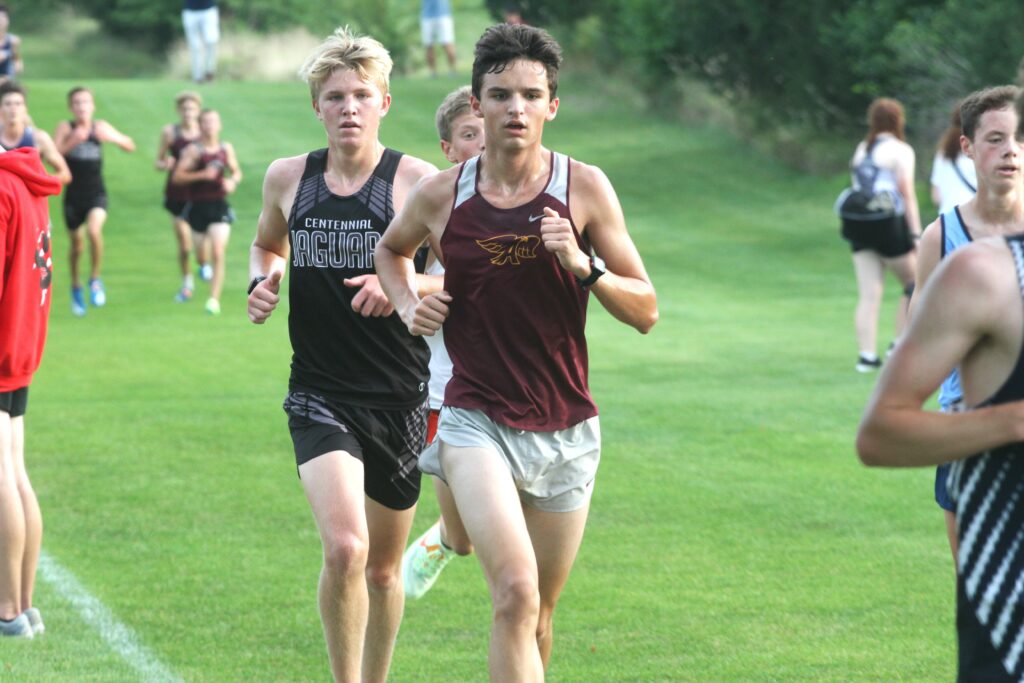 Levi Hill was Ankeny's top finisher, placing eighth in 15:49. Ethan Zuber, who had missed the last three meets, took 13th in 16:02.
Jake Bosch placed 31st for the Hawks in 16:25. Abel Squires took 49th in 16:43, Tate Brownsberger was 53rd in 16:45, Aidan Farrell took 60th in 16:51, and Levi Stember was 62nd in 16:52.
"All of our guys showed tremendous growth from last year's Fort Dodge meet to this year's meet, and any time a team puts eight kids under 17:00, you know these kids are doing something right," Lindaman said. "Levi continues to look like an all-state performer. I think he had a little chip on his shoulder from the rankings, and beat six kids that are currently ranked ahead of him. Getting Zuber back gave our team a big boost, and every day he looks better and better. I was really impressed with how he ran after sitting out a few weeks earlier in the season.
"Jake, Abel, Aidan, Tate and Stember really closed out the race strong and put us in a position to beat some great teams from Waukee Northwest and Valley. Those guys know they need to close the gap just a bit at the start. Running 10 guys, we got a good push from Ike Smith, (Keenan) Tirop, and (Nick) Robie who all finished the meet with personal bests," he added.
Centennial's AJ Schermerhorn earned a top-10 finish. He placed ninth in 15:53.
Aammin Hassan took 89th in 17:08, Brendan Owens was 106th in 17:21, Brayden Vander Wilt placed 110th in 17:24, Austin Lundberg was 119th in 17:27, Parker Lundberg placed 130th in 17:39, and Vibu Gantalamohini finished 142nd in 17:46.
Both Ankeny and Centennial will compete in the CIML Conference meet on Wednesday at Johnston High School.