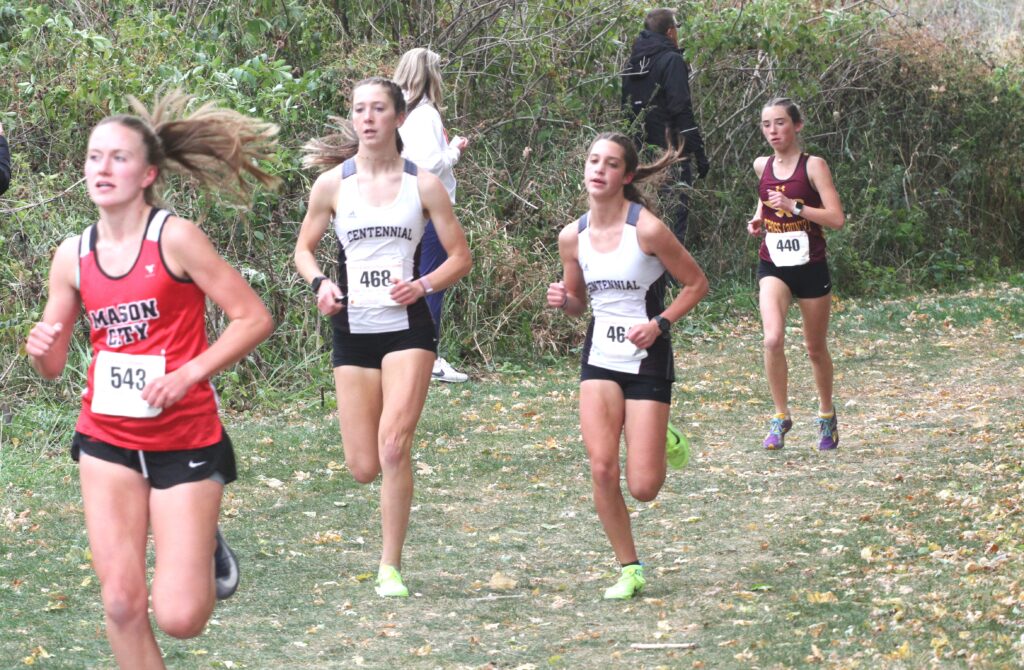 The Ankeny Centennial girls' cross country team accomplished its goal on Wednesday.
And so did crosstown rival Ankeny.
Both squads are headed to next week's state meet following strong performances in a Class 4A regional meet on Wednesday at Marshalltown.
Fourth-ranked Centennial easily won the team title with 44 points. The Jaguars captured the regional crown for the second straight year and the third time in school history.
"This was a check-your-box meet, and we checked our box," said Centennial coach Eric Cogdill. "We're going to state, and that's great. The girls ran really well."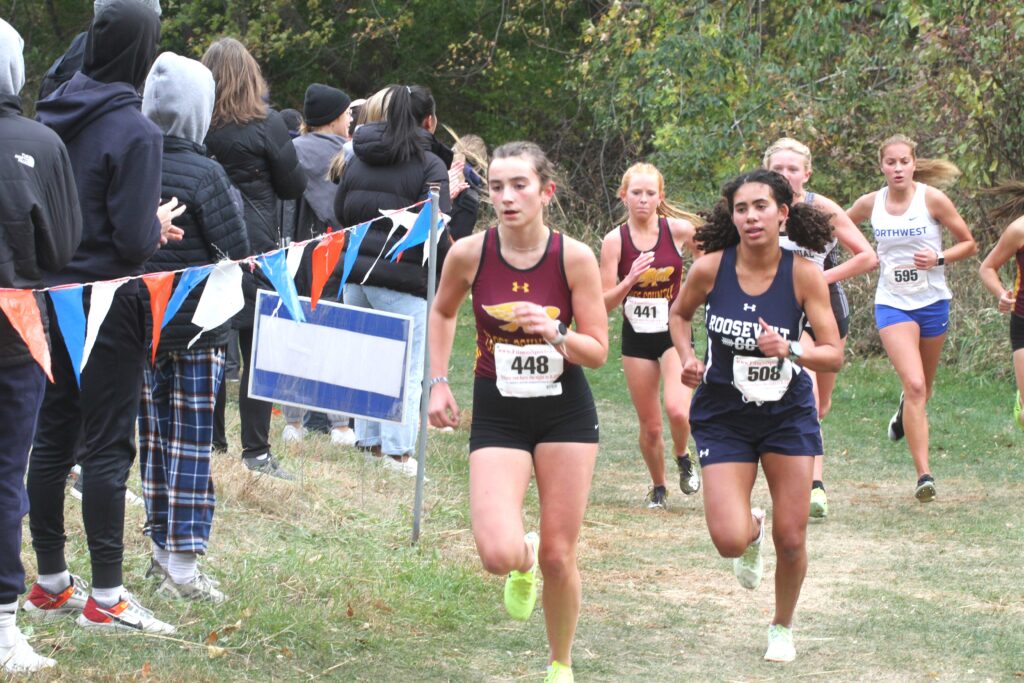 No. 9 Des Moines Roosevelt placed second with 65 points, edging No. 10 Ankeny by two points. But the Hawkettes finished comfortably ahead of No. 16 Urbandale, which took fourth with 87 points, for the third and final qualifying spot.
"We're excited," said Ankeny coach Eric Klingensmith. "It's actually my last season (coaching the team), so having them do that this year is icing on top of the cake for us. I couldn't be more excited. The girls were ready to run, and they all had big races."
Centennial placed three runners in the top seven. Rondi Quass led the way, placing third in the 5k race with a time of 18 minutes 30 seconds.
"I think we felt pretty good with our race plans," said Quass. "Cog always scores out the meet, and he told us we should be pretty comfortable with the standings today. We definitely had confidence going in."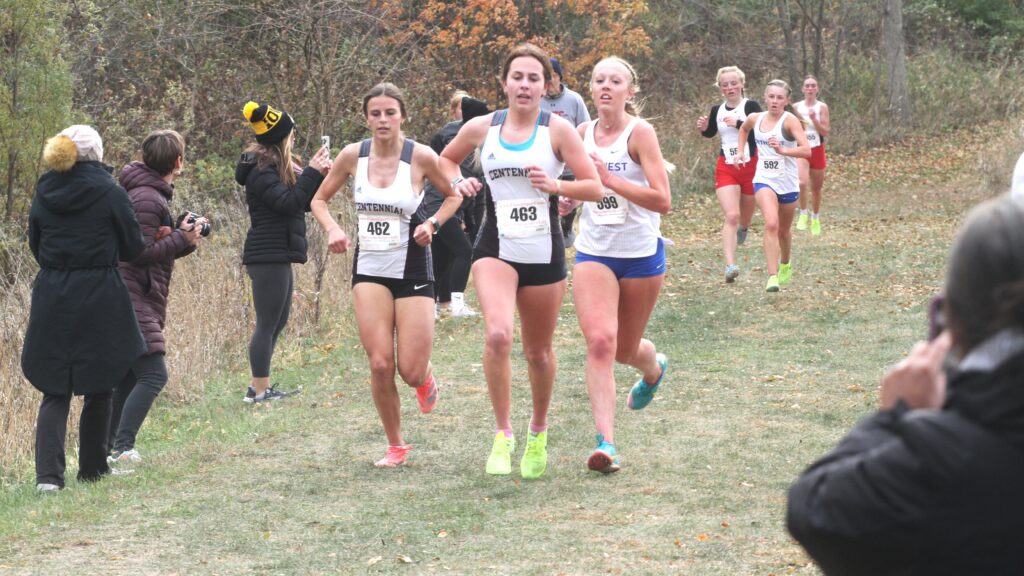 Quass and teammate Anika Mohrhauser settled in behind Des Moines Roosevelt's front-running duo of Adrienne Buettner-Cable and Abi Hahn. Buettner-Cable went on to win the race in 17:43, while Hahn took second in 18:07.
"Our plan was to take a conservative approach and start a little bit slower, especially knowing that there would be those big hills at the end," Quass said. "I wanted to at least shadow Abi and chase her down if she was close enough, but I didn't think she was close enough for me to make it worth it to catch her today. But I definitely want to be with her next week."
Mohrhauser placed fourth in 18:41. Bella Hodges took seventh for the Jaguars in 19:09.
"Our top three are so strong," Cogdill said. "Rondi and Anika were right there on their lifetime bests, and Bella was as well."
Centennial's Cora DenHartog also qualified for the state meet as an individual. She placed 14th in 19:37.
"Cora ran a 20-second lifetime best," Cogdill said. "She just came on so strong to snag another medal there. She's ran two varsity races in her life and was all-conference and now all-regional. That's pretty impressive."
Anja Peck took 16th for the Jaguars in 19:46. Kylee Patterson was 19th in 20:11.
Centennial's Julia Flick ran with Hodges most of the way, but was unable to finish the race.
"That's the third time this season that Julia hasn't finished, but we know what the problem is," Cogdill said. "She's just got to have a little more restraint. Julia and Bella are best friends, and they've done everything together. Bella is just a step ahead of her, and she needs to let her go and just run Julia's race.
"I know she's going to do it at state, because she has to," he added.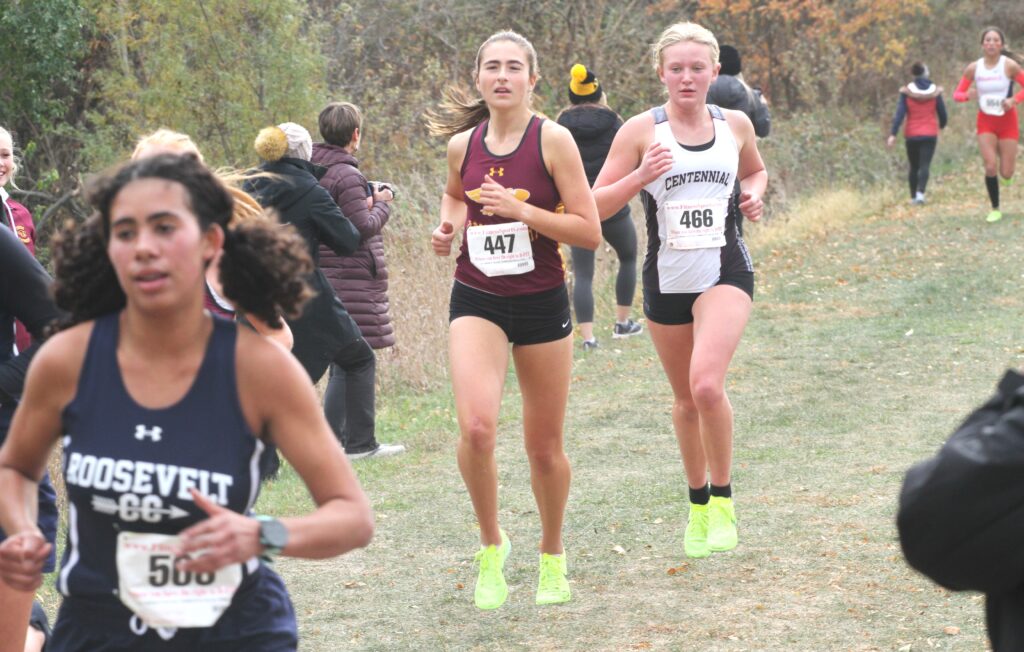 Drew Beason led Ankeny with a fifth-place finish. She was clocked in 18:44.
"My plan was to stay with (Quass and Mohrhauser)," Beason said. "I knew exactly where I wanted to run, I had a good mindset, and I finished how I wanted to."
Paige Beason took 11th for the Hawkettes in 19:30. Reagan Prendergast was 12th in 19:33 and also qualified for state as an individual.
"We were pretty confident," said Paige Beason. "We just reminded ourselves how important it was to give it everything we've got. We really just tried to get as many people as we could. I was really thinking about placement in this race."
Ankeny's Brylee Moyer placed 17th in 19:56. Sophia Graber took 22nd in 20:23, Gwen Briggs was 31st in 21:09, and Alex Gloviak finished 38th in 21:43.
"We were confident, but we were also very watchful of Urbandale," Klingensmith said. "We saw them come out of the gate really fast, and they were coming after us really hard. We were really trying to get Roosevelt, and we thought we could do it today. We were super close, but we'll have another shot at them next week, too."
Briggs ran for the first time after missing the last two meets due to a minor injury. She could be poised to improve next week, and so could Gloviak.
"One of our runners who is usually in our top five struggled today, and she came in at No. 7," Klingensmith said of Gloviak. "We weren't expecting that. But even with one person struggling, we were still able to make it into state. We were fortunate that we have some great girls who are very competitive."
The state meet will be held on Saturday, Oct. 29 at Lakeside Golf Course in Fort Dodge. The Class 4A girls' race begins at 2 p.m.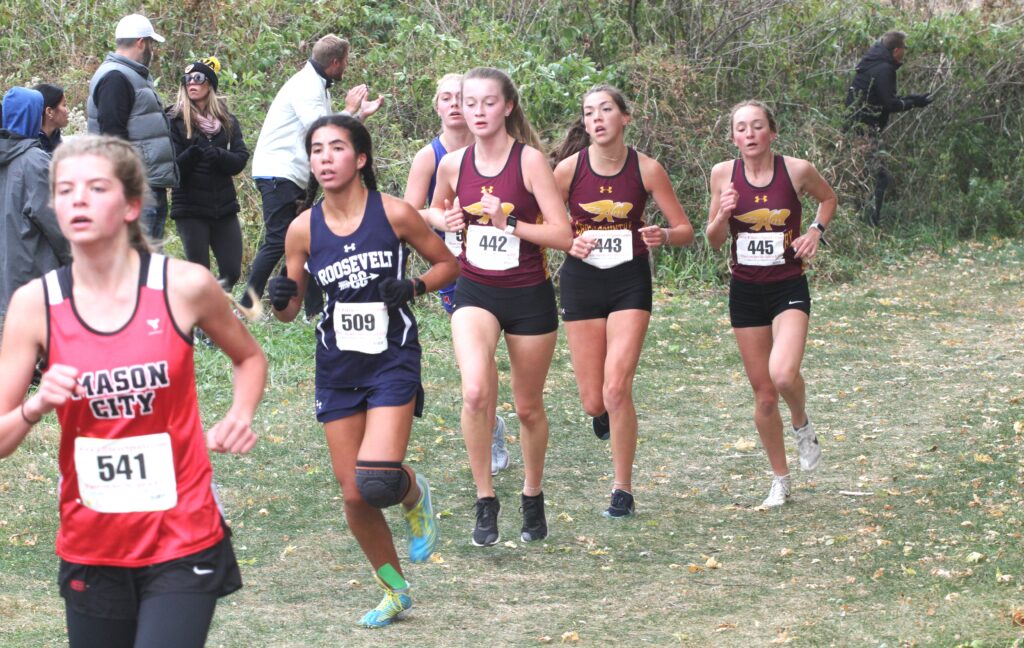 Centennial is making its ninth trip to the state meet in the 10-year history of the program. The Jaguars placed third in 2020, their highest finish ever.
"That's what is really motivating the team right now," Quass said of another top-three finish. "We want to be up on the deck like we were two years ago, especially for the younger girls who haven't had the chance to do that yet."
Centennial will need to defeat one of the top three teams–No. 1 Dubuque Hempstead, No. 2 Pleasant Valley or No. 3 Dubuque Senior–to reach the podium. The Jaguars finished 14 points behind Dubuque Senior in the Bud Williams Invitational on Sept. 29 at Iowa City.
"If our top three run a clean race, we just need two of our other girls to come through for us," Cogdill said. "We probably only need to run a B+ race and we'll end up on the podium. I think we have a nice chance.
"It's taper time now. We're going to freshen everybody up, and we'll be ready to roll," he added.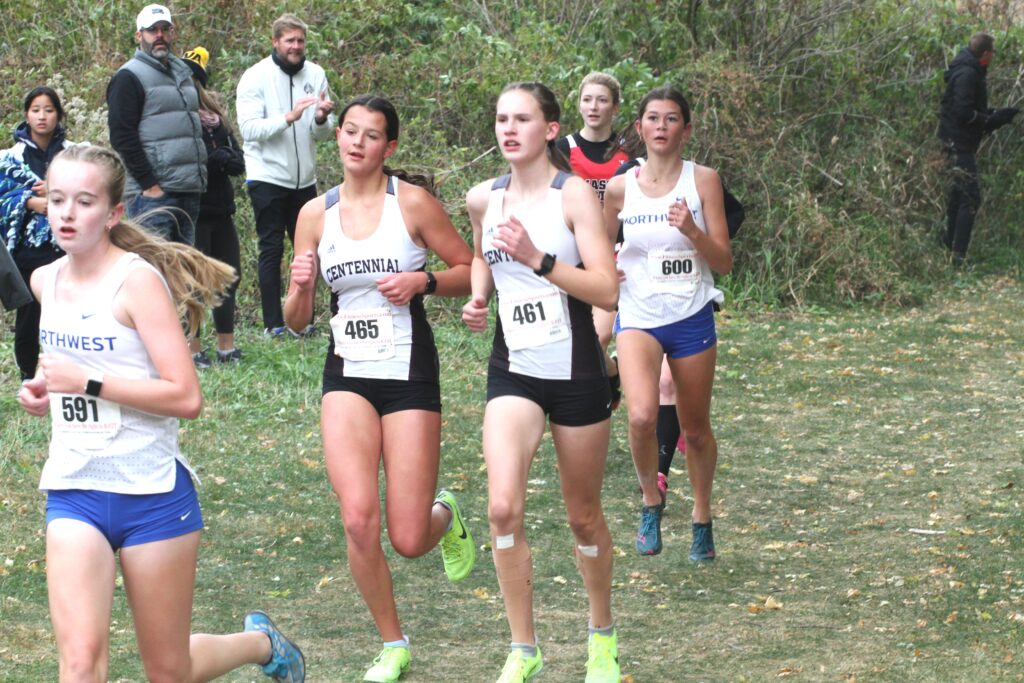 Ankeny, meanwhile, will be looking to make Klingensmith's final meet a memorable one.
"That's our goal," Drew Beason said.
Ankeny is making its third straight state-meet appearance. The Hawkettes placed sixth at last year's meet, their highest finish since 1988.
"I think our goal should definitely be top 10 and see where it goes from there," Paige Beason said. "We'll probably be able to get a lot more teams than we thought."