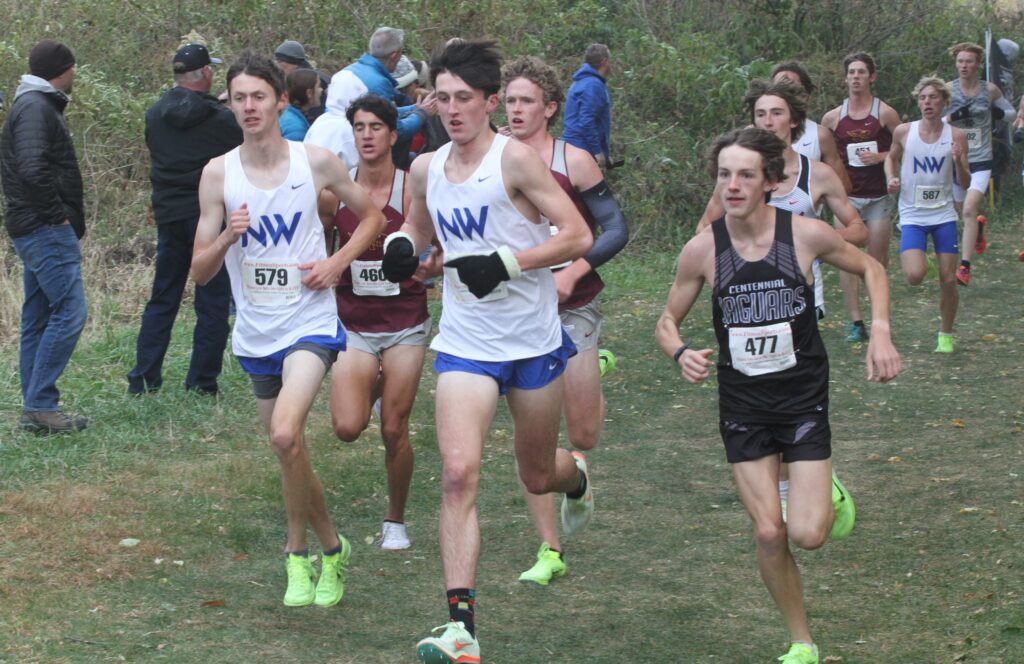 Ankeny Centennial's AJ Schermerhorn made a statement on Wednesday.
The Ankeny boys' cross country team will try to make one next week.
Schermerhorn raced to a victory in a Class 4A district meet at Marshalltown, allowing him to qualify for the state meet as an individual.
"My whole mentality this week was just focusing on this race and doing the best that I could and try to pull my team along with me," said Schermerhorn, who led the Jaguars to a fifth-place finish.
Schermerhorn, a junior, will be joined at the state meet by the ninth-ranked Hawks, who placed second on Wednesday with 50 points. No. 6 Waukee Northwest won the team title with 48 points.
No. 17 Urbandale also qualified for state by placing third with 73 points, edging No. 14 Des Moines Roosevelt by a lone point.
"Obviously, our team had the goal of being district champions," said Ankeny coach Jon Lindaman. "We fell two points short and that didn't happen, so I think the boys were a little disappointed immediately following the race. This, however, shouldn't take away from an overall really good meet for us. Credit to a really good Northwest team for showing up and competing hard. We can't wait to have another go at them next Saturday."
Schermerhorn broke away from a lead pack that included Ankeny's Ethan Zuber and Levi Hill to win the 5k race in a time of 15 minutes 41 seconds. He finished 5 seconds ahead of Urbandale's Tommy Hensley.
Schermerhorn waited until the second mile to take the lead, then gradually pulled away.
"That's the way I race every time," Schermerhorn said. "I start back and then kind of slowly work my way up and just try to hold on, but I felt really good. I was just trying to enjoy it as much as I could."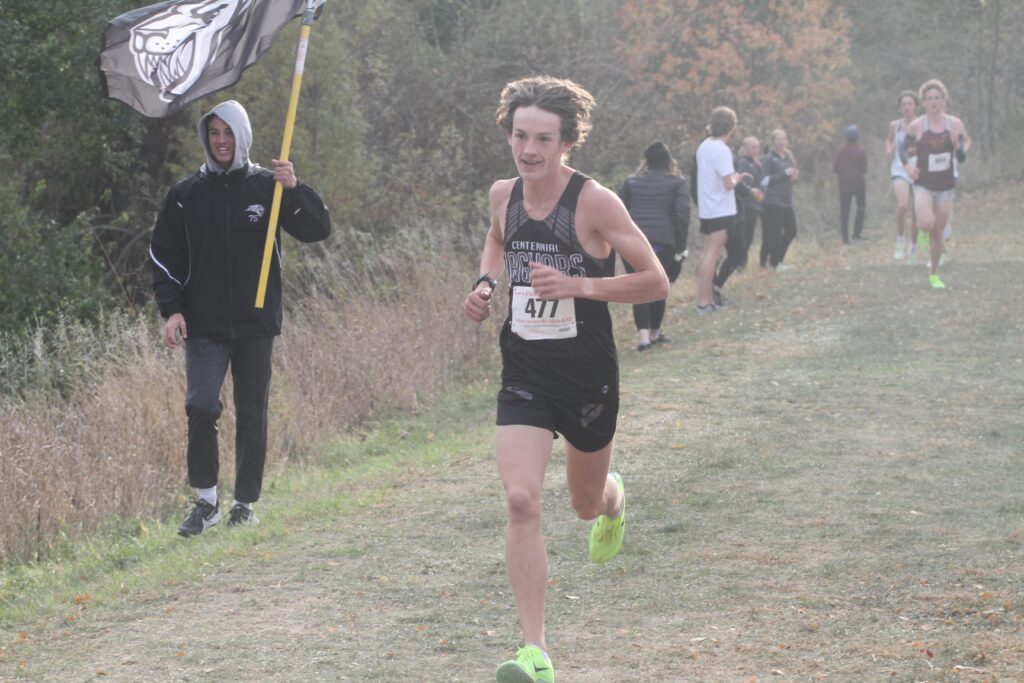 Hensley outkicked Zuber to earn his runner-up finish, and that allowed Urbandale to qualify for state. Otherwise, Roosevelt would have won the tiebreaker for third place.
Zuber finished third in a time of 15:48.
"That finish, I really wish I could have kept up with that guy (Hensley)," Zuber said. "He kind of got me right at the end."
Hill placed fourth in 15:59. He returned to Ankeny's lineup after sitting out the CIML Conference meet a week ago due to a minor injury.
"Levi sacrificed his individual race a bit to help try and keep the pace slower through the first 1k so our team could pack it up," Lindaman said. "He is a natural front-runner, and pushing the pace at the state meet will benefit him significantly. He will be looking for a top 10 position next week along with Ethan. Ethan dropped 7 seconds from an already stellar race earlier in the season, and knows he has more for next week."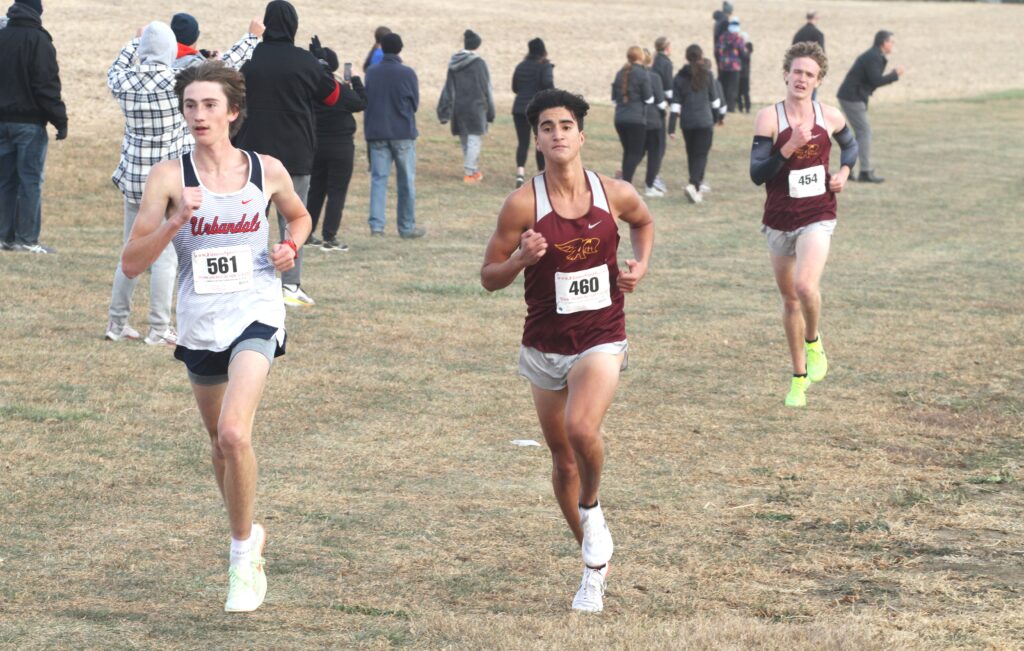 Jake Bosch placed seventh for the Hawks in 16:00. He also qualified for the state meet as an individual.
"Jake ran probably the toughest and grittiest race I have seen from us all season," Lindaman said. "He put the team on his shoulders and did everything in his power to get us the 'W'. He closed a huge gap with 800 (meters) to go and willed his way past three Northwest runners. This type of racing is what brings me joy as a coach. He ended up with a massive lifetime PR and nearly broke the 16-minute barrier."
Ankeny's Abel Squires placed 17th in 16:28. Tate Brownsberger took 19th in 16:32, Ike Smith was 23rd in 16:44, and Aidan Farrell finished 25th in 16:52.
"Six of our seven runners ran faster than they did at Marshalltown earlier this year," Lindaman said. "Abel was great for us and earned a spot on Ankeny's top 25 all-time list running a big time PR and dropping 40 seconds from his earlier race at Marshalltown. Tate dropped 5 seconds, Ike dropped a massive 19 seconds, and Aidan also dropped 21 seconds."
Northwest placed four runners in the top 10. The Wolves also got a 16th-place finish from Kellen Tuyls, who crossed the finish line just ahead of Squires.
"Coming to win was the goal," Zuber said. "A lot of our guys stepped up. Our third through fifth guys really did their part."
No. 20 Centennial finished with 118 points. The Jaguars were hoping to qualify for the third straight year, but came up short.
Aammin Hassan placed 27th for Centennial, while Brayden Vander Wilt finished 28th. They were both clocked in 17:04.
Austin Lundberg took 29th in 17:06. Jonas Smith placed 33rd in 17:27, Brendan Owens was 40th in 17:48, and Parker Lundberg finished 42nd in 17:56.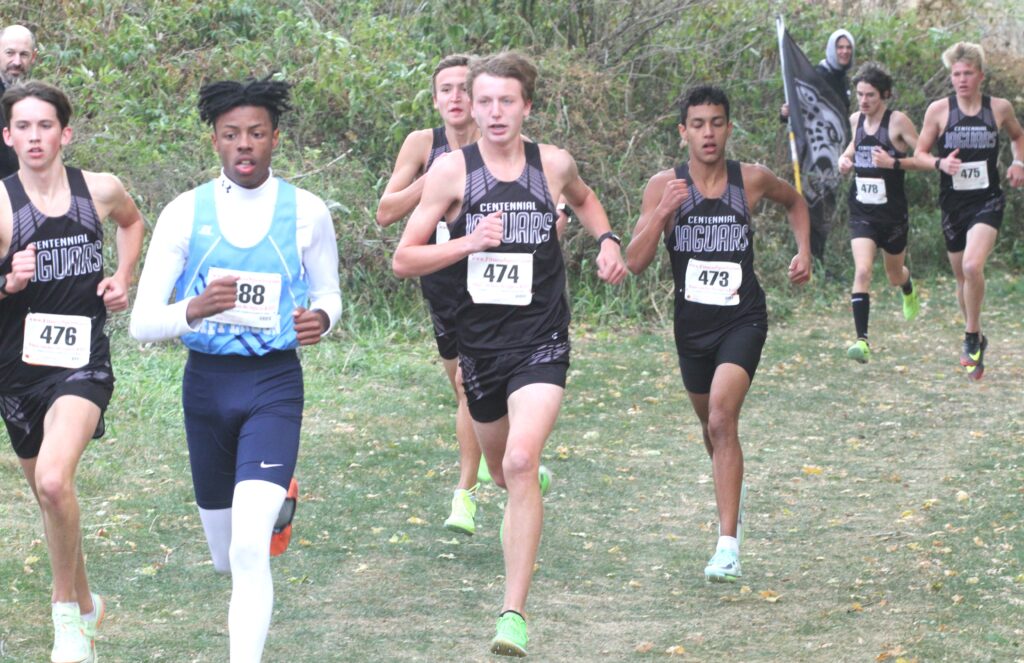 Schermerhorn will now prepare for the state meet, which is slated for Oct. 29 at Lakeside Golf Course in Fort Dodge. The Class 4A boys' race begins at 2:45 p.m.
"AJ is getting close to the school record of 15:20, which was set by Camden Cox (in 2017)," said Centennial coach Chad Fickbohm. "I think this race puts him in a good place mentally going into next weekend."
Schermerhorn placed 97th at last year's meet in 17:39.
"I definitely can run faster (than I did Wednesday)," Schermerhorn said. "Every week you can improve more and more, either mentally or physically. There's always room for improvement. My goal is to get on the podium."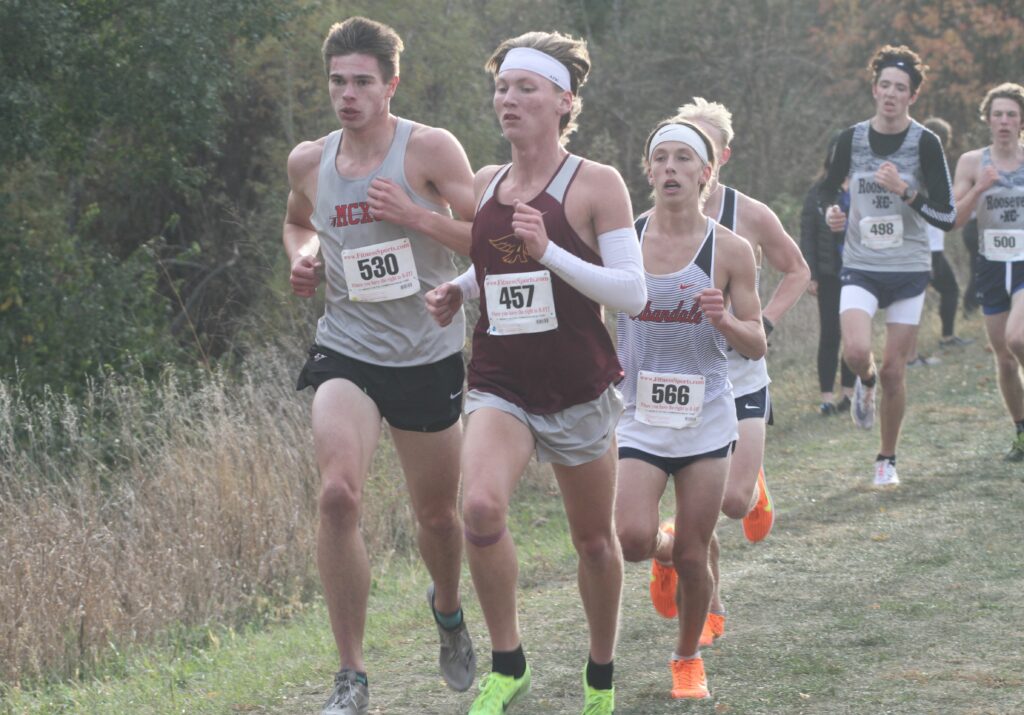 That is also the goal for Ankeny, which is seeking its highest finish ever under Lindaman. The Hawks' previous best was a fifth-place finish in 2018.
"We're really trying to peak and prepare for state," Zuber said.
No. 1 Dowling Catholic is seeking its second straight crown. The Maroons are heavily favored to repeat.
"The 2-10 team spots will be extremely tight, and it will boil down to the team that has all seven runners willing to redline their effort," Lindaman said. "At the district meet you need to survive and advance. We did that, and we'll iron out a few things for next weekend. We have had several races this year missing either our No. 1 or No. 2 runner, so I feel we will be flying under the radar a little bit for state."