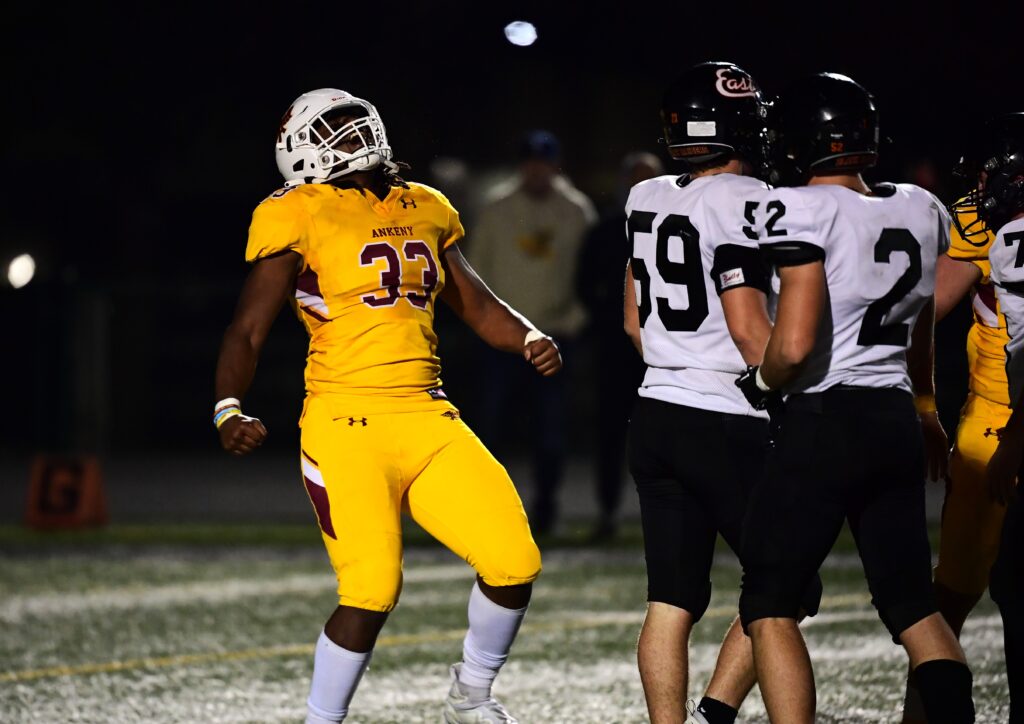 Survive and advance.
That's all that matters this time of the year.
The third-ranked Ankeny football team struggled offensively, but the Hawks' defense rose to the occasion in a 17-0 victory over No. 13 Sioux City East in the opening round of the Class 5A playoffs on Friday at Ankeny Stadium.
"Our defense played really well," said Ankeny coach Rick Nelson. "Those guys were everywhere."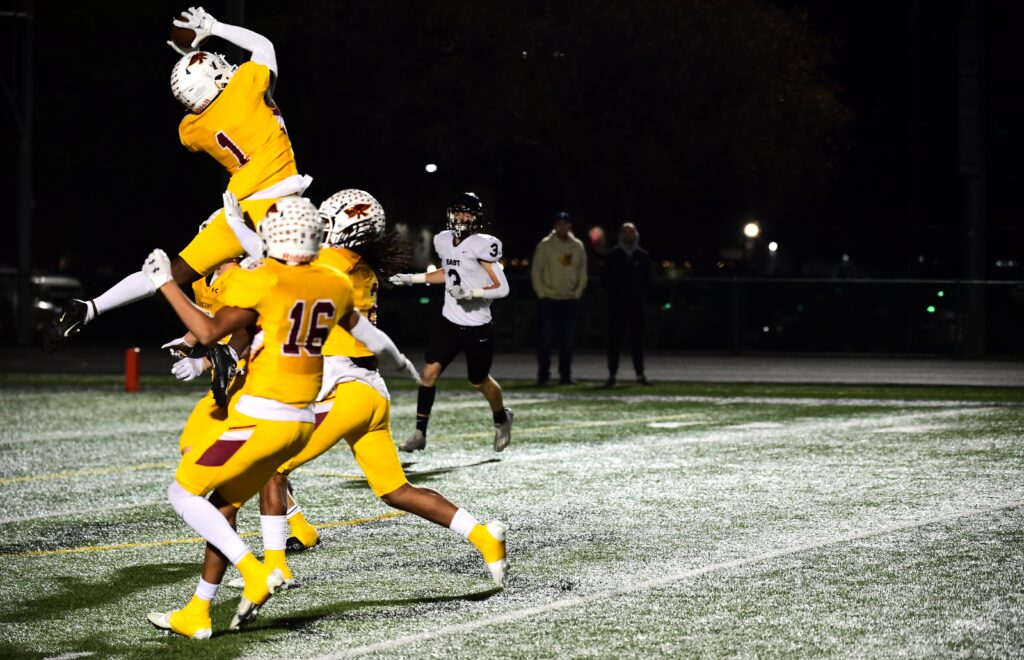 Sioux City East (7-3) was averaging 42.1 points per game and had scored 60 or more points in each of its last three games. But the Black Raiders, who were making their first playoff appearance since 2015, could not find the end zone against Ankeny's ball-hawking defense.
PJ Westover and Will Hinrichs each had an interception for the Hawks. Hinrichs also racked up a team-high 10 tackles.
"It was actually fun to watch," Nelson said of his team's defensive effort. "It wasn't so much fun to watch our offense, but it was fun to watch our defense."
Ankeny held a 7-0 lead at halftime. The Hawks finally got on the scoreboard when JJ Kohl connected with Evan Irlmeier on a 17-yard catch-and-run with 3 minutes 40 seconds left in the second quarter.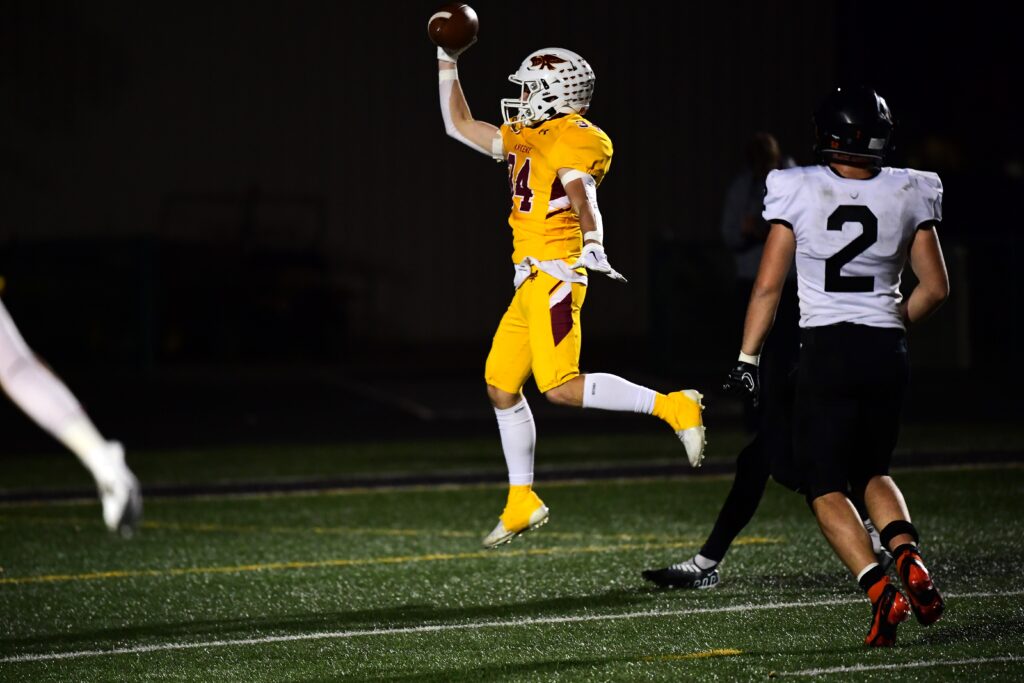 The Hawks extended the margin to 10-0 on a 31-yard field goal by Keeghan Warner, who is now 8-for-8 on the season. It came with 3:58 remaining in the third quarter.
Sioux City East turned the ball over on downs deep in its own territory late in the game. Kohl then fired a 14-yard touchdown pass to Jamison Patton with 3:46 to go to seal the victory.
Kohl completed 12-of-22 passes for 164 yards. Patton had five catches for 83 yards, and Irlmeier added four receptions for 51 yards.
Jazan Williams rushed for 75 yards on 17 carries.
"We ran the ball a little bit, but they were pretty stingy," Nelson said of the Black Raiders' defense. "They had four really nice D-linemen. We haven't faced a team with four dudes like that who were pretty salty.
"We had a sophomore starting at right tackle. They had a guy who gave us some fits early on, but then (Lukis) Beroth figured him out and did a nice job in the second half," he added.
Kohl contributed with his foot as well as his right arm. He took over the punting duties after Reid Johnson left the game with an injury.
"You should have seen JJ's eyes when I said, 'Hey JJ, you're punting,'" Nelson said. "He was like, 'What?' But he did a great job. It was amazing. His first one was about 55 yards so that was a pleasant surprise."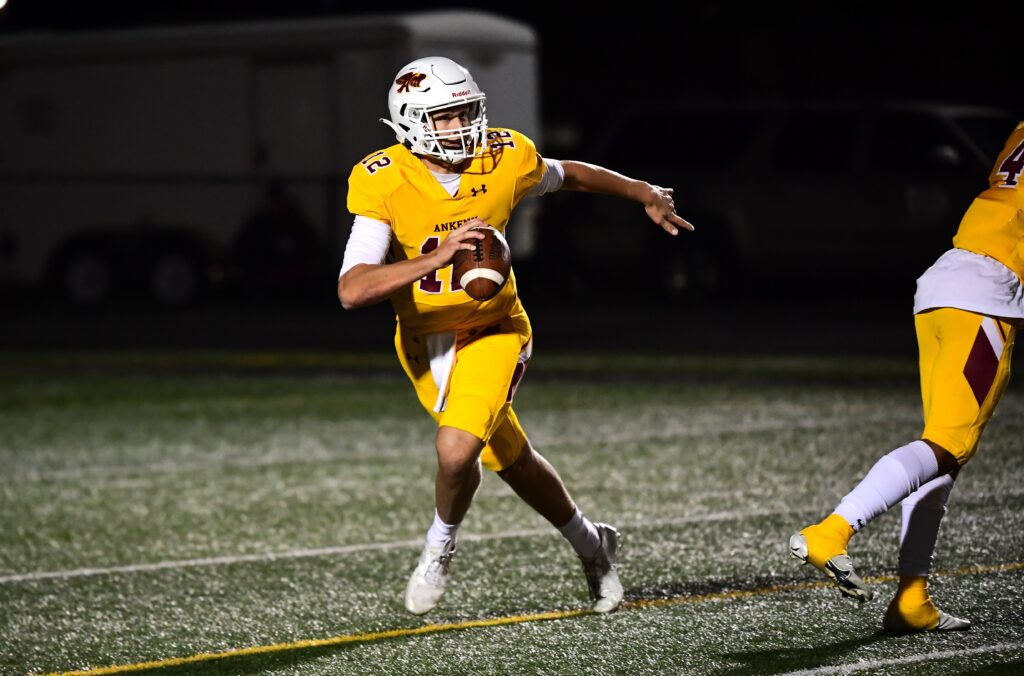 The loss of Johnson further depletes an Ankeny secondary that was already playing without Dylan Dougherty, who has a hip injury. Defensive lineman Cade Bennethum also missed the game–he is out for the season.
"(Linebacker Trent) Jacobs played a little bit," Nelson said. "Reid got hurt and probably won't play next week. But everybody has problems this time of the year. It's unfortunate."
Ankeny (9-1) earned its seventh straight victory. The Hawks won despite being held to their lowest point total since falling to Dowling Catholic, 17-10, on Sept. 9.
"Our kids fought," Nelson said. "We just didn't put up as many points as we would have liked, but we won so we're happy."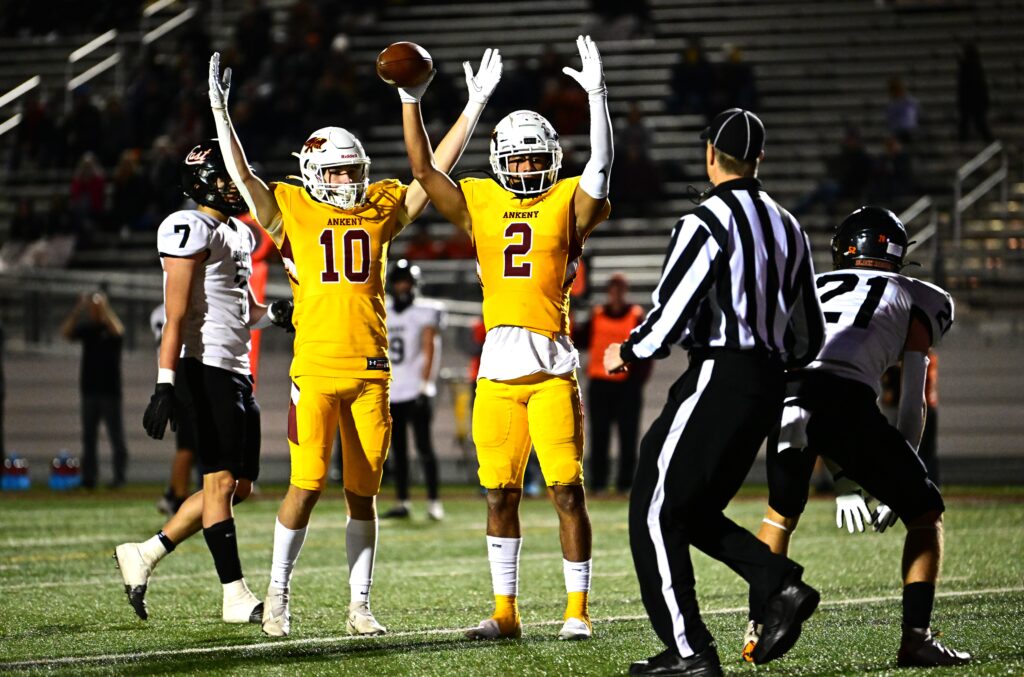 Ankeny will host No. 6 Johnston (7-3) in the quarterfinals on Friday. After letting a big lead slip away, the Dragons escaped with a 38-31 overtime win against No. 11 Iowa City High in the first round.
"Johnston won a heck of a game," Nelson said. "Iowa City fumbled as they were going in to score, and that's how it ended. That was crazy."
The Dragons have won four games in a row since losing to Dowling, 42-19, on Sept. 30.
"I haven't watched them once," Nelson said. "We haven't had any crossover games so we'll have to get busy this weekend. We'll regroup, watch the film (Saturday) and see what we can do with them."