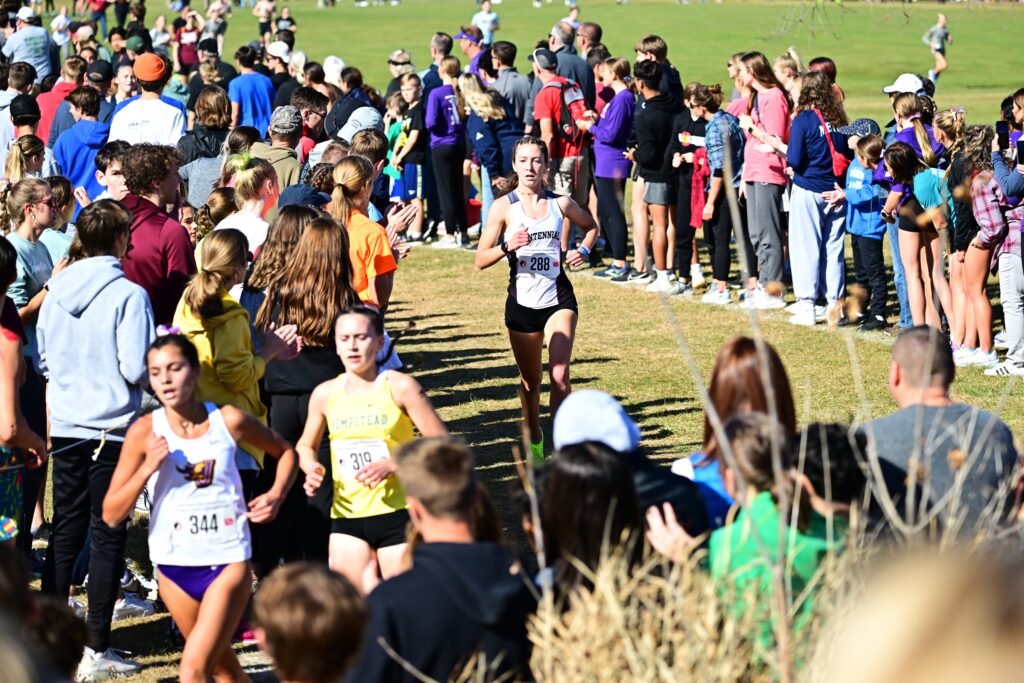 The final race of Rondi Quass' high school cross country career could not have gone much better.
The Ankeny Centennial senior raced to a fifth-place finish in the girls' Class 4A state meet on Saturday at Lakeside Golf Course in Fort Dodge. She broke her own school record with a time of 18 minutes 16 seconds on the 5k course.
"That was probably about the best that it could have gone," said Quass, who was in 12th place after the opening mile. "The goal was to go out with my teammate Anika (Mohrhauser) again and then try to surge the last 1k. We moved up throughout the race, and by the time I got to the last 1k I had set myself up really well."
Quass, who was ranked 10th going into the meet, ends her career as a three-time placewinner. She took 14th as a sophomore in 2020 and finished eighth last year.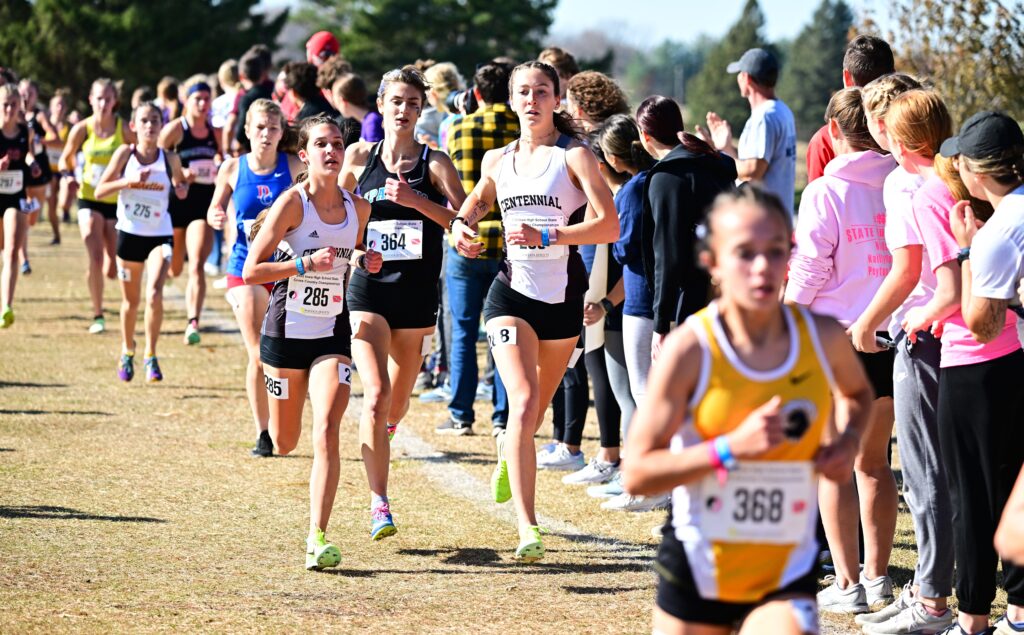 Kate Smith is the only other medalist in program history. She placed 10th in 2013 and 11th in 2014.
"I'm so happy. (Top five) was my goal for today," Quass said. "I wanted to go under 18 (minutes), but I'm really happy with my time considering the course was long."
Quass will take her talents to the University of Tennessee next year.
"Top five was her A+ goal, and seeing it unfold for her was incredible," said Centennial coach Eric Cogdill. "She always brings her game at the end. I'm very proud of her efforts and the leadership she gave this team."
Adrienne Buettner-Cable of Des Moines Roosevelt won the race in 17:41. She finished about 20 seconds ahead of runner-up Olivia Verde of Johnston.
Julia Gehl of Dubuque Hempstead took third in 18:03 while leading her team to a repeat title. The Mustangs finished with 60 points.
No. 5 Johnston took second with 105 points, and No. 4 Dubuque Senior was third with 135. No. 3 Centennial was seeking a second top-three finish in three years, but scored 151 points and had to settle for fourth place.
"Our goal was definitely to get top three," Quass said. "But anything can happen at the state meet, and I'm proud of all the girls' efforts."
Still, the Jaguars placed three girls in the top 22–something that only Hempstead was able to match. Mohrhauser took 16th in 18:52, and Bella Hodges finished 22nd in 19:26.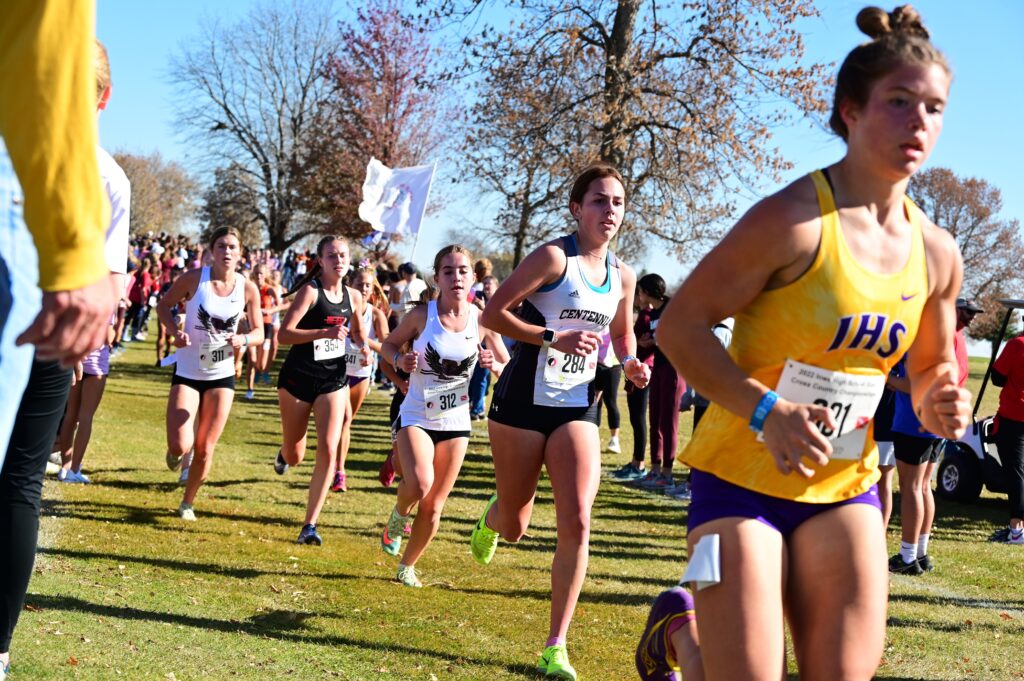 "That was right in the area where Cog told me I would finish, so I was happy with it," said Hodges. "It's a really nice day–the weather is good. Not a lot of wind, so definitely better than last year."
Mohrhauser was in position to earn a spot on the awards podium after the second mile, when she was in 12th place. But she was passed by a few runners toward the finish, including 15th-place finisher Drew Beason of Ankeny.
"I'm absolutely proud of the girls," Cogdill said. "They were faster than the team two years ago that got third. We had the fastest team in school history and a tremendously successful season. Through 1-2-3, we were ahead of where we were two years ago by about eight places apiece. That's incredible."
Cora DenHartog placed 57th for the Jaguars in 20:11. She moved up from 101st place after the first mile.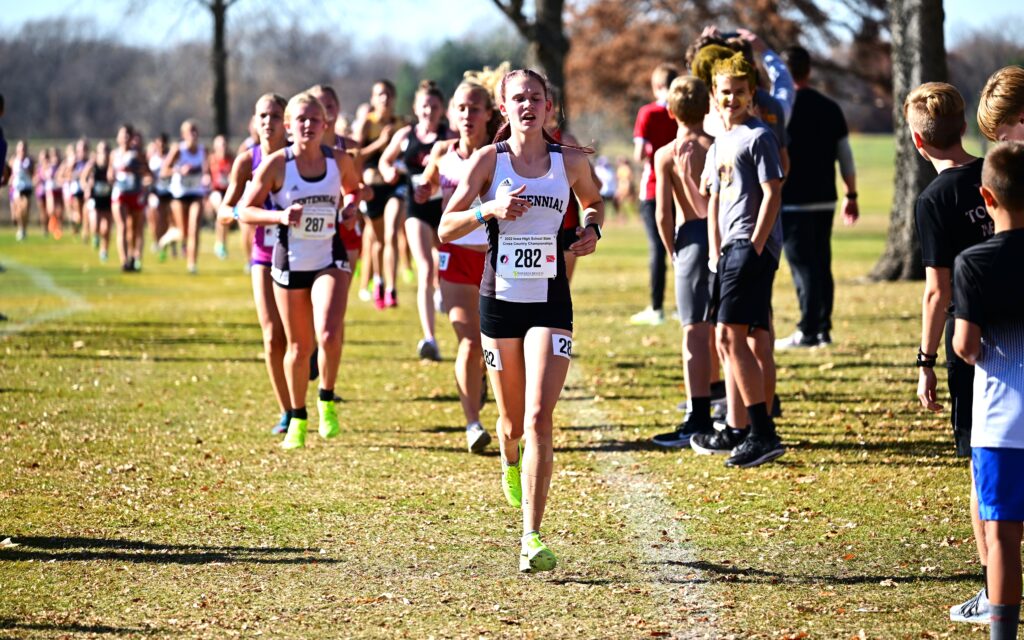 However, the gap between DenHartog and Centennial's other runners proved to be the difference in the battle for third place. Anja Peck took 78th in 20:39, and Kylee Patterson finished 104th in 21:12.
Julia Flick did not finish the race.
"They poured their hearts out there and really gunned for it," Cogdill said. "You can't really fault their efforts and their performance. We thought if we all ran B+ races we'd be good, and we were awfully close. It's just that there were three teams better than us, and a lot of teams that weren't better than us.
"Cora finishing where she was, that was fantastic. We were just missing that extra runner. We said all year it would come down to those 4-5 runners. We just didn't have that today," he added.
Quass is the only Centennial runner who will graduate.
"We're kind of disappointed, but almost everyone will be back next year," Hodges said.