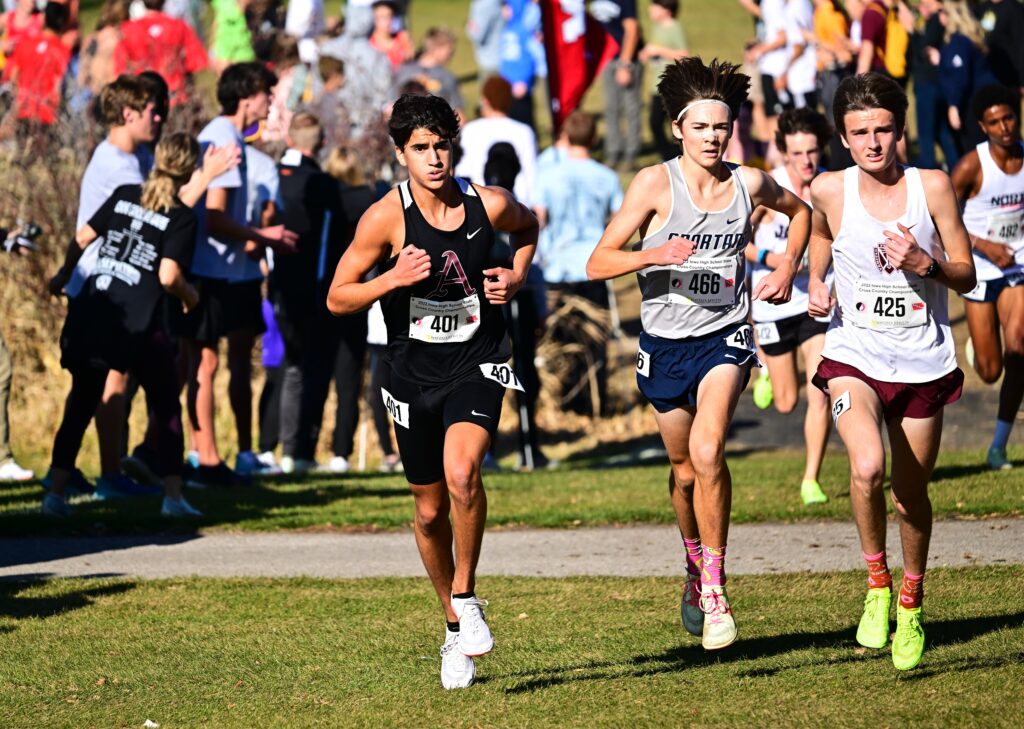 The Ankeny boys' cross country team entered Saturday's Class 4A state meet ranked No. 7 in Class 4A.
The Hawks were seeking their highest finish ever under coach Jon Lindaman, who guided the team to a fifth-place finish in 2018.
They accomplished their goal with a tremendous performance–and even earned a spot on the awards podium for the first time in two decades.
Ankeny placed third with 158 points on a picturesque day at Lakeside Golf Course in Fort Dodge. The Hawks matched the highest finish in the modern era.
"I'm just excited for our team victory and how our guys came out here and competed," said Ankeny junior Abel Squires. "Nobody expected us to do anything, but we showed up."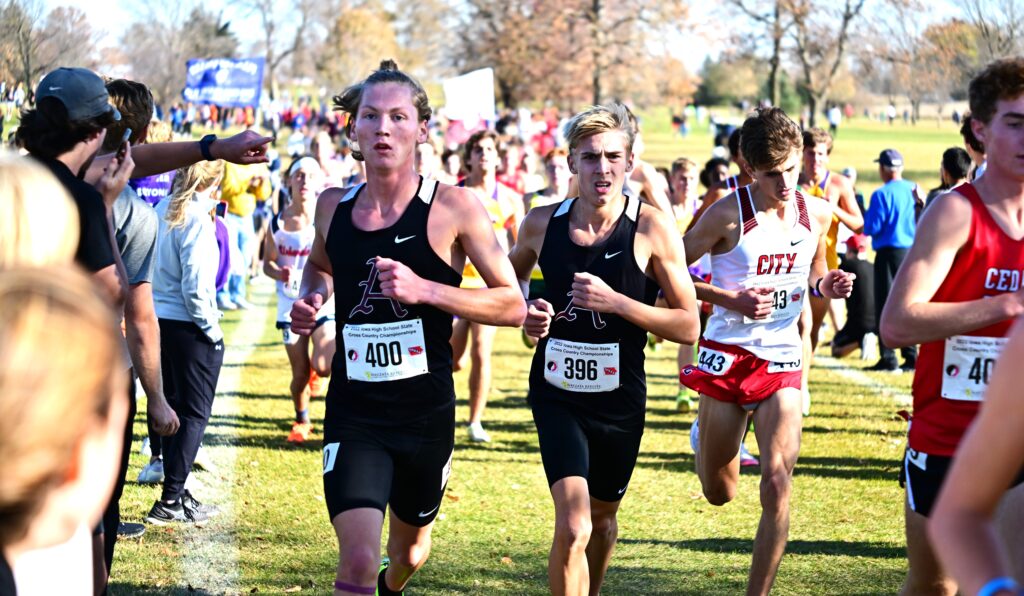 Ankeny earned back-to-back third-place finishes in Class 3A in 2001-02 under longtime coach Steve Arneson. Those squads were ranked fifth and 10th, respectively, heading into the state meet.
This year's team was ranked as high as No. 2 in Week Four but later dropped several spots and was coming off a runner-up finish in the district meet on Oct. 19 at Marshalltown.
"We did so good because of great coaching, a great team, and it was a team effort getting up there (on the podium)," said Ankeny sophomore Ethan Zuber. "It's just the whole culture of the program–from coaches all the way through to the parents getting involved with pasta parties and team dinners."
Top-ranked Dowling Catholic easily won its second straight crown. The Maroons placed five runners in the top 25 and finished with 51 points.
No. 2 Johnston was second with 124 points. Ankeny finished 20 points ahead of No. 4 Norwalk, a team that had defeated the Hawks four times this fall.
"We never had a doubt all season that we were going to be a podium team," Squires said. "From the first meet we knew this was a special season and a special team."
The Hawks also finished 70 points ahead of No. 6 Waukee Northwest, which placed 11th in the 15-team field. The Wolves had edged Ankeny by two points to win the district title.
"I could not be more proud of this group of young men," said Lindaman. "They had a plan from day one of summer training. They all bought in and decided to flip the script on how they viewed themselves as a team. Rather than being content to get to the state meet, they decided they wanted a podium finish. Instead of just saying they wanted something, they were determined to make it happen all season.
"They endured several highs and lows along their journey, but never lost focus on who they were and what they were going to accomplish. Throughout the season they were humble in victory and gracious in defeat, which speaks volumes to the kind of kids they are. I don't think anyone in the state saw the No. 7-ranked team bringing home a trophy, but these 10 kids knew all along it was going to happen. As a coaching staff, we are just so proud of them. It has been an honor and a privilege to coach these kids all season long," he added.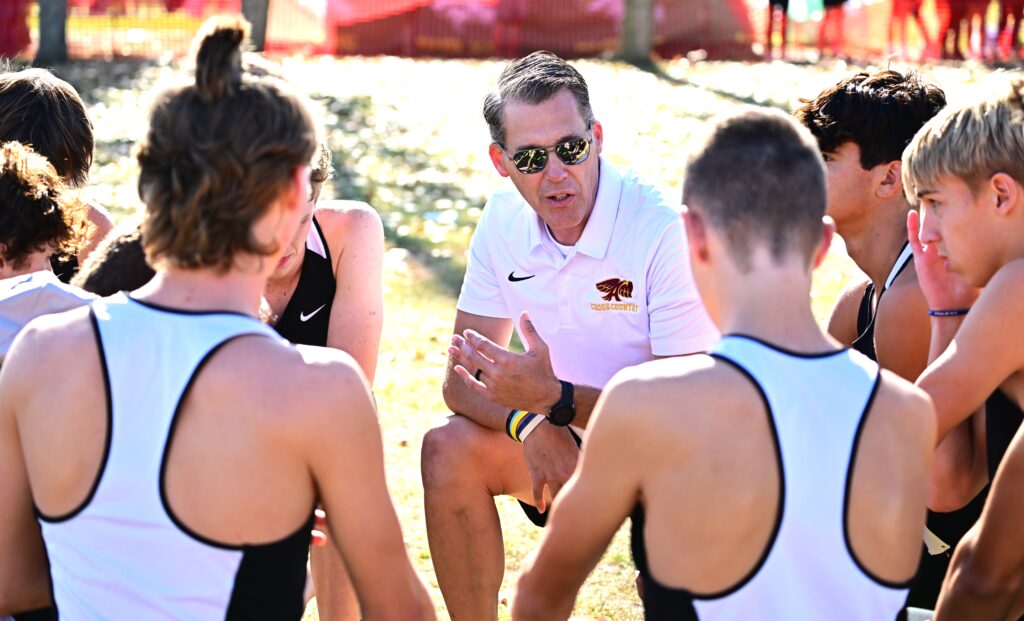 Dowling Catholic's Jackson Heidesch pulled away from Ford Washburn of Iowa City High to win the 5k race in a time of 14 minutes 57 seconds. He became the first Iowa prep to break the 15-minute mark at the state meet.
Zuber earned a spot on the awards podium along with Ankeny Centennial junior AJ Schermerhorn. Zuber placed 11th in a time of 15:58, finishing about a second ahead of Schermerhorn.
"It's exciting," said Zuber, who was ranked 15th going into the meet. "(It's) not top 10, but I laid it all out there and did what I could. I'm happy with how I did."
Zuber and teammate Levi Hill ran with a large group of runners at the front of the pack early in the race. They both ran the opening mile in 4:54.57, putting them less than a second behind front-runner Jaden Merrick of Cedar Falls, a freshman.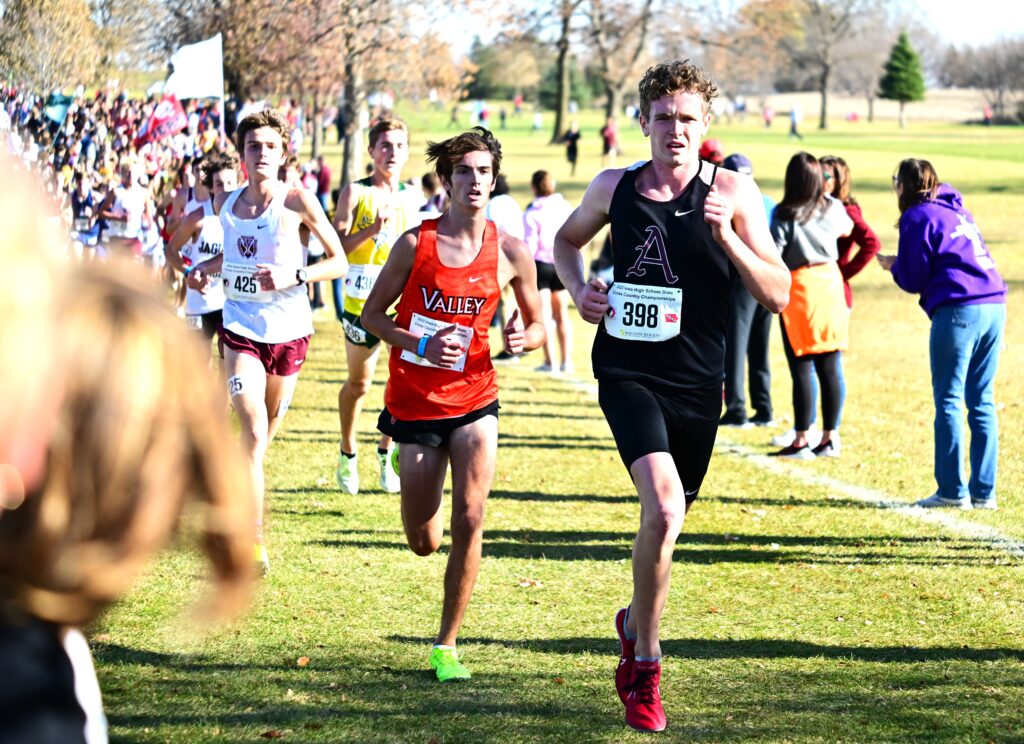 "We went out a little bit faster than we expected," Zuber said. "We thought everyone was going to go for more negative (splits), but it was really just the whole way pushing it. But we all stepped up. We went out fast and maintained and did what we had to do to get that third place."
Zuber suffered through an injury-plagued season as a freshman. He did not run in last year's state meet.
"Ethan put an exclamation point on an incredible season," Lindaman said. "Because he missed last year with an injury, this was his first year of cross country…and what an awesome year it was, finishing with an all-state performance. I know some headlines and social media posts following the district meet provided a little extra incentive for him rolling into the state meet. I'm really excited to see what this kid will accomplish in the coming seasons. The top eight runners all graduate leaving the field wide open, so along with a couple strong kids from Valley and Dowling Ethan should be right there looking for a state title."
Hill, the only senior in Ankeny's lineup, went on to place 19th. He was clocked in 16:19.
Hill has been the catalyst for the team's success.
"He has been our rock and does everything the right way," Lindaman said. "We would not be where we are without him, and it was because of his leadership–especially the last month of the season–that kept these guys believing in themselves and what this team could do. Levi had such a remarkable season, and I am so proud of him. He is the kind of kid that you just can't replace on a team. The grit he showed down the homestretch kept us on track for a strong team finish."
Squires took 44th in 16:38. He moved up from 68th place after the first mile.
"Unknown to Abel, the coaches kept talking about how he would likely be the key to our team making the podium or not," Lindaman said. "It would come down to how our No. 4 (runner) would stack up against the field. Abel responded to this challenge and was an absolute beast, gaining 10 spots in mile 2 and an additional 14 spots in mile 3. His drive was a big reason our team placed as well as it did."
Jake Bosch placed 53rd for the Hawks, and Tate Brownsberger finished 54th. They both posted a time of 16:49.
"Jake was our hero at the district meet and provided our team the spark it needed going into state," Lindaman said. "He got out strong and made some really nice moves in mile 2, getting our pack moving in the right direction. His final 800 didn't go how he wanted, but he never gave up and did what he needed to.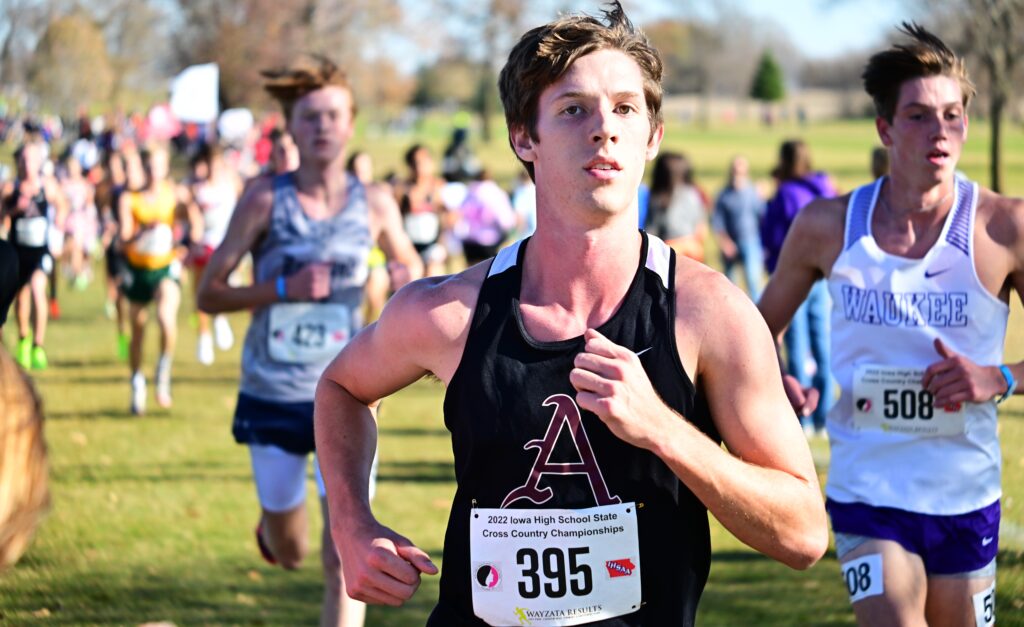 "Tate was another hero of our state meet. He had a huge day and because our 3-4-5 were so tight that proved to be the difference between us and Norwalk and (No. 3) Iowa City High. Just a sophomore, Tate is still learning each time he races, and this was a big time performance from a kid that previously did not have any state meet experience," he added.
Both Brownsberger and Ike Smith, who took 65th in 16:56, improved 13 places after the opening mile. Ankeny's other runner was Aidan Farrell, who finished 113th in 18:04.
"Ike continued to do what he has done all season," Lindaman said. "He is an intense competitor and just goes out and gives it everything he has each race. His coachability has been something we have appreciated all season, and his ability to execute his race plan was fun to watch. I am so excited for him to be a core part of keeping this team rolling over the next three years.
"Aidan's race did not go how he wanted, but it certainly wasn't from a lack of effort. He refuses to ever give in, and regardless of his situation will force himself to get across the finish line at any cost. Aidan's year-round commitment is an inspiration to this team and its success," he added.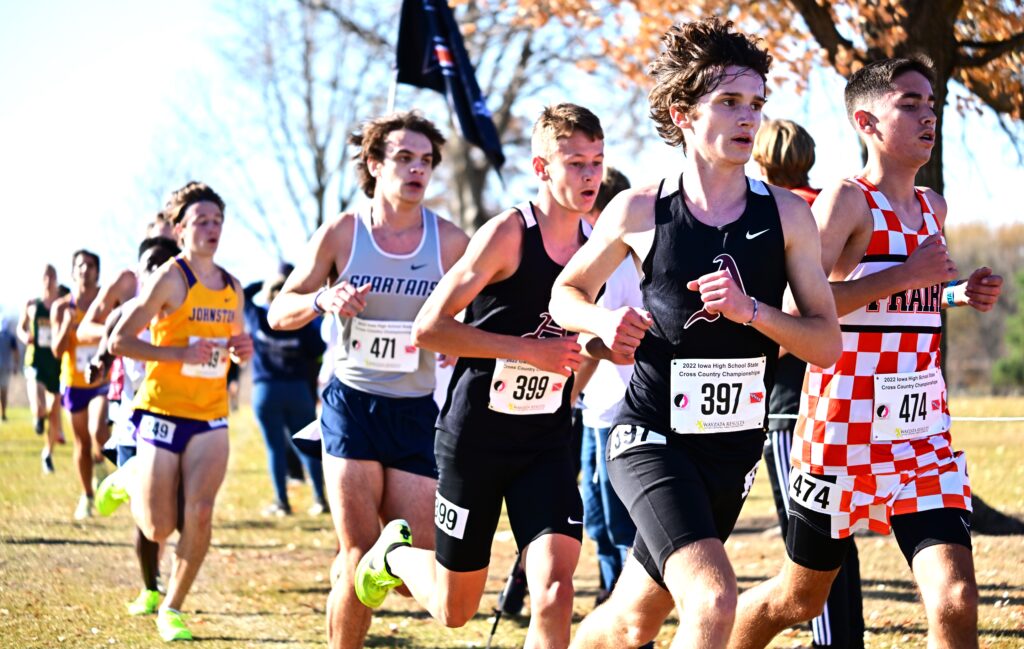 The bottom part of Ankeny's lineup proved to be the difference, according to Lindaman.
"Our top three carried us in several meets this season, and don't get me wrong they were all great once again, but it really was our 4-7 that proved to be the difference," Lindaman said. "It was a really fun day and a great finish to a really fun season. These kids are awesome, and I appreciated coaching them every day."
Arneson was part of the crowd at Saturday's meet. He coached the Hawks to 18 consecutive state-meet appearances from 1990-2007.
Ankeny then made four more trips to state before that streak finally ended after 22 years.
"This team needs to feel really good about what they just did," Lindaman said. "Arneson created such a rich tradition of cross country in Ankeny and had an impressive run of state-meet finishes in the 90s and early 2000s. We are just trying to regain that culture of being a perennial contender at the state meet, and with the group we have returning we plan on being right back in the mix next season."