Ankeny Centennial's Averi Porter was hoping to celebrate her birthday with a huge victory.
Unfortunately, the Jaguars' upset bid came up just short.
The second-ranked Johnston girls' basketball team scored the game's final seven points and escaped with a 46-40 win at No. 6 Centennial on Tuesday. The defending Class 5A state champion Dragons extended their winning streak to 32 games.
"We definitely showed a lot of fight," said Porter. "We got down, but we bounced right back. We just couldn't finish it out."
Centennial took a 40-39 lead on a pair of free throws by Kennedy White with 3 minutes 9 seconds left. But the Jaguars never scored again.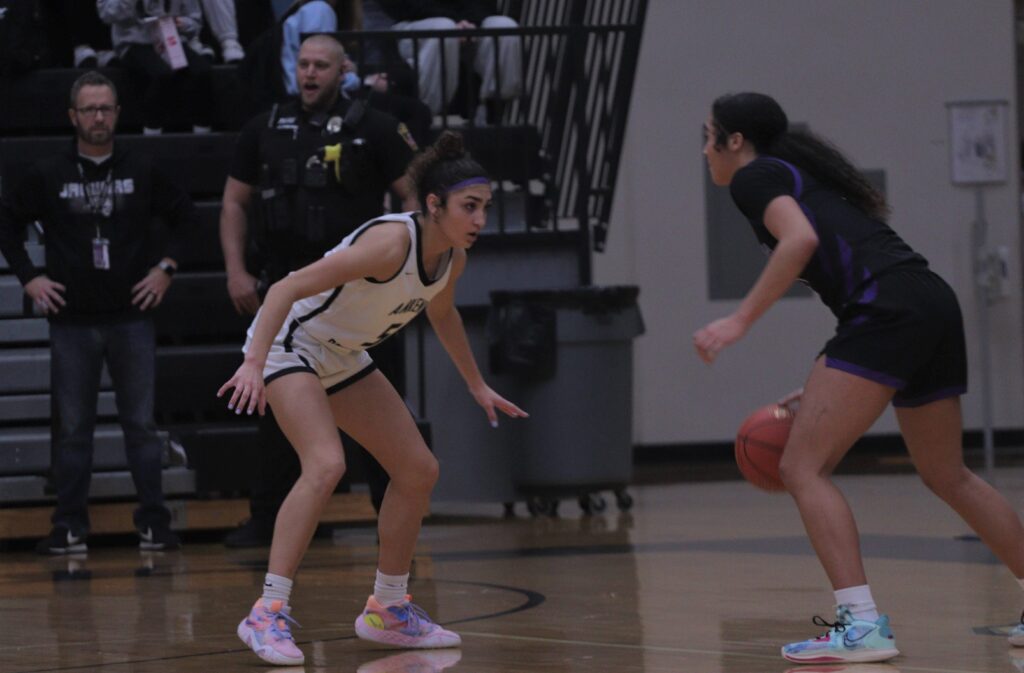 Iowa State recruit Aili Tanke scored off a rebound to put Johnston ahead, 41-40, with 1:59 to go. Emma Hampton scored on a backdoor layup to make it 43-40 with 55 seconds left, then made two free throws to seal the win with 20 seconds remaining.
"I'm really proud of how hard we played," said Centennial coach Scott DeJong, whose squad has lost three games by a total of 11 points. "I really like our team. We left everything out there."
The Dragons improved to 5-0 in the CIML Conference and 6-0 overall. Centennial's records dropped to 1-3 and 6-3.
During its winning streak, Johnston has had just three games decided by single digits–two of them against the Jaguars. A year ago, Centennial held a 37-36 lead at Johnston before the Dragons went on a late 10-0 run to post a 48-39 triumph.
"Against Johnston, you've got to play 32 minutes," DeJong said. "Our kids knew that, and we didn't quite do it. But we're getting closer."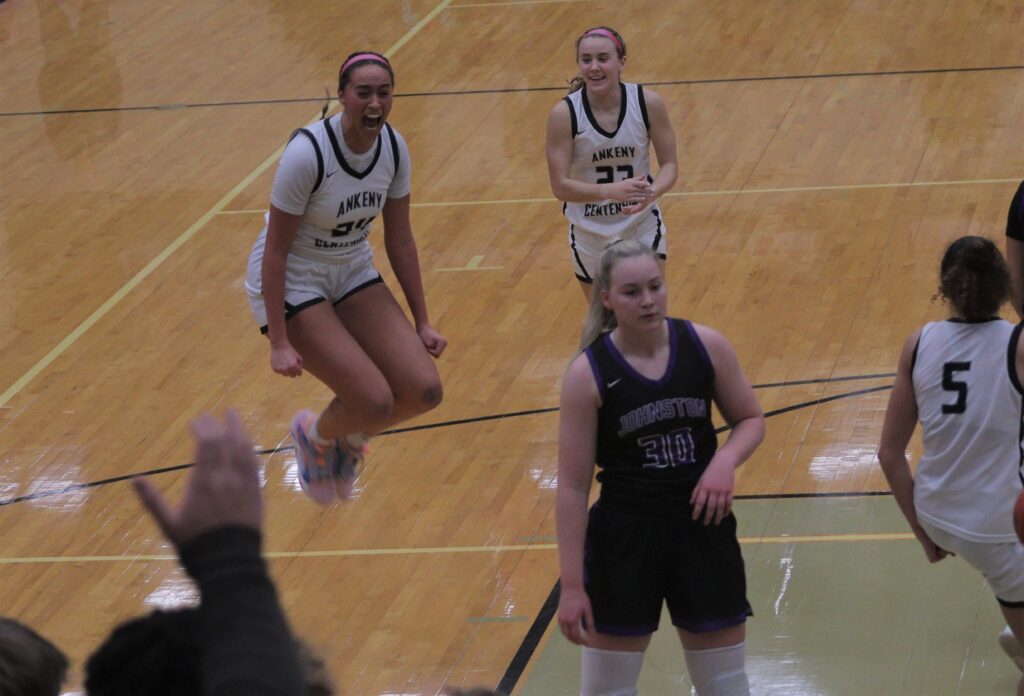 The Jaguars were forced to battle back after Johnston jumped out to an early 9-0 lead. Freshman Jenica Lewis capped the Dragons' run when she converted a steal into a 3-point play with 6:03 left in the opening period.
"We got off to a poor start, but we didn't fold our tent," DeJong said. "We kept battling back and gave ourselves some chances."
Another steal and layup by Lewis gave Johnston its biggest lead, 17-6, midway through the second quarter. But Centennial pulled to within 19-14 at halftime, then opened the third quarter with a 15-6 run.
White had seven of her 14 points in the period, including a 3-point play that gave the Jaguars a 29-25 lead with 3:11 left.
"There was hope, but they're a good team and they came back," Porter said of the Dragons. "They know how to do that."
Johnston then answered with an 11-0 run. Lewis hit a 3-pointer to give the Dragons a 30-29 lead after three quarters, then opened the final period with another 3-pointer before converting a steal into a 3-point play.
"She's a great player," Porter said of Lewis. "It's expected that she's going to make those plays. She's a DI athlete."
Centennial made one final run, scoring the next nine points to take a 38-36 lead with 3:49 left. Porter capped the run with back-to-back 3-pointers.
However, Aaliyah Riley responded with a trey for the Dragons just 22 seconds later, setting the stage for the last 3 minutes.
"That was a huge 3 by Riley, and Lewis got loose there a little bit," DeJong said. "To give them credit, that's what they do. That's why they've won so much."
Only four Johnston players scored. Lewis led the way with 15 points and five steals.
Riley had 13 points and three assists, while Hampton added 10 points and four blocks. Tanke scored eight points and grabbed 11 rebounds.
Porter finished with eight points for the Jaguars, who shot just 27.5 percent from the field (14-of-51) and had 14 turnovers.
"We've just got to fight to the end," Porter said. "We'll get there. We're almost over the hump. I think there's a lot of hope, but it's still a disappointing loss."
Jaeden Pratt and Mya Crawford each had seven points and 13 rebounds for Centennial. Pratt also had four assists and two steals.
The Jaguars outrebounded Johnston by a 42-28 margin.
"I was just super pleased with our effort," DeJong said. "I thought we were better at the end of the game than (we were at) Valley (on Friday), so that's growth. We've got a lot of room to improve. Offensively, we can improve so much. I think we've got a chance to be an elite defensive team, and you saw that tonight."
Centennial will travel to Waukee on Friday for another conference game. The No. 12 Warriors are 1-4 in the league and 2-4 overall.