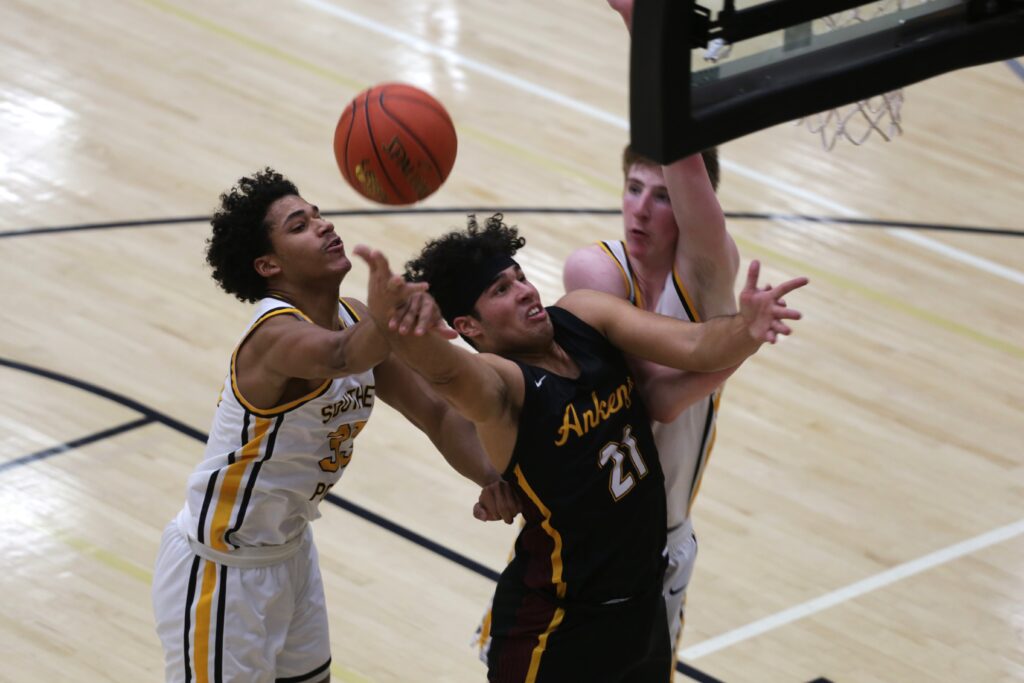 Earlier this season, the Ankeny boys' basketball team was finding ways to lose games.
Now, the Hawks are doing just the opposite, finding ways to come through in the clutch.
Ankeny extended its winning streak to three games with a 59-55 victory at Southeast Polk on Friday. The Hawks overcame a 10-point deficit in the second half.
"It's a pretty good win for us," said Ankeny junior Lio Aguirre. "It's what we need right now."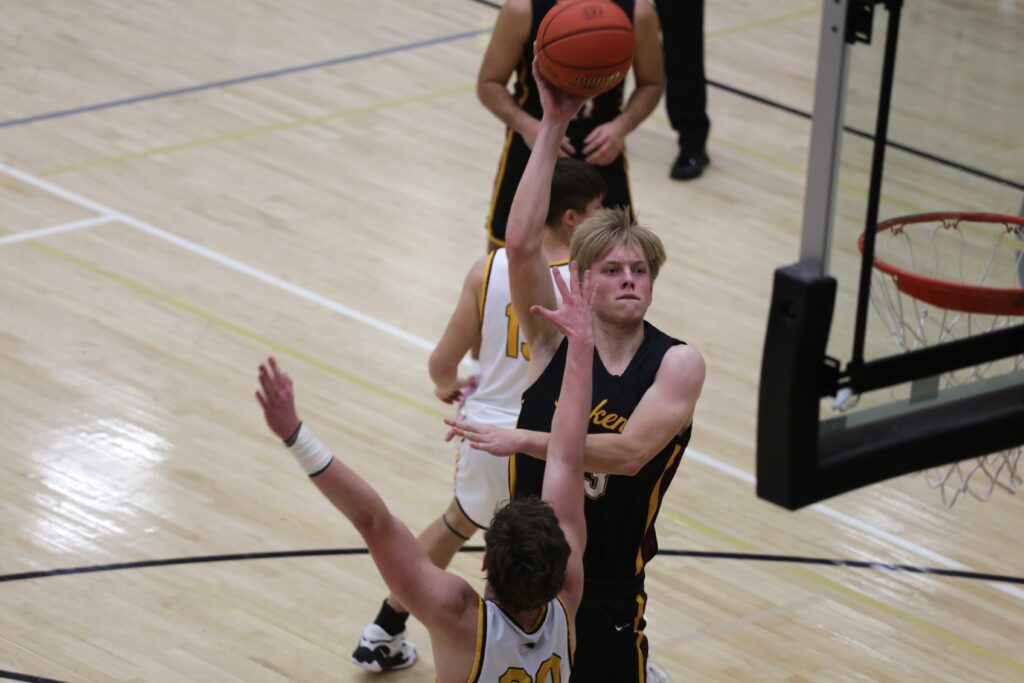 Ankeny ended a five-game losing skid with a stunning 56-51 upset over third-ranked Waukee on Jan. 13. The Hawks then posted a 63-58 triumph over Dallas Center-Grimes on Tuesday before winning another close game on Friday.
"I think it was important in the sense of their mentality and their excitement for playing," said Ankeny coach Brandt Carlson. "It's important obviously just to keep momentum going. Winning is a habit sometimes, and so is losing. We're proud of our guys. It was fun, and we're just glad to keep it going."
Carson Johnson scored 15 points as Ankeny improved its records to 4-7 in the CIML Conference and 6-9 overall. Aguirre and Maddox Ward each had 14 points, and Cash Schoolen added 10.
The Hawks swept the season series against Southeast Polk, which fell to 1-10 in the league and 2-11 overall. Sophomore Bode Goodman scored a game-high 21 points on 8-of-13 shooting to lead the Rams.
Ankeny never trailed in the first half, but led by only 32-31 at halftime after Southeast Polk scored the final six points of the second quarter. The Rams then opened the second half with an 11-0 run and took a 42-32 lead on a 3-point goal by Riley Edwards with 4 minutes 44 seconds left in the third quarter.
"I knew we could turn things around," Aguirre said. "We just needed to make some shots. We weren't making shots in the third quarter, but we did at the end."
Ward hit a 3-pointer with 3:33 remaining in the third quarter to halt Ankeny's scoring drought. Aguirre followed with two free throws, then stole the ball and assisted on a layup by Schoolen to close the gap to 42-39.
Ward and Drew Trimble then made back-to-back 3-pointers in the final minute of the period to give the Hawks a 45-43 advantage.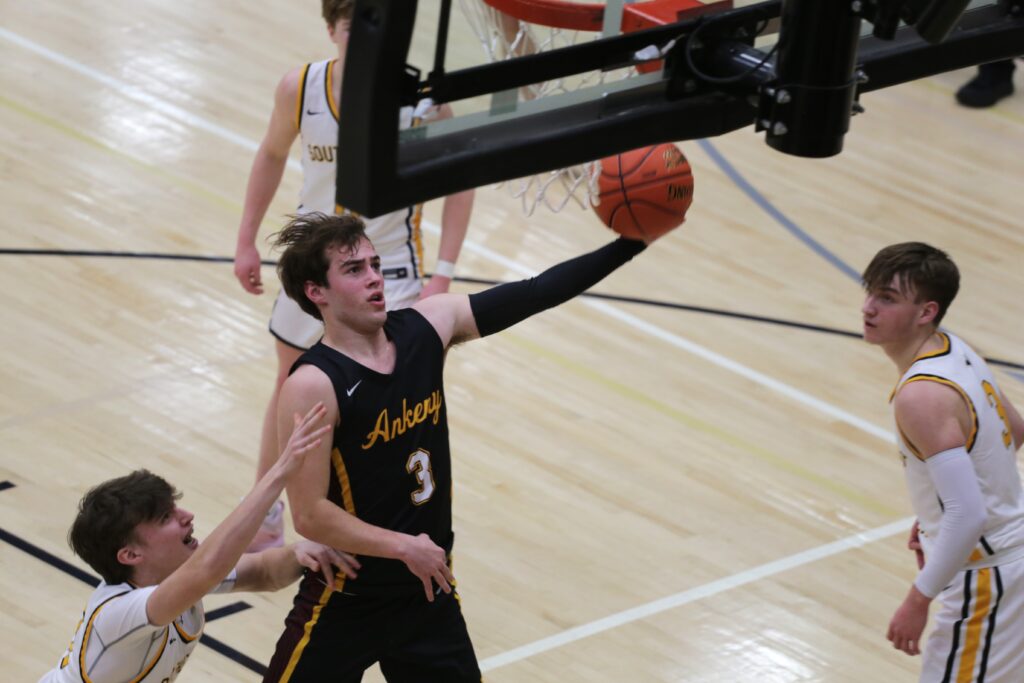 "It was just a mindset of our guys saying, 'Are we really going to allow that to happen again, or are we going to make something go?'" Carlson said. "We picked up our full-court pressure, which helped. Our guys just wanted it. That was the mentality behind their effort."
A 3-pointer by Schoolen gave Ankeny a 53-46 lead in the fourth quarter, but Southeast Polk then rallied and pulled within 54-52 on a driving layup by Edwards with 3:35 to go. The Rams closed the gap to 55-54 on a basket by Goodman with 1:49 remaining.
However, Johnson made two free throws at the 1:19 mark to give Ankeny a 57-54 lead. Jamison Patton and Johnson each added another free throw down the stretch to seal the victory.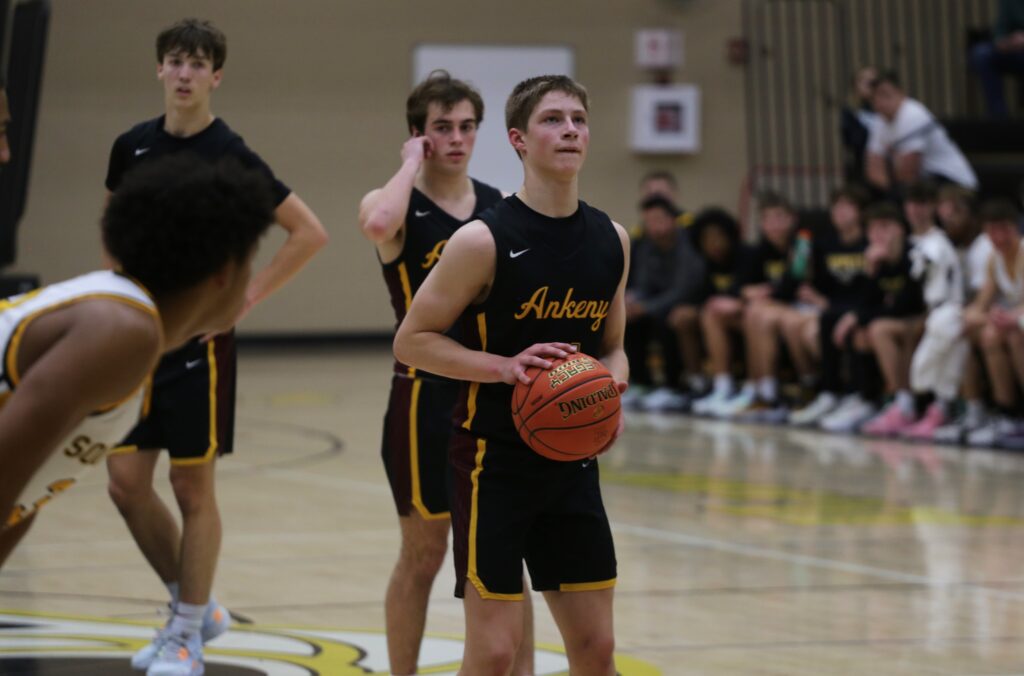 "I was pretty confident we could put it away," said Aguirre, who also grabbed a game-high 15 rebounds.
Johnson and Ward each dished out five assists for the Hawks, who made just 9-of-20 free throws (45.0 percent) but went 10-of-24 from behind the arc (41.7 percent).
Ankeny will host a conference game against Dowling Catholic on Tuesday. The Maroons are 5-7 in the league after posting a 57-54 win over Johnston on Friday.
The Hawks won the first meeting at Dowling, 74-65, on Dec. 16.