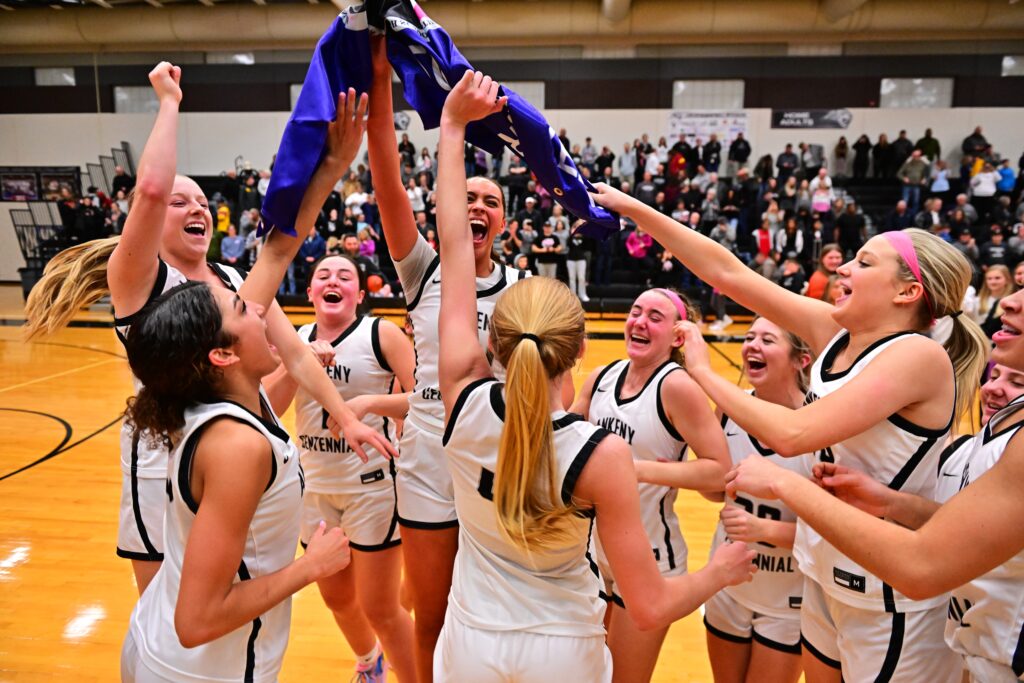 The seniors on the Ankeny Centennial girls' basketball team got one last chance to play on their home court Tuesday night.
They didn't want it to be their final game.
Kennedy White scored 11 points, Averi Porter dished out six assists and Makenna Clark made a pair of 3-point goals to help the sixth-ranked Jaguars to a 35-32 victory over No. 11 Linn-Mar (Marion) in a Class 5A regional final.
Centennial earned a third consecutive trip to the state tournament for the first time in school history. The Jaguars qualified for the fifth time overall.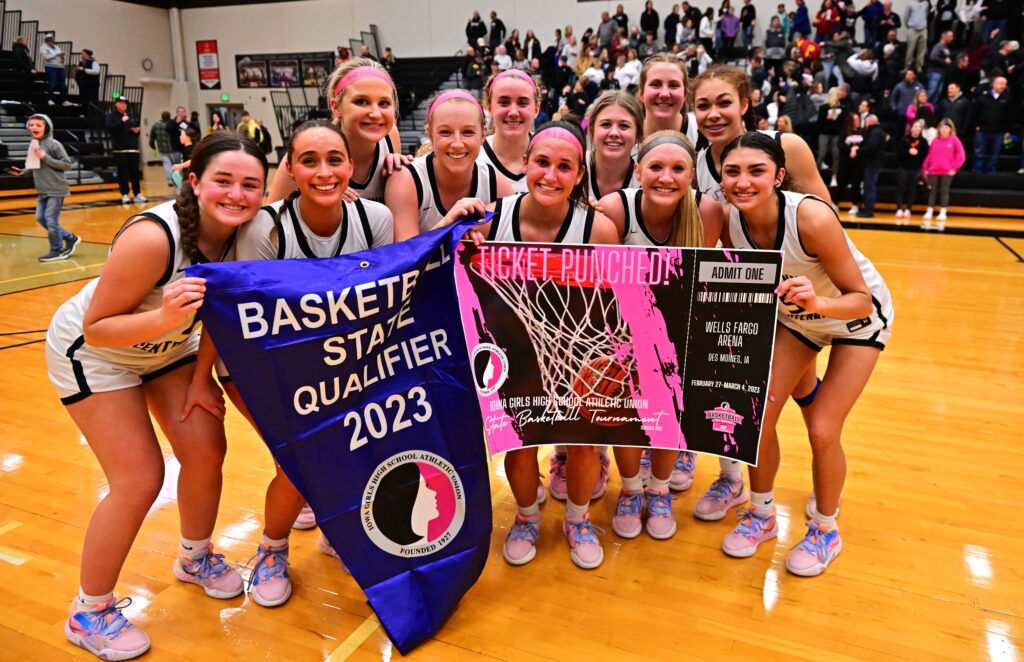 "It's a great feeling!" said White. "We've worked hard our whole season and have overcome lots of adversity to be here. I was very confident going into the game. There's no other team I'd rather be doing this with."
The Jaguars (17-6) won a hard-fought battle–much like they did in each of the previous two regional finals. They rallied from an 18-point deficit to post a 44-42 win over Des Moines Roosevelt in 2021, then held off Sioux City East for a 46-41 triumph a year ago.
"It never gets old (to win this game)," said Centennial coach Scott DeJong. "The regional final is probably the most pressure-packed game, and that's why I think there's so much joy when you win."
Linn-Mar finished the season at 15-8. The Lions are the only team to defeat No. 3 Waterloo West, which will play Centennial in a Class 5A quarterfinal on Monday at 11:45 a.m. at Wells Fargo Arena.
"To make it to state in 5A, you're going to have to beat a good team and Linn-Mar played us very tough," said Porter. "Playing in the CIML, every single night was like that. We didn't shoot very well, but our defense was really good. We made enough plays to get the win."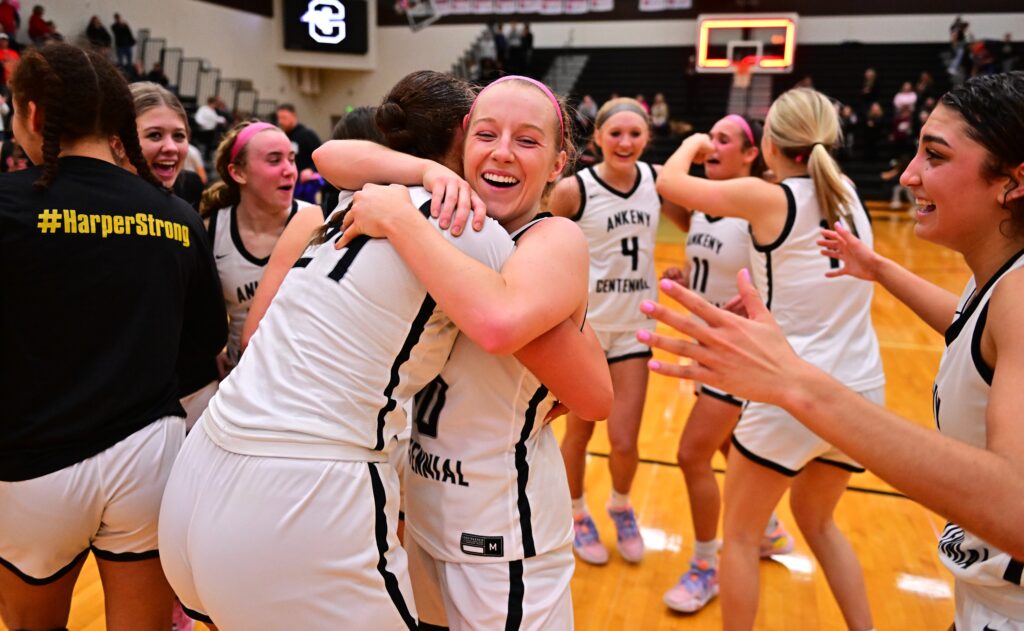 Centennial shot just 30.4 percent from the field (14-of-46) and 25.0 percent from 3-point range (4-of-16). But the Lions weren't any better, shooting just 29.4 percent overall (10-of-34).
The Jaguars won the rebounding battle, 32-23, and also committed just eight turnovers–six fewer than Linn-Mar.
"It was kind of a fast-paced, up and down the floor game, but there were a lot of missed shots," DeJong said. "They've got some athletes and they play really good defense, and we did not shoot the ball well. But fortunately, our defense came through."
Centennial built a 23-16 lead late in the first half before the Lions scored the final five points of the second quarter to close the gap to 23-21.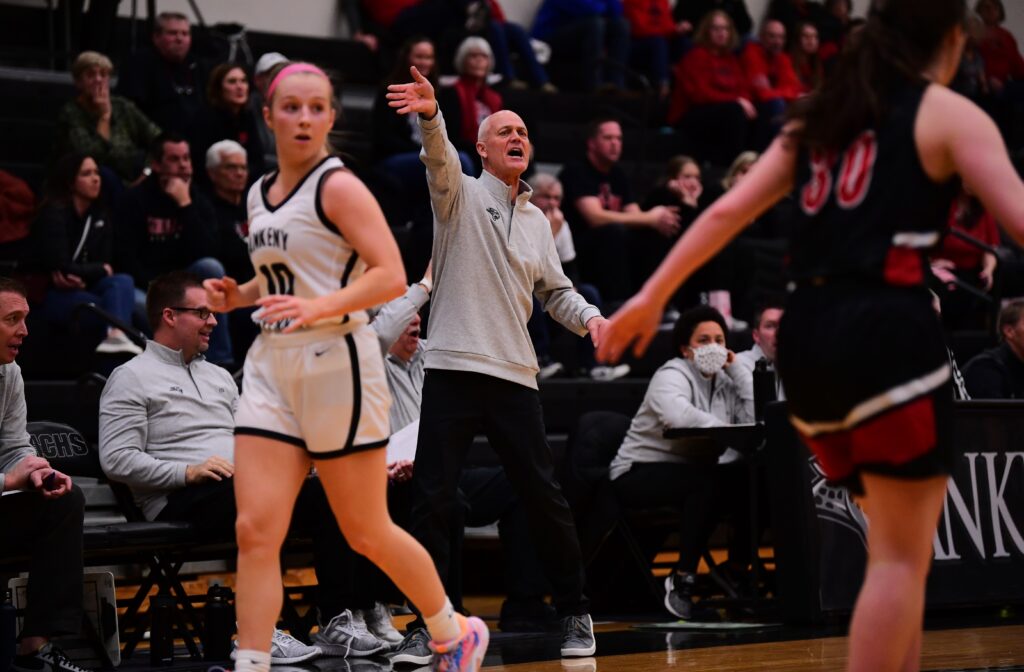 "We had a good run, and then Zoe Kennedy hit a couple of shots for them," DeJong said. "That kind of stifled our momentum, and then it was back and forth the second half."
The Jaguars held a 29-25 advantage after three quarters. After Linn-Mar sliced the deficit to 31-29 with 5 minutes 24 seconds left, both teams struggled to score down the stretch.
Kennedy had 10 points and four steals for the Lions, but she went just 2-of-7 from behind the arc and missed a desperation 3-pointer in the final seconds that could have forced overtime.
"Mya (Crawford) guarded Kennedy. She's a really good shooter, and she didn't do much in the second half," DeJong said. "Mya also had a big steal and a basket late in the game."
Crawford finished with six points, seven rebounds, four steals and a block. Jaeden Pratt added four points, seven rebounds and a block.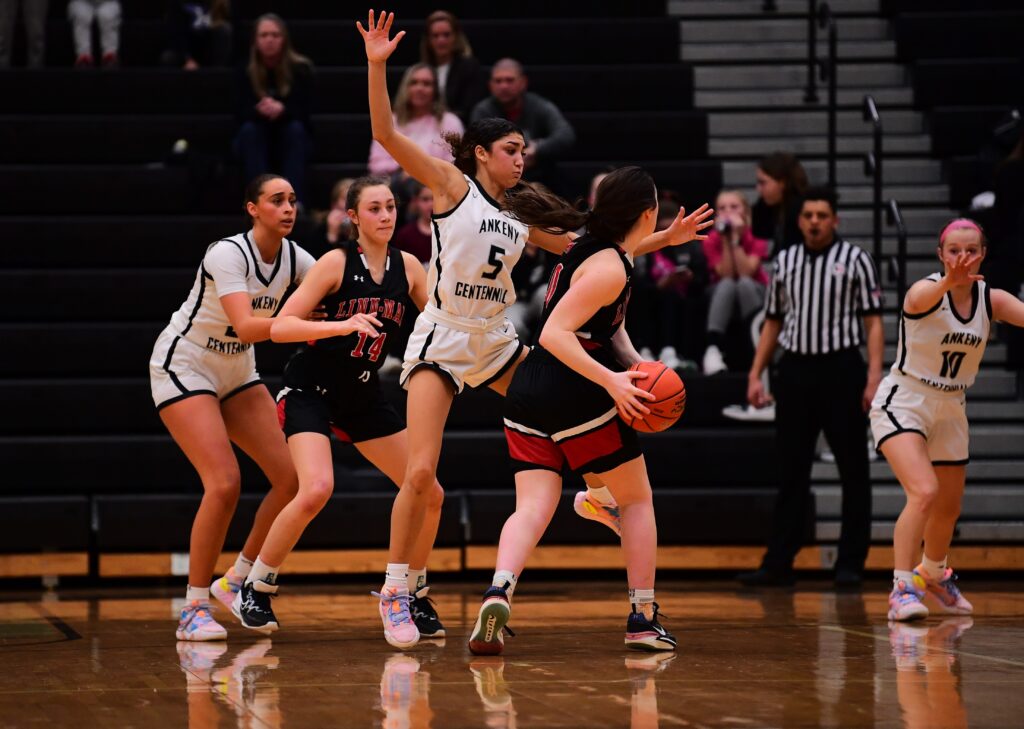 Clark and Porter chipped in six and five points, respectively.
"I feel like we scouted them very well, and we were prepared," said White, who connected on 5-of-8 shots. "However, they also scouted us out very well. I wasn't expecting the game to go like that, but I think we responded well when they went on runs and were able to do what we needed to on the defensive end in the second half to secure the win."
Linn-Mar's Taylor Brunson had 13 points and two assists. Tessa Casebolt grabbed nine rebounds.
"It was a very physical, defensive battle, and we were able to get the stops and the rebounds when we needed to," DeJong said.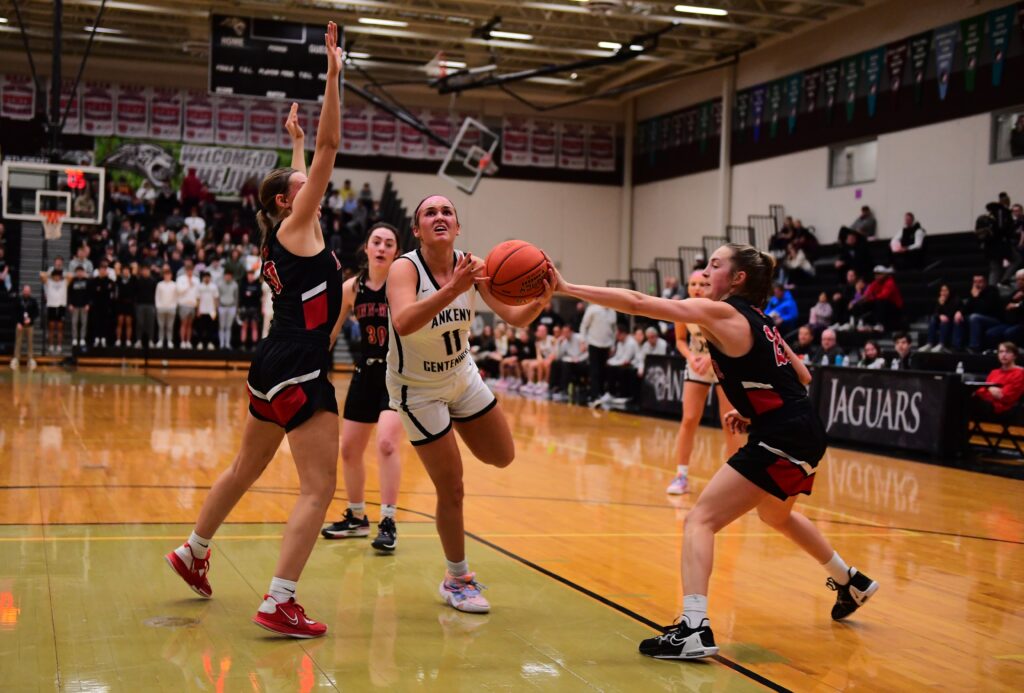 The Jaguars will now get a quarterfinal rematch against Waterloo West (22-1), which advanced with a 69-68 win over Waukee. The Wahawks defeated Centennial, 67-59, in last year's quarterfinals.
"West is a great team with great players, but we are excited to get another shot at them," Porter said. "If we play our game and execute, we will have a chance against anyone."
Oklahoma recruit Sahara Williams racked up 33 points, 12 rebounds and four steals in the victory over Waukee. She was named a McDonald's All-American last month.
Bradley commit Halli Poock, a 2,000-point career scorer, is also back from last year's runner-up team along with Sierra Moore. That trio combined for 62 points in the win over the Jaguars.
"The good news is that our schedule has prepared us to go to the state tournament and play, because we feel like we had a state tournament game most of the time in our conference," DeJong said. "We know it's a challenge when they've got great players like Waterloo West does, but we're looking forward to it."