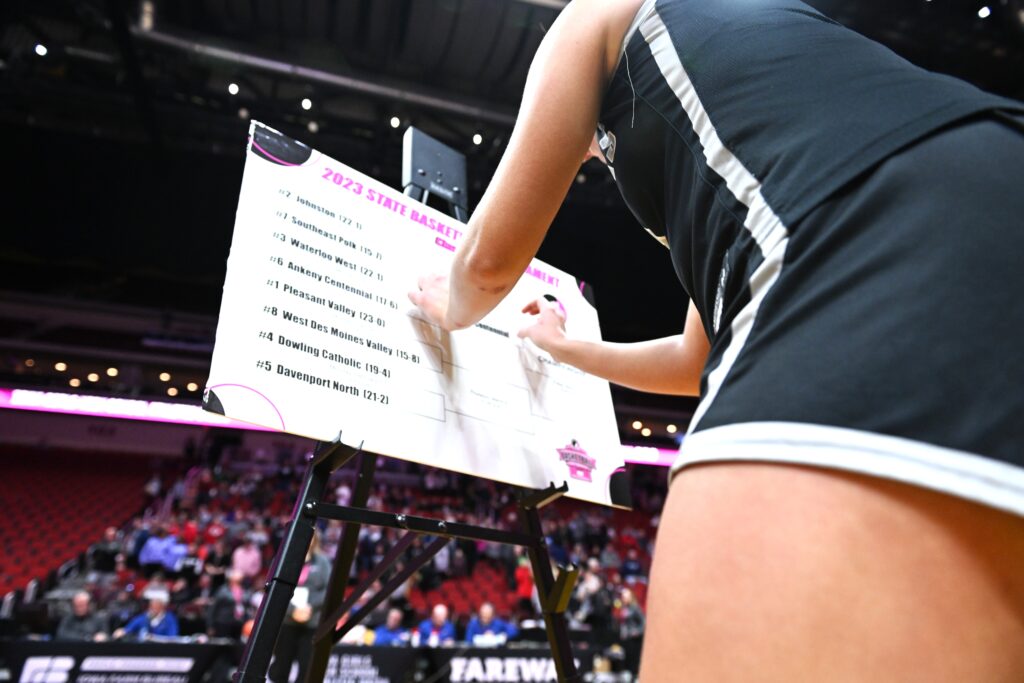 A year ago, the Ankeny Centennial girls' basketball team ended its season with a loss to Waterloo West in the Class 5A quarterfinals.
On Monday at Wells Fargo Arena, the Jaguars returned the favor.
Sixth-seeded Centennial got 20 points from senior guard Makenna Clark and defeated No. 3 Waterloo West, 60-51, on the opening day of the state tournament.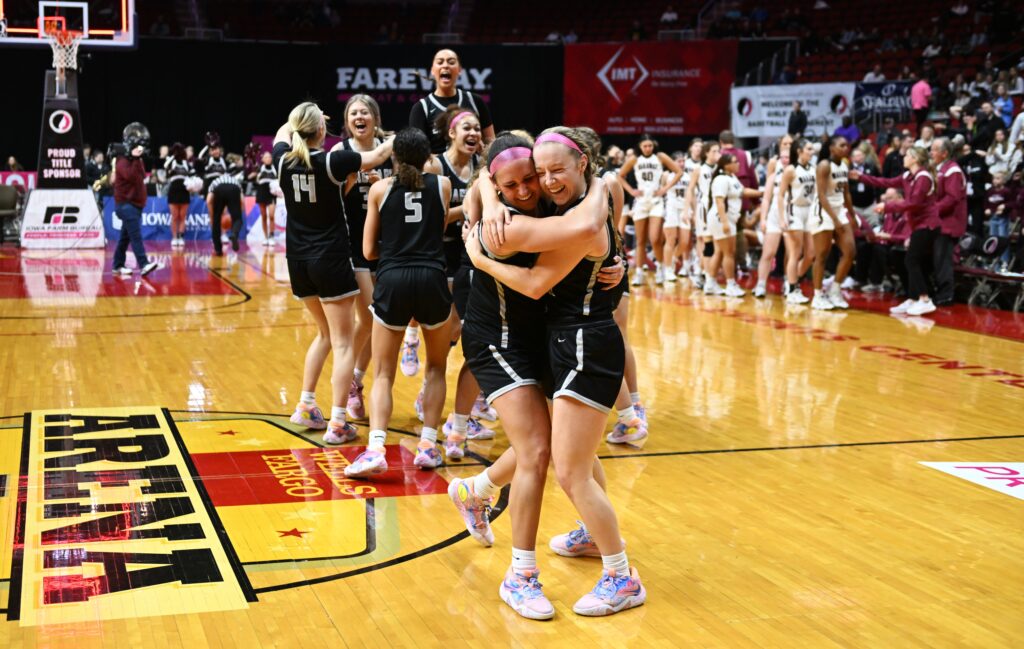 "It feels amazing," said Clark. "We've really been working hard the last week, so I knew we were going to come here and pull out a win."
The Jaguars (18-6) advanced to the semifinals for the second time in three years. They will play No. 2 Johnston (23-1) on Thursday at 10 a.m.
Waterloo West finished the season at 22-2, setting a school record for victories.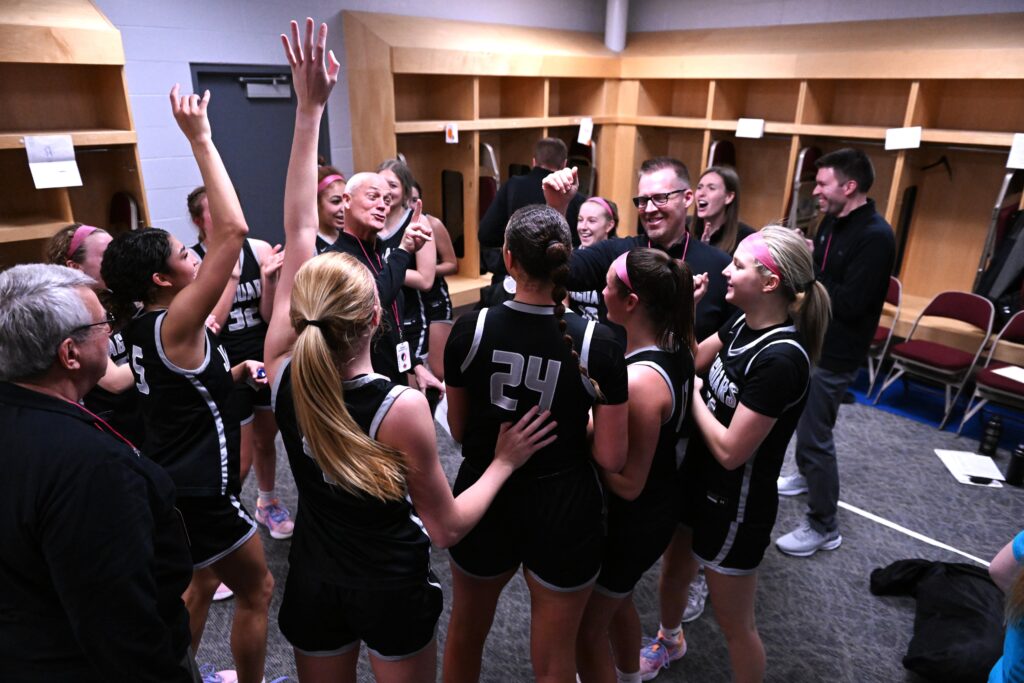 "That's a great team that we played, and I couldn't be more proud of our kids," said Centennial coach Scott DeJong. "We competed really hard. We had kind of a slow start, but once we settled in it was good. Our defense was really spectacular all game long, I thought."
The Wahawks got a game-high 24 points from point guard Halli Poock, but she needed 21 shots and went just 5-of-14 from inside the arc. Ten of her points came in the final period, when her team was already down by double digits.
"We definitely had some extra motivation because of that (loss in last year's tournament). We were super prepared for this game," said Centennial guard Averi Porter, who defended Poock for much of the game. "My plan was to face-guard her and just get through every screen. I always had to have my hand up because she's a phenomenal player."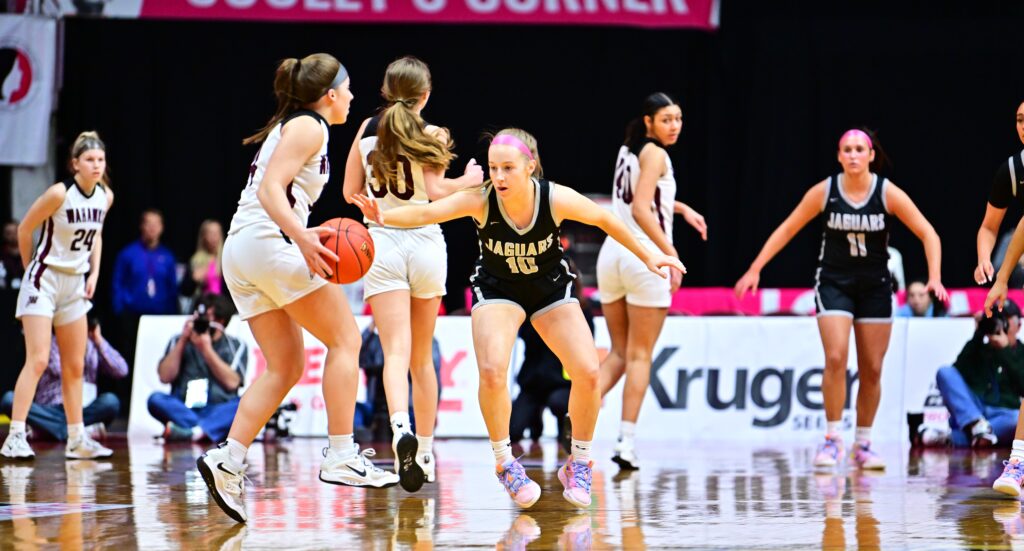 The Jaguars held West's other star, Sahara Williams, to 11 points on 4-of-15 shooting. The McDonald's all-American battled foul trouble the whole way and eventually fouled out on a charging call with 1 minute 20 seconds left.
"We tried to slow those two (players) down with our whole team guarding them," DeJong said. "They're that good, and it's hard to stop them. But I thought Mya (Crawford) was tremendous off the ball helping."
Crawford scored 10 points and grabbed nine rebounds in the win. Her basket at the buzzer gave the Jaguars a 41-31 lead after three quarters.
Crawford grew up in Cedar Falls, where she often played against the Wahawks, before moving to Ankeny last summer.
"We played together our whole life being up there with them, so it's always been a battle," Crawford said. "They've always won, but I guess today we came back on top, so that's a nice feeling."
Centennial's Kennedy White chipped in nine points and nine boards. Jaeden Pratt also had nine points, while Porter added seven points, six rebounds and five assists.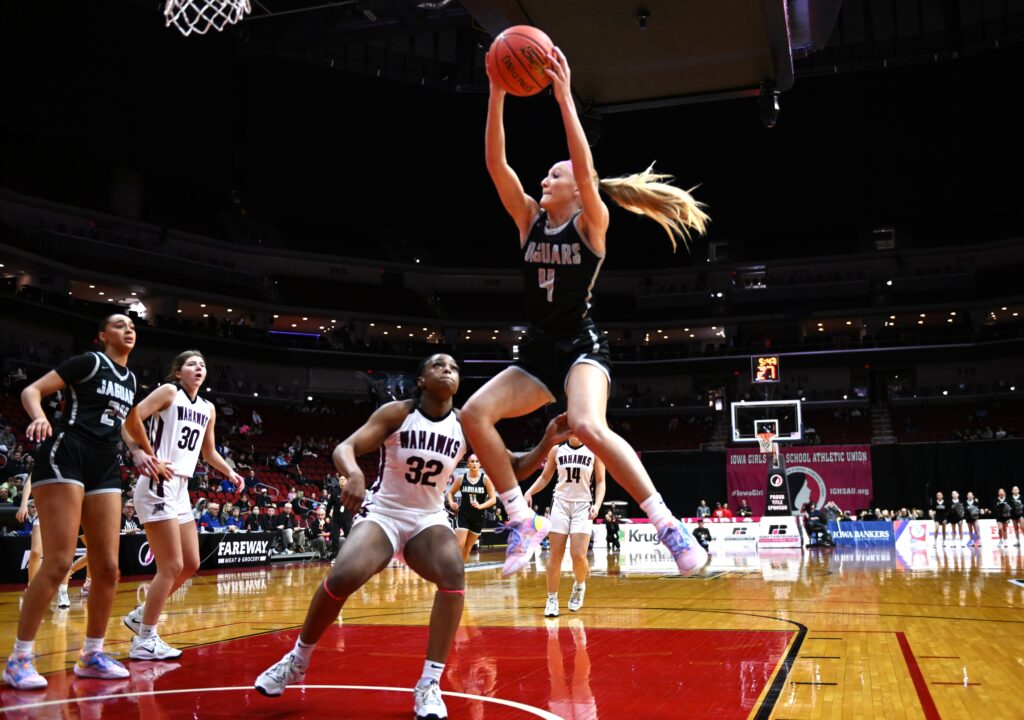 The Jaguars outrebounded West by a 37-33 margin and had 14 offensive boards, five of them by Porter. That led to a 14-5 advantage in second-chance points.
"We talked about (rebounding) being a big thing," Porter said. "It was one of the most important things to beat this team because they're true athletes."
The Wahawks jumped out to an early lead as Poock opened the game with a pair of steals that she converted into layups. She later made two free throws to give West a 12-9 cushion.
However, Centennial then went on a 9-0 run to take the lead for good. Clark ignited the flurry with a 3-point goal, and Porter later capped it with a basket off a rebound.
"That was 100 percent the key," Clark said of the rebounding battle. "Their lineup is amazing, so if we could not give them extra chances and extra shots that was good."
The Wahawks pulled within three points on three separate occasions before White scored off another rebound to give Centennial a 29-24 lead at the break. The Jaguars had eight turnovers in the first half but made up for it by outrebounding West, 19-11.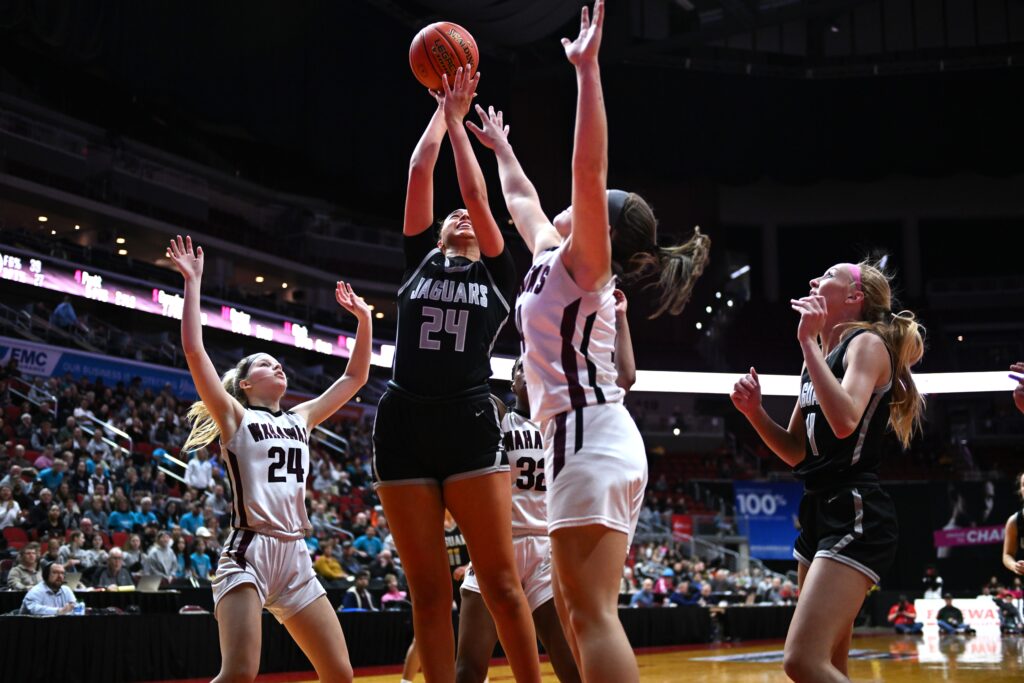 'We knew they were very good on the boards, and we wanted to compete with them," DeJong said. "That was a big thing. They had a little run of it, but not too often."
Centennial opened the second half with a 12-3 run to build a 39-27 lead. Porter had five of her points during the run.
After West closed the gap to 43-37 early in the fourth quarter, the Jaguars got back-to-back baskets from Pratt and then sealed the win at the free-throw line, going 13-of-17 the rest of the way. Clark went 11-of-12 during that stretch and finished 12-of-14 for the game.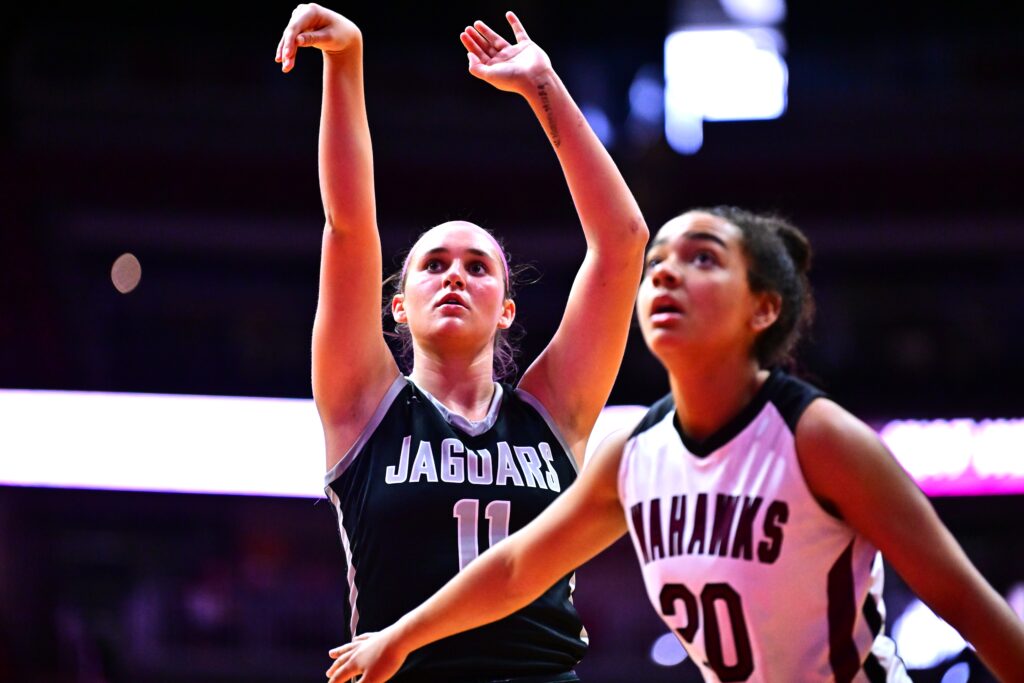 "I'm the point guard, so I just have to step up into that role," Clark said. "I was just really confident from the get-go that I needed to make plays for my team and execute."
Williams finished with 13 rebounds, six assists and five steals. But she had six turnovers and was held to just two points in the second half.
Pratt defended her most of the way, with help from Crawford and the rest of the Jaguars.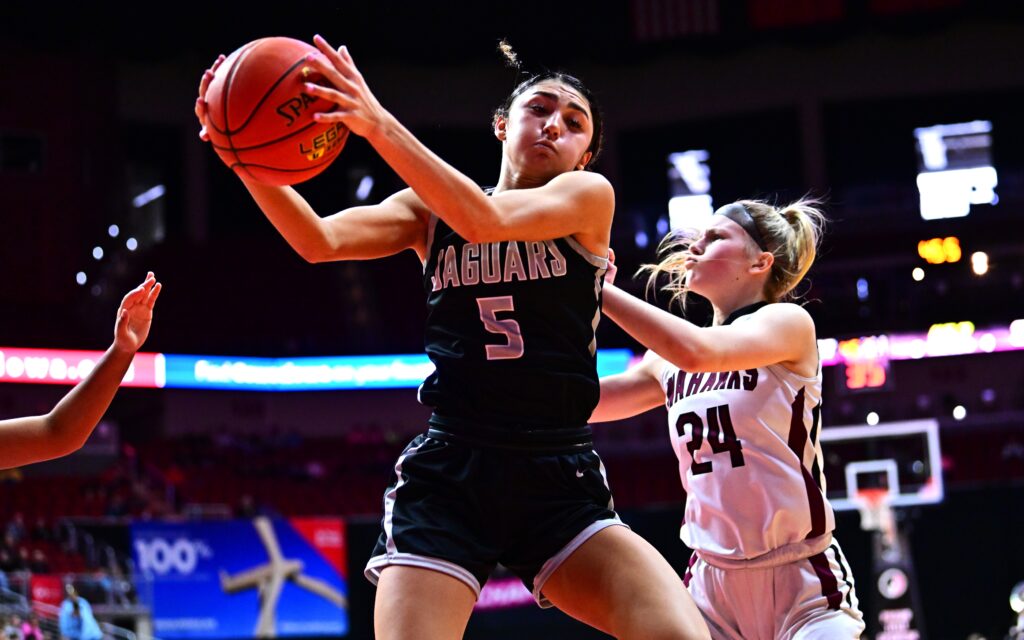 "I knew I had to do my role and help Jaeden and everyone else on our team, so that's what I did," Crawford said.
The Jaguars will now face Johnston, which is seeking its third title in four years. The Dragons advanced with a 70-48 win over No. 7 Southeast Polk.
Aili Tanke had 16 points and 11 rebounds for Johnston, which has won 49 of its last 50 games.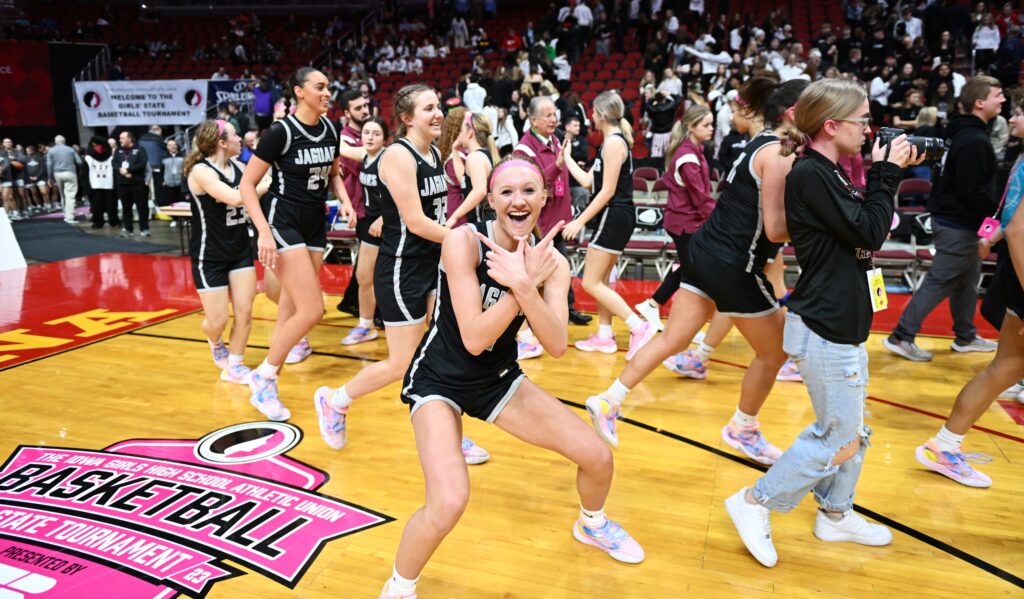 "We're definitely happy to play Johnston again," Porter said.
The Dragons defeated Centennial twice during the regular season, 46-40 and 66-59. In the last meeting, the Jaguars held a late seven-point lead on the road before Johnston rallied to win in overtime.
"I feel like we can pull out another win if we keep practicing like we did for Waterloo West," Clark said.