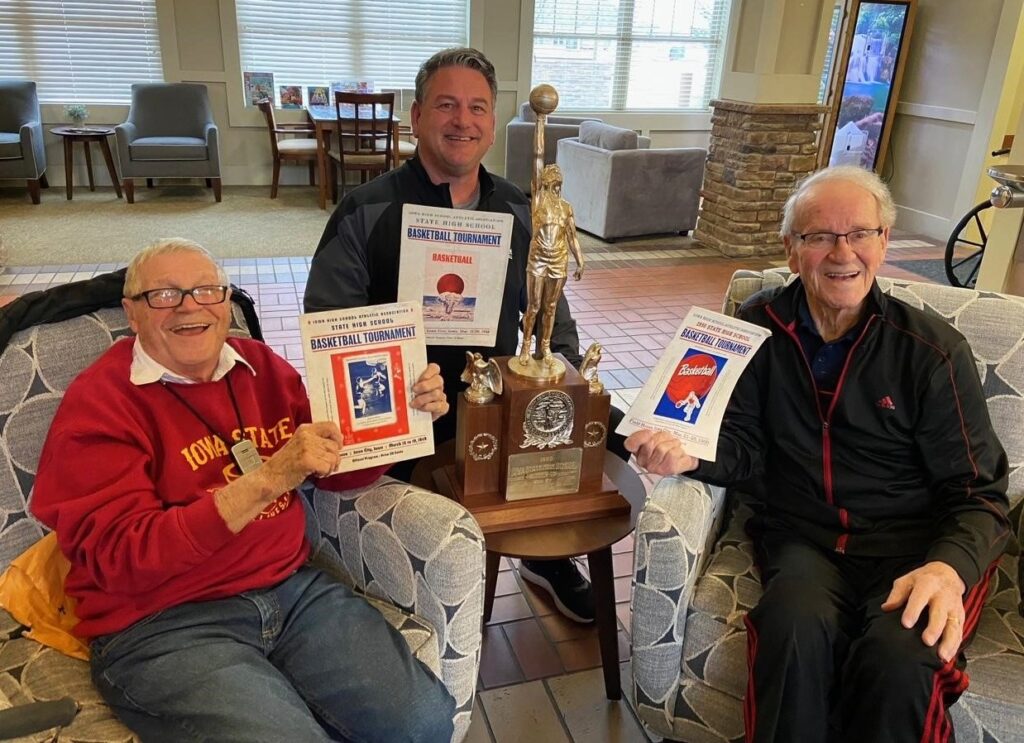 Ankeny Centennial boys' basketball coach Bob Fontana has been busy preparing his team for this week's Class 4A state tournament, but he still took some time on Sunday to visit Barney Alleman and Keith Hildreth, two former Ankeny players who played in three consecutive state tournaments in 1948-50. A third former player, Vern Herring, was unable to make it. All three men still live in Ankeny today. Fontana's father, Ron, and his uncles, Dick and Ray, were also members of those teams. Bob took some notes during his visit and passed them along to Ankeny Fanatic. Here is what he wrote:
"This was a timely visit as the state tournament is this week, and it will be 75 years ago that this trio made their first appearance as freshmen in the 1948 tournament. The trio just missed the 1951 tournament as they were beaten in a substate final their senior year by one point on a shot from the top of the key at the buzzer. During their three-year run of state tournaments, Ankeny's record was 94-4. Its only losses were to larger schools when their was only one class, and the losses were all in the postseason. Ankeny's high school enrollment in those days was 110-120 students depending on the year.
"Keith and Barney shared some interesting memories from those state tournament days. The state tournament was held in Iowa City at the University of Iowa Fieldhouse. They would leave Ankeny on a Sunday or Monday evening depending on what day the tournament started. It was a 3-4 hour ride then as there was no interstate yet. And they would not take a school bus. They would have parents or even business owners provide rides to Iowa City. Some of the memories of being in Iowa City throughout the week were getting to tour the University of Iowa's campus, going to games to watch other teams, staying in a hotel in downtown Iowa City, going to restaurants to eat and malt shops near campus. They also mentioned the following support that they received from the hometown folks in Ankeny. In those days the population in Ankeny was only 1,200. They said half the town was in Iowa City at the games. Another memory was in the 1950 state tournament in their quarterfinal and semifinal games there were over 16,000 people in the Fieldhouse, which is still an attendance record today. They also said the Fieldhouse court was a raised floor which sat up about a foot above the benches.
"In 1948 and 1949 they were led to the state tournament by coach Bert Evans. They said coach Evans would pile players in his five-passenger Coupe and take them down to watch Drake play in the Drake Fieldhouse. Evans' brother, Bill, played for Drake. They said that sometimes there would be 8-10 guys crammed in that car. They ended up playing some district and substate games in the Drake Fieldhouse which they felt helped them because they had been to games there. They also played some postseason games in the Iowa State Armory in 1950 and 1951.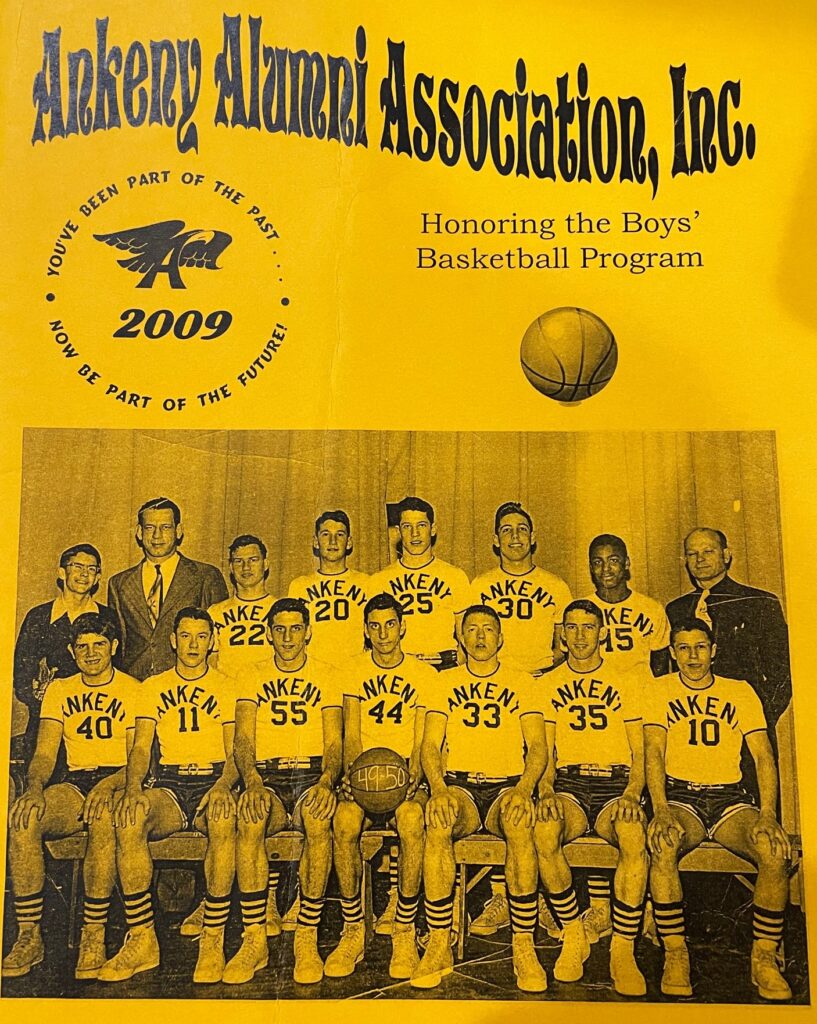 "In 1950, Merritt Parsons became their coach at Ankeny and in his first season he led them to state, where Ankeny finished second to Davenport. Davenport also beat them in the 1948 state tournament. At that time, Davenport had 2,000 students in high school–nearly 20 times the size of Ankeny's enrollment.
"Keith and Barney said they played in some small gyms back then. They said Valley had the biggest gym, and that's where the Polk County tournament was held. Ankeny won the Polk County tournament all four years they were in high school. Some of the smallest gyms they played in were Elkhart and Madrid. At Slater, they said the ceiling was low and you had to lower the arch on your shot. They mentioned in some of the small gyms if you went flying to the basket shooting a layup you might crash into a wall, because the wall was only one foot behind the basket.
"The Ankeny High School gym, which is the Neveln building today, seated about 300 people. They said there were bleachers on the east side, a stage on the north end with very little seating and a balcony where people could stand up above. The wall on the south end was very close to the basket. They said it was always packed all four years they were in high school.
"They mentioned that the Lions Club in Ankeny would always have a nice banquet for them after the state tournament. A couple times it was at the I.O.O.F. building which is still standing today on Cherry Street. And, in 1950, their banquet was at John Deere.
"They also talked about the fun times they had off the court. Some of them can't be mentioned here, but one of the funny ones is when Barney threw an eraser at the end of class and it hit coach Parsons in the chest, and he chased Barney down three flights of stairs at Neveln school and outside.
"It was interesting to hear all these stories and how much fun they had playing all the sports together…football, basketball and baseball. They had a great run in football as well as they went 30-3 in four years. But, basketball is where they put Ankeny on the map with those three consecutive state tournament appearances.
"Here were the starting lineups on those four teams:
1948: Dick Fontana, Ron Fontana, Ray Fontana, Bob Gehrke, Johnny Johnston
1949: Ron Fontana, Ray Fontana, Harold Hildreth, Johnny Johnston, Barney Alleman
1950: Ron Fontana, Ray Fontana, Harold Hildreth, Vern Herring, Barney Alleman
1951: Ron Fontana, Barney Alleman, Vern Herring, Keith Hildreth, Bob Johnston
"It was great to visit with Keith and Barney and hear their stories and all the great memories they have…and here they are 75 years later to tell us about it."