Friday was a record-setting day for the Ankeny Centennial girls' track team.
The Jaguars set a pair of school records during the Drake Relays at Drake Stadium. They raced to a 10th-place finish in the 4×200 relay, then later posted the second-fastest qualifying time for Saturday's final in the 4×400 relay.
"We're happy," said Julia Flick following the 4×200 relay.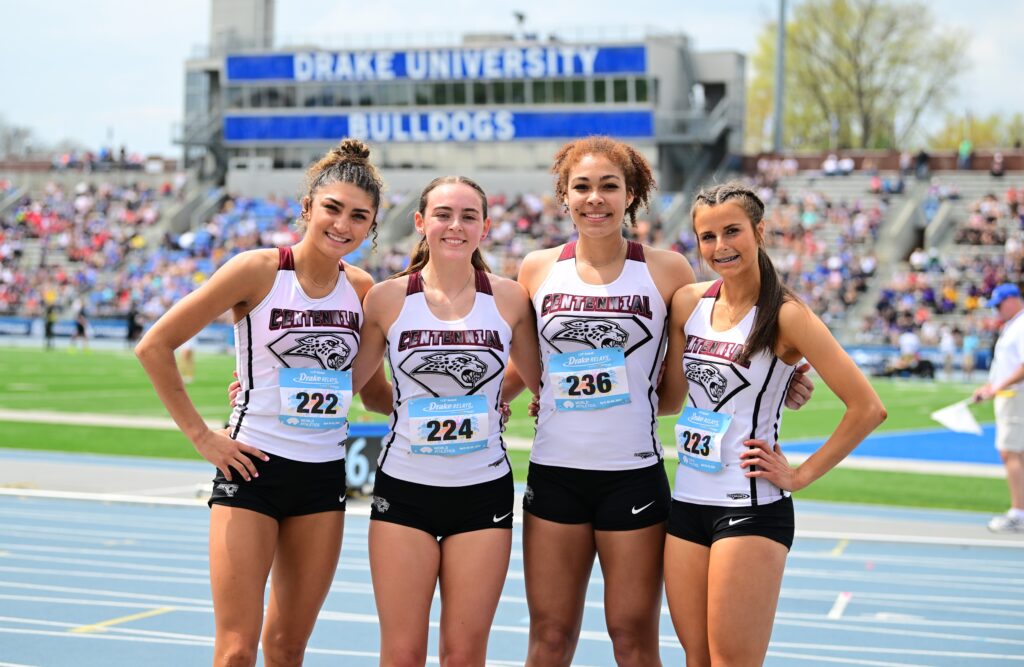 Flick, Mya Crawford and Kylin Smith ran on both relays. They teamed up with Layla Hughes to post a time of 1:44.69 in the 4×200 relay.
Flick anchored the unit with a split of 25.47 seconds.
"I thought we had a chance to finish in the top eight," Flick said. "We just needed to do better with our handoffs, and I think we did that today."
Waukee Northwest won the race in a time of 1:41.33.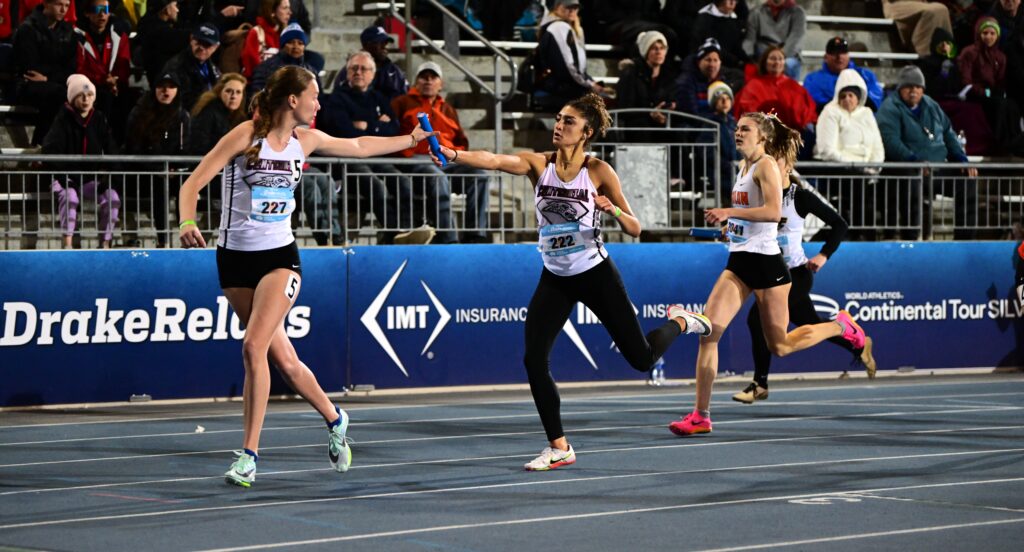 Maddy LaVoi joined Flick, Crawford and Smith on the 4×400 relay. LaVoi ran the second leg in 58.10 seconds as the Jaguars posted a time of 3:55.96.
Centennial placed second in its preliminary heat behind Ames, the overall top qualifier. The Little Cyclones were clocked in 3:53.66.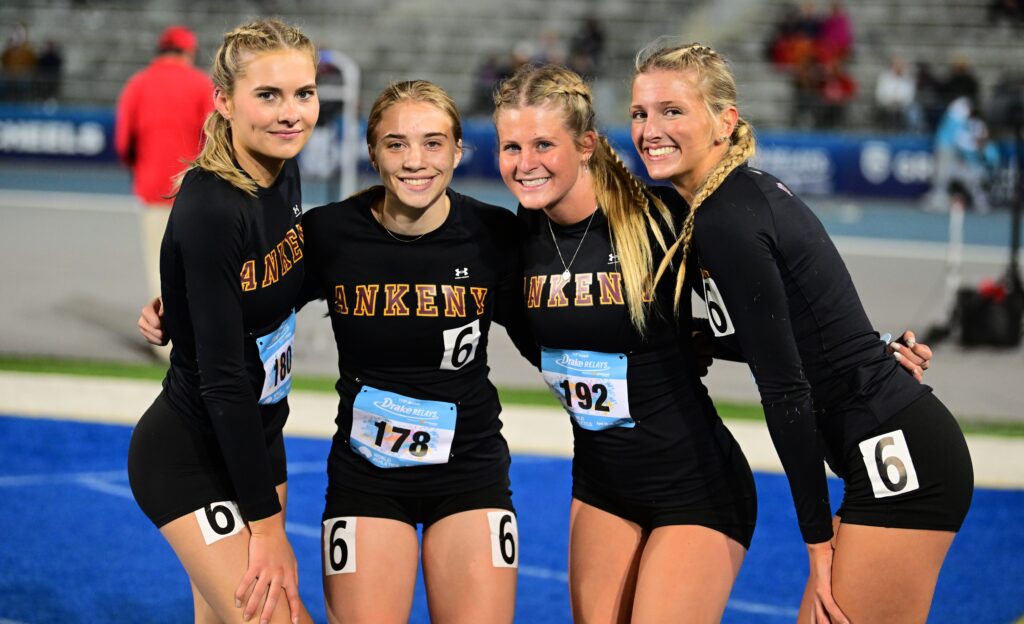 Ankeny placed ninth in the 4×400 relay. The foursome of Lillian Smith, Karsen Jacks, Zoe Shadravan and Morgan Johnson posted a time of 4:00.56, getting a split of 58.86 from Shadravan on the third leg.
The Hawkettes missed qualifying for the final by just .26 seconds.
Ankeny competed in four other events on Friday, including the high jump. Sophomore Reagan Hanfelt placed third in that event with a jump of 5 feet 6 inches, which tied her own school record.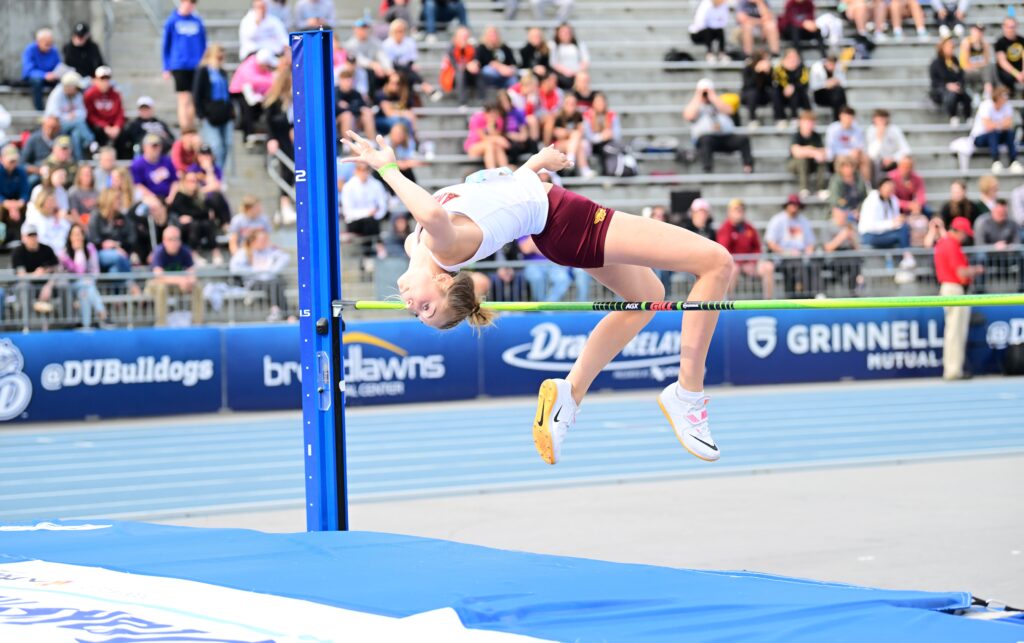 "I feel like I did really, really well," said Hanfelt. "The miss at 5-4 kind of made me a little upset, but then I kind of just had to think about making 5-6 on my first attempt because then if I made it then I'd place higher and the 5-4 wouldn't really matter. So I'm pretty happy about it."
Maddie Olson of Sheldon cleared 5-8 on her final attempt to win the event for the second straight year. London Warmuth of ADM (Adel) jumped 5-6 and placed second based on fewer misses.
Hanfelt said she's been training hard to get over the bar at 5-8.
"I just have to focus up and then just tell myself that I can do it," she said. "Usually, when I tell myself I can do it, I clear it."
Twelve of the top 14 finishers in the high jump were from smaller schools. Only Hanfelt and Josie Moreland of Waukee, who placed fifth, will compete in the Class 4A state meet next month.
"That is my goal," Hanfelt said of winning a state title. "Hopefully, I can win it and go clean."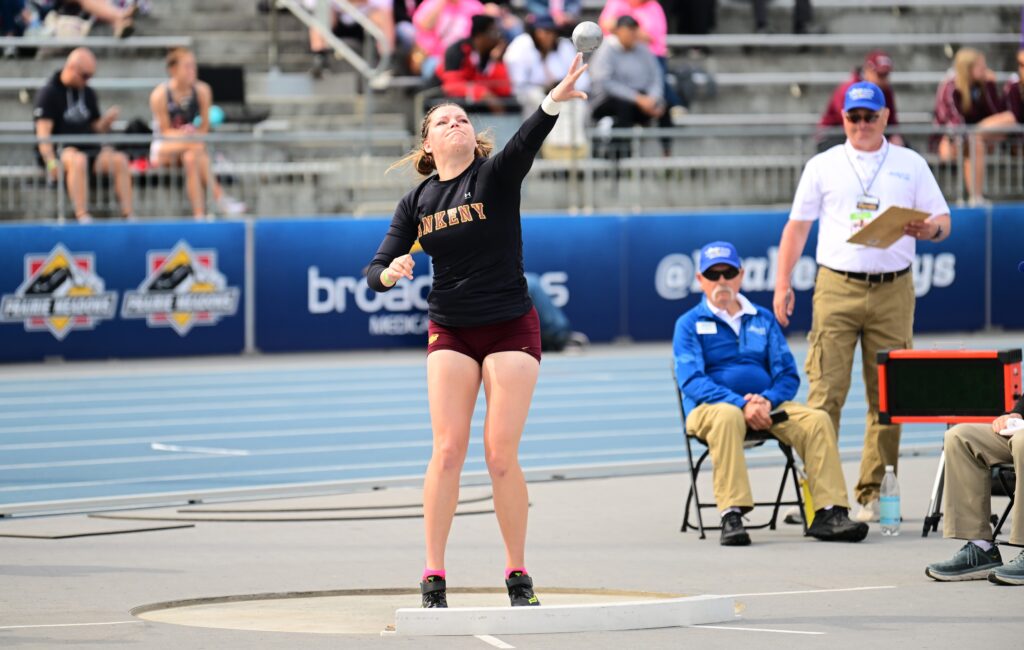 The Hawkettes got a 12th-place finish from Kendra Winfrey in the shot put. She had a throw of 38 feet 2.75 inches on her first attempt.
"I feel like I threw halfway ok," said Winfrey. "We're learning a new throw so I've got expectations for state. The fact that I made it to Drake was really exciting, so I'm here and there was no pressure here."
Winfrey explained that she is now using a different form of the glide technique.
"I was gliding before, but we're starting upright and getting my legs involved," she said. "It's a little bit of an adjustment, but it's coming along very, very well."
Charlee Morton of Hampton-Dumont-CAL won the event with a toss of 43-3.5. Like Hanfelt, Winfrey is looking forward to the state meet.
"It's going to be an exciting environment," she said. "It's a different ring, and that's where all the magic happens, I guess."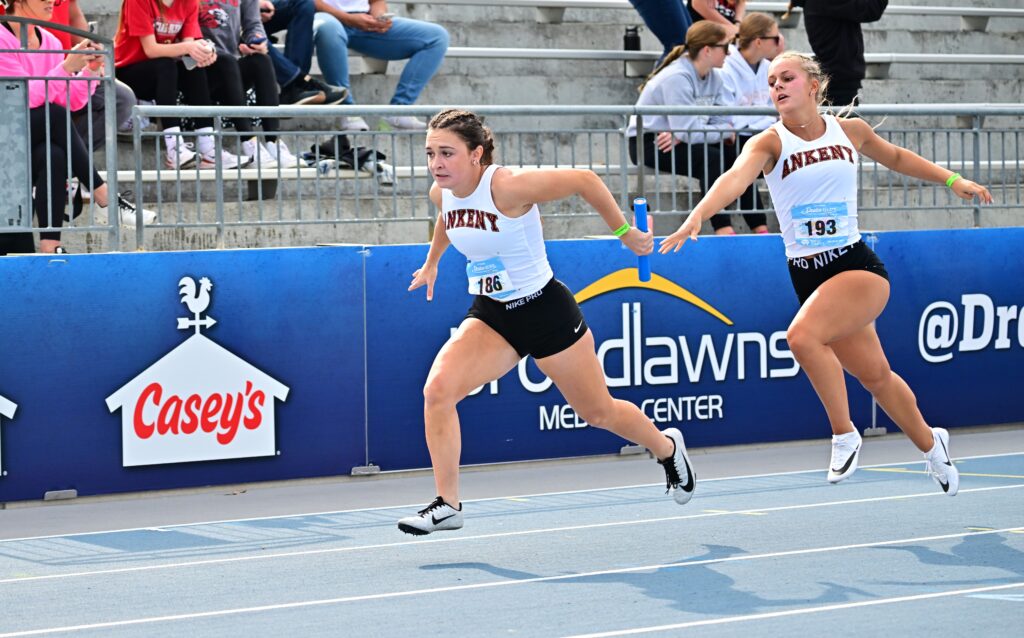 Ankeny placed 16th in the sprint medley relay on Friday morning. The quartet of Macie Strnad, Larissa Miller, Alli Macke and Sophie Loeffler posted a time of 1:50.91.
"We didn't know what to expect because we hadn't run this relay together," said Macke. "We had a season PR for that event so overall we were happy with our time! It was a really fun race to get to run with two of our seniors, Macie and Larissa, and a great experience!"
Cedar Rapids Kennedy won the event in a time of 1:46.10.
After the race, Macke and Loeffler hurried back home to catch a bus. They then traveled to Bettendorf with the Ankeny girls' soccer team to compete at the Tournament of Champions.
Earlier, Ankeny's Jayla Williams placed 26th in the 100 hurdles. She posted a time of 15.98 seconds in a preliminary heat.
Ali Frandsen of Ames ran the fastest qualifying time of 14.53, then later cruised to a victory in the final in 14.33.