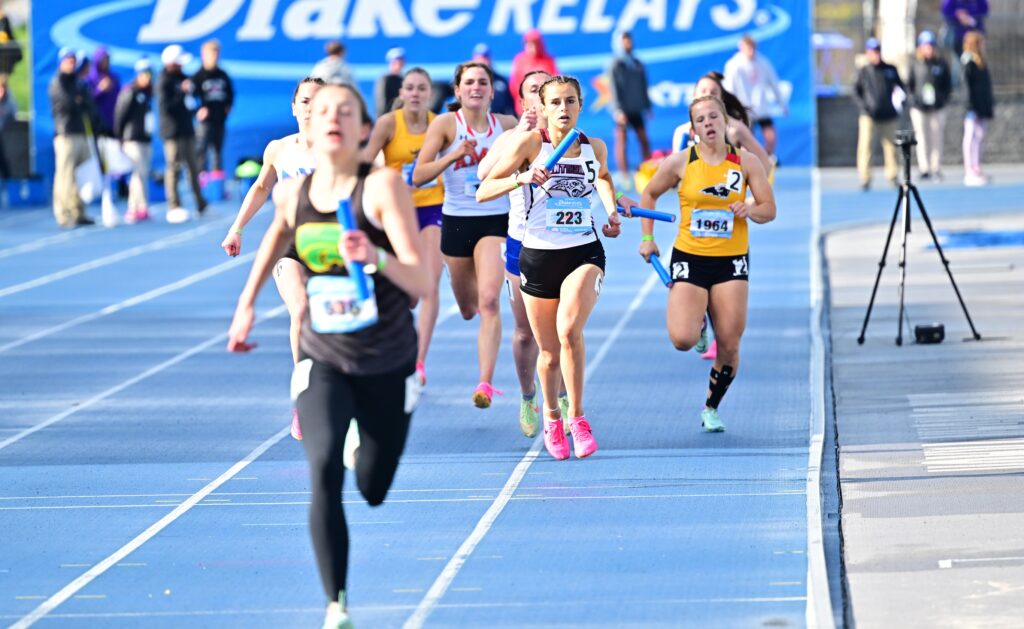 Kylin Smith and the Ankeny Centennial girls' track team enjoyed another great day at the Drake Relays.
After earlier breaking her own school record in the 400 hurdles, Smith helped the Jaguars to a runner-up finish in the 4×400 relay on Saturday afternoon. She ran the third leg in 59.34 seconds to move her team from fourth place into second.
"She had a really good leg," Centennial anchor runner Julia Flick said of Smith. "She passed some runners and put us in a great spot."
Flick then ran the anchor leg in 59.21 as Centennial crossed the finish line in a time of 3:57.82. Cedar Rapids Kennedy, which got a split of 57.10 from anchor runner Sidney Swartzendruber, won the race in 3:55.11.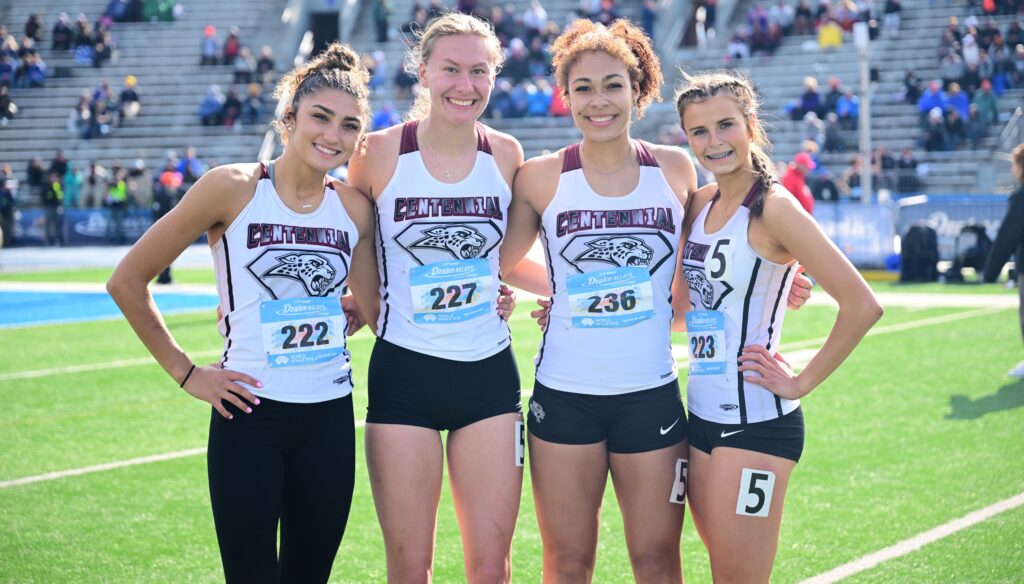 "We were really happy," Flick said. "We just knew we had to do what we did (Friday) and just push ourselves even more, and we knew we'd get a good spot."
Mya Crawford and Maddy LaVoi ran the first two legs for the Jaguars, who posted a school-record time of 3:55.96 during Friday's preliminaries.
"We're super satisfied with it," Crawford said. "We really just wanted to do the same as (Friday) because we knew where we were at. We wanted to do everything that we did, and honestly I think we did. So that was really nice."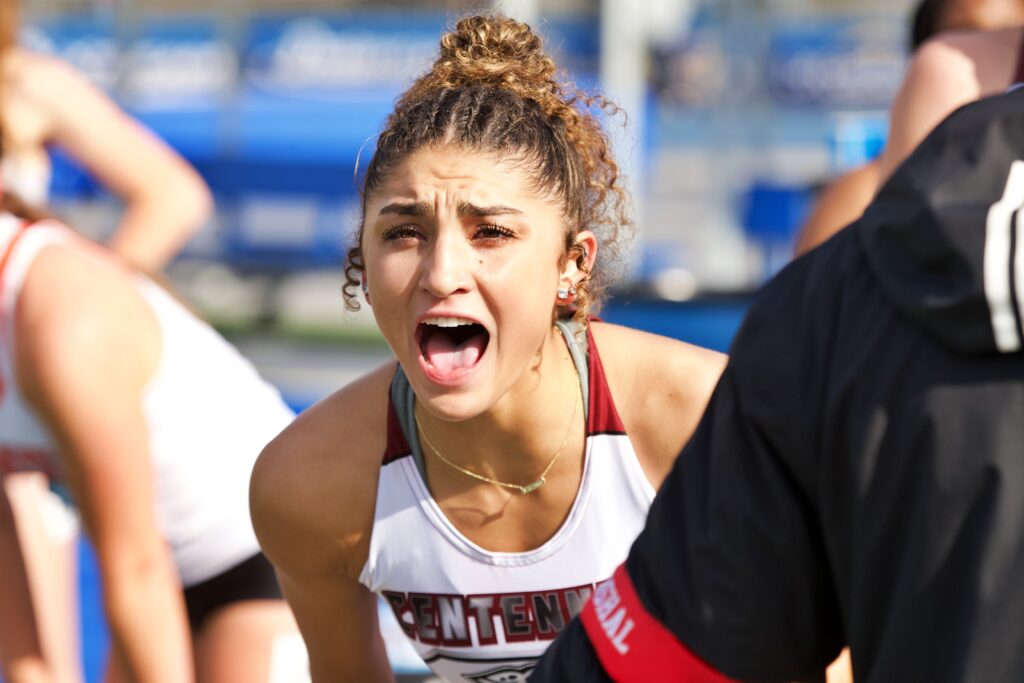 Earlier, Smith raced to an eighth-place finish in the 400 hurdles. She lowered her own school mark by nearly a full second, posting a time of 1:04.59.
"I definitely wanted to go under 1:05–just to compete with the girl that took first in heat one," Smith said, referring to Devin Simon of Cascade.
Ali Frandsen of Ames won the event in a time of 1:01.16. Avery Winter of Waukee Northwest was fourth in 1:03.78.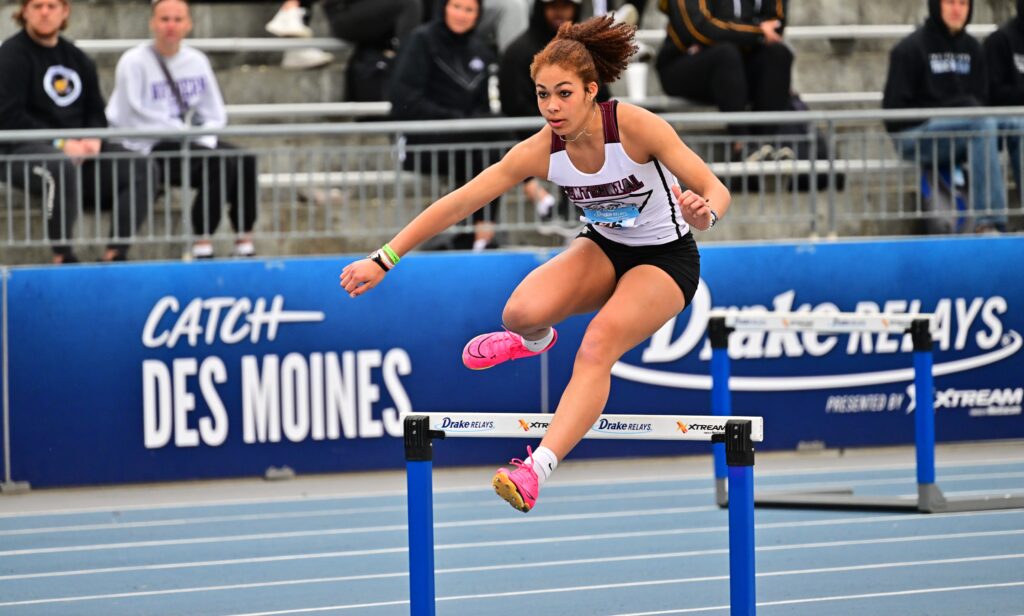 "I've been thinking about Avery, just trying to run along with her," Smith said. "She's a sophomore as well, so I just look up to her a lot and the times that she gets."
Simon had won the first section in 1:04.09. Lillian Smith of Ankeny placed fourth in that section in 1:06.16, finishing 11th overall.
"I felt slow over some of the first hurdles but besides that I was really happy with how I finished the race," said Smith, a junior. "Usually people start making a move at 150 or 200 (meters) but they were making moves at like 50 so I had to run harder."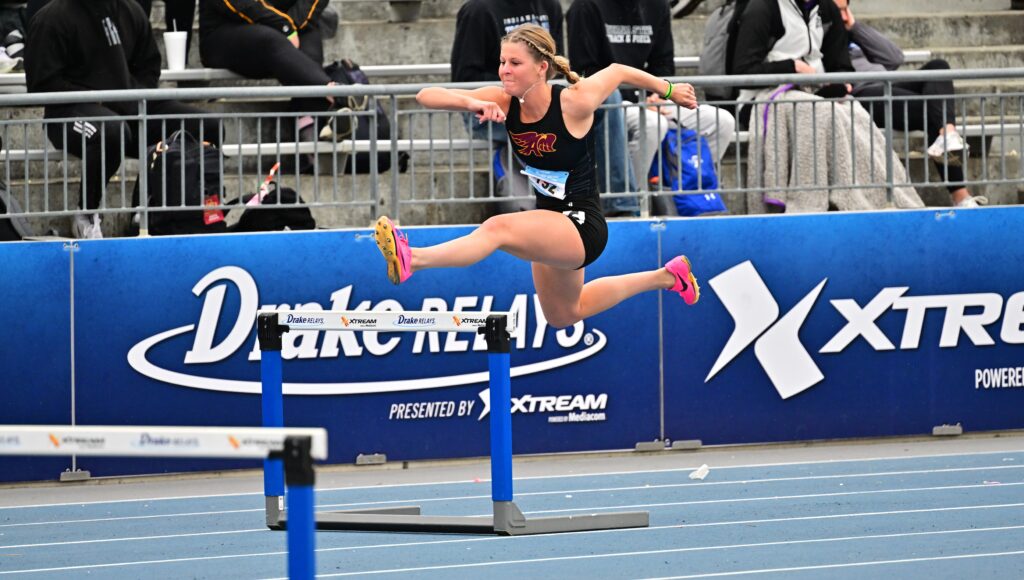 Ankeny's Drew Beason later set a school record in the 1,500. She placed ninth in the race with a time of 4:44.13.
"It was a really fast race," said Beason, a sophomore.
Noelle Steines of Calamus-Wheatland won the race in 4:35.22. She ran the final lap in 1:09.59.
Beason was in seventh place after running the opening 300 meters in 53.11 seconds.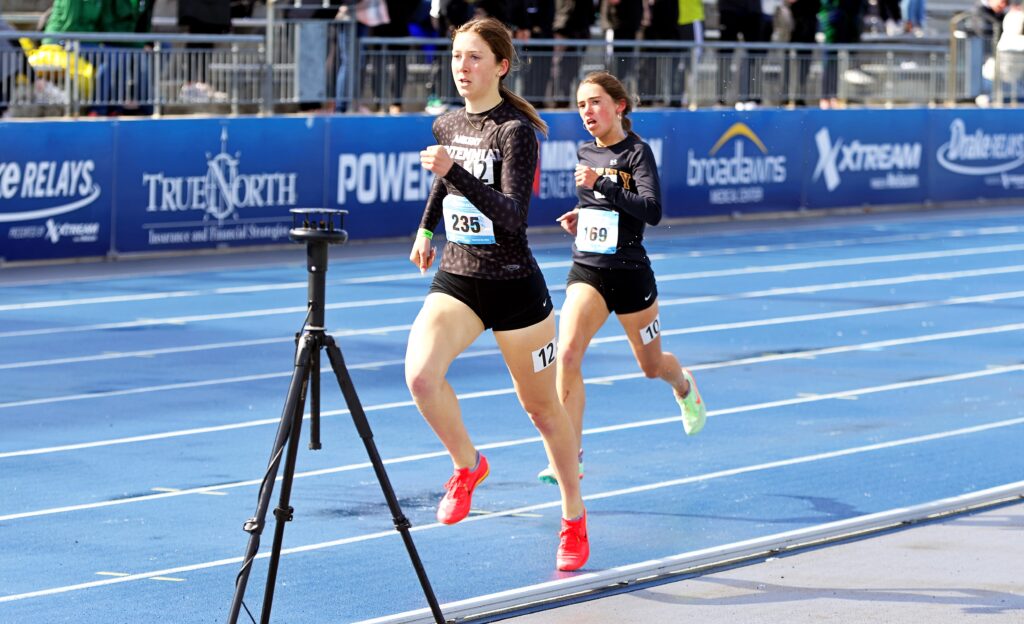 "My goal was to get out fast and not get boxed in because you can get really boxed in in the 1,500," Beason said. "I kind of thought I'd get out fast and then let people pass me, and it'll be fine."
Centennial's Rondi Quass finished 10th in a time of 4:44.30. She was in 20th place at the 700-meter mark, then made a strong charge and eventually passed Beason to move into ninth place before Beason caught her in the final strides.
"I'm pretty happy with my race," Quass said. "My goal was 4:45. That's my second-best time ever, so I'm super happy with it."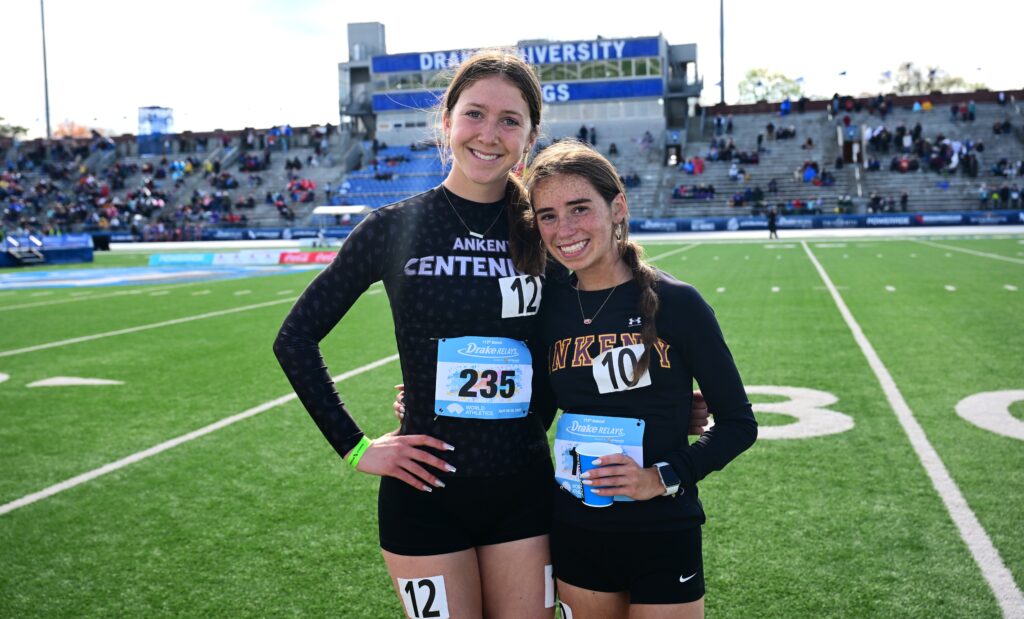 It was the final Drake Relays race for Quass, who will take her talents to Tennessee next year.
"I've really just been trying to take it in this weekend," she said. "This season hasn't been going the way I wanted it to, but I try not to let it get me down and just enjoy every moment."
Before the season started, Quass lost several weeks of training due to a bout with mononucleosis. She has also dealt with some knee issues.
"So just to be here today is really great," Quass said.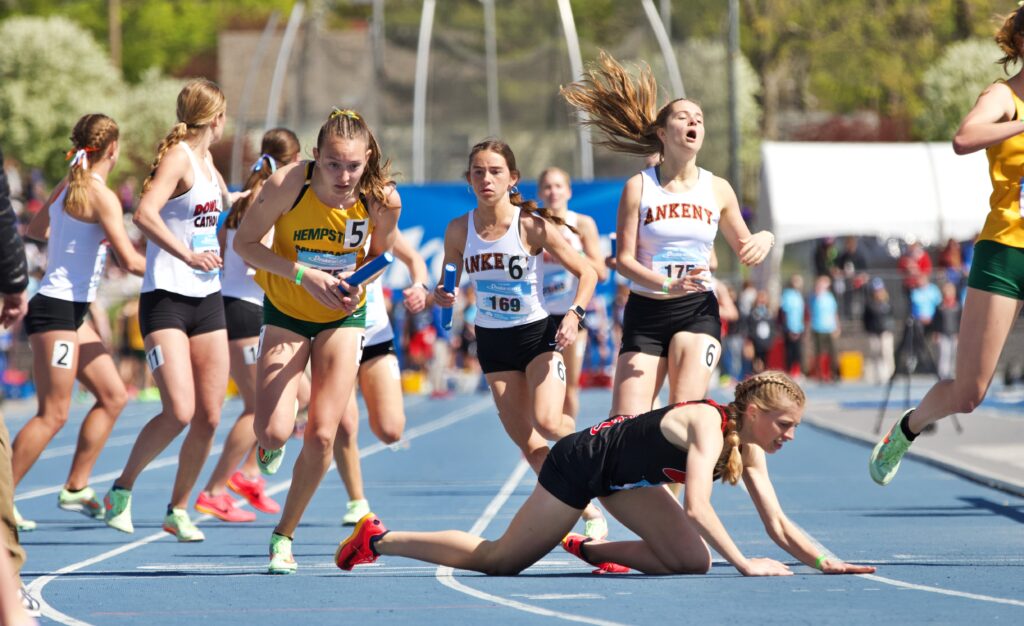 Beason earlier helped Ankeny to a 14th-place finish in the 4×800 relay. She teamed up with her sister Paige, Reagan Prendergast and Olivia Graber to post a time of 9:51.06.
The Hawkettes sat in ninth place after Paige Beason passed two runners on the second leg of the race. Drew Beason later ran the anchor leg in 2:26.06, but was unable to make up any ground.
"Honestly, I think our goal was just to try our best," said Drew Beason. "I didn't feel the best. I kind of just wasn't ready and in the right mindset."
Johnston won the 4×800 in a time of 9:26.80.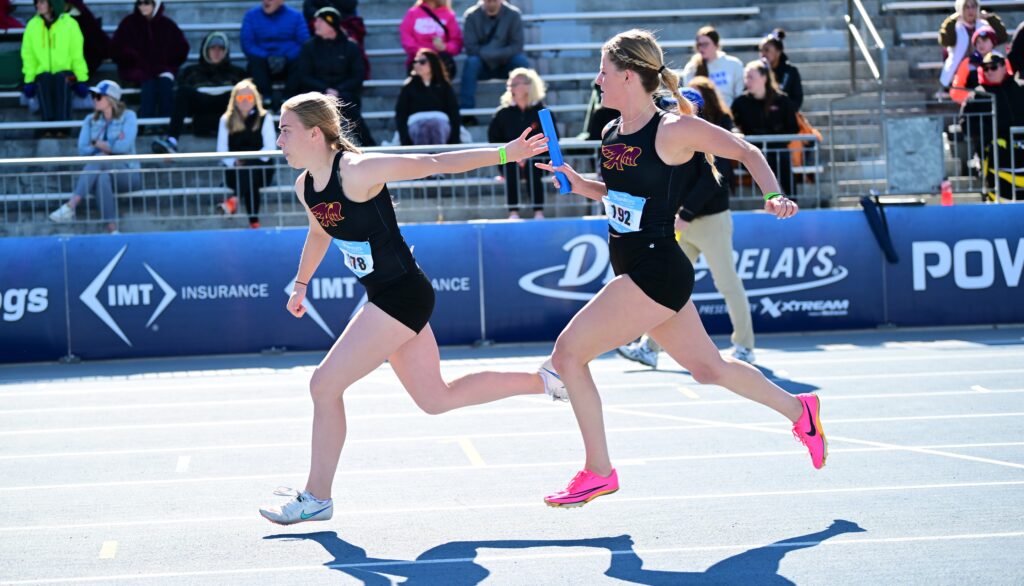 Both the Hawkettes and Jaguars also competed in the preliminaries of the 4×100 relay on Saturday morning. Neither team advanced to the final.
The Ankeny foursome of Smith, Karsen Jacks, Jayla Williams and Morgan Conklin posted a time of 50.34 seconds. The Hawkettes placed 17th overall and finished fourth in their heat behind Des Moines Hoover, which went on to win the final in 48.87.
The Centennial quartet of Olivia Larsen, Morgan Posusta, Mariah Belzer and Jaeden Pratt placed second in their heat in 50.53. The Jaguars finished 19th overall.