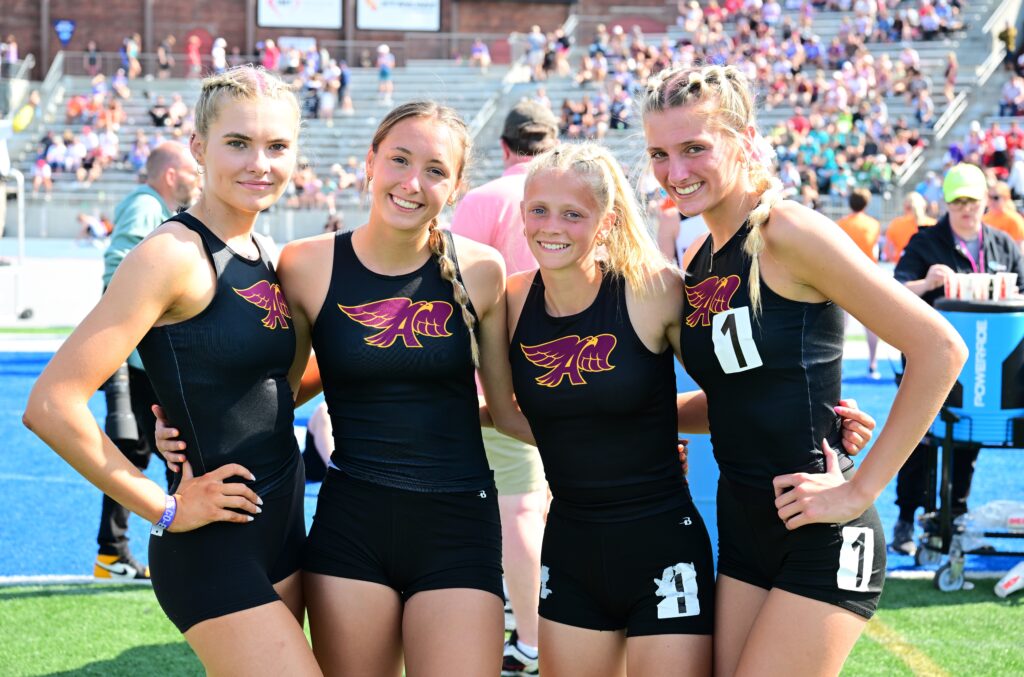 On a gorgeous Saturday afternoon at Drake Stadium, the Ankeny girls' track team closed out the Class 4A state meet in style.
The Hawkettes placed sixth in the 4×400 relay with a time of 3:54.26, breaking a school record that had stood since 1981. The team was comprised of Sophie Loeffler, Morgan Johnson, Zoe Shadravan and Alli Macke.
Macke ran the anchor leg in 56.76 seconds.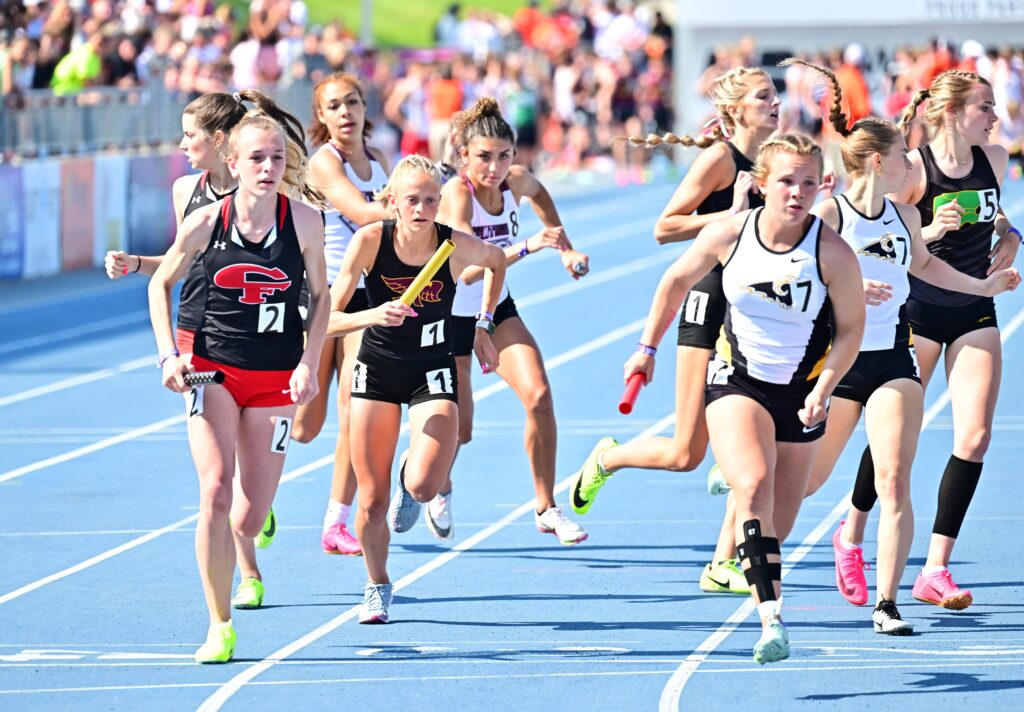 "We were seeded seventh in the final, so it's always nice to do better," said Johnson. "This whole season we pushed through so much. Our whole training and team has changed, so to come back to state in the 4×400 is really impressive for us."
Ankeny Centennial placed eighth in the final event with a time of 3:57.68. The squad consisted of Julia Flick, Maddy LaVoi, Kylin Smith and Mya Crawford.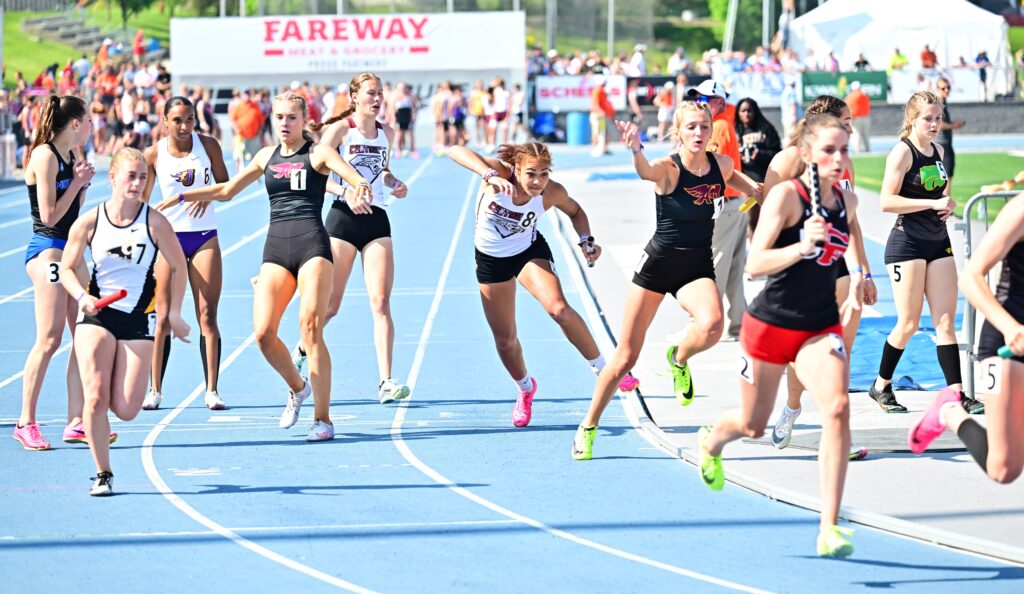 "We were aiming for a higher placing, but we just knew we had to try our hardest and see what we got," said Flick. "It was kind of hard (to run in Lane 8). We wanted to qualify in a better lane, but that just happened. We just pushed through it and did our best."
Ames won the 4×400 relay in a time of 3:49.49, but it wasn't enough to overtake runner-up Waukee Northwest in the team race. The Wolves captured their second straight Class 4A crown with 74 points, finishing five points ahead of Ames.
Ankeny trailed Northwest by a point for the lead heading into Saturday. The Hawkettes finished fifth with 50 points.
It was only the fifth top-five finish for Ankeny in the last 49 years.
"I am so happy how our team competed," said Ankeny coach T.J. Jumper. "The execution of competition plans and the focus on details was tremendous. The girls trusted their training and went out there and competed for every point. This showed in their performances.
"This team took a huge step forward and showed they are one of the top teams in the state. They left a legacy and will be a model for teams that follow," he added.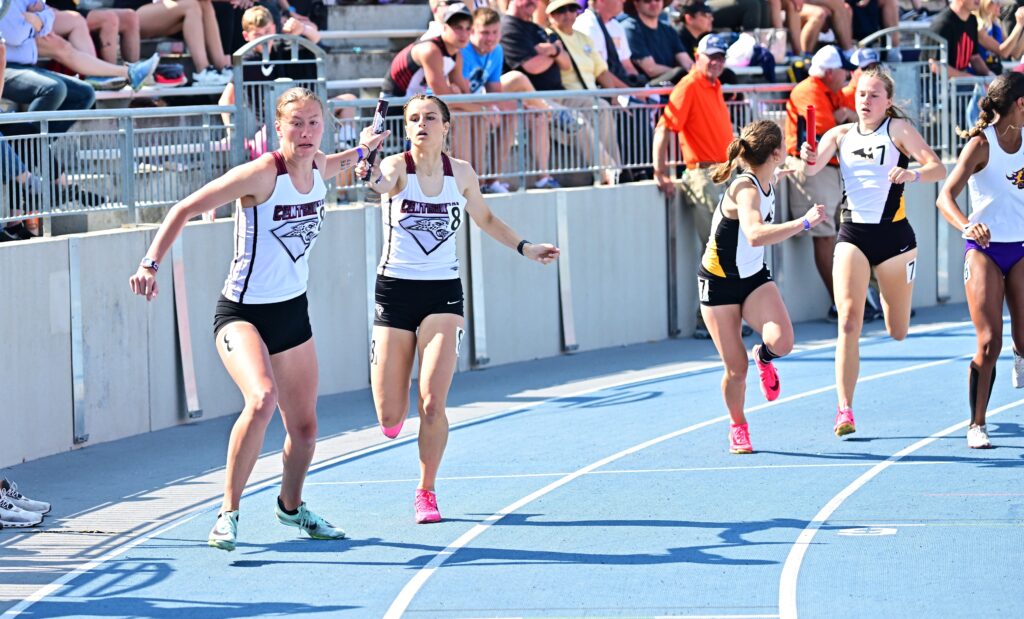 Centennial, meanwhile, tied for 14th place with Waukee. Both teams scored 15 points.
The Jaguars took ninth or 10th in six different events, just outside the eight scoring places.
"It's frustrating now, but I think a year from now this team is going to develop a whole lot," said Centennial senior distance runner Rondi Quass.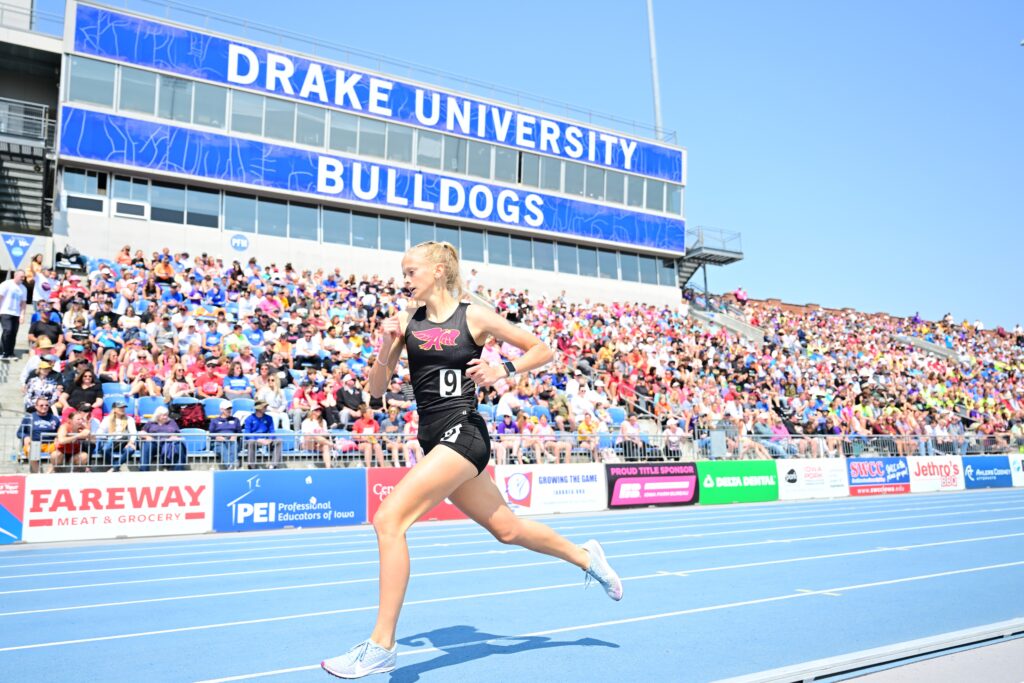 Earlier, Macke came out of the slow section to place fifth in the 800 with a time of 2:15.14. She bolted to the lead right away and essentially ran the race by herself in an effort to post a time that would be good enough to place.
"(Assistant) coach (Michaela) Roush told me to picture a Ghostbuster in front of me and go chase it down," Macke said. "I was just running as hard as I could on my own."
Keelee Leitzen of Dubuque Hempstead then won the second section in a time of 2:11.46. Grace Boleyn of Pleasant Valley was the runner-up in 2:12.73.
Ironically, Macke was in a similar situation on Friday, when she anchored the Hawkettes to a win in the second section of the distance medley relay. Leitzen then anchored the Mustangs to a faster time in the final section, forcing Ankeny to settle for second place.
"I feel like it would have been more beneficial to be in that (second) heat, but I knew what I had to do," Macke said. "The coaches really prepared me on how to run for time. I was going for a 2:13 or 2:14, and I thought I could get top five with that. So to get top five with a 2:15, I was really happy about that."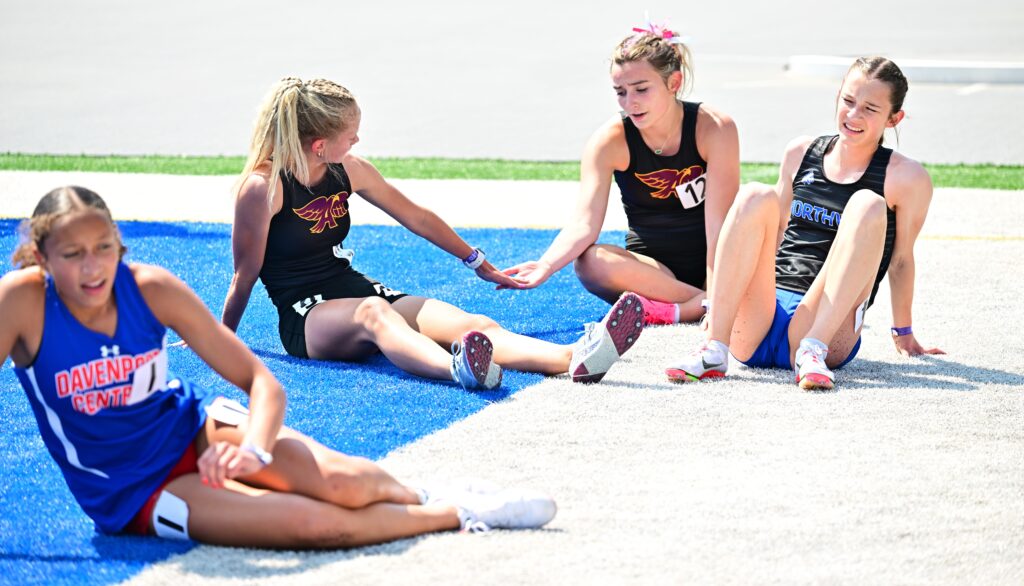 Ankeny also got a 15th-place finish from Reagan Prendergast in the 800. She was clocked in 2:20.24.
"I was happy with my time," said Prendergast. "I haven't ran a lot of open 800s this year. I was just really excited about the opportunity as a freshman. I just wanted to run my best race, and I gave it everything I got."
The Hawkettes later picked up another point as Drew Beason placed eighth in the 1,500. She posted a time of 4:40.82.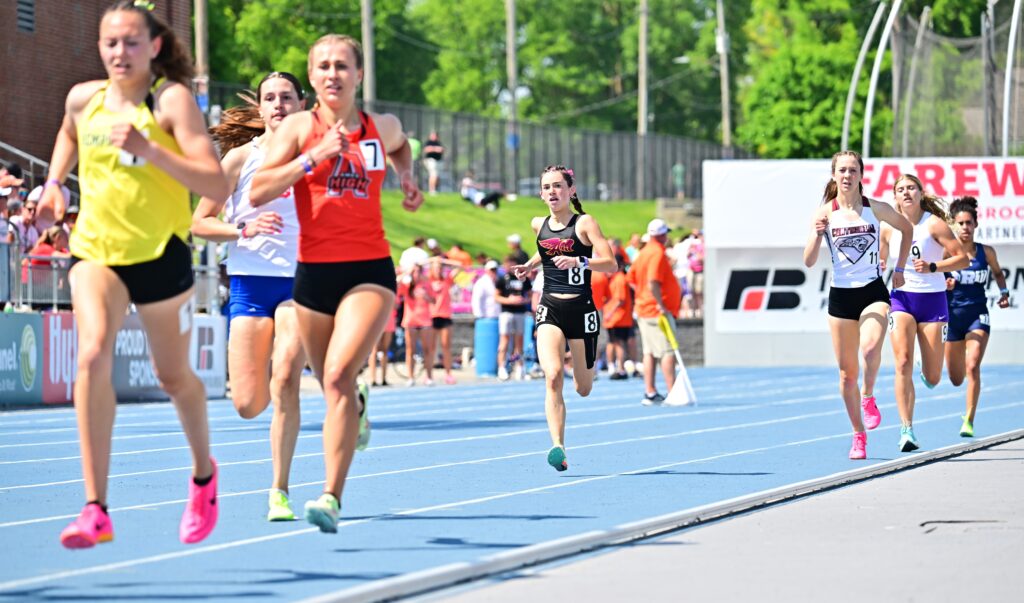 Beason said she wasn't sure if she had placed or not.
"The third lap I tried to count, but it was too hard to think," she said. "I had an idea, but I didn't really know. I definitely didn't think I was going to score for the team, so I'm really happy that I did. I think the 3,000 is a better event for me."
Beason's sister, Paige, finished 19th in the same event. She posted a time of 4:58.62.
Quass placed 10th for the Jaguars. She was clocked in 4:42.14.
Quass moved up into seventh place on the final lap, but was unable to hold off Drew Beason and two other runners.
"I'm still happy with how I finished the race," Quass said. "It was a season-best (time). I'm back to where I want to be. You do what you can do, and today it was 10th."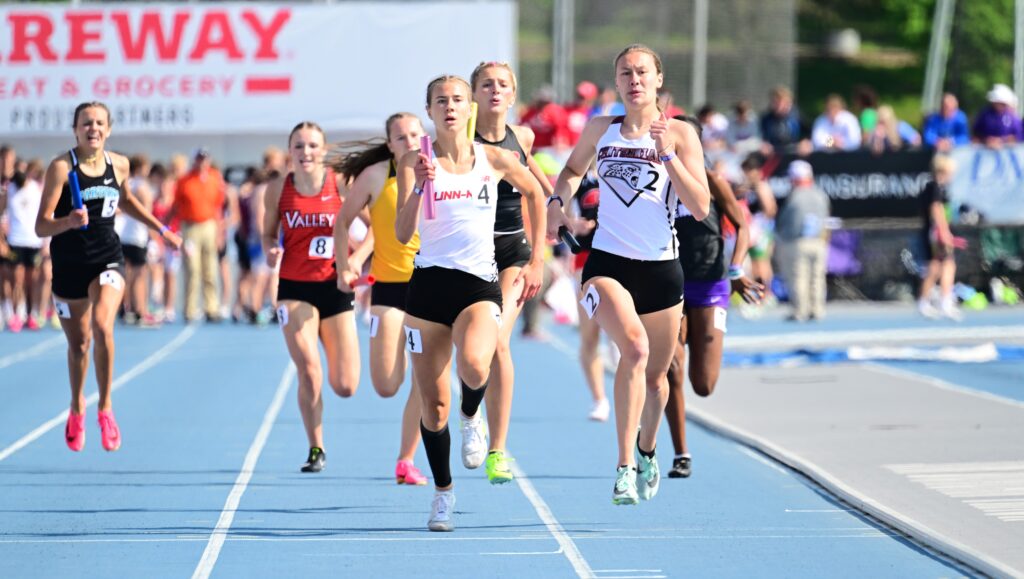 Ankeny and Centennial also ran against each other in the first event of the day. Both teams competed in the second section of the sprint medley relay.
The Hawkettes and Jaguars battled for the lead on the final lap before Bethany Northrup anchored Linn-Mar (Marion) to a winning time of 1:49.48, which eventually allowed the Lions to earn an eighth-place finish.
"There were some really good runners in the sprint medley," said Centennial sophomore Jaeden Pratt. "It was stacked this year."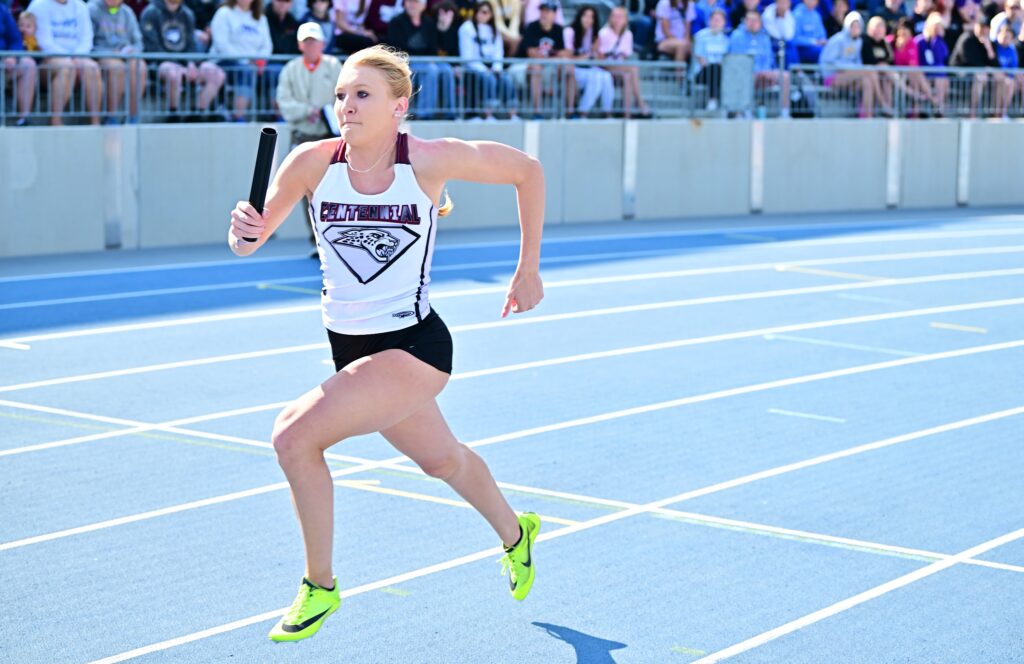 Pratt teamed up with Smith, Layla Hughes and LaVoi for a ninth-place finish. The Jaguars posted a time of 1:49.80.
"No one else on our team probably could have ran like (LaVoi) did, and there was just a little bit of bumping that caused her to die at the end," Pratt said. "But she ran a great race."
The Ankeny foursome of Karsen Jacks, Morgan Conklin, Lillian Smith and Shadravan placed 10th. The Hawkettes were clocked in 1:50.42.
"It's always good to have Ankeny to compete with," Pratt said. "They have some great runners, and it's just good to have that friendly competition."