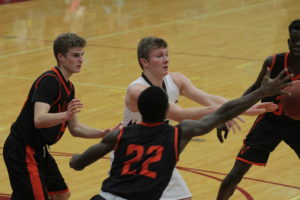 The last thing that the Ankeny boys' basketball team wanted on Friday was another close game.
Its opponent, Valley, probably didn't want one, either.
Three of the visiting Tigers' five losses came by one point, while the Hawks had lost six games by five points or less–three of them in overtime.
Valley made sure that this one didn't go down to the wire. The Tigers outscored Ankeny in the fourth quarter, 17-9, to pull away for a 56-44 victory.
While Valley ended a three-game losing skid, the Hawks suffered their eighth consecutive loss.
"We just can't score enough on a consistent basis to combat their physicality," said Ankeny coach Brandt Carlson. "They sat in a 3-2 zone, and several of our guys just struggled with it."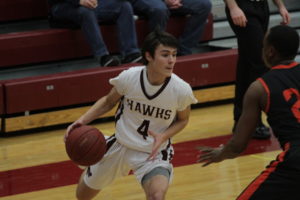 The Tigers used a 14-2 run in the second quarter to take a 26-16 lead. Ankeny closed the gap to 32-25 at halftime, then pulled to within 39-35 after three quarters.
But that was as close as the Hawks could get. They dropped to 0-6 in the CIML Central Conference and 1-10 overall, while Valley improved its records to 3-2 and 6-5.
"Every one of our guys is trying to do their thing to help our team, but they don't always realize the size difference when they're catching the ball against that zone," Carlson said. "Valley is just a hard matchup for us overall, and it's hard to simulate their size in our practices."
Jaxon Smith scored 14 points for the Hawks, who could be strengthened next week by the return of sophomore forward Nolan Otten. Otten, who was averaging 9.5 points and 5.3 rebounds, has missed the last five games due to a sprained ankle.
"We're still not at full strength with our roster, and I thought some of our guys got fatigued," Carlson said. "We've just got to keep regrouping and hopefully next week will be a better one. Nolan will be back, and hopefully that will help us offensively."