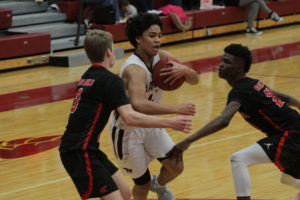 For the first time in six weeks, the Ankeny boys' basketball players finally got to celebrate a victory on Tuesday.
Dillon Carlson poured in 22 points as the Hawks snapped an eight-game losing skid with a 63-53 win over visiting Mason City in a CIML non-conference contest.
"We definitely needed it," Carlson said. "It was a long losing streak, but I think we're going to go on a run since we got this win. We've got some momentum now."
The win improved Ankeny's record to 2-10 on the season. The Hawks' only other victory came at Indianola, 83-71, on Dec. 5.
"It feels good to get another one," Ankeny coach Brandt Carlson said. "The guys played hard, and they're doing some good things. Our zone worked out."
Ankeny jumped out to a 22-12 lead before Mason City's Jarvorius Toney stole an inbounds pass and banked in a long 3-pointer to end the first quarter. But the Hawks then allowed just eight points in the second quarter while building a 35-23 halftime advantage.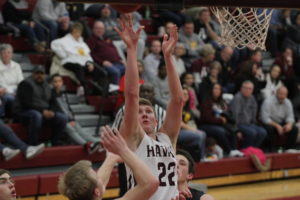 Ankeny got a spark from sophomore forward Nolan Otten, who scored five of his six points in the second quarter. Otten had missed the previous five games due to a sprained ankle.
"It's important for any team to have your full roster with guys who know how to play and have been in some big games," coach Carlson said. "Nolan was ready to play and excited and definitely gave us a lift."
Otten converted a three-point play to give Ankeny a 27-18 lead. He later scored on a drive before Carlson followed with a 3-pointer to make it 35-21.
"He's a nice addition to our team and does a lot for us, so it was nice to have him back," Dillon Carlson said.
Mason City (2-11) closed to within 40-34 late in the third quarter before Jordan Kumm made a layup and Jaxon Smith followed with five consecutive points to give the Hawks a 47-36 margin. The Mohawks could get no closer than six points the rest of the way.
Smith had 16 points and Kumm added 10 as the Hawks handed Mason City its fifth straight loss. Dylan Miller scored 17 points to lead the Mohawks.
Ankeny will host Southeast Polk on Friday with a chance to keep its momentum going.
"That's what we've been talking about the whole time," Otten said. "We want to go on a run."