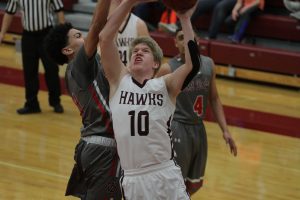 A four-game winning streak put the Ankeny boys' basketball team into position to possibly host a first-round game in next month's Class 4A substate tournament.
The final 5 minutes of Tuesday's CIML non-conference game against visiting Fort Dodge probably negated all of those wins.
The Dodgers used a 19-5 run to rally for a 65-61 victory that likely had some huge playoff implications. Ankeny coach Brandt Carlson said the two teams will probably meet again in a substate quarterfinal, this time at Fort Dodge.
"Because of this (loss), we'll for sure have to play them up there in the first round," Carlson said. "If we had won tonight and made a nice little run, that may have changed things. We do our seeding (for the tournament) next Wednesday, but it is what it is. Hopefully, our guys will have some motivation next time and do a better job."
Ankeny was on the verge of its fifth straight victory after taking a 56-46 lead early in the fourth quarter. The Hawks were led by Dillon Carlson, who scored 20 of his 27 points in the first three periods.
However, Fort Dodge then answered with three consecutive 3-point goals to cut Ankeny's lead to 56-55. Junior guard Jace Peterson had two of the treys, matching his total from the previous 14 games.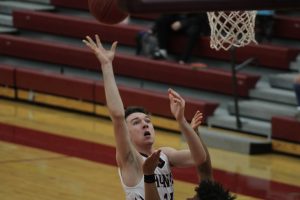 "There's no real explanation at this point," Carlson said. "We just really didn't take good shots, and then defensively I thought we kind of played back on our heels those last 4 or 5 minutes."
Peterson then converted a layup with 2 minutes 40 seconds left to give the Dodgers a 57-56 lead. He finished with 15 points, 12 above his average.
"Petey made some big shots and carried us," Dodgers coach Tom Daniel told the Fort Dodge Messenger. "He was definitely the hero."
Ankeny briefly regained the advantage on a basket by Nolan Otten, but Fort Dodge took the lead for good, 59-58, on a jumper by Jordan Jackson with 2 minutes left. Tysen Kershaw added two free throws with 34.6 seconds remaining.
After Carlson missed a long 3-pointer, the Dodgers got a pair of free throws from Malcolm Clayton with 14.5 seconds left. Clayton then hit two more free throws to seal the victory after Carlson drilled a 3-pointer with 7.5 seconds to go.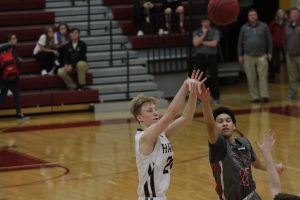 Clayton finished with 24 points.
"Malcolm was Malcolm," Daniel said. "He was our closer."
Jackson had 15 points for the Dodgers, who improved their record to 8-7. The loss dropped Ankeny to 5-11.
Otten and Deaglan Riordan each had nine points for the Hawks, who will try to rebound on Friday against Waukee.
"There are no excuses," Carlson said. "We've had some guys who aren't very healthy, and I think we just got a little soft and not quite as focused as we needed to be down the stretch. We may have gotten a little fatigued, but I love this team. We'll bounce back."